Bison Safari in the Białowieża Forest, March 2020
Tour Leader: Piotr Dębowski (Peter)
Participants: Charlotte & Andrew (UK), Ulrich and Samuel (CH)
Text by Piotr Dębowski & Mariola Przyborowska
Photos by Piotr Dębowski
Day 1 – Friday, 6th March
After meeting Ulrich and Samuel at WAW airport arrivals hall we continue to the nearby hotel to collect Charlotte and Andrew. With everyone onboard we join Friday traffic and soon we leave Warsaw taking S8 expressway towards Białystok. The drive  takes little over 4 hours (with short stop for lunch on the way) and we reach Białowieża village and our cozy guesthouse late in the afternoon. We opt for some relaxing time in our rooms before we meet again for dinner and introduction talk over a map.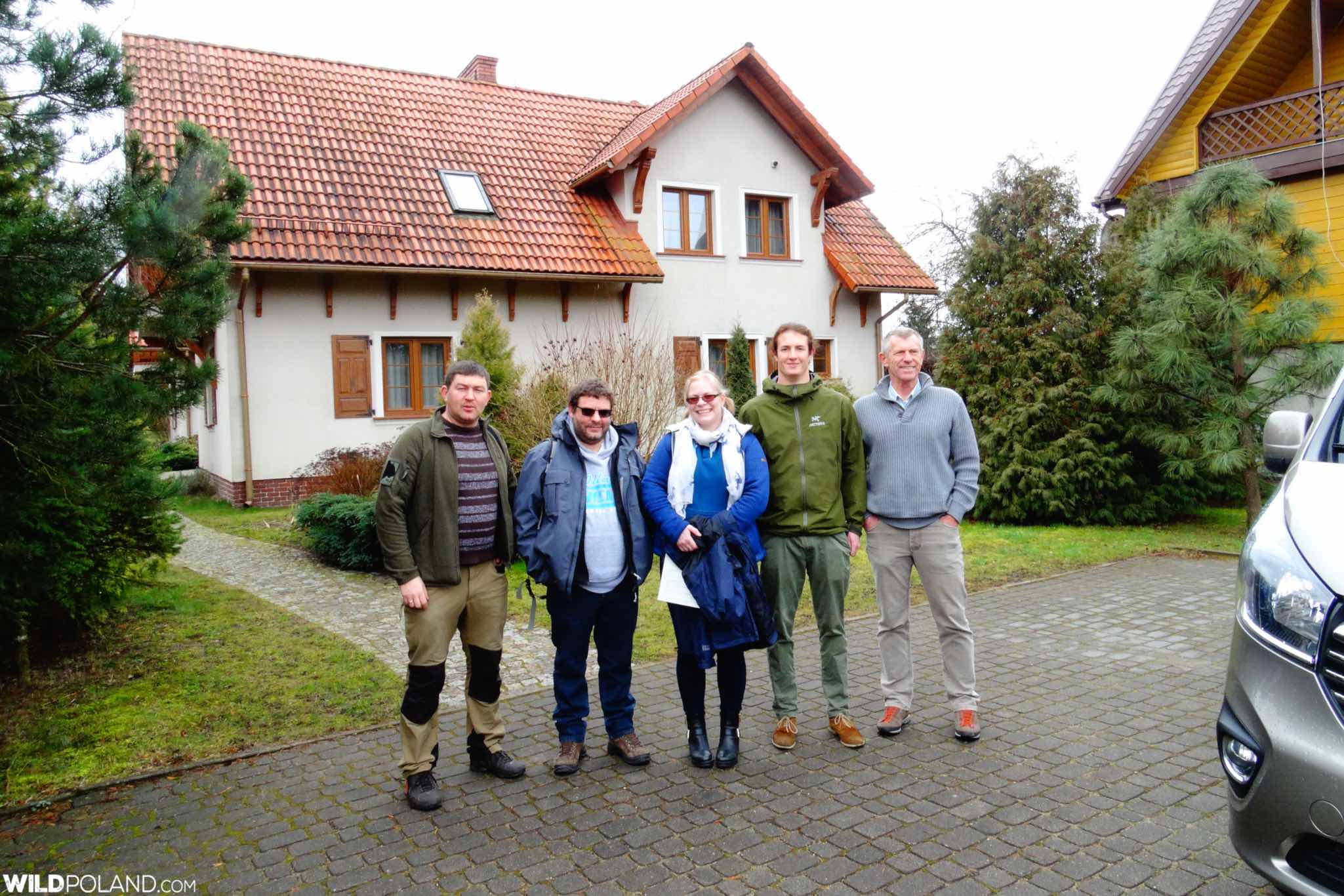 Day 2 – Saturday, 7th March
We get up before dawn. Our goal for this morning is the European Bison, which during winter months gather in herds and regularly graze on open meadows adjoining the Białowieża Forest. We take a short drive in our minibus and very soon we locate 3 bulls near the village of Pogorzelce. We enjoy our observation only for a couple of minutes, when the bison, suddenly startled, move away towards the forest, a rather unexpected behaviour as males are usually not bothered by distant watchers. As we come back to the minibus our driver Włodek tells us terrific news – when waiting for us, he saw 2 Wolves crossing the meadow. Most probably, Wolves were the reason why our bulls retreated in a hurry to the safety of the forest, but from the point we were standing we could not see them! Having missed our chance, we move away towards another site, where we locate the second group of Bison – 3 bulls feeding at the open field. This time the animals allow us long, undisturbed observation and we watch their majestic behaviour with awe. Somewhere in the background we can hear calls of Cranes, singing Skylarks and Woodlarks. We observe Northern Lapwings and White-fronted Gees in flight, the evident signs of coming spring.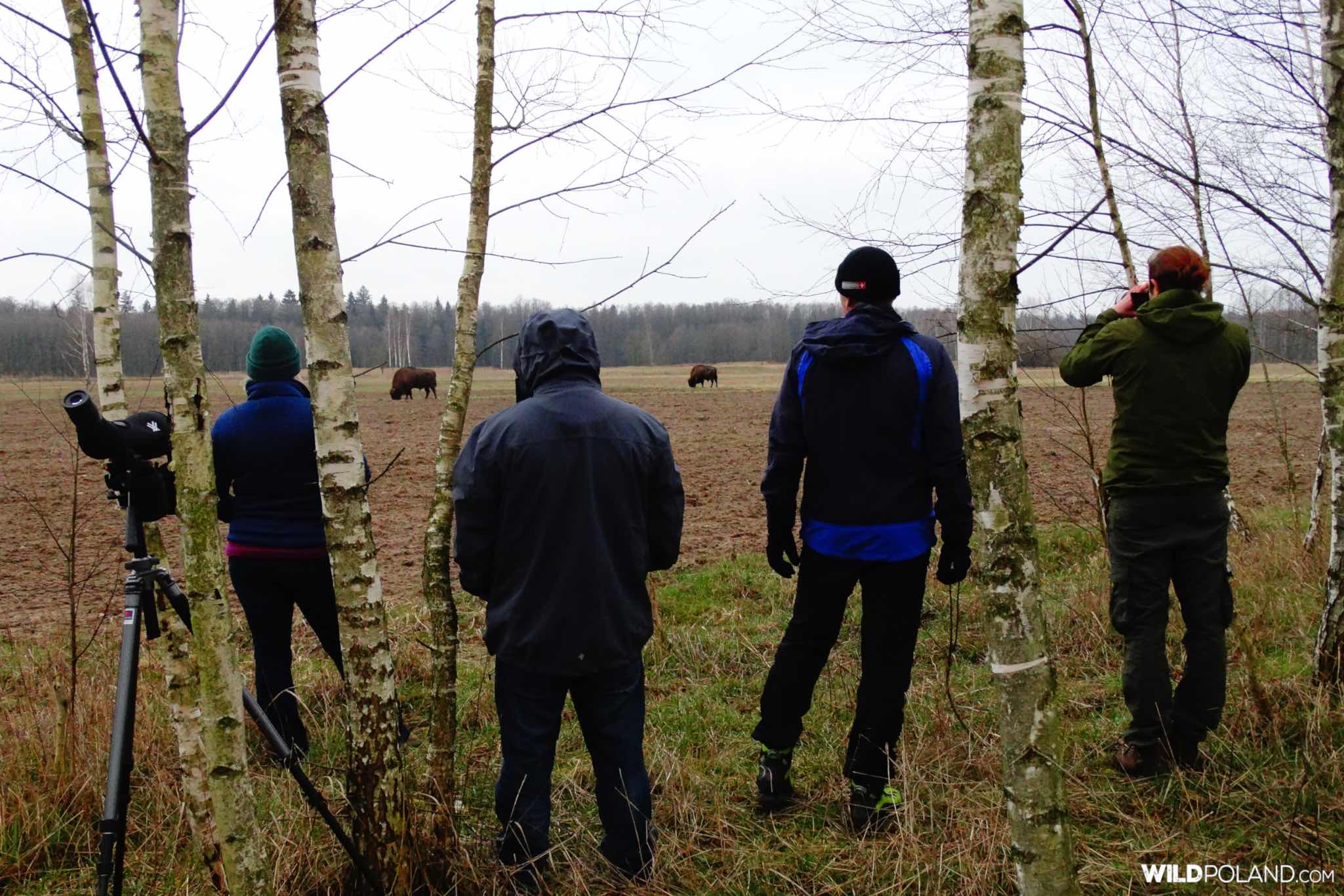 After breakfast and short rest at the guesthouse we set up for a long hike in the forest. We choose backwoods along the Łutownia River valley and go deep into the natural forest, exploring amazing diversity of habitats. Black and Green-headed Woodpeckers call intensely around alder carr, while drumming of Great Spotted Woodpecker echoes around us. In a dense forest cover we locate a Hazel Grouse, while on the forest tracks we find footprints and scratchings of Wolves, footprints and droppings of Badgers, Foxes and Raccoon Dogs. We eat our packed lunch and listen to the sounds of the forest. The Cranes call again in the alders and screaming Whooper Swans breach the silence when they take to flight over the nearby backwaters.
We go back to our minibus. It is still early enough for visiting another site or two and we decide upon exploring the meadows in the northern part of the Białowieża Forest. Short drive takes us to the area of Siemianówka, where we easily locate a herd of 26 Bison and 4 Roe Deer grazing in the open. At the same time we spot in a distance 2 Wolves that slowly cross the meadow. Equipped with a scope, we are able to watch them for a longer while. Everyone is excited as for everyone in the group it is the first time they can see a wolf in the wild! Satisfied with our observations we come back to Białowieża for a dinner. After dark we try our luck with Beavers. Walking along the banks of Narewka River we locate one individual biting the trunk of poplar, although it's more about the movement and sounds, as the view is disturbed by tall reeds. After such long and intensive day we eagerly take some rest.
Day 3 – Sunday, 3rd of March
Today we visit the Strictly Protected Area of the Białowieża NP, the Man and Biosphere Reserve listed the UNESCO World Heritage Site. After breakfast we take a walk through the 19th century Palace Park, where we meet the local specialist, Joanna. Joanna is smiley and knowledgeable licensed guide and lives locally in Białowieża. She tells us about history and ecology of the Białowieża Forest with incredible passion, but not only. Her many years long experience as a guide in the Strict Reserve allows her to observe changes and the natural processes ongoing year by year around the site, like fallen trees, decomposing deadwood, changing landscape.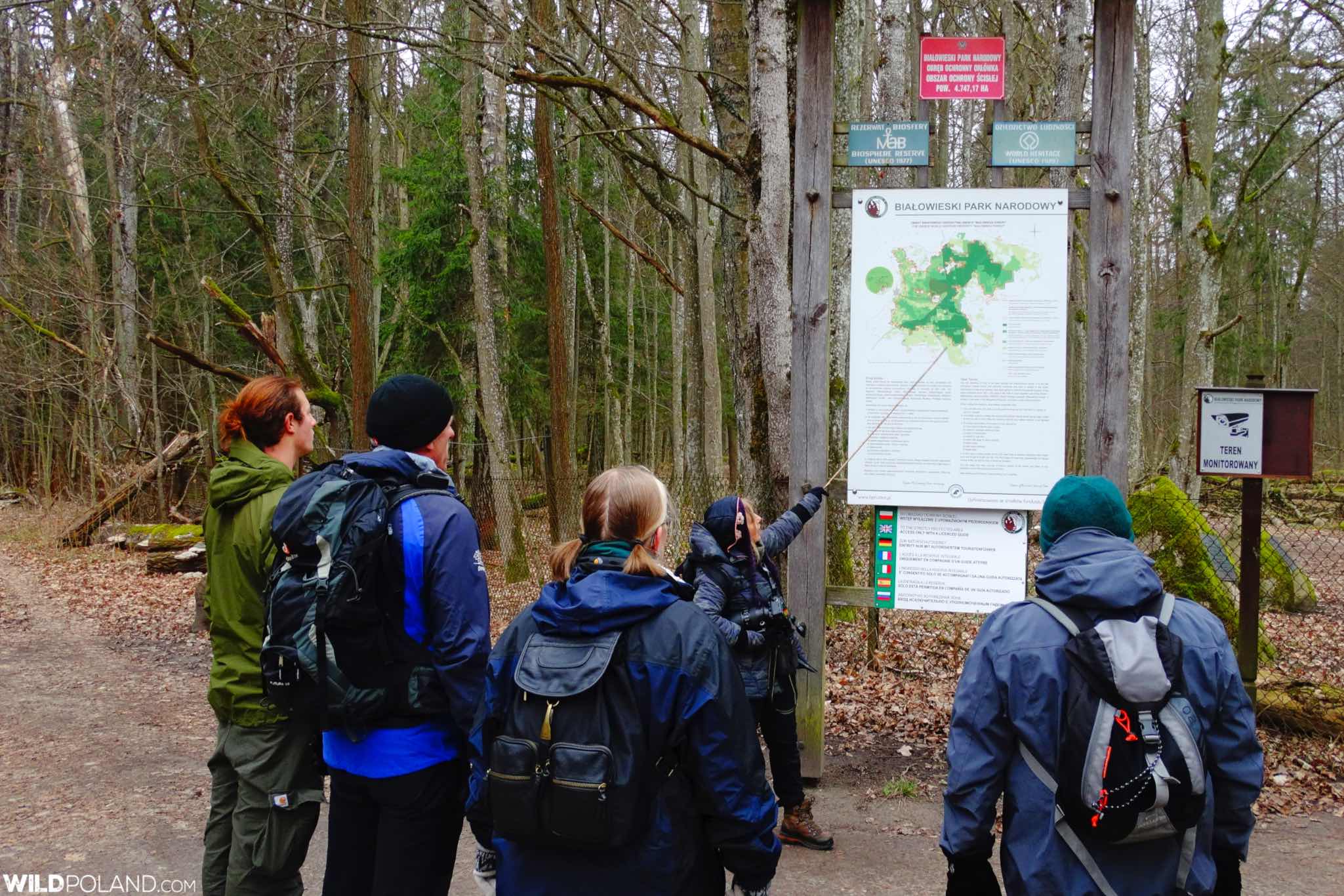 As we walk through the heart of the Białowieża NP, we observe many species of trees in different ages, first blossoming plants like February Daphne, or Common Hepatica and plentiful bracket fungi living on deadwood. We noticed intensive vocal activity of several Tit, Nuthatch and Treecreeper.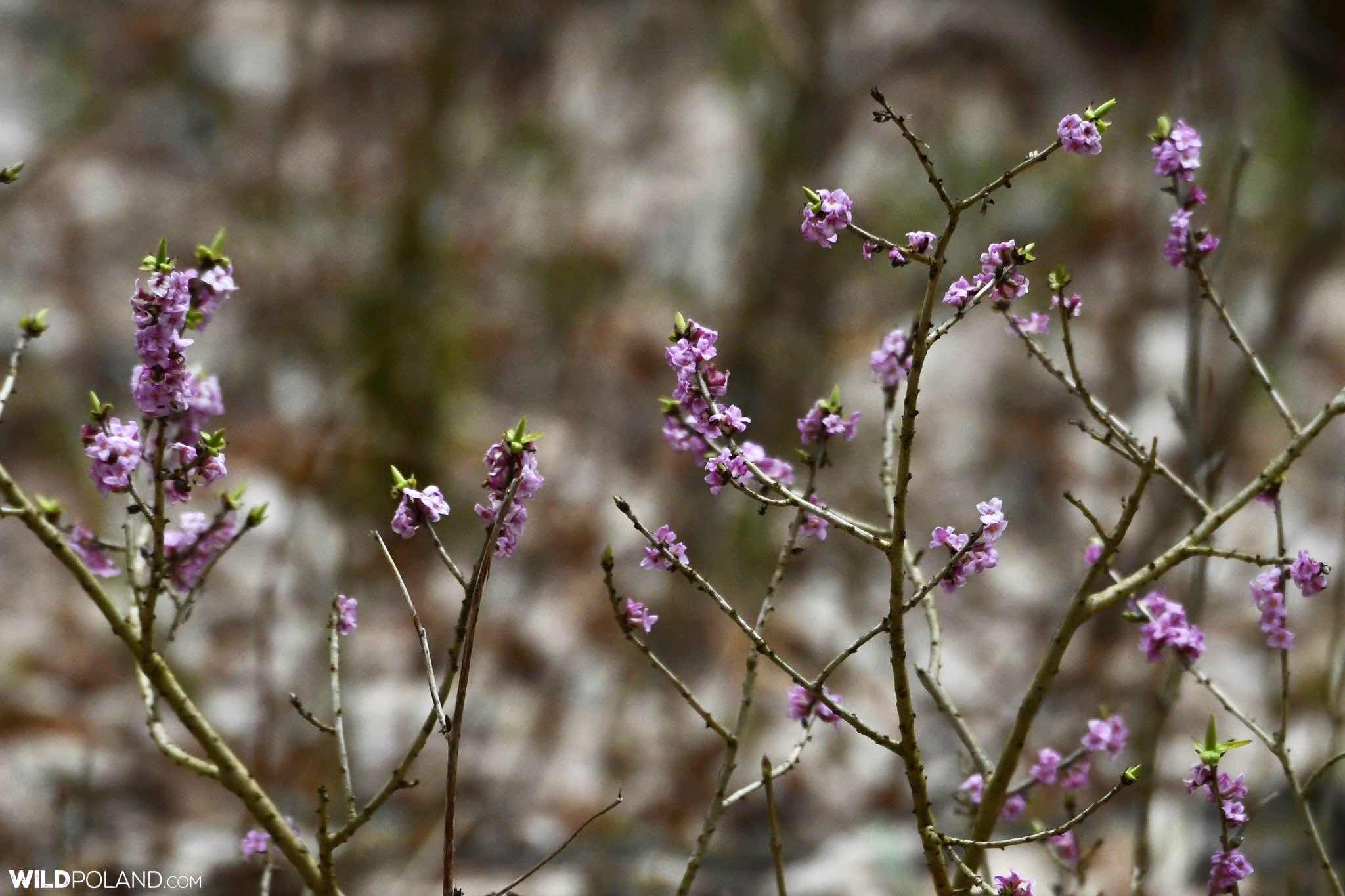 After lunch and short rest we come back again to the northern part of the Białowieża Forest. Short drive around popular bison sites reveals a herd of ca. 40 Bison, few Red Foxes hunting at the meadows, several Common Buzzards and Magpies. From one of the watching towers in the area we can observe a distant single Elk (Moose) browsing in the marshland near Maruszka. We end the day with a farewell dinner and summary of our stay in the Białowieża Forest.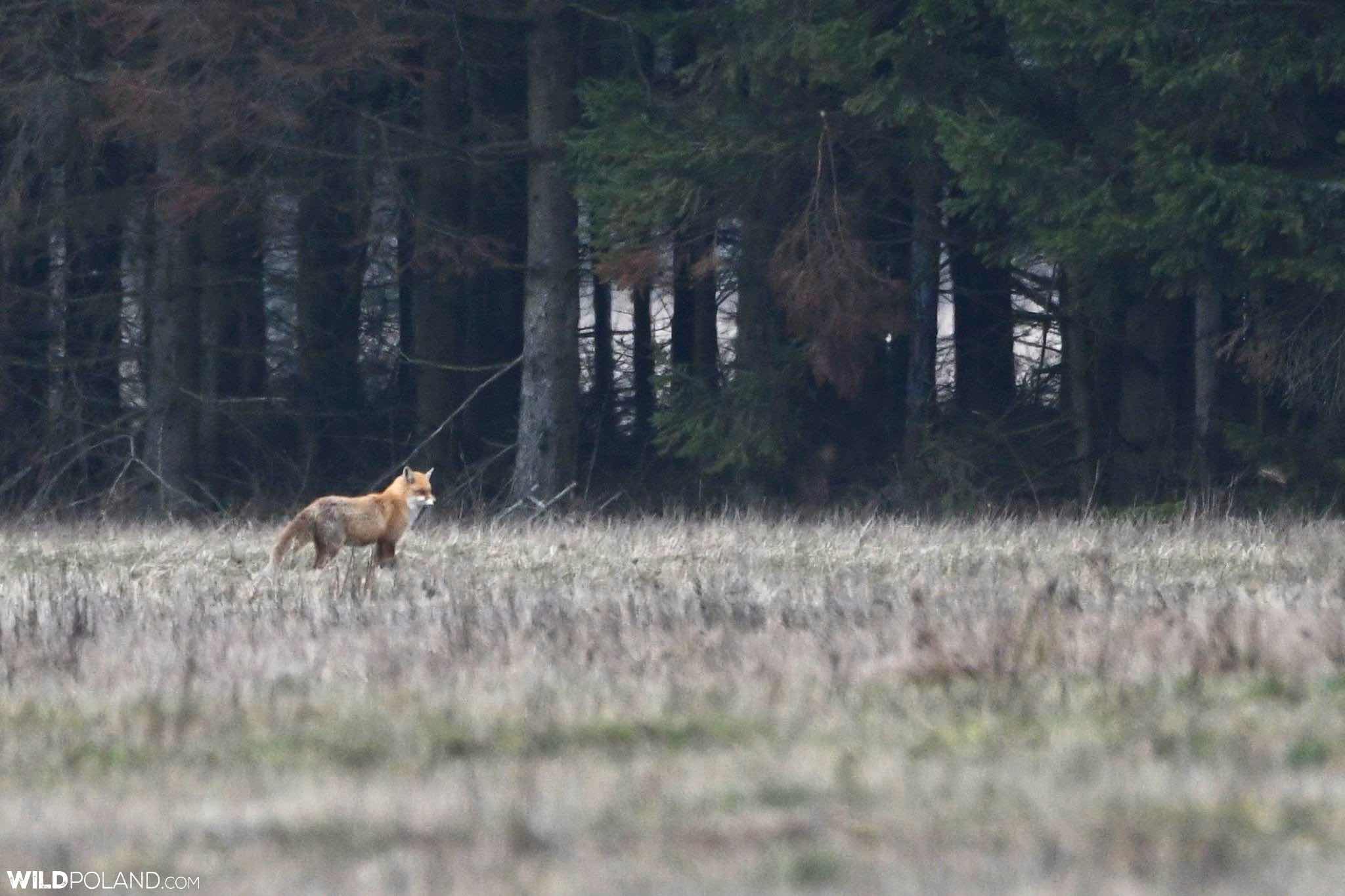 Day 4 – Monday, 9th March
Today is our last day in Białowieża. After breakfast we transfer back to Warsaw, where we visit Old Town with its historical townhouses, squares and monuments. We pass the most important places and learn about the tragic Warsaw Uprising in the summer of 1944, when Polish underground resistance fought for 63 days against German occupation. Completely destroyed during WWII, the Warsaw Old Town was rebuilt and listed the UNESCO World Heritage site since 1980.
We finish our tour with lunch in a small atmospheric restaurant. Afterwards we drive to the WAW airport, as everyone departs in the afternoon.
Below is a small photo-gallery from our tour: