We organise unique wildlife watching adventures
Our tours help people reconnect with nature, understand it better
and experience the real, unspoiled Poland. Here's what you can expect:
It was traditional and authentic, not commercial.

– Helen Bascombe, UK, Jul 2017
Complete flexibility to pick and choose daily itineraries to suit personal requirements. Enthusiastic and competent guides dedicated to providing the very best service.

 – Maurice Wilby, UK, May 2017
Every day on this tour was memorable and full of exciting wildlife. I loved every minute!

 – Judyth Sassoon, UK, Jul 2019
Winter – snow – bison. My third trip to Białowieża and by far the best.

– Eva Kaluzynska, UK, Jan 2018
Our guide Piotr was very enthusiastic. He didn't gave up on finding wildlife. Every time we saw an animal, he got even more excited than the rest of the group. He was also very helpful. He really wanted everyone to be happy and enjoy the trip!

– Lars van Gelder, Netherlands, Sep 2016
The Białowieża Forest is a very special place and it was wonderful to see it in the depths of winter. Seeing the strictly protected area with an expert guide was a highlight of the trip, along with great views of the Bison.

 – Matthew Craig, UK, Jan 2016
Białowieża is one of the most beautiful places I have ever been to. Very different. Excellent guide – Peter's enthusiasm for animals.

– Gail Shaw, UK, Sep 2016
I feel this holiday was an extremely thorough adventure through Poland. The experiences were the widest variety I have ever seen in a tour, from looking at a bear track to listening to klezmer music to kayaking through reeds & obstacles & everything in between. Perfect.

 – Caroline Dudkowski, USA, Aug 2017
I just wanted to say thank you again for running such a great trip. Both Max and I had an absolutely great holiday in Poland, and it was in no small part down to the work everyone at Wild Poland put into running a fantastic trip. Hope to be back again in the future.

 – Tim, UK, Aug 2018
Everything about the trip exceeded our expectations, from the superb guiding, huge range of wildlife and the excellent accommodation and food.

– David Corns, UK, May 2017
Upcoming tours
Nearing departures with spaces available
Last update: 01 Jun 2020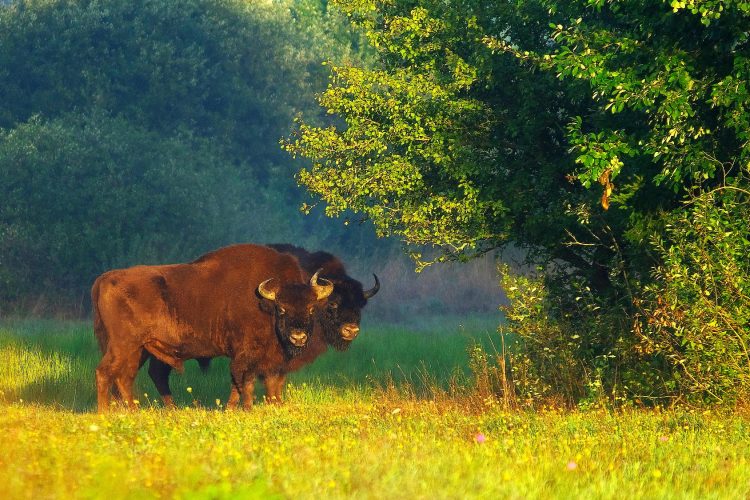 Visit the famous Białowieża Forest and Biebrza Marshes with their tremendous variety of wildlife. Watch Bison, Elks, Beavers and plentiful birdlife.
Spring – Summer – Autumn

8 days
| 5250 PLN
Spend three nights in the Primeval Białowieża Forest and see Europe's biggest land mammal – the European Bison in the wild.
All year

4 days
| 3250 PLN
The best event to experience true wilderness, unscathed nature and watch brown bears, wolves or bison in the wild Bieszczady Mts, Eastern Carpathians.
12 – 19 Sep 2020

8 days
| 3850 PLN