We organise unique wildlife watching adventures
Our tours help people reconnect with nature, understand it better
and experience the real, unspoiled Poland. Here's what you can expect:
It was fantastic to see wild bison as well as rare woodpeckers in the Białowieża Forest. The guide with excellent birding knowledge. Good, traditional Polish food. Plus we got to see wolves!

– Thomas Hedmark, Sweden, Jan 2017
Everything was so perfect! Andrzej is so knowledgeable and has a wonderful sense of humour. The forest walk was amazing!

– Wong Hoi Man, Hong Kong, Apr 2017
UNFORGETTABLE!

 – Sam Plompen, Belgium, May 2017
The enthusiasm, knowledge and friendliness of the guides and their love for the forest is infectious. It was impossible to not have a fantastic time from start to finish of the festival!

– Jamie Littin, NZ, May 2017
Loved walking through the primeval forest and the marshes – a paradise on earth for me.

– Veena Rampal, AU, Aug 2017
I feel this holiday was an extremely thorough adventure through Poland. The experiences were the widest variety I have ever seen in a tour, from looking at a bear track to listening to klezmer music to kayaking through reeds & obstacles & everything in between. Perfect.

 – Caroline Dudkowski, USA, Aug 2017
Everything about the trip exceeded our expectations, from the superb guiding, huge range of wildlife and the excellent accommodation and food.

– David Corns, UK, May 2017
The guides were exceptionally knowledgable and we loved the no-nonsense approach to trekking which allowed us maximum time in the field. We felt the guides did everything they could to locate wildlife.

– Elta & Nick, UK, Oct 2017
The night-time boat trip to look for beavers was wonderful! Our guide, Piotr, looked after us all incredibly well. We all agreed he is the best guide we've ever had. 

– Alex Rafinsky, UK, Apr 2017
I loved the contrast between the intimate universe of the Forest and the vast sweeping spaces of the Marshes. This holiday was a call to wake up and use all my senses, a chance to walk in good company or alone.

 – Teresa Rogers, UK, Apr 2019
Upcoming tours
Nearing departures with spaces available
Last update: 08 Aug 2020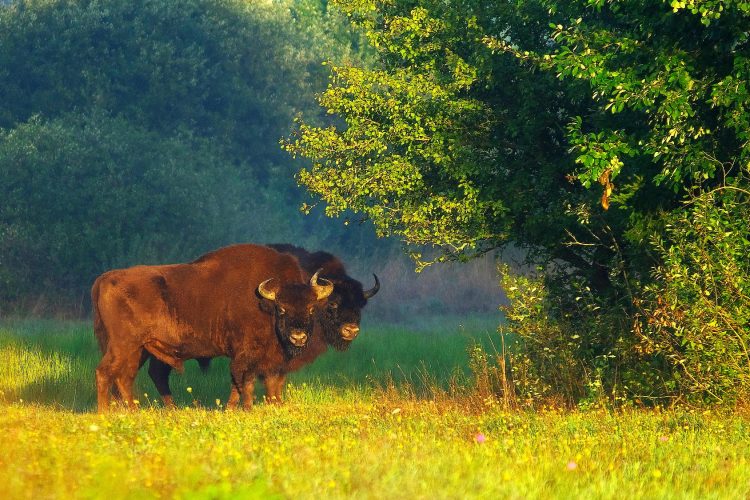 Visit the famous Białowieża Forest and Biebrza Marshes with their tremendous variety of wildlife. Watch Bison, Elks, Beavers and plentiful birdlife.
Spring – Summer – Autumn

8 days
| 5250 PLN
Go tracking Wolves, Lynx and Bison in the beautiful snowy landscape of the Białowieża Forest and Biebrza Marshes. Listen to evening lectures by leading local researchers for an even greater insight.
30 Jan – 6 Feb 2021

8 days
| 3150 PLN
Spend three nights in the Primeval Białowieża Forest and see Europe's biggest land mammal – the European Bison in the wild.
All year

4 days
| 3250 PLN
Trip reports
Real photos & videos from our tours
Site guides & maps
If you travel on your own and prefer self guiding