Get €100 coupon to use with our tours!
Subscribe to our newsletter now and receive up to 500 PLN discount on selected tours that we offer each month
We organise unique wildlife watching adventures
Our tours help people reconnect with nature, understand it better
and experience the real, unspoiled Poland. Here's what you can expect:
A truly stunning wildlife experience with a programme organised to perfection. We've been on many wildlife holidays and tours and this was probably the best curated we've ever had.

 – Richard, UK, June 2022
Extraordinary trip. I do not regret having entrusted the organisation of this trip to this company, which provided impeccable services. The guide knows the nature of this region like the back of his hand, not only about the mammals and birds, but also about plants, butterflies, insects… a living encyclopaedia about the ecosystem of the Bialowieza forest and the Biebrza marshes!

 – Philippe, France, May 2022
Close encounters with bisons we will never forget.

– Hannelore & Piet, BE, Oct 2021
Besides the wildlife and the forests I loved the landscape, especially this time of the year, as it looks/feels you have all seasons in a day.

– Liesbeth Gort, NL, Oct 2021
I would love to do another tour with Wild Poland! 

– Oisin MacNamara, UK, Oct 2021
We have always done safaris outside Europe, but were pleasantly surprised by what Poland has to offer: lot of bison, fox, moose, cranes, beavers. If you like wildlife, book with Wild Poland! 

– Karin & Eric, BE, Oct 2021
We are sure to be back to a tour or a festival with Wild Poland in the next years.

– Daniela & Fred, CH, Sep 2021
The trip to see beavers was exceptional. Seeing groups of cranes every morning and evening was also wonderful. I hope to return one day and see different things in a springtime.

– Danny Byrne, UK, Sep 2021
I've been on two trips: Spring Wildlife Festival & Carpathian Mammals tour. Both really different and excellent. My main goal was to see wolves & bison. But in the end I've seen much more and learned so much. For example, I learned a lot about tracking which is actually much more exciting than I expected. Seen so many birds in Białowieża which got me much more excited than I would have guessed. The guides do really their best so you would see what you want to see.

 – Gregory, BE, Oct 2020
"If you only saw what you came for, you probably missed out a lot" – this is so true! Saw many amazing things that I didn't expect to see. Great general experience and fun! The trips I will remember. 

– Gregory Pincket, BE, Oct 2020
Even if we had not seen the bison and wolves that we wanted to see, it would have still been worth it – but we did see these wonderful wild animals! Really perfect, 10/10 

– Ian & Nancy, DE, Sep 2020

Long unhurried walks through spectacular landscapes, grandeur & calmness of both: Forest & Marshes.

–  Marzena Prejbisz, UK, Sep 2020
This was one of my most unusual holidays, which I greatly enjoyed and highly recommend.

– Karin Kuehnel, UK, Aug 2020
If you want to see a range of European wildlife Wild Poland will always come good. I have been with them six times before and always found them excellent.

 – Colin, UK, Jan 2020
Wild Poland staff are amazing – so much fun! I'd been on the Spring Festival and wanted to come back in winter.

– 2019 festival participant
Well organised and thought out, the guides were very knowledgable and all were enthusiasts which showed. Confidently professional when necessary but approachable and good company too.

– 2019 festival participant
Upcoming tours with spaces available
Early bookings discount – you can now book your place cheaper, until we get the minimum number of participants.
Last update: 22 Mar 2023
The best time of the year to watch rare and elusive woodpeckers, owls and mammals of the Białowieża Forest and Biebrza Marshes.
25 Mar – 1 Apr 2023

8 days
| from
3250 PLN (€690)
- early bookings price!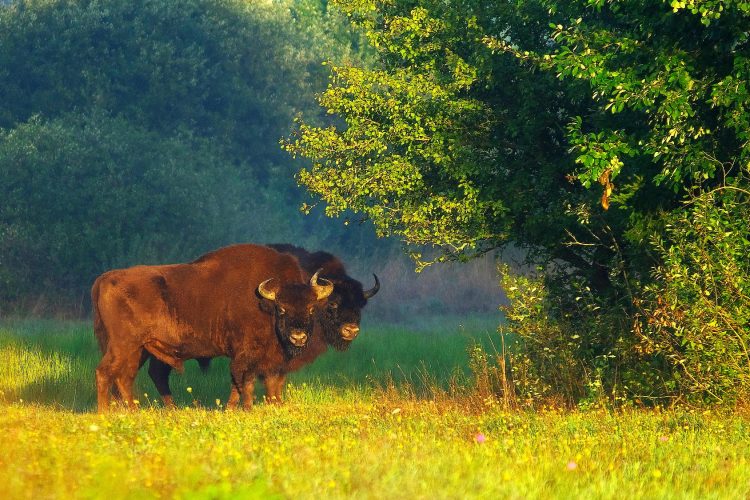 Visit the famous Białowieża Forest and Biebrza Marshes with their tremendous variety of wildlife. Watch Bison, Elks, Beavers and plentiful birdlife.
Spring – Summer – Autumn

8 days
| from
5950 PLN (€1260)
- early bookings price! Small groups: 6-14 persons
Join our nature fanatics crew in spring for maximum variety of birds, mammals and other wildlife of the Białowieża Forest and Biebrza Marshes. This has become our largest annual event.
20 – 28 May 2023

9 days
| from
3450 PLN (€730)
- early bookings price!