We organise unique wildlife watching adventures
Our tours help people reconnect with nature, understand it better
and experience the real, unspoiled Poland. Here's what you can expect:
Unspoilt forest, landscapes, plants, animals, excellent guides & evening lectures. The whole festival had a lovely atmosphere and the passion of the guides and the other people was inspiring!

– 2019 festival participant
Excellent organisation, handing out self guided tours, room for requests, knowledgable guides in the most beautiful part of Europe! Thank you so much!

 – Danielle, The Netherlands, May 2017
Huge congratulations for the way you approach nature with tourists and your respect to animals and the environment in general. Andrzej has been the best nature guide we have ever met.

– G. Pierini & Bianca M. Minetti, Italy, Mar 2016
I particularly liked the small, almost personal custom day trips. Flexible itinerary allowed birding, photography and personal exploration of Białowieża.

– Bruno, USA, May 2016
If you want to see a range of European wildlife Wild Poland will always come good. I have been with them six times before and always found them excellent.

 – Colin, UK, Jan 2020
True wilderness to escape to for a little while. Both guides were obviously devoted to their specialty and made the forest walks and wildlife spotting an absolute pleasure.

– John Stanford, UK, Oct 2016
The Biosphere Reserve in Białowieża is not like any place we have visited before. It's primeval and idyllic. It filled us with a sense of awe and tranquility.

– Calvin Ha, HK, Oct 2019
It was traditional and authentic, not commercial.

– Helen Bascombe, UK, Jul 2017
Everything about the trip exceeded our expectations, from the superb guiding, huge range of wildlife and the excellent accommodation and food. Our first experience of Poland has been a real joy and we would love to return!

– David Corns, UK, May 2017
Everything was so perfect! Andrzej is so knowledgeable and has a wonderful sense of humour. The forest walk was amazing!

– Wong Hoi Man, Hong Kong, Apr 2017
Upcoming tours
Nearing departures with spaces available
Last update: 27 Sep 2020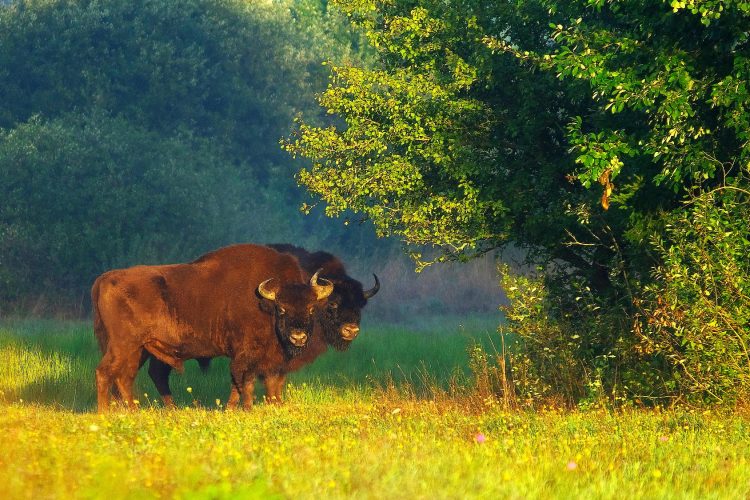 Visit the famous Białowieża Forest and Biebrza Marshes with their tremendous variety of wildlife. Watch Bison, Elks, Beavers and plentiful birdlife.
Spring – Summer – Autumn

8 days
| 5250 PLN
Go tracking Wolves, Lynx and Bison in the beautiful snowy landscape of the Białowieża Forest and Biebrza Marshes. Listen to evening lectures by leading local researchers for an even greater insight.
30 Jan – 6 Feb 2021

8 days
| 3150 PLN
Spend three nights in the Primeval Białowieża Forest and see Europe's biggest land mammal – the European Bison in the wild.
All year

4 days
| 3250 PLN
Trip reports
Real photos & videos from our tours
Site guides & maps
If you travel on your own and prefer self guiding