We organise unique wildlife watching adventures
Our tours help people reconnect with nature, understand it better
and experience the real, unspoiled Poland. Here's what you can expect:
The chance to visit the restricted area of the primeval forest is a fascinating and life-enriching experience. Peter was an outstanding guide with outstanding knowledge of native Polish wildlife and a clear passion for the natural world.

– Lyn Evans, UK, Oct 2016
Wonderful scenic tour led by an expert guide, exceeded my expectations. Peter was an excellent guide, the forest was beautiful. I enjoyed the walks, the scenery, the wildlife and all was very informative. It was wonderful to see Bison.

– Warwick Brown, UK, Sep 2016
Fabulous location, everything was very well prepared, great guides and great adventures – another Wild Poland special! (my 3rd trip with Wild Poland).

– Sam, Belgium, Dec 2017
The highlight for me was the wolf kill, the reality to see! It was followed by close up with the bison. He was a "poser", very impressing… Finally saw the bullfight. All in the company of good people.

– Terence Truman, UK, Feb 2017
It was an amazing experience to spend time in spectacular forests and marshes with wildlife all around. I loved learning about the ecology and history of this beautiful country.

 – Ellen Kinsley, UK, Mar 2019
The ancient forest was simply wonderful. I very much liked the rich biodiversity of Eastern Poland and getting to have an introduction to Polish food, beer and hospitality.

– Mark Shorrock, UK, Aug 2017
Huge congratulations for the way you approach nature with tourists and your respect to animals and the environment in general. Andrzej has been the best nature guide we have ever met.

– G. Pierini & Bianca M. Minetti, Italy, Mar 2016
It was such a wonderful experience to see wolves in the wild! Irek, our guide in a strictly protected area of the park was very knowledgeable and enthusiastic.

– Iwona Gileff, Australia, Jan 2017
Totally enjoyable experience. Would definitely go again. Thank you very much Wild Poland!

– Raymond Murphy, UK, Feb 2019
All was well organised and great guiding and variety. We saw a wolf and a wild cat. Plus we stayed at a beautiful place off the beaten track.

– Götz, Germany, Dec 2017
Upcoming tours
Nearing departures with spaces available
Last update: 02 Apr 2020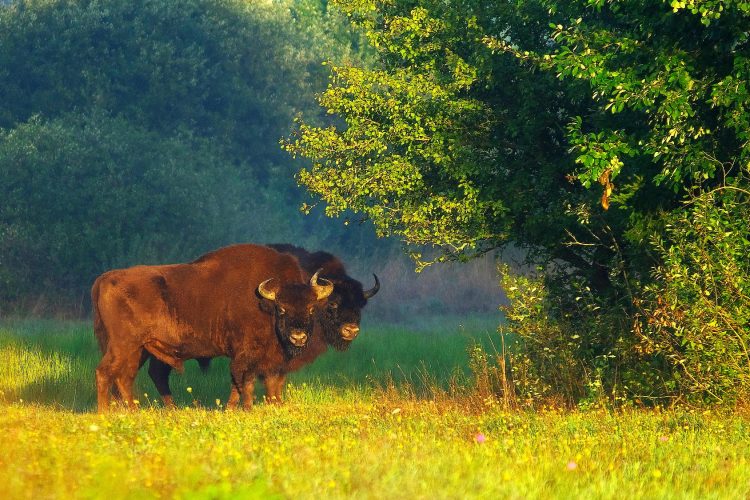 Visit the famous Białowieża Forest and Biebrza Marshes with their tremendous variety of wildlife. Watch Bison, Elks, Beavers and plentiful birdlife.
Spring – Summer – Autumn

8 days
| 5250 PLN
Spend three nights in the Primeval Białowieża Forest and see Europe's biggest land mammal – the European Bison in the wild.
All year

4 days
| 3250 PLN
The best event to experience true wilderness, unscathed nature and watch brown bears, wolves or bison in the wild Bieszczady Mts, Eastern Carpathians.
12 – 19 Sep 2020

8 days
| 3850 PLN