We organise unique wildlife watching adventures
Our tours help people reconnect with nature, understand it better
and experience the real, unspoiled Poland. Here's what you can expect:
It was such a wonderful experience to see wolves in the wild!

– Iwona Gileff, Australia, Jan 2017

It was fantastic to see wild bison as well as rare woodpeckers in the Białowieża Forest. The guide with excellent birding knowledge. Good, traditional Polish food. Plus we got to see wolves!

– Thomas Hedmark, Sweden, Jan 2017
We had a fantastic experience during this tour. We saw a lot of mammals, birds, and even spotted wolves. Amazing!!

– Ellen, Chris, Marlou, Arno & Marco, The Netherlands, May 2019
Excellent and knowledgable tour guides, excellent venues, great food. "Hearty meals" is correct!

– Randy Kursinsky, USA, May 2016
It was an amazing experience to spend time in spectacular forests and marshes with wildlife all around. I loved learning about the ecology and history of this beautiful country.

 – Ellen Kinsley, UK, Mar 2019
Unspoilt forest, landscapes, plants, animals, excellent guides & evening lectures. The whole festival had a lovely atmosphere and the passion of the guides and the other people was inspiring!

– 2019 festival participant
I very much enjoyed the whole experience and was very impressed with how determined our guide Andy was. Very dedicated to giving us the best experience possible. He went above and beyond to allow us to enjoy our trip.

– Keith, UK, July 2016
Winter – snow – bison. My third trip to Białowieża and by far the best.

– Eva Kaluzynska, UK, Jan 2018
Everything about the trip exceeded our expectations, from the superb guiding, huge range of wildlife and the excellent accommodation and food.

– David Corns, UK, May 2017
All was well organised and great guiding and variety. We saw a wolf and a wild cat. Plus we stayed at a beautiful place off the beaten track.

– Götz, Germany, Dec 2017
Upcoming tours
Nearing departures with spaces available
Last update: 10 Apr 2020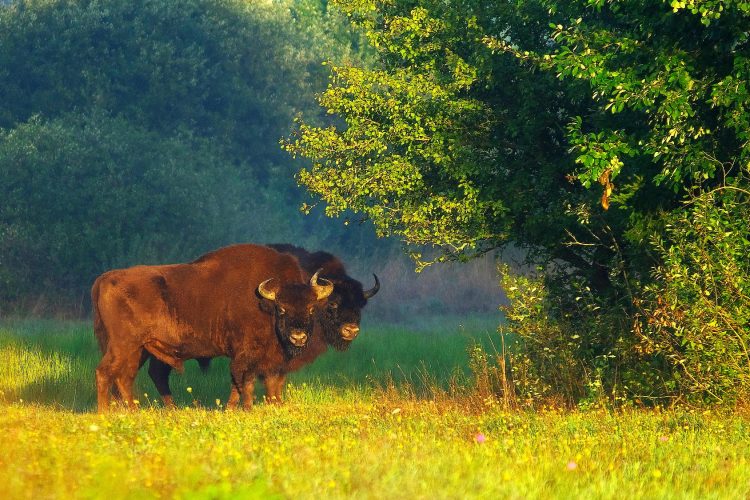 Visit the famous Białowieża Forest and Biebrza Marshes with their tremendous variety of wildlife. Watch Bison, Elks, Beavers and plentiful birdlife.
Spring – Summer – Autumn

8 days
| 5250 PLN
Spend three nights in the Primeval Białowieża Forest and see Europe's biggest land mammal – the European Bison in the wild.
All year

4 days
| 3250 PLN
The best event to experience true wilderness, unscathed nature and watch brown bears, wolves or bison in the wild Bieszczady Mts, Eastern Carpathians.
12 – 19 Sep 2020

8 days
| 3850 PLN