We organise unique wildlife watching adventures
Our tours help people reconnect with nature, understand it better
and experience the real, unspoiled Poland. Here's what you can expect:
Wonderful forest experience.

– Chin Pan, Taiwan, Aug 2017
It was traditional and authentic, not commercial.

– Helen Bascombe, UK, Jul 2017
Opportunity to watch and try and track wildlife in the company of a knowledgeable guide Lukasz put a lot of his personality and passion for Poland and its wildlife into the itinerary.

 – Dafydd Perry, UK, Aug 2017
We had an excellent tour, well organised, well lead and meeting all of my expectations and more. Really impressed with the scenery and the habitats as well as the wildlife. Food good and plentiful (I have put weight on!) and the hotels excellent. We visited sites that other tours do not visit!

 – Geoff Carr, England, Aug 2015
I particularly liked the small, almost personal custom day trips. Flexible itinerary allowed birding, photography and personal exploration of Białowieża.

– Bruno, USA, May 2016
It was fantastic having an expert guide to point out many things in the forest that I would never have noticed and then explain their significance.

– Lucy Duncan, Australia, Aug 2016
I particularly liked the stillness of this beautiful region. The highlight was having a beaver glide right next to our boat on the beaver safari, I've never been so close!

– Jess Clark-Jones, UK, Aug 2017
It was an amazing experience to spend time in spectacular forests and marshes with wildlife all around. I loved learning about the ecology and history of this beautiful country.

 – Ellen Kinsley, UK, Mar 2019
I was totally away from daily hassle. The silence of the field, waiting, hoping to see something, and then the reward! Not always of course but most of the times, just how it's supposed to be. 

– Katinka Van den Berg, Netherlands, Jan 2017
Sensational few days in Białowieża Forest with our expert guide Andy. Loved learning about forest ecology in particular. Biodiversity heaven!

– Karly Learmonth, Australia, Oct 2016
Upcoming tours
Nearing departures with spaces available
Last update: 13 Jul 2020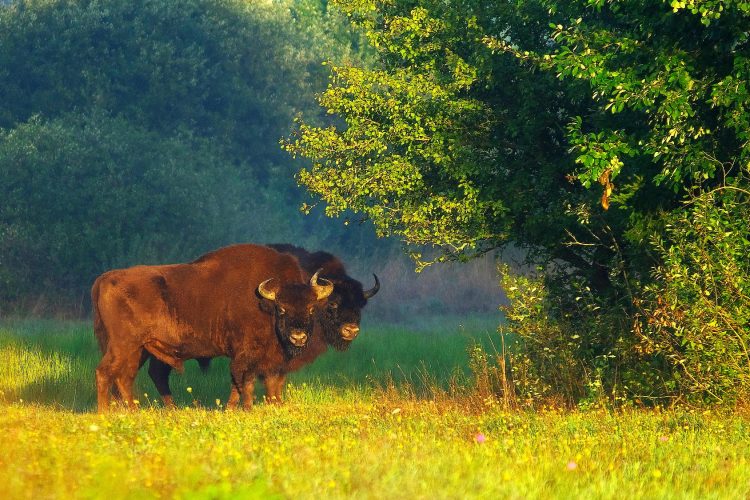 Visit the famous Białowieża Forest and Biebrza Marshes with their tremendous variety of wildlife. Watch Bison, Elks, Beavers and plentiful birdlife.
Spring – Summer – Autumn

8 days
| 5250 PLN
Spend three nights in the Primeval Białowieża Forest and see Europe's biggest land mammal – the European Bison in the wild.
All year

4 days
| 3250 PLN
The best event to experience true wilderness, unscathed nature and watch brown bears, wolves or bison in the wild Bieszczady Mts, Eastern Carpathians.
12 – 19 Sep 2020

8 days
| 3850 PLN
Trip reports
Real photos & videos from our tours
Site guides & maps
If you travel on your own and prefer self guiding