We organise unique wildlife watching adventures
Our tours help people reconnect with nature, understand it better
and experience the real, unspoiled Poland. Here's what you can expect:
Białowieża is one of the most beautiful places I have ever been to. Very different. Excellent guide – Peter's enthusiasm for animals.

– Gail Shaw, UK, Sep 2016
Wild Poland staff are amazing – so much fun! I'd been on the Spring Festival and wanted to come back in winter.

– 2019 festival participant
It was fantastic having an expert guide to point out many things in the forest that I would never have noticed and then explain their significance.

– Lucy Duncan, Australia, Aug 2016
Totally enjoyable experience. Would definitely go again. Thank you very much Wild Poland!

– Raymond Murphy, UK, Feb 2019
Wonderful scenic tour led by an expert guide, exceeded my expectations. Peter was an excellent guide, the forest was beautiful. I enjoyed the walks, the scenery, the wildlife and all was very informative. It was wonderful to see Bison.

– Warwick Brown, UK, Sep 2016
Experienced guides, loose, friendly and funny atmosphere, natural surroundings. The forest is a stunning example of what nature would be like if it was healthy!

– Max Baumgarten, Germany, May 2016
Fantastic scenery, lots of gorgeous birds and mammals, great company and excellent guide, very knowledgable & with great sense of humour. Would recommend it to friends!

– Elisabeth Grynberg, USA, May 2016
Fabulous location, everything was very well prepared, great guides and great adventures – another Wild Poland special! (my 3rd trip with Wild Poland).

– Sam, Belgium, Dec 2017
We really enjoyed the festival, it was very well organised with fantastic wildlife viewing, great guides and comfortable accommodation. Loved every minute!

 – Paul, UK, May 2019
It was traditional and authentic, not commercial.

– Helen Bascombe, UK, Jul 2017
Upcoming tours
Nearing departures with spaces available
Last update: 05 Apr 2020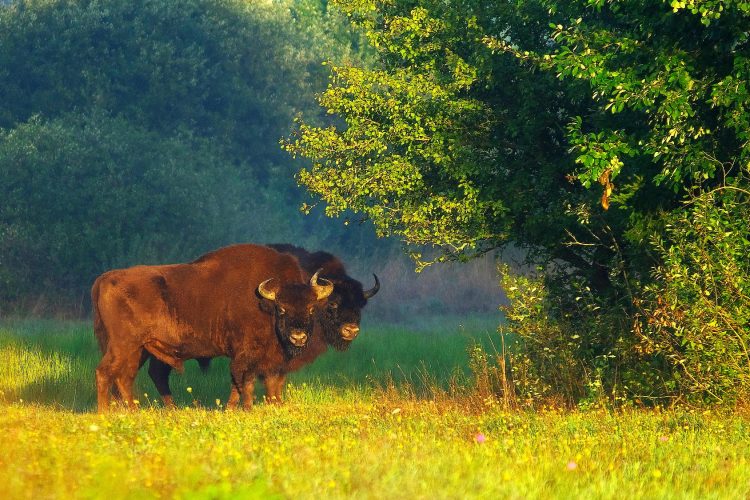 Visit the famous Białowieża Forest and Biebrza Marshes with their tremendous variety of wildlife. Watch Bison, Elks, Beavers and plentiful birdlife.
Spring – Summer – Autumn

8 days
| 5250 PLN
Spend three nights in the Primeval Białowieża Forest and see Europe's biggest land mammal – the European Bison in the wild.
All year

4 days
| 3250 PLN
The best event to experience true wilderness, unscathed nature and watch brown bears, wolves or bison in the wild Bieszczady Mts, Eastern Carpathians.
12 – 19 Sep 2020

8 days
| 3850 PLN