We organise unique wildlife watching adventures
Our tours help people reconnect with nature, understand it better
and experience the real, unspoiled Poland. Here's what you can expect:
I loved the contrast between the intimate universe of the Forest and the vast sweeping spaces of the Marshes. This holiday was a call to wake up and use all my senses, a chance to walk in good company or alone.

 – Teresa Rogers, UK, Apr 2019
I particularly appreciated an opportunity to see important ecological area of Poland with an experienced guide, who imparted a great deal of knowledge to help me get the most value from the trip. 

– Lachlan Fraser, UK, Apr 2017
Totally enjoyable experience. Would definitely go again. Thank you very much Wild Poland!

– Raymond Murphy, UK, Feb 2019
The night-time boat trip to look for beavers was wonderful! Our guide, Piotr, looked after us all incredibly well. We all agreed he is the best guide we've ever had. 

– Alex Rafinsky, UK, Apr 2017
Walking in the Białowieża Forest is a wonderful and unique experience – calming and invigorating at the same time. Wild Poland is a very efficient and helpful tour company with which I will happily do more tours. Our guide, Andrzej, was superb.

– Joan Crain, USA, Jul 2017
Experienced guides, loose, friendly and funny atmosphere, natural surroundings. The forest is a stunning example of what nature would be like if it was healthy!

– Max Baumgarten, Germany, May 2016
The array of beautiful habitats was stunning. The beaver cruise was a fantastic experience. Our guide Michal was highly knowledgeable, very helpful and thoughtful. Would definietely recommend!

 – Shelley Shenker, UK, May 2019
Complete flexibility to pick and choose daily itineraries to suit personal requirements. Enthusiastic and competent guides dedicated to providing the very best service.

 – Maurice Wilby, UK, May 2017
Fabulous holiday – the chance to experience two very special areas of Poland and the world with close-up wildlife encounters in stunning landscapes.

– Karen & Pete, UK, Mar 2018
The guides and staff were enthusiastic, fun and very accommodating. I loved the tracking aspect of the tour, particularly wolves & bears. I really enjoyed the hill walking too.

 – Dan O'Loughlin (IE), Sep 2019
Upcoming tours
Nearing departures with spaces available
Last update: 06 Jul 2020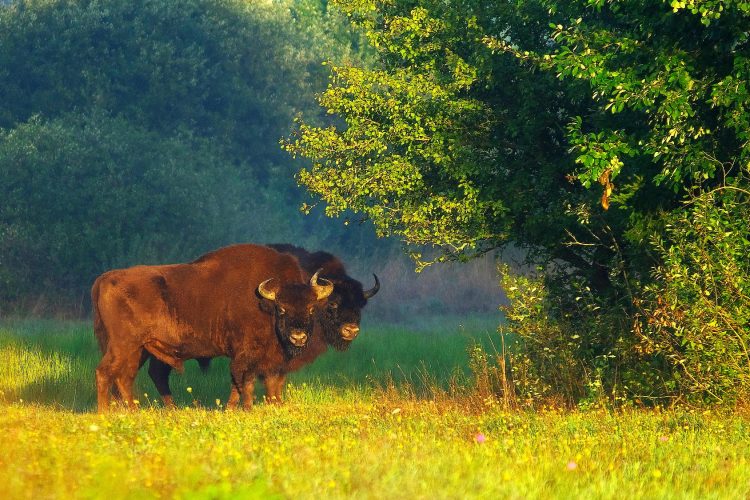 Visit the famous Białowieża Forest and Biebrza Marshes with their tremendous variety of wildlife. Watch Bison, Elks, Beavers and plentiful birdlife.
Spring – Summer – Autumn

8 days
| 5250 PLN
Spend three nights in the Primeval Białowieża Forest and see Europe's biggest land mammal – the European Bison in the wild.
All year

4 days
| 3250 PLN
The best event to experience true wilderness, unscathed nature and watch brown bears, wolves or bison in the wild Bieszczady Mts, Eastern Carpathians.
12 – 19 Sep 2020

8 days
| 3850 PLN
Trip reports
Real photos & videos from our tours
Site guides & maps
If you travel on your own and prefer self guiding