Bison Safari in the Białowieża Forest, Dec 2019
Tour Leader: Bartosz Smyk (Bart)
Participants: Anna, Ellen, Walter, Arthur (UK)
Text by Bartosz Smyk & Mariola Przyborowska
Photos by Bartosz Smyk
Mid December welcomed us with unusually mild temperatures and rain. After meeting in Warsaw and ca. 4 hour transfer north-east, we arrived in the Białowieża village. Short winter daylight was already over and drizzling rain coupled with strong wind didn't seem too inviting, but home-made dinner and cozy fireplace that awaited us at the guesthouse, warmed up right away our first impressions.
We have spent the next two days on exploring different parts of the Białowieża Forest. Shorter and longer treks in the forest combined with safari-style drives in our minibus revealed to us amazing diversity of natural habitats, and especially the visit in the Strictly Protected Area of the Białowieża NP (Man and Biosphere Reserve and the UNESCO World Heritage site), opened our eyes to the uniqueness of the last remaining European lowland forest.
Guided by an excellent local guide, Joanna, we spent several hours in the core area of the Białowieża Forest, walking between mighty oaks, hornbeams, spruces and lindens of different ages, amazed by the diversity of mosses, lichens and fungi of different shapes and colours.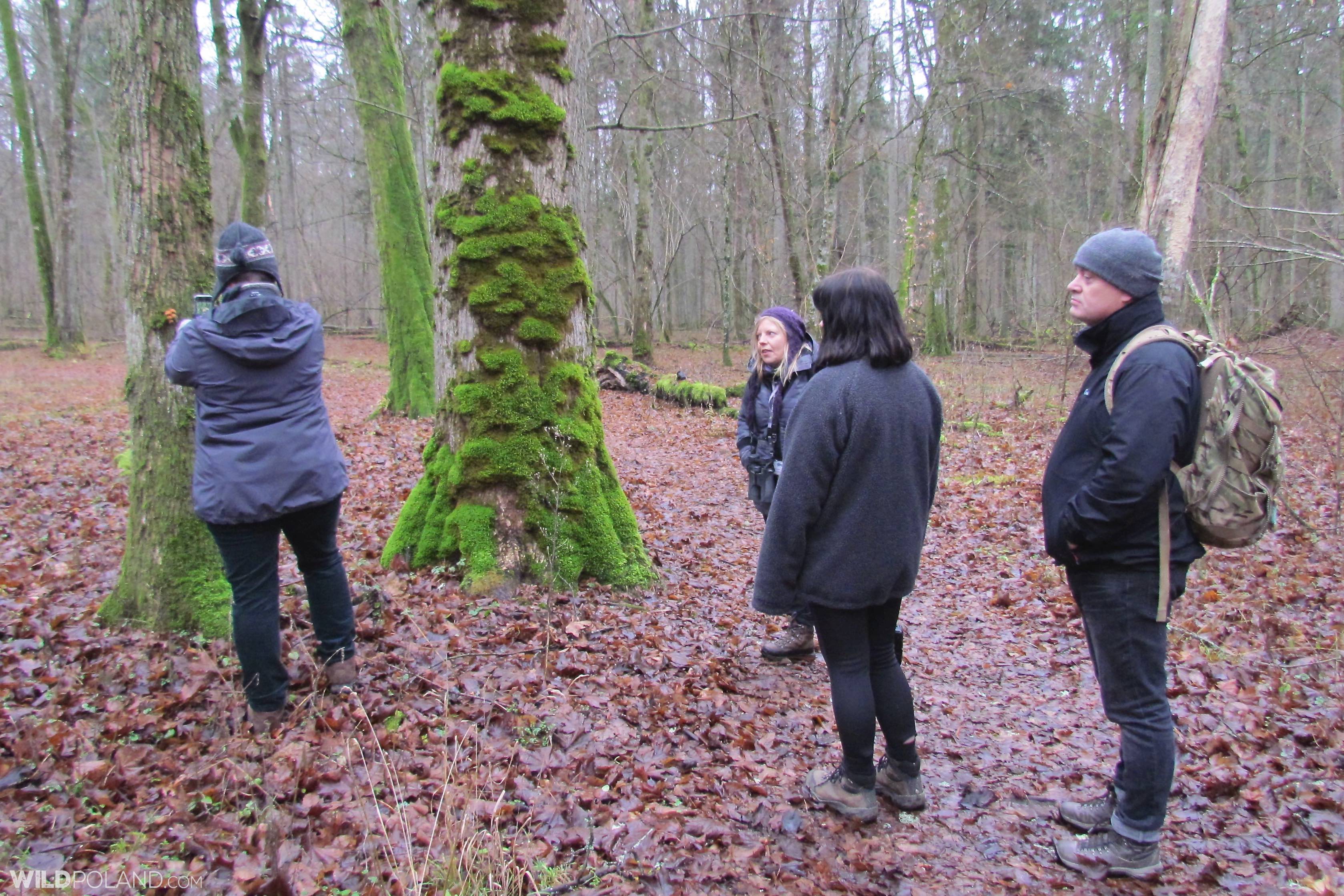 Our observations of Bison were very successful, we saw mixed herd of ca. 40 animals feeding at the meadow and few times spotted small groups of bulls (2, 3 or 5 individuals) in different spots of the forest.
In total we saw ca. 50 Bison in just two days!
Presence of Wolves in the area was evident from the very first time we entered the forest, as we came across their fresh scats and vigorous ground scratching on the main tracks. The highlight was a brief observation of 2 large individuals in the Strictly Protected Area. Although the meeting was short and unexpected, we saw 2 Wolves nicely and in a full daylight!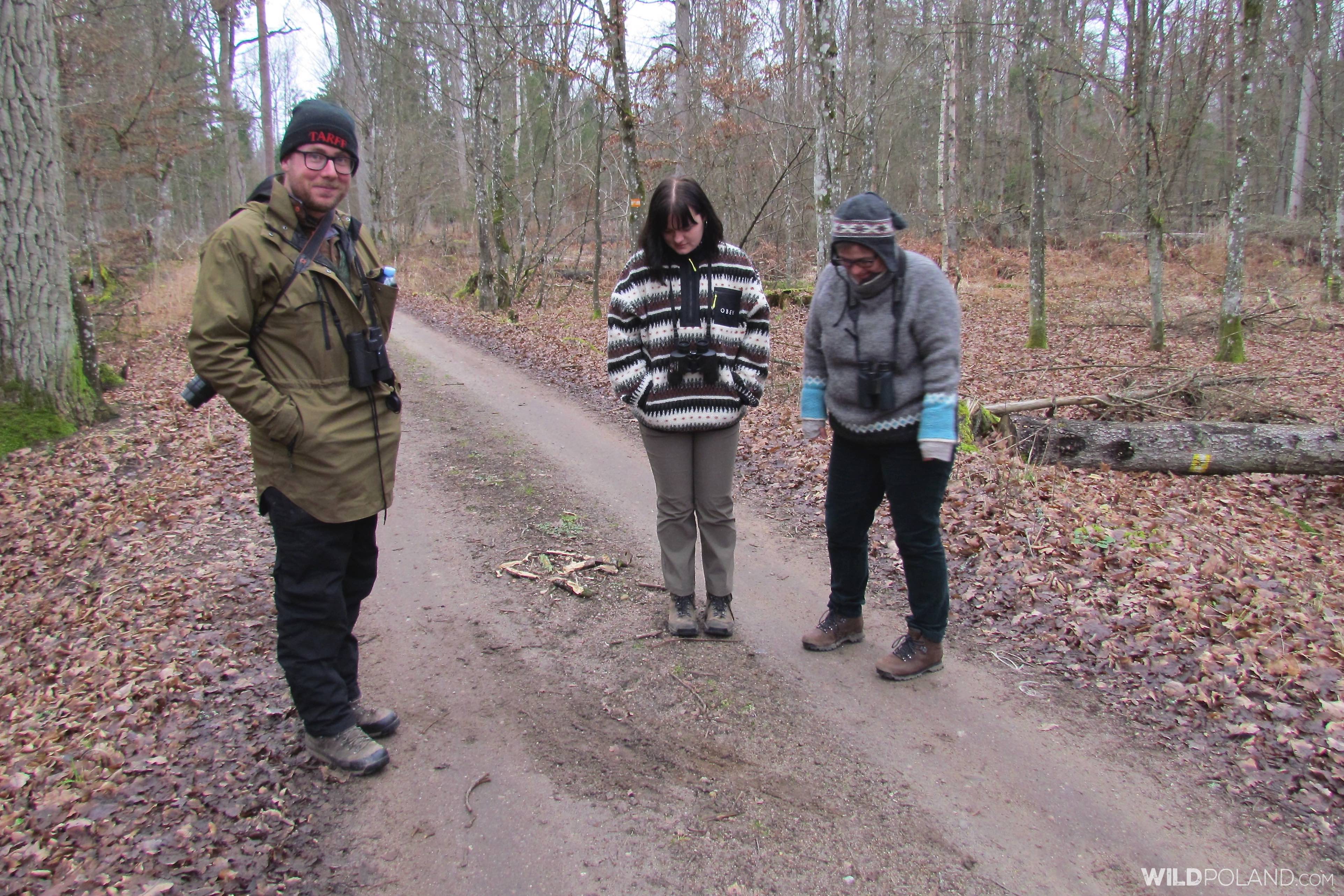 Apart from the iconic Bison and Wolves we also had a chance to observe other important inhabitants of the Białowieża Forest: Red Deer (2 stags with impressive antlers) and Beavers that occupy few sites at the local river Narewka. Here is one of them, spotted by our group during an evening walk close to our guesthouse.
Despite winter season and rather unfavourable weather, bird lovers were content with sightings of Middle-spotted and Black Woodpeckers, Nuthatch, Treecreeper, Marsh Tit and Long-tailed Tits, Bohemian Waxwings, Fieldfare and Hawfinch.
Immersed in the atmosphere of the ancient forest, we all enjoyed outstanding silence and atmospheric shades of snowless winter.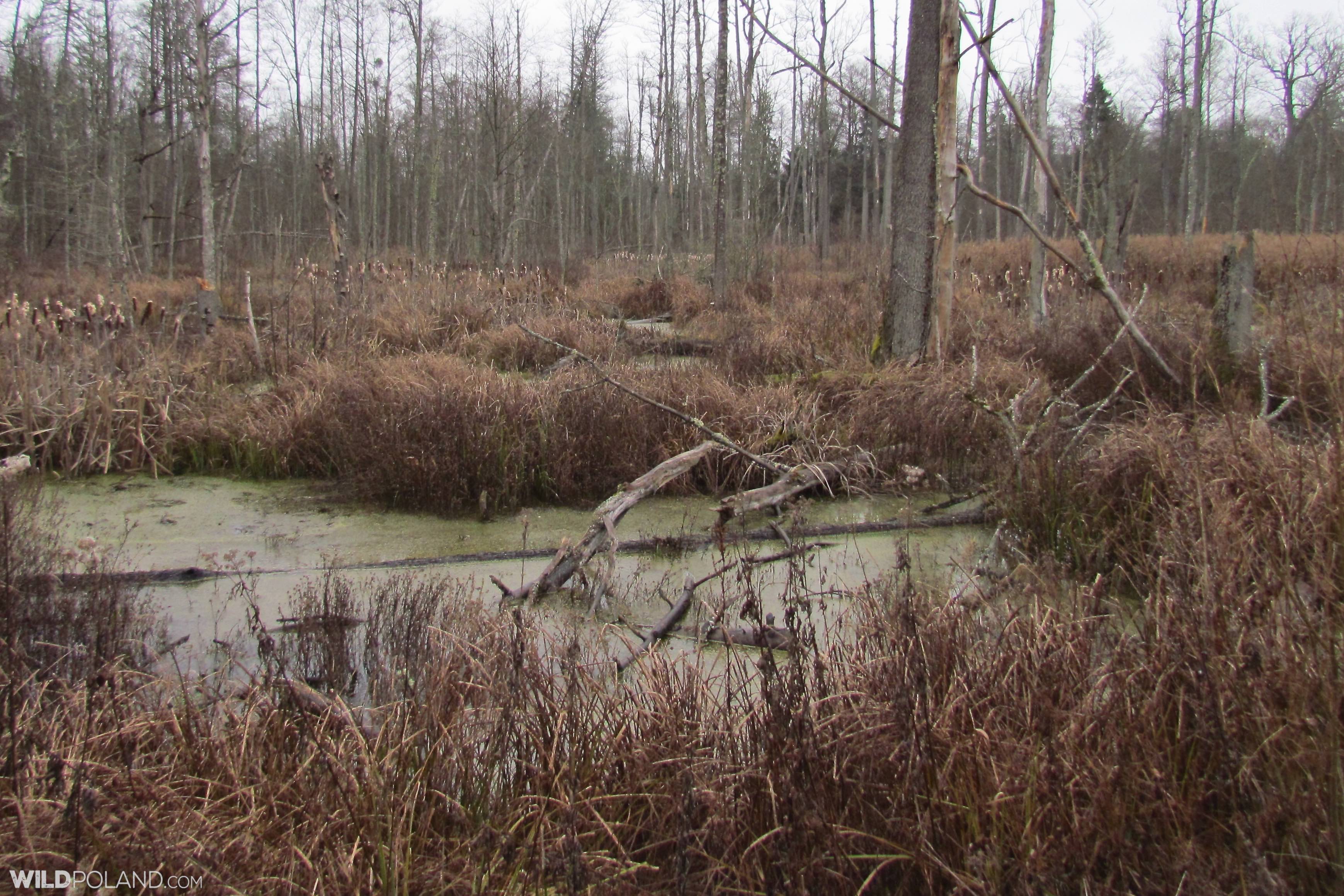 Our tour finished in Warsaw, after traditional Polish meal at the Old Town and short walk around the historical district.
Huge thank you to all participants!
Please, enjoy a small photo-gallery from this trip: