Winter Bison Safari and Wolf Tracking, Feb 2017
Tour Leader: Andrzej Petryna (Andy)
Participants: Justin & Aileen (DE), David & Lois, George, Francesco (UK)
Text by Andrzej Petryna & Łukasz Mazurek
Photos by Andrzej Petryna
Mid February was a little bit milder than the beginning of the year and the snow had already started to melt. Our group arrived into grey and cloudy Warsaw with temp. of +4°C. Fortunately, just as we got out of the city and started our drive north-east, it started to snow and we arrived at Białowieża Forest completely white and with -2°C.
We have spent the next two days in the forest in a real winter scenery with temperatures below 0°C. Most parts of boggy forest habitats as well as meadows were all flooded and covered with ice – very picturesque!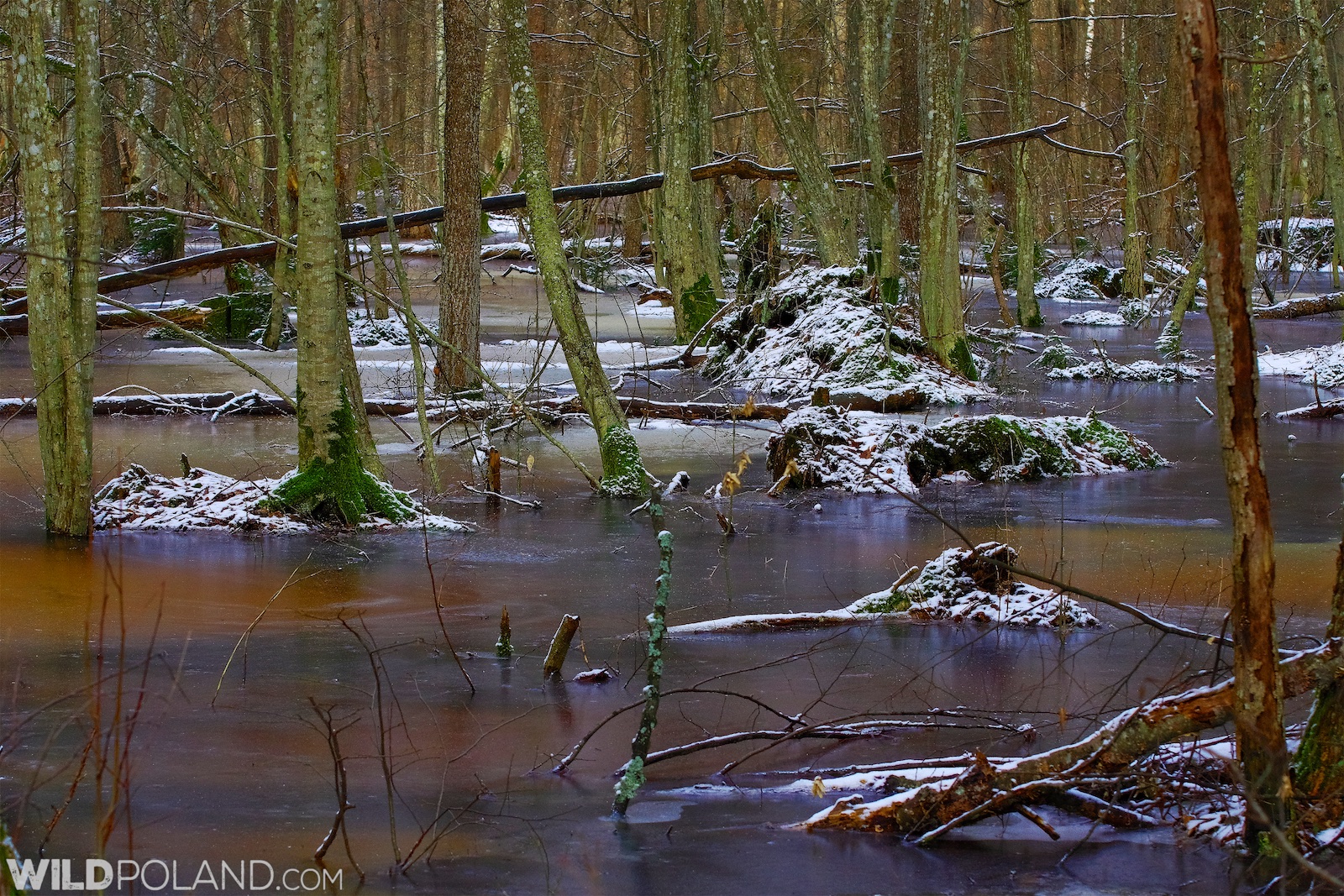 It was a quite cold but a very successful time as 3 times have we seen small groups of male Bison (3-4 animals strong) as well as a group of more shy cows with young (ca. 10 animals). We have also found the remnants of a female Red Deer killed by Wolves, and the fresh Wolf footprints along one of the forest tracks. We have also seen 7 Red Deer and a Red Fox.
During the walks in the forest and the Strict Reserve of the Białowieża National Park (UNESCO site), the most natural part of the Białowieża Forest, we have seen a Grey-headed, Middle-spotted, White-backed and a Black Woodpecker and two Tawny Owls. The intensive activity of Woodpeckers and also the fresh footprints and feeding traces of Badgers that had just finished hibernation showed that winter was slowly passing.
When we were leaving our cosy wooden guesthouse, the first Starlings were already singing around so we finished our trip with a nice spring walk in the Old Town of Warsaw in really warm temperature of +14°C. We really managed to get the last bite of winter at this tour!
Please enjoy a few more photos from this tour below: