Carpathian Mammals – Oct 2020 (Wolf seen!)
Tour Leader: Łukasz Mazurek (Luke)
Participants: Bernd (DE), Rob (UK), Gregory (BE), Peter, Johan (NL)
Text & Photos by Łukasz Mazurek
This was a very special tour for we caught 3 days of rain and sleet with the first snow of the season atop the peaks.
Day 1 – we picked everyone up quickly and were on the way to Bieszczady. Luckily – no rain. Traditionally we stopped for a hearty lunch and huge coffees en route and arrived at our guesthouse before 6pm. After a delicious home cooked dinner we went for our first night walk up to a Beaver pond. The walk in the dark and silence deep in the Carpathians was a great adventure in itself and having arrived at the hide we took a while to experience this serenity. Then, in a bright torchlight, we saw the first Beaver swimming across the pond right in front of us. It started raining but it didn't disturb the Beavers as another one came out onto the dam and started chewing some plants. We had fantastic views of them for several minutes until the bus arrived to pick us up.
Day 2
The morning was very cold but it didn't rain. As usual, we started before sunrise with a drive and a walk up to a vantage point. Saw 2 Red Fox on the way and a Tawny Owl hunting in torchlight.  As we arrived to the vantage point we saw a Red Deer and soon after a single Bison walking across the glade. Pygmy Owls were calling at sunrise and several woodpeckers incl. Black and White-backed were also active.
After a hearty breakfast back at our guesthouse and a short nap we went for a 13 km walk in the river valley and through several vantage points. We saw a Fox, Goshawk, plenty of Marsh and Long-tailed Tits. Wolf and Bear poo and tracks were plentiful. Then we had lunch in complete wilderness, at a riverside – as Bernd put it – 'just the kind of landscape I expected from Wild Poland'. In the meantime a Polish tourist walked by, took over and was walking ca. 200m ahead of us. Suddenly we saw him running back at us shouting that he had just seen a huge bear a few metres in front of him right next to the path. This guy scared away our Bear!
When we arrived at the final vantage point Bison, Bear and Wolf tracks and scat were numerous and the landscape – breathtaking but we saw no mammals apart from a couple of Polish tourists wandering. We waited until dark, saw two Spotted Salamanders, heard Pygmy Owl calling and started our way back as it started to rain.
Tired and covered in mud we had a huge and delicious dinner at a mountain hotel on our way back to the lodge.
Day 3
It has been raining all night long and also this morning as we woke up. Had our usual freshly brewed coffees and went for a drive in the river valley via several vantage points. The rain would diminish and then start up again, it was very foggy and we could see very little so decided to take a walk through the glades to penetrate a possibly largest area.
Saw some fresh Bear and Wolf tracks and then some birds – Crossbills, Common Buzzard and a great view of a Nutcracker and a Great Grey Shrike.
In the afternoon we took a 7km walk in the rain, in the Bear and Wolves territory, through the forest, at its edge, via a few vantage points, glades and along the river – our state border with Ukraine at the other side.
We started with 6 Goosander in the river and a great view of a Kingfisher. We saw plenty of fresh Wolf and Bear footprints and scat as well as a huge truck with centuries old fir trees leaving the forest – a bad timing for mammal watching. After a coffee break at a Beaver hide we continued our journey through vantage points in the rain. Saw two Dippers in the stream, a Red Fox, Brown Hare and a Grass Snake, barely alive in the cold.
We also tried howling whenever it was sensible but Wolves would not respond. Finished the day with a delicious dinner and a bottle of vodka at another mountain hotel.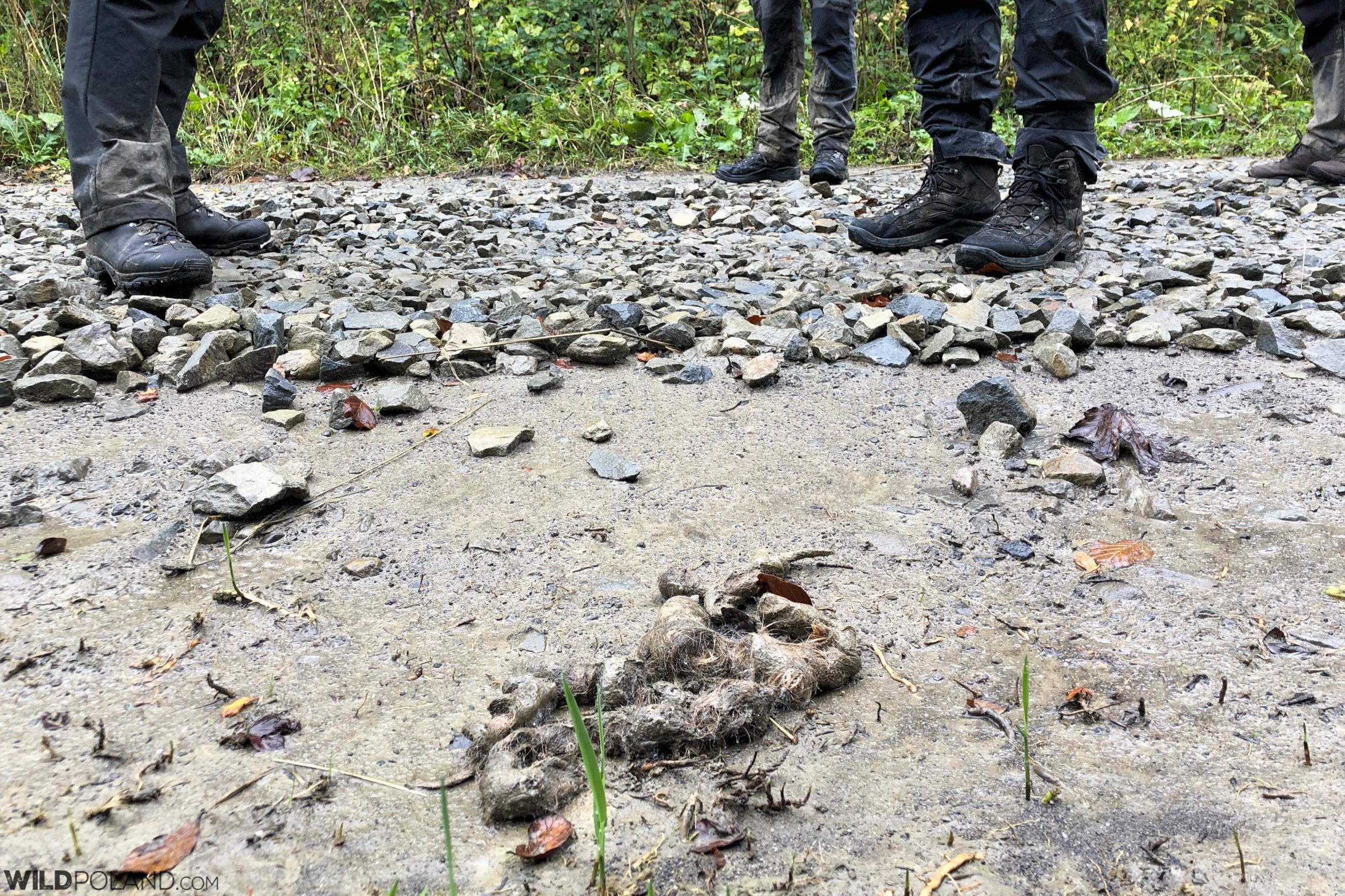 Day 4
It continued to rain and the wind increased thus lowering the temperature to around 0°C. We didn't surrender though, put on all our warm and waterproof clothes, drunk our morning coffees and were on the way as it was still dark.
When we entered the Wolves territory, the first animal we saw in car lights was a cat that half of us thought could be a Wild Cat but it was only a second and we didn't see it again. Several minutes later we saw a Hare running very fast along the road straight at us. It was scared like hell and the next thing we saw was a young Wolf chasing it. Both have disappeared in the forest within 2 seconds but almost everyone had a brief look at the Wolf.
The morning was promising. The wolf pack was obviously hunting in this area and they were very near as we saw 2 Red Deer running across the glade very scared within the next hour. But we managed only a bit more than an hour at the vantage point and retreated back to the bus in heavy rain and sleet.
In the afternoon we took a short walk in the forest in the Bear and Wolves territory and saw an Adder (barely alive in the cold rain) and a Sparrowhawk.
Having warmed up and dried up a bit back at our lodge we revisited the glade form this morning hoping for more Wolf activity. We saw 3 Red Deer and 2 Red Fox from the bus very near but the glades were deserted. It has been very cold and the 3rd day of rain. Then, just as we were leaving the open area and about to disappear in the forest we took a last scan of the meadows and saw two Bison coming out of the forest. They obviously didn't mind the rain but chose a more quiet area instead of the windy glades to come out to feed. It was a pair – a bull with a cow and we watched them until dark.
Day 5
The weather improved, it stopped raining overnight and we decided to hit the road much earlier to really squeeze out everything that was possible in these circumstances. We were out at 4 am – two hours before dawn.
First – we drove in the Wolves territory scanning the meadows with torchlight and saw several small groups of Red and Roe Deer as well as a Red Fox. Altogether we saw 7 Red Deer, 6 Roe Deer and 1 Fox. They were all feeding slowly so Wolves were obviously hunting at a different part of their territory this morning.
Then we transferred into the forest and took a short walk at its edge, scanning the glades and meadows – with no success. At dawn we transferred to another site and visited two more of our favourite vantage points and finished the tour with the sighting of a Buzzard, a female Hen Harrier, Ravens, Crossbills and Hawfinch.
After our last hearty and delicious breakfast back at the guesthouse we packed and left for Kraków. And guess what – it started raining again as we left 🙂
Huge congratulations to all the participants for your perseverance and determination, we really did our best.