Winter Wildlife Festival, Jan 2019
Wild Poland Team: Mariola, Andrzej Petryna (Andy), Piotr Dębowski (Peter), Michał Skierczyński (Bosman), Łukasz Mazurek (Luke), Joanna Smerczyńska (UNESCO), Irek Smerczyński (UNESCO).
Lecturers:
prof. Bogdan Jaroszewicz (Geobotanical Research Station, University of Warsaw), prof. Rafał Kowalczyk (Mammal Research Institute, Polish Academy of Sciences), prof. Karol Zub (Mammal Research Institute, Polish Academy of Sciences).
Participants: Sam (BE), Geraldine, David, Krysten, Sebastian (AU), Hellen, Lilli, Marcella (AU), Sara, Leanne (UK), Kevan, John (UK), Nora (ES), Dorrit, Ed (UK), Tim, Anne (UK), Richard, Denise (UK), Shaun (UK), Johannes (SE), Shelley, Leila (UK), Vikram (IN), Vojko (SI), John, Mike (UK), Thibault (FR), Phillip (DE), Richard (UK).
Text by Łukasz Mazurek
Photos by Wild Poland Team
The first Winter Wildlife Festival became a huge success. We have hosted 30 participants form 10 different countries. Seven team members and 3 drivers have worked dawn to dusk taking small group trips around the wildest sites of the Białowieża Forest and Biebrza Marshes.
We were based at a lovely wooden family-run guesthouse right in the middle of the Białowieża village. The weather was perfect with lots of snow and just below 0° C.
We have run over 30 trips in 6 days and recorded 19 mammal and 57 bird species overall. Take a look at a complete checklist from that week: Wild Poland 2019 Winter Wildlife Festival checklist › (pdf, 150 kB)
We have seen Bison every day and were really close to Wolves a couple of times, we have even heard them howling very near. Our camera traps have recorded them several times that week and on our last night even Lynx have visited this area.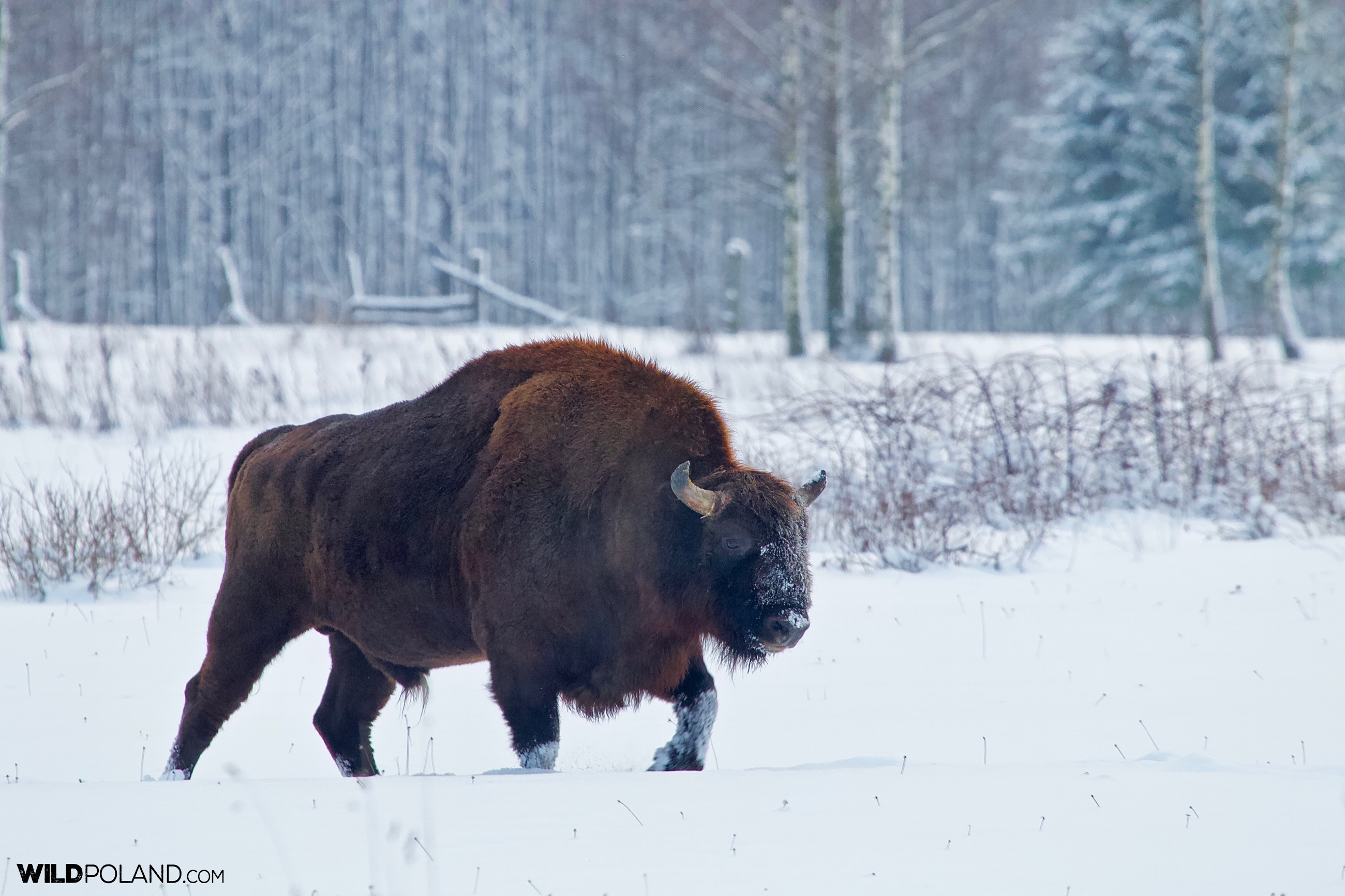 The trip to the Biebrza Marshes was big fun, the snowy landscapes were stunning and everyone had good views of Elks (Moose) and Otters. In the Białowieża Forest, everyone had a chance to visit the core area of the National Park and the UNESCO World Heritage Site and see how the forest looked like a few thousand years ago.

The undeniable highlight of the whole event were the evening talks by local scientists. Karol Zub told us about the importance of dead wood, Rafał Kowalczyk revealed the full history and most recent findings in the ecology of European Bison and Bogdan Jaroszewicz rounded it all perfectly by explaining what the natural forest is really about.
We have finished the festival with our traditional campfire in the forest, with mulled wine, a little bit of Polish vodka, sausages smoked over fire and some traditional folk songs 😉
Please enjoy a few more photos from this festival below and feel invited to visit next year!