Go tracking Wolves and watch Bison herds in the stunning winter scenery
Join our fanatic nature enthusiasts crew at the height of winter. See the unscathed nature in the beautiful, snowy landscape. Listen to evening lectures by leading local researchers for an even greater insight.
We will spend this week in the Białowieża Primeval Forest, in the far east of Poland, at the border with Belarus. This area holds the largest population of wild European Bison as well as Wolves and Lynx and we will offer day trips at the best sites.
Winter is a prime time for mammal watching and furthermore, offers a fantastic snowy scenery. Of course we can't guarantee weather but have planned this festival at the most reliable time. Additionally, we will offer a two-day trip to the famous Biebrza Marshes to see Elks (Moose), (seen well on all our previous trips!) as well as Beavers and Otters (much more difficult).
You will also get a chance to visit the Strict Protection Area of the Białowieża National Park for a few hours walk. We will have the permission to enter the core area of the forest, the Man and Biosphere Reserve and a UNESCO World Heritage Site. The pristine, natural forest of huge, centuries-old trees and home to the rarest Black, White-backed and Three-toed Woodpeckers.
Although there are few birds around at that time, you will have a chance to get some great views of winter rarities like the mentioned woodpeckers but also a White-tailed Eagle, Rough-legged Buzzard, Great Grey Shrike, Hawfinch or Waxwing.
We have also asked leading local scientists to join us in the evenings and give in-depth lectures on the Białowieża Forest and its wildlife.
Finally, we will also point out several options for self guided walks so you can see the forest at your own pace and have some private time. Our experienced and enthusiastic nature guides will point out all the wildlife around as well as keep you informed about the region's history and ethnic diversity.
We will stay at a comfortable family-run guesthouse located right in the centre of the Białowieża village. As usual, we will finish with a traditional Polish campfire to add a unique and unforgettable taste to your wildlife holiday.
See real wildlife in a respectful way
How it works
Outline itinerary
Join us in Warsaw by and transfer to the Białowieża Forest
Wildlife watching in the Białowieża Forest and other areas – do it yourself or join our guided trips
Transfer to Warsaw, finish by
Basic price includes the transfer and half board accommodation
The festival starts and ends in Warsaw. Participants arrive at Warsaw at their own expense. We meet at , downtown Warsaw in front of the Palace of Culture and Science and transfer to our lodge in Białowieża. If you arrive by train or a car – contact us for detailed directions.
The lodge is located right in the centre of the Białowieża village, near the 19th century park that the Russian Tsars laid out around their enormous castle-like shooting lodge. The park is well preserved with beautiful trees, a river and ponds where Beavers live. Behind the park lies the Strict Protection Area of the National Park.
On the last day, we transfer you back to Warsaw. We plan to arrive at Warsaw and finish by . Basic participation costs include the transfer, accommodation, plentiful breakfasts and 3-course dinners. If you feel like watching wildlife on your own – it's all you pay for. You will even receive a detailed map of the area and suggestions for self guided walks to help your personal exploration.
Wildlife watching trips are optional; charged on the spot
On the grounds of our lodge we will run the Festival Office where you will be able to find out and subscribe to our guided wildlife watching trips on a daily basis. We will offer at least 3–4 different trips each day according to current wildlife situation and weather. These trips include transportation, guiding and all entry fees.
The trips will be priced according to their length and driving distance. A typical trip is 3-5 hrs long and costs PLN 150–250 (ca. €40–60). There is no limit to the number of people taking part in a festival but our guided trips always run in small groups, 3–12 persons, usually max. 7 persons.
This way you compose your own itinerary on the spot and are charged for the trips you choose, separately. Only debit or credit cards are accepted (Visa and MasterCard), so no cash is needed. All trips start and finish at the lodge.
A variety of trips will be offered
Below is a small selection of trips from our previous festivals. The exact trips offered may differ from these. We may also offer additional short trips according to current wildlife situation and your suggestions, even for single species or a historical tour of wooden villages. Many trips will take place at dawn and dusk of course 🙂 for best wildlife activity, leaving enough time in the day to rest.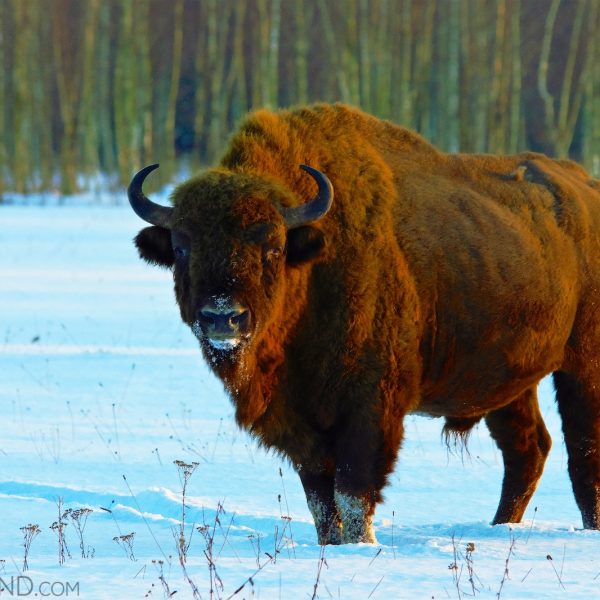 Bison Patrol, 2-3 hrs
A short drive and a walk at dusk or dawn in search of wild European Bison. Other likely species include Wild Boar, Red Deer and even Wolves or Lynx.
Bison Safari, 3-4 hrs
A long drive at dusk or dawn in a safari style, scanning the forest edge and vast meadows in search of wild European Bison herds. Other likely species include Wild Boar, Red Deer and even Wolves or Lynx.
Dawn Patrol, 3-4 hrs
A drive and/or a walk at some of our favourite forest patches. This is the trip that each year brings us some Wolf and Lynx sightings. But there is so much more to see!
UNESCO Site, 4–6 hrs
A visit in the core area of the forest, the Strict Protection Area of the Białowieża NP and a World Heritage Site. Pristine habitat, high chances of the rare Woodpeckers.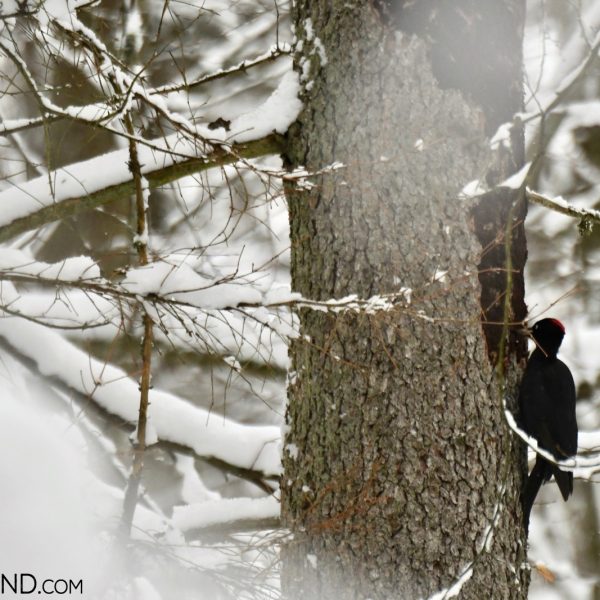 Woodpeckers, 4hrs
A short drive and a few walks in various forest habitats to find White-backed, Black, Three-toed, Middle-spotted, Grey-headed Woodpeckers and more.
Long forest trek, 6 hrs
Experience the winter forest from wild animal's perspective away from roads and tracks. Learn the basic tracking and orientation skills and deepen your understanding of nature.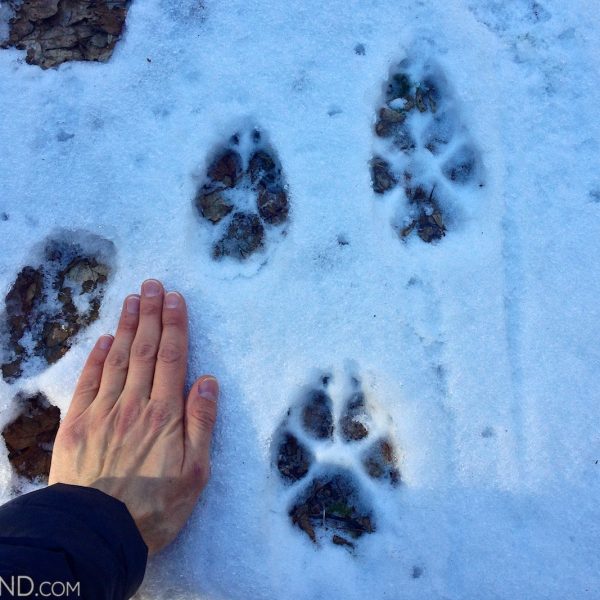 Wildlife tracking course, 4hrs
A slow walk at one or more sites deep in the Białowieża forest tracking mammals. Our guide will point out all that there is to see and explain the basics of reading animal tracks. It is unbelievable how much you can read from footprints!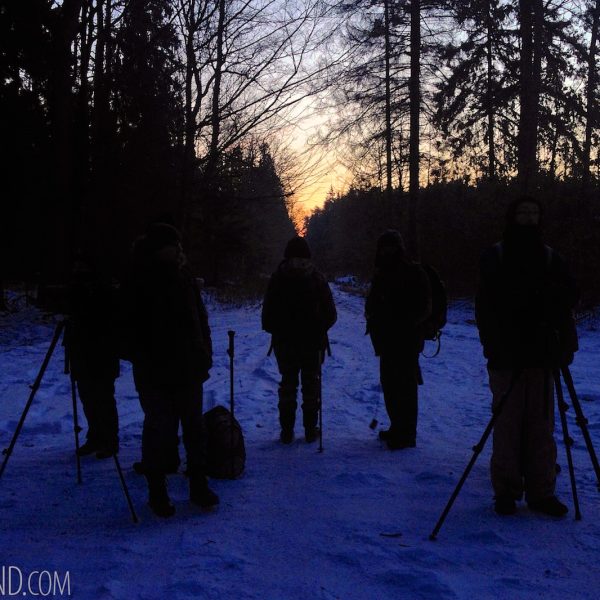 Forest at night, 2-3 hrs
Join one of our crazy guides for a night walk through the forest to experience the primeval call. Chances of seeing and hearing  Owls, nocturnal mammals and… your heart beat.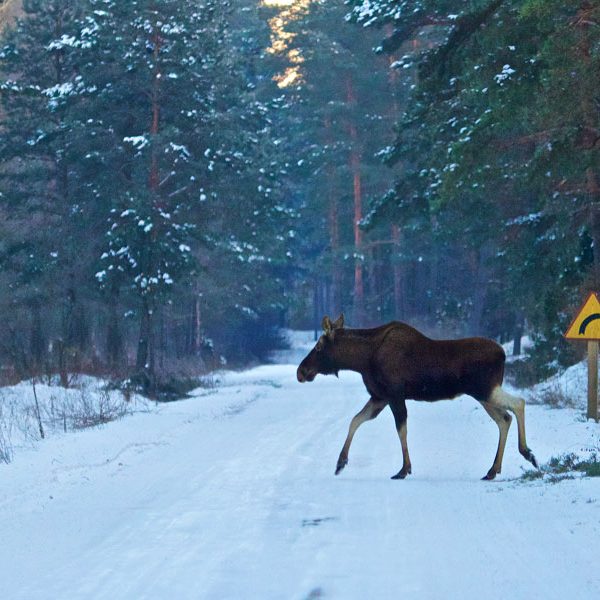 Biebrza Marshes, 2 days, incl. hotel & food
Two days trip with an overnight stay at the famous Biebrza Marshes for an Elk (Moose) Safari plus chances of Beavers, Otters, White-tailed Eagles and more.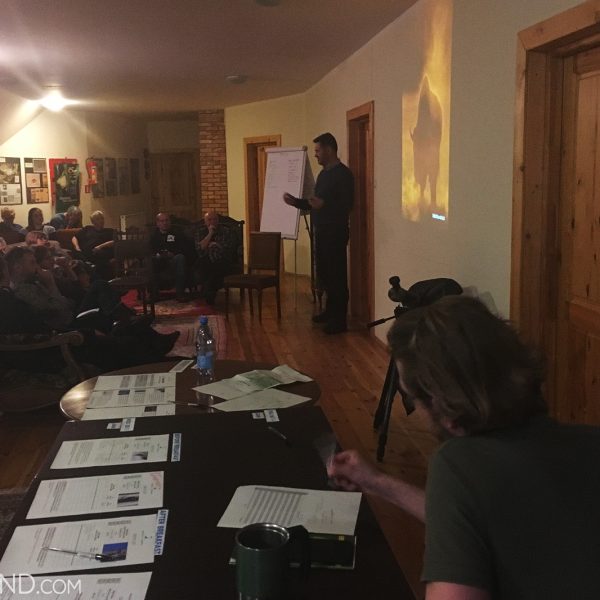 Evening lectures, 1-2 hrs, admission free
We have asked two leading local researchers to join us in the evenings and give lectures on the situation of the Białowieża Forest and its wildlife. Isn't it a smart way to spend long winter evenings back at the lodge?
Reports from our previous winter adventures
Key information
You should bring the following necessary items:
waterproof winter trekking boots/warm rubber boots,
waterproof outer layer,
warm middle layers & thermal underwear,
warm hat & gloves,
binoculars,
small torch/headlamp.
You may consider bringing the following useful items:
walking stick,
snow & ice cleats/crampons,
gaiters,
scope on a sturdy tripod,
thermo flask/cup.
I don't know any Polish. Can I easily communicate in English?
Yes, the Festival language is English and all our guides speak it well. What we cannot guarantee, however, is that all the hotel staff are fluent. Therefore our staff will be there to assist you in a rare case that you may require help.
Can I join your trips without booking accommodation? (I will be in Białowieża in these dates and have my own accommodation)
Yes, the Festival is open to other visitors who just 'come by' so you can visit our festival office and join any of the trips with enough spaces available.
Can I book some of the trips in advance?
No, unfortunately not. The detailed daily programme strongly depends on the current wildlife situation and weather. Therefore we will only offer trips on the spot and only for 1-2 days in advance.
We don't have a fixed plan. We will try to repeat any trips which continue gathering interest – so that everyone has a chance to participate.
Eating & drinking
Polish food is very good, usually made from fresh produce. We are certainly meat eaters, not shunning from the fatty cuts. Pork and poultry are most popular. Soups are also a very Polish dish and while we do like our broth and borsch, many other soups are a full meal in itself.
Breakfasts tend to be hearty and often consist of fried or scrambled eggs, boiled or fried sausage, cold cuts, cheese, tomatoes and bread. A sweet version consisting of cheese/jam filled pancakes or racuchy (pancakes with apples) is also quite common.
Lunches are not included but there are enough cafeterias and groceries a few minutes walk from our venue to try a different place each day. Polish cuisine offers a large variety of hearty meals from pierogi (dumplings) to soups and groceries are well supplied. Additionally we will also offer packed lunches (paid extra) to take with you on a trip. These will be prepared by the restaurant of our venue and consist of two sandwiches, a piece of fruit, chocolate bar and a small bottle of water.
Dinners are a substantial 3-course meal of a warm soup, main dish and a dessert served back at our guesthouse.
Vegetarians & vegans
These days vegetarians are usually well catered for, but please let us know at the time of booking. However, it can be difficult for vegans, as dairy produce and eggs occur in the vast majority of meals. Therefore we recommend that you bring some supplementary items.
Travel & medical insurance
We (Wild Poland) are fully insured tour operator as required by Polish and European law. However, all participants must additionally be covered by personal travel and medical insurance, preferably from the time of booking. This should cover you fully against the cost of cancellation by you, lost baggage, medical care and repatriation.
We do not provide or check personal travel insurance policies. See our booking conditions › for more details.
Payments & currency - card or cash?
Poland's currency is PLN, also abbreviated as 'zł.' and generally EUR are not accepted.
At Wild Poland we accept card payments only and charge in PLN – both for booking your place online at this website and for paying for the trips you choose on the spot. Unfortunately, we cannot accept any cash.
Cards are now widely accepted at restaurants, groceries etc. but you may wish to have some PLN in cash to pay for your drinks, souvenirs etc. There is a cash machine in the Białowieża village.
How is my money protected?
First of all, we are a registered tour operator in Poland. All holidays by Wild Poland are protected by the Mazovian Province and our AXA tour operator insurance. In the unlikely event of our insolvency, the Province executives guarantee to refund any money you have paid to us for any future booking.
Secondly – you get 100% money back guarantee with Wild Poland. By booking, you will be asked to pay a small deposit to confirm your place. It allows us to book the hotels etc. in your name. In a rare case that we have to cancel the departure because of insufficient number of participants, you will be refunded the full deposit amount. Small differences in the refunded amount may occur because of varying exchange rates.
Finally, we use Poland's leading online payments gateway called PayU ›. Any critical credit card details are only entered at their secure pages and we have no access to, nor do we withhold any credit card details.
Booking
100% Money Back Guarantee with Wild Poland
By booking, you will be asked to pay a small deposit to confirm your place. In a rare case that we have to cancel the departure because of insufficient number of participants, you will be refunded the full deposit amount.
When booking a guaranteed tour within 30 days of departure you will be asked for a full payment instead of just the deposit.