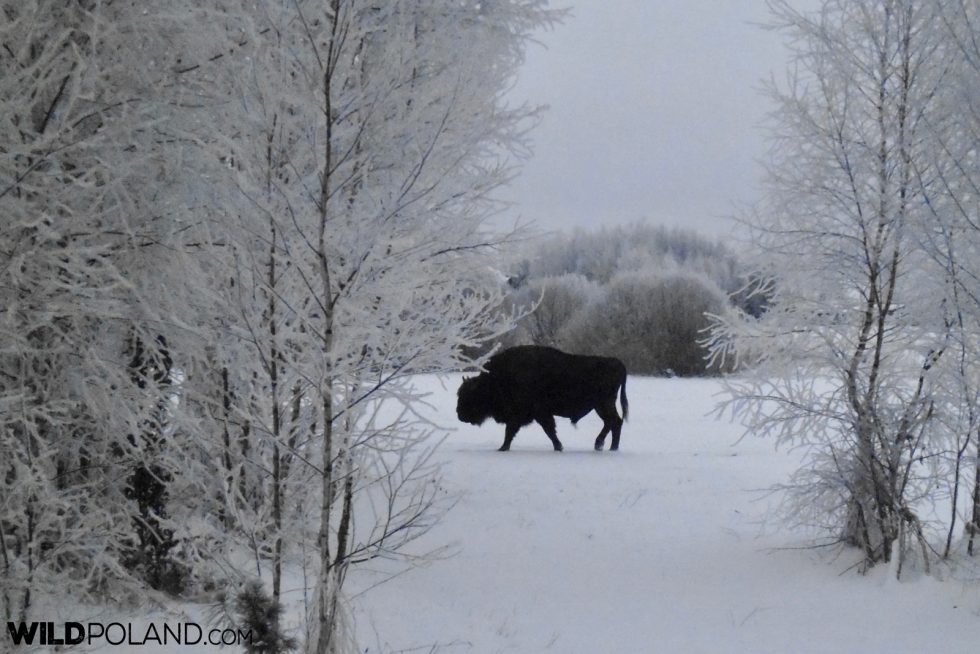 Winter Bison Safari & Wolf Tracking, Jan 2017
Tour Leader: Piotr Dębowski
Participants: Angela and Oscar (AU), Mark and Rosa (UK)
Text by Piotr Dębowski & Mariola Przyborowska
Photos by Piotr Dębowski
Our tour started at Warszawa Zachodnia Station. Warsaw welcomed us with bright sunny sky and temperature -15ºC, so as soon as we gathered together, we bordered our minibus, put the heating on, and headed to Białowieża. It was already time for dinner when we arrived at our cosy wooden lodge. It was freezing cold outside and we decided to stay in for the rest of the evening. After we warmed ourselves up with a hearty homemade meal, we had a brief introduction to the area over the map.
On the following day the temperature was still very low, although beautiful snowy landscape was a great reward for an early morning wake up. We were driving and walking around Białowieża Forest for a few hours, scanning the meadows and the edges of the forest in search of the bison and other wildlife. Finally, around noon, we spotted our first Bison. It was a single bull crossing the road near Teremiski village. Here is a photo of our happy group recording the moment: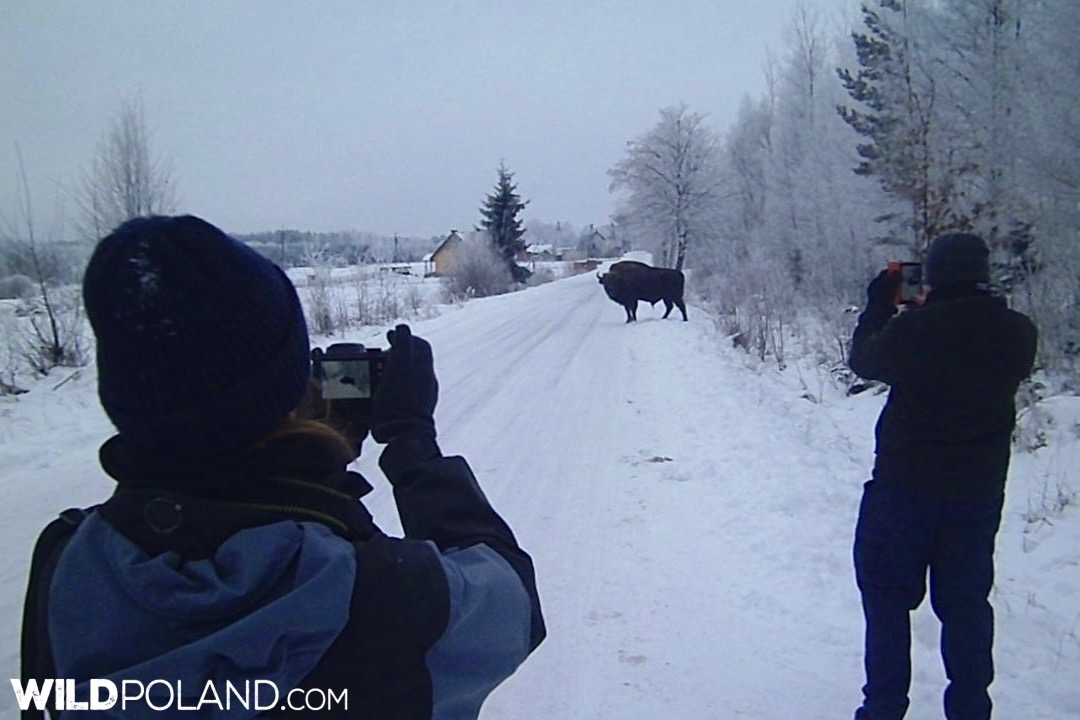 It was only the beginning of great sightings, as when we moved to the north part of Białowieża National Park, we found 4 herds of Bisons, and we counted over 100 animals in total! They gave us an excellent time. Below photo was taken nearby a feeding place, where animals like to gather in wintertime.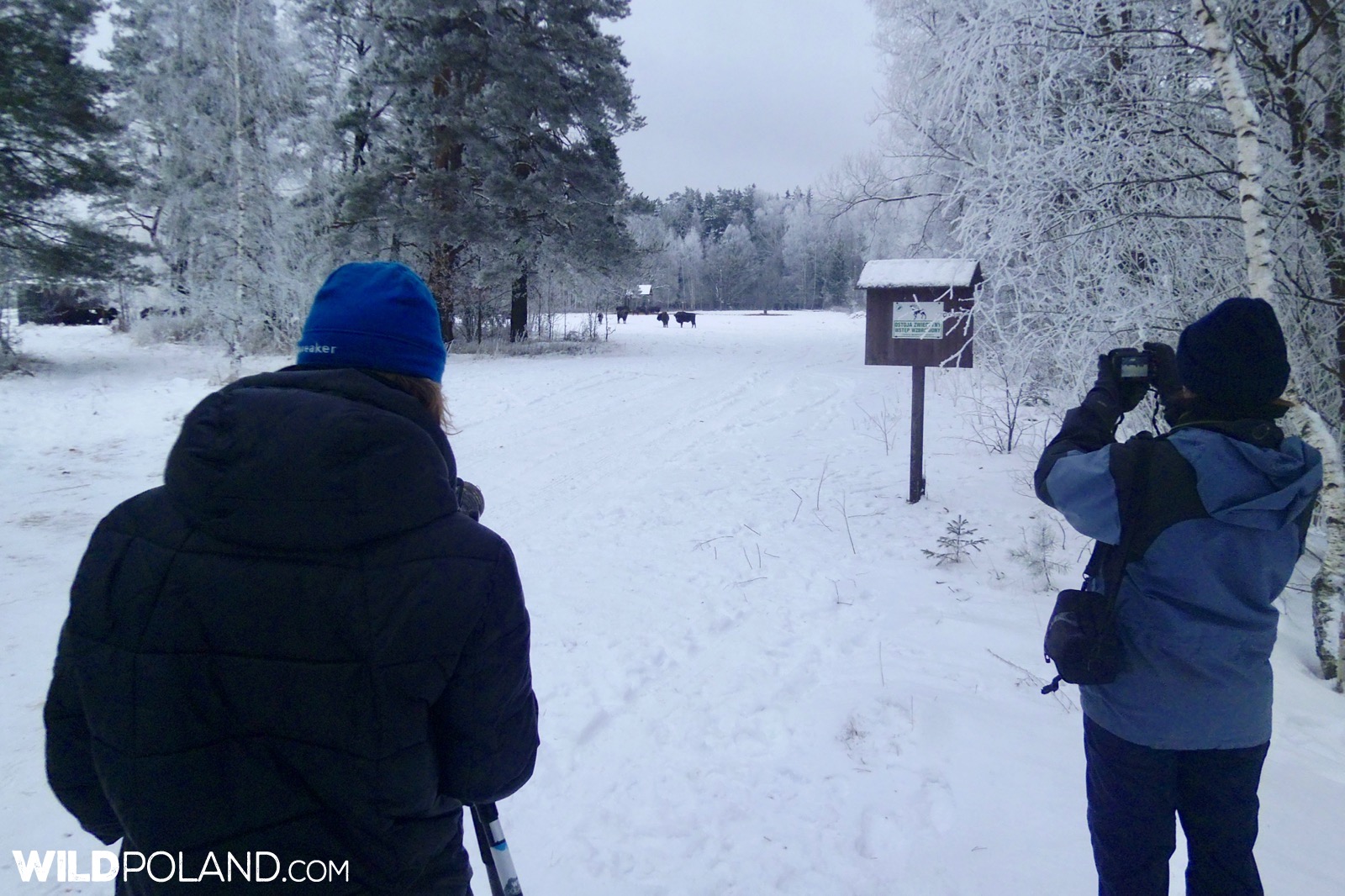 Moreover, that day we saw numerous Red Deer and 5 Foxes, and a beautiful songbird – Great Gray Shrike. We came back to our cosy lodge at dusk. It was still early, and we had plenty of time for enjoying our free evening after such a successful day.
On our third day in Białowieża we visited the Strict Protection Area of the National Park, the UNESCO World Heritage Site. Our local guide, Irek, gave us in-depth information about history of the park and biological diversion of Primeval Forest. Wintertime is great for woodpeckers and during our walk we observed 3 rare species – White Backed, Middle Spotted and Grey-headed Woodpecker. But it was not only birds, we also found fresh footprints of Wolves along the paths!
After lengthy walk in -15ºC we all needed warm and genuine lunch to keep us warm, so we came back to our lodge for traditional polish dumplings. We spent the rest of the afternoon wolf tracking. We followed a pack of wolves that left fresh footprints along one of the forest paths. We had no luck with wolves, although on the way we saw a range of other mammals – Red Deer stags, Wild Boar, and 4 Bison. We were also happy to see a Black Woodpecker.
Before coming back to Warsaw we took a short drive around the forest to see our last 4 Bison bulls nearby Teremiski village. We finished our tour with traditional lunch at Polish-Jewish restaurant, and a walk around charming streets of Warsaw Old Town. What a great beginning of the year!