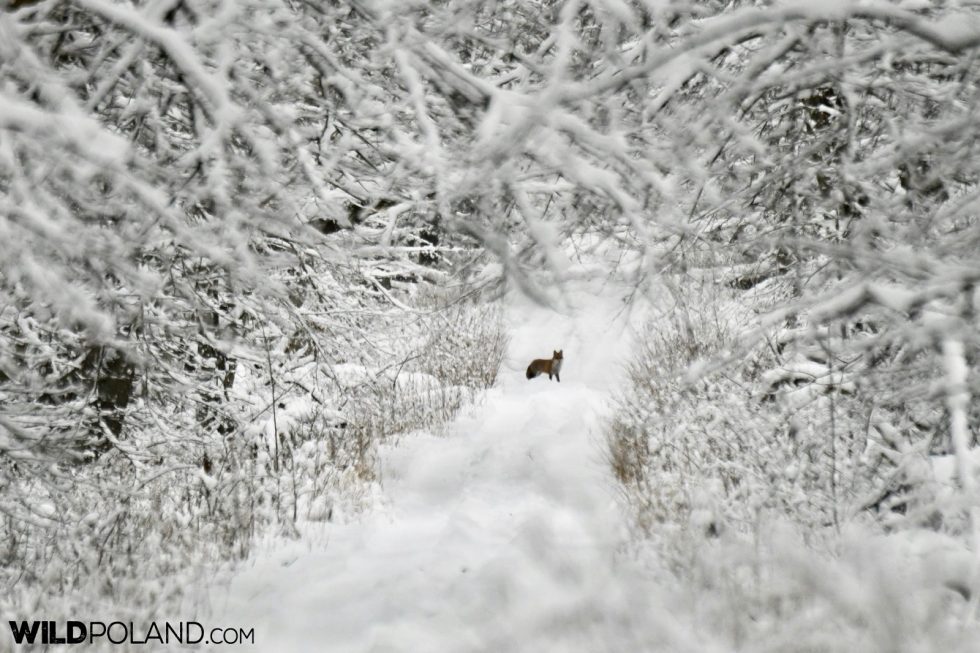 Winter Bison Safari, Białowieża Forest, Jan 2018
Tour Leader: Andrzej Petryna (Andy)
Participants: Eva, Fiona, Susan, Andrew, Robin (UK), Ellen (DE)
Text by Andrzej Petryna & Mariola Przyborowska
Photos by Andrzej Petryna & Joanna Smerczyńska
Our second Bison Safari this year seemed to be more lucky with snowy wintry weather than the previous departure. Two days before our tour, the Eastern part of Poland has experienced some fair snowfall. Eventually winter has reached Central Poland and Warsaw. It kept snowing on the day of our departure, but it wasn't until we arrived in Białowieża, that we noticed the real beauty of snowy silent countryside. For the next two days the temperatures settled down at a stable level of -3 / -4°C either during the day or night, while heavy gray clouds were about to bring more snowfall. Walking in such a winter wonderland was a real pleasure.
It was a private departure and most of all we aimed to see all the possible aspects of the natural forest, however, no visit to Białowieża is complete without seeing Wild Bison and winter time is the best time of the year for spotting these remarkable animals. At first we drove around Białowieża and neighbouring villages searching for lone bulls, then we visited the north part of the forest hoping to see larger herds.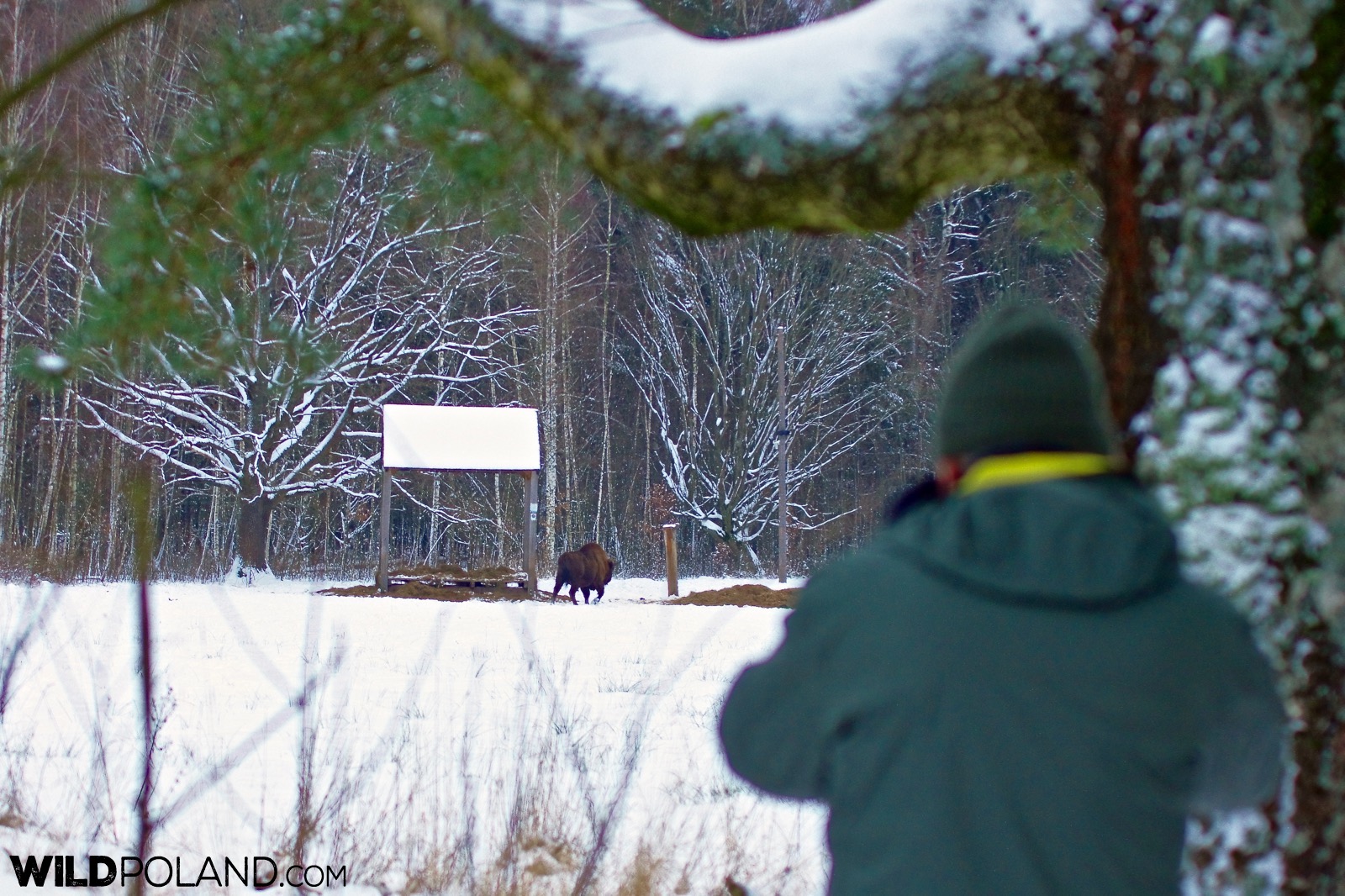 All together we have seen 4 bulls (2 solitary ones and 2 hanging around together), a herd of cows with youngsters (ca. 20 animals strong), and a loose group of three cows. Most of the animals were spotted near the hay stacks left for the winter at the meadows, thus giving us some great opportunities for undisturbed observations.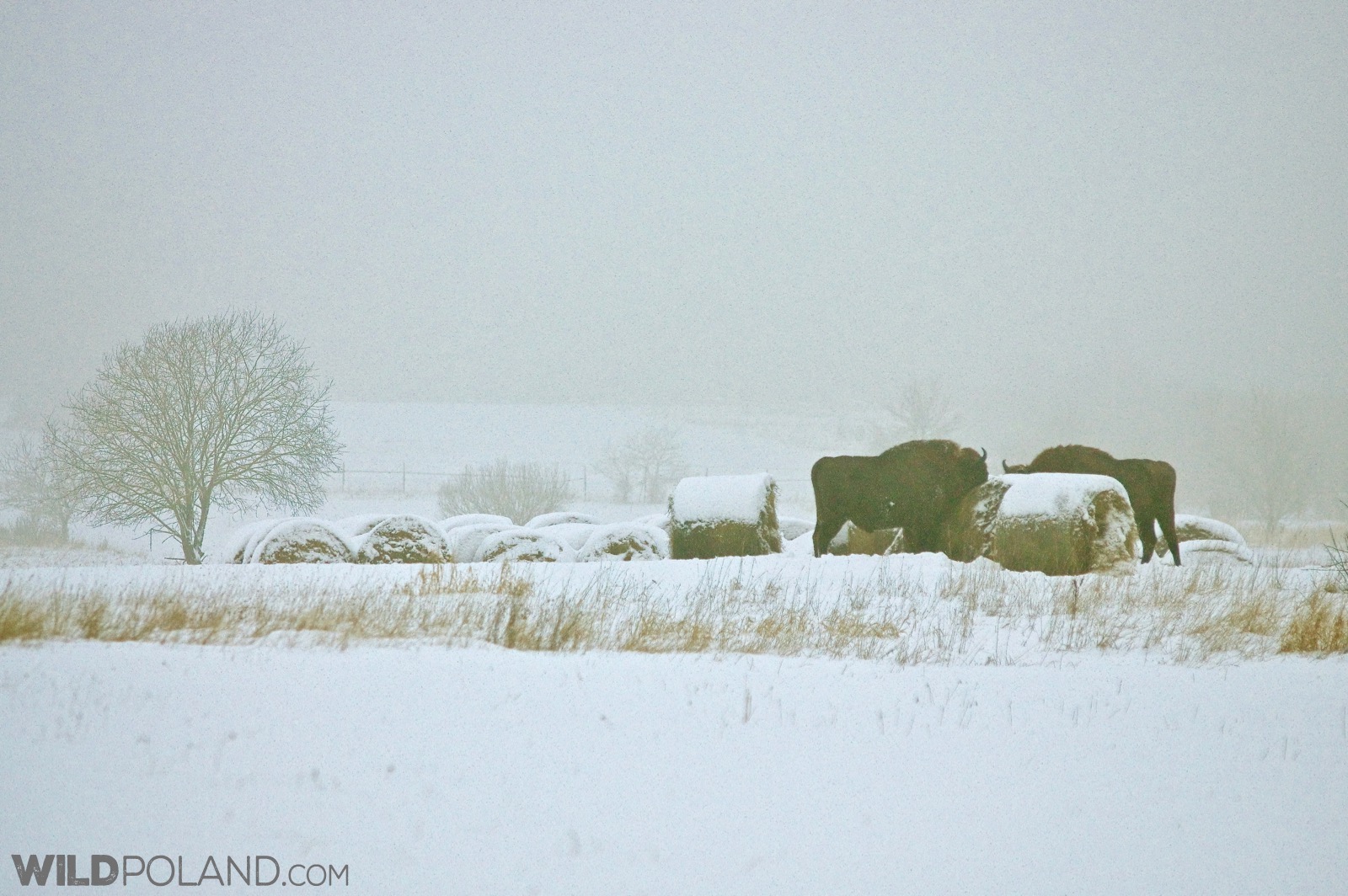 One of the highlights of our tour was a visit to the Strict Protection Area of the National Part, UNESCO World Heritage Site. Few hours walk in the natural forest was an unforgettable experience. Our local guide, Joanna, was very informative and passionate in sharing her knowledge. We made our way through the primeval woods untouched by man, and winter scenery made our walk even more special. Bare trunks and branches of trees, many of them hollowed out, were simply beautiful and inspiring. Fallen trees covered with snow created the most unique snowscapes.
The awe-inspiring winter silence was discreetly interrupted by sounds and callings of passerine birds feeding on trees; we noticed Nuthatch (pictured below), Tree Creeper, Siskin and a small flock of Tits.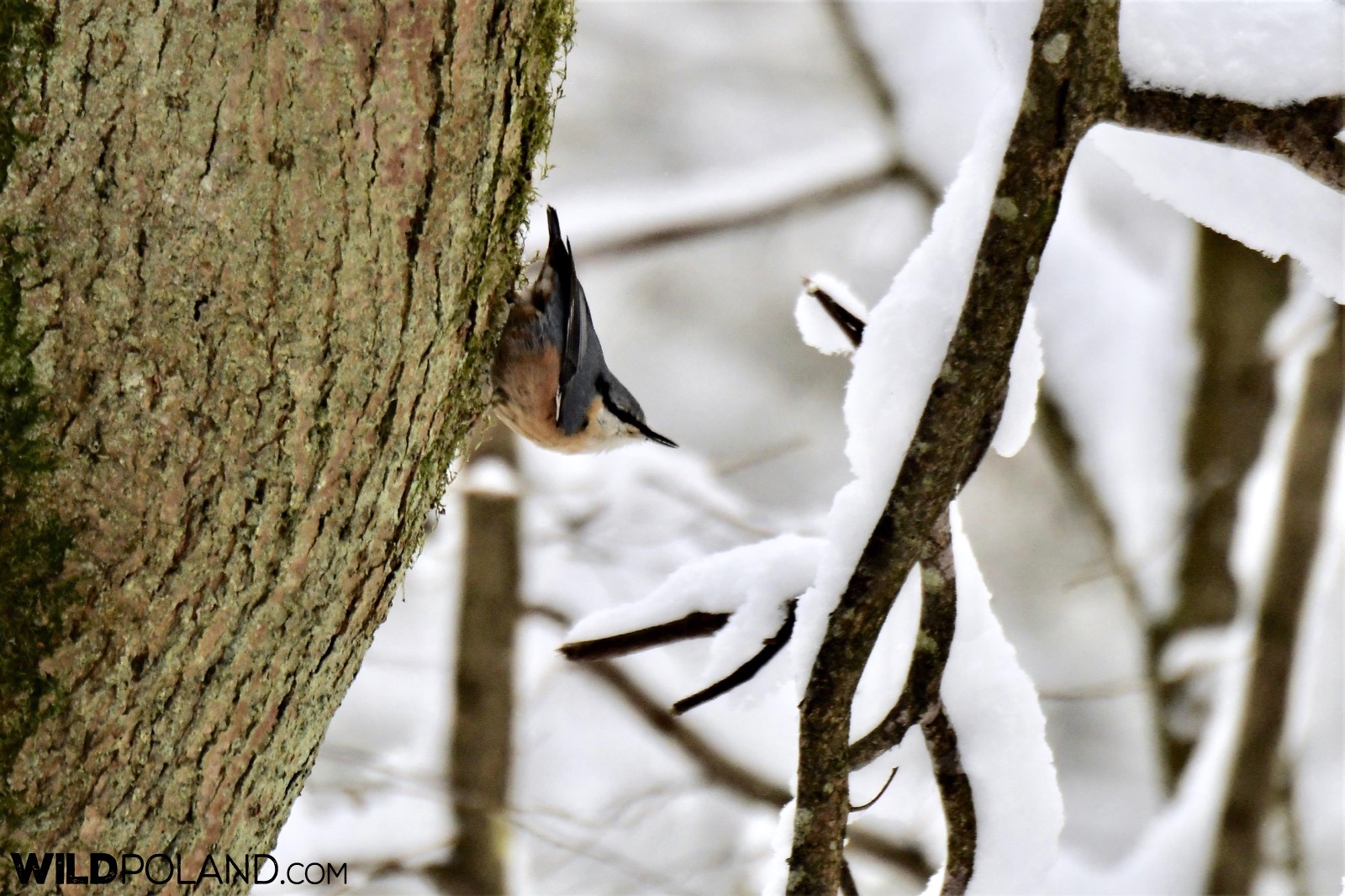 We were also lucky to spot a Black Woodpecker feeding on a deadwood, and a Red Fox patrolling the forest path.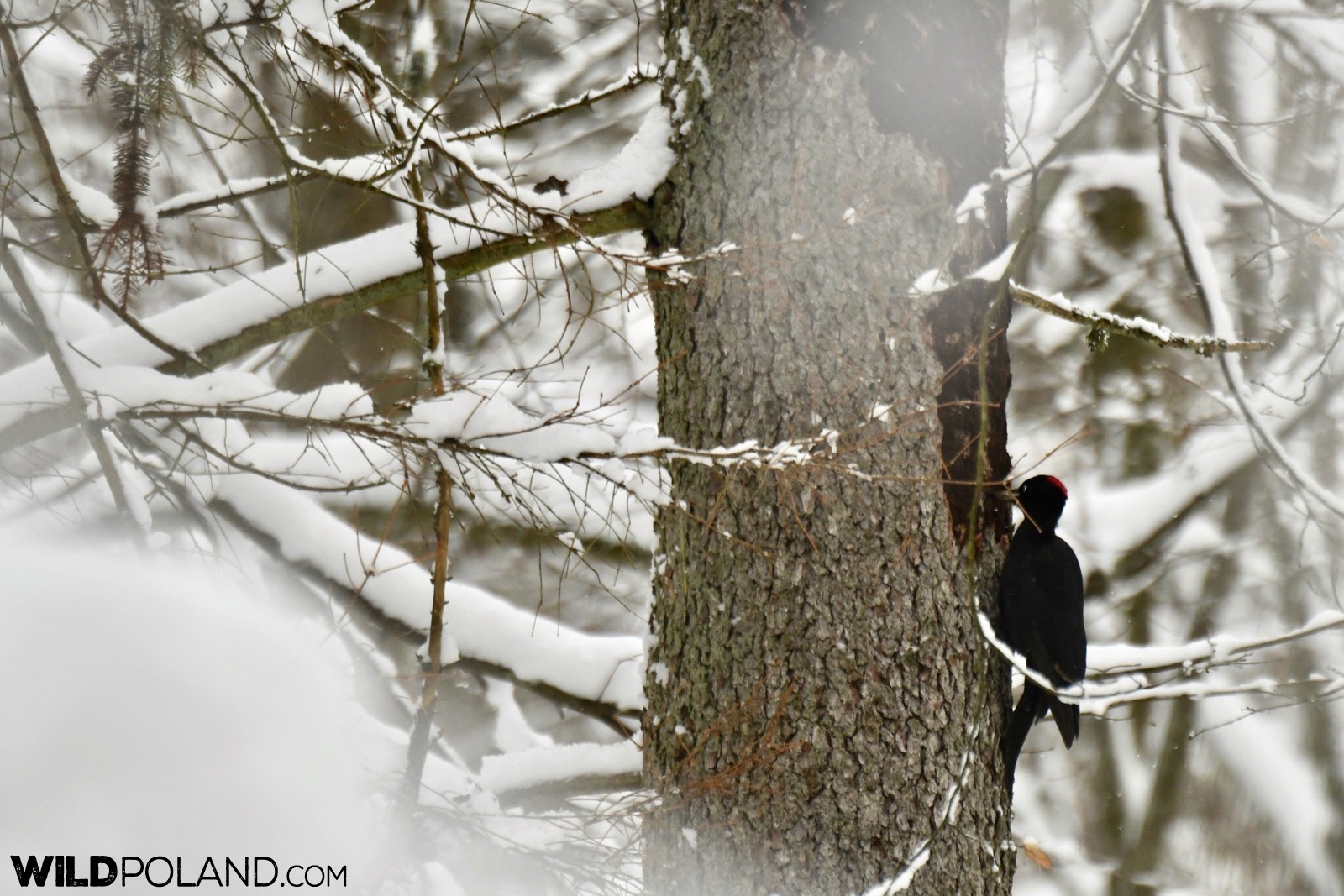 Outside of the protected part we also visited the managed areas of the forest where aftermath of recent logging was still visible despite fair amount of snow. Our daily trips and observations were completed with an evening lecture on the forest ecology by a local scientist, Prof. Bogdan Jaroszewicz from Geobotanical Station of Warsaw University. It was an eye opening talk on bark beetle ravaging spruce stands in the Białowieża Forest, about an extensive logging undertaken by Polish government, and an overall political background of conflicts that arose as a result. This evening was undeniably the highlight of our tour.
Other attractions provided in our tailor-made itinerary included a visit to the European Bison Show Reserve, where apart from Bison we saw many other local forest mammal species, and also a short stop at the Holy Trinity Orthodox Church in Hajnówka, an outstanding example of modern sacred architecture in Podlasie region and indeed a very interesting cultural accent at the end of our tour.
Here are few comments by our dedicated group:
My third trip to Białowieża and by far the best.
– Eva Kaluzynska, UK, 19 Jan 2018
We were able to see bison in the wild on several occasions, which was quite a thrill.
– Fiona Graham, UK, 19 Jan 2018
Spotting bison and the walks through the forest, especially the National Park, were unique and exciting experience. Well organised and very special.
– Andrew Tarnowski, UK, 19 Jan 2018