You are now booking
Bison Safari
5 Apr 2019 – 8 Apr 2019
Bison Safari
5 Apr - 8 Apr 2019
Price per person
PLN 2950
Single room supplement
PLN 300
Number of people
1
Number of singles
0
Total
PLN 2950
Secure Payment

PayPal account
not required
for credit/debit card payments
Can we help you?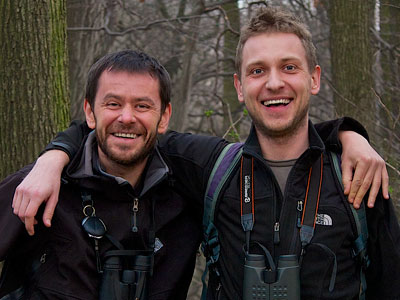 info@wildpoland.com
+48 505 139 911 (Tomasz)
+48 501 797 251 (Lukasz)
+48 579 064 210 (Mariola)
There are only 10 spaces available on this tour. Please change your rooming or write us at info@wildpoland.com for advice.
All participants must be covered by insurance before setting out on tour with Wild Poland, preferably from the time of booking. This must cover you fully against the cost of cancellation by you, medical care and repatriation should you become too ill to continue the holiday. We do not provide or check travel insurance policies.
More information about the necessary insurance is available in our booking conditions ». Please make sure you read it thoroughly.
How is my money protected?
First of all - we use PayPal processing for the transactions and charge in PLN. You can use a debit/credit card and don't need to have a PayPal account for this. Any critical card details are only entered at PayPal secure pages.
Secondly - you get 100% Money Back Guarantee with Wild Poland,
By booking, you will be asked to pay a small deposit to confirm your place. It allows us to book the hotels etc. in your name. In a rare case that we have to cancel the departure because of insufficient number of participants, you will be refunded the full deposit amount. If your card is held in EUR or GBP small differences in the refunded amount may occur because of PayPal exchange rates.
All holidays by Wild Poland are protected by the Mazovian Province and our AXA tour operator insurance. In the unlikely event of our insolvency, the Province executives will arrange to refund any money you have paid to us for any future booking.
Introduction
These are the terms and conditions which apply to all tours and trips offered by Wild Poland. Please read them carefully as by booking your holiday with Wild Poland you will be bound by them. In these Booking Conditions, 'you' and 'your' mean all persons named on the booking (including anyone who is added or substituted at a later date). 'We', 'us' and 'our' mean Wild Poland.
The Contract
Wild Poland is a special interest wildlife watching travel company started in 2009 and initiated by Łukasz Mazurek in 2006. On booking you are entering a contract with
Wild Poland S.C. Łukasz Mazurek Tomasz Jezierczuk, ul. Chłodna 64, 00-872 Warsaw, Poland.
This agreement is to be interpreted and enforced only in accordance with Polish law. When booking tours, accommodation and transport at Wild Poland, you will receive confirmation with an invoice and booking number. This confirmation is your agreement with Wild Poland and includes the products, services, dates and terms that you have agreed with Wild Poland. Please note that your booking is not guaranteed until you receive the mentioned confirmation with an invoice from us. These will be sent to you in a separate email. You must be at least 18 years of age to book/enter an agreement with Wild Poland.
Your Commitments To Us
Booking and Payment
When booking a tour
directly at our website
you will be transferred to paypal.com website to complete the online payment of the deposit for the tour. When placing a booking
via e-mail,
we will send you an email with an invoice where you are prompted to make a payment of the deposit for the tour. Your booking is confirmed only by Wild Poland receiving the full deposit amount in 14 days from the date of the invoice. If Wild Poland has not received the full deposit amount within two weeks from the date of the invoice the booking will be automatically cancelled. Deposits are non-refundable but are transferable. The balance of the holiday is due for payment three weeks (21 days) prior to departure. You will be sent an invoice from Wild Poland approximately four weeks before departure reminding you of this. If the balance remains unpaid after this date we reserve the right to cancel your booking and retain the deposit you have paid. All bookings made within 30 days prior to departure are subject to a full payment and are only confirmed by Wild Poland if the full payment is received within 7 days from the date of the invoice/booking but no later than one day before departure. We use PayPal for processing payments. You can pay with your PayPal balance or a debit/credit card. PayPal account is not required for card payments.
Shared twin for solo travellers
Choose the 'twin' rooming option if you travel alone but wish to share a room if possible. If we do not manage to find you a room mate, additional single room supplement will be charged.
Cancellation by You
The deposit is paid to us as a sign of your willingness to utilise travel arrangements and accommodation which we reserve on your behalf. Should you, or any member of your booking, be forced to cancel your holiday reservation you must do so by telephone at 
+48 501 797 251
 or 
+48 505 139 911
 or e-mail to 
info@wildpoland.com 
and this must be done by the person who booked the tour. Receipt of your cancellation must be confirmed by Wild Poland by e-mail. The cancellation will take effect from the date that the notice is received at our office. All cancellations are subject to a charge (payable by the person who booked the tour) based on estimated losses and calculated on a sliding scale as follows:
| | |
| --- | --- |
| Period before date of departure | Cancellation costs |
| Prior to 21 days | deposit only |
| Between 21–15 days | max. 50% of total tour cost |
| Between 14–8 days | max. 75% of total tour cost |
| 7 days or less | max. 100% of total tour cost |
Changing your booking
A change of holiday within 30 days of departure will be treated as a cancellation and charges will be levied as set out in paragraph  above. Wild Poland will make every effort to assist you if you wish to change your booking, but cannot guarantee to be able to meet such requests. Requests for a change must be made by email. In the event of a change all expenses, costs and charges incurred or imposed by any of our suppliers will be payable by you together with an amendment fee of 25 EUR per person.
Insurance
All participants must be covered by insurance before setting out on tour with Wild Poland, preferably from the time of booking. This must cover you fully against the cost of cancellation by you, medical care and repatriation should you become too ill to continue the holiday, and must cover you against the cost of air evacuation should sickness or injury necessitate such a course of action. You should also note that passenger liability insurance covering the vehicles that we use, may be inadequate: it is therefore important that your insurance cover makes sufficient provision for your dependants in the event of an accident. Please read your policy carefully and take it with you on holiday. It is your responsibility to ensure the insurance cover you purchase is suitable and adequate for your needs. We do not check insurance policies.
Passports and Visas
It is the responsibility of each passenger to ensure they have a passport valid for 6 months beyond the end of the tour and any applicable visa/s plus any compulsory vaccination certificates at the time of travel.
Your obligations as a guest/visitor
Remember that the address and contact details you provide us with when making a booking are our only way of contacting you. Please read your confirmation carefully and check that all dates/times and products/services are booked according to your requirements. If not, please contact us to correct any misunderstandings immediately. When making your reservation, please let us know if you are disabled in any way, food allergies or other disabilities that might be useful for us to know about. Please be specific of what kind of special needs you might require, before arrival. On a holiday of this nature it is necessary that you abide by the Authority of the Tour Leader. You are liable for all damage that is result of your or your company's careless behaviour to Wild Poland property. Booking a tour with us signifies your agreement to this, and if you commit any illegal act when on holiday, or you or any member of your party behaves in such a way as to cause or be likely to cause danger, upset or distress to any third party or damage to property or fauna (including the collecting of any specimen from the natural world) we are entitled, without prior notice, to terminate the holiday of the persons concerned. In this situation, the person(s) concerned will be required to leave the accommodation or other service. We will have no further responsibility toward such person(s) including any return travel arrangements. No refunds will be made and we will not pay any expenses or costs incurred as a result of the termination.
Complaints
In the unlikely event of a complaint please refer to the Wild Poland guide. If the problem still cannot be resolved, then please contact our office immediately and maximum within 14 days of the end of the tour, giving your booking reference and all relevant information. It is unlikely that you will have a complaint that cannot be settled amicably between us. If you have not reported any complaints or errors during your stay and therefore neglected to give us the opportunity to correct any mistakes, you can not demand any compensation afterwords. Disputes relating to your holiday which cannot be amicably settled may, if you wish, be referred to arbitration under appropriate authority in your country for assistance.
Our Commitments To You
Alterations By Us
We will do our utmost to provide the holiday arrangements that have been confirmed, but we must reserve the right to modify or cancel any holiday, accommodation or arrangement, or change tour leader, if unforeseen circumstances arise. In such circumstances, we will inform you as soon as possible, and, should the change be a major one, we shall offer you the choice of acceptance of the change, an alternative holiday, or a full refund of all money paid. Where the change is a minor change we will, if practicable, advise you before departure but we are not obliged to do so or to pay you compensation. A major change includes such changes as a change of accommodation to that of a lower official classification or standard for the whole or a major part of the time you are away, and a change of departure point to one which is significantly more inconvenient for you. We accept no responsibility for additional expense due to delays or changes by the air, sea or coach services, nor weather, strikes, quarantine, force majeure and other causes beyond our control.
Itinerary Alterations
Travelling and sightseeing in Poland is still subject to uncertainties of local bureaucracy, and so we must be flexible. Wildlife watching is dependent on the current wildlife situation and weather. Although our tours are planned at the usually most appropriate time to see particular species we cannot guarantee any wildlife encounters. Because we work with wild animals in their natural habitat our success rate depends on Nature. Circumstances can change, requiring immediate and necessary decisions by our tour leaders. In the best interests of our clients, we reserve the right to alter the itineraries at any time, and will not be held liable for any loss whatsoever caused as a result of changes or delays. Please note that changes may occur at a short notice, even on the same day. If we are unable to offer a certain service due to extreme weather conditions or an unforeseen wildlife situation, you will be offered an alternative activity or similar service suitable for the current conditions.
Tour Cancellation
We must regretfully reserve the right not to operate any tour on which there are insufficient bookings four weeks before departure. Full payment including your deposit will be refunded. Should your tour have to be cancelled by us, including within 4 weeks of your departure date for reasons of 'force majeure' (circumstances such as, but not limited to, war, riot, civil strife, industrial dispute, terrorist activity, natural or nuclear activity, disease, fire or adverse weather conditions) you will be offered a full and prompt refund of all money paid by you.
Subject to change
Wild Poland reserves the right to change times, prices, payment, booking or discount conditions at any time before your holiday is confirmed. Prices for coming seasons are always preliminary and are subject to change.
Last minute pricing
We reserve the right to offer any tour in the 'last minute' discounted price up to 30 days before the departure.
Our Liabilities To You
It should be noted that your booking is accepted on the understanding that you come on the holiday entirely at your own risk. We accept responsibility for ensuring the holiday which you book with us is supplied as described at our website and the services reach a reasonable standard. However we cannot accept liability for physical injury, loss, damage or expense resulting from the actions or omissions of those involved in your holiday over which Wild Poland has no direct control, such as employees of hotels, transport undertakings, and others. Naturally we cannot assume responsibility for loss or expense due to war, riots, strikes, terrorist activities or natural disasters, technical issues, maintenance issues or unforeseen changes made by airlines, such as time table changes, interruption in IT-infrastructure (including but not restricted to our web site) or any scenario regarded as 'force majeure'. Additionally Wild Poland shall in no circumstances be liable in respect of consequential loss or damage, detention, delay or overcharge howsoever caused. Wild Poland and WildPoland.com are trading names of: Wild Poland S.C. Łukasz Mazurek Tomasz Jezierczuk
registered address:
 Chłodna 64, 00-872 Warszawa, Poland
Company number (REGON):
 147348686
VAT UE:
 PL5272717909
Tour Operator license (issued by Mazovian Province):
 1543
AXA insurance guarantee:
02.937.077
Holiday Protection
All holidays by Wild Poland are protected by the Mazovian Province and our AXA tour operator insurance. In the unlikely event of our insolvency, the Province executives will arrange to refund any money you have paid to us for any future booking.