Białowieża Site Guide Paperback
zł159.90
Where to watch birds and large mammals of the Białowieża Forest.
by Łukasz Mazurek & Tomasz Jezierczuk

This is the most comprehensive and practical guidebook to this complex area ever published. It unveils the exact locations of the rare birds and large mammals, to see all year round.
Dispatch in 2 business days after the payment
Free shipping!
Out of stock
Description
On 218 colour pages you will find:
59 sites in the Białowieża Forest and around Siemianówka Lake described in detail with GPS coordinates and full species lists
71 detailed maps drawn by the authors, featuring suggested routes, viewing spots and exact species location
123 photographs showing the landscape and species at the site to give you an idea of the place
Advice and hints on where and how to watch the rarest species, including all European Woodpeckers, Bison, Wolf and Lynx
The lists and indexes of best sites recommended for most bird and mammal species!
Note from the authors: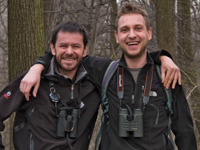 Guiding naturalists for over 15 years made us take note and think differently. We've noticed that people come to Poland for a few days of their holiday to enjoy wildlife and are often left struggling around on their own.
Precise information is invaluable. That's what this Site Guide is all about. In this book, we share all our local knowledge on where to find, all year round, the rare birds and large mammals of the Białowieża Forest.
We hope you enjoy reading this new edition as much as we enjoyed researching and making it. We wish you many unforgettable wildlife sightings, that you see everything you wanted and a lot more!
Good luck!
Łukasz Mazurek & Tomasz Jezierczuk
Additional information
| | |
| --- | --- |
| Weight | 450 g |
| Dimensions | 21.5 × 14 cm |
| Shipping | Priority Post, € 7.70 in Europe |
| Perfect paperback | 218 pages in full colour on coated matte paper |
| ISBN | 978-83-928757-2-7 |
| Language | English (incl. humour :) |