Private Bison & Elk Photo Safari, Feb 2019
Tour Leader: Bartosz Smyk (Bart)
Participants: Burak, Babur (TR)
Text by Bartosz Smyk & Mariola Przyborowska
Photos by Bartosz Smyk
Our guests arrived at WAW airport timely, late in the afternoon on Wednesday 6th of February. Short winter daylight was already over when we boarded our minibus and headed out of Warsaw towards Białowieża, stopping on the way for traditional Polish dinner at a roadside restaurant. We arrived at our wooden guesthouse late in the evening, happy to notice that the temperature at the Polish borderland wasn't as freezing as we expected.
The following morning we started just before sunrise and very soon we saw our first Bison, the herd of ca. 12 animals feeding on a hay stack at the outskirts of the forest near the Budy village. We approached carefully, keeping to the wooded area and choosing the best possible spot for watching and taking photos. When we finally withdrawn and made our way back to the forest, we spotted another Bison – a single bull crossed our way on the forest track, stopped for a short while to look at us, then continued again its slow walk through the forest. It's amazing how easily these impressive animals blend into the forest's background! 
Apart from Bisons we have also seen a small group of Red Deer. Ever watchful, the graceful animals quickly disappeared between the trees.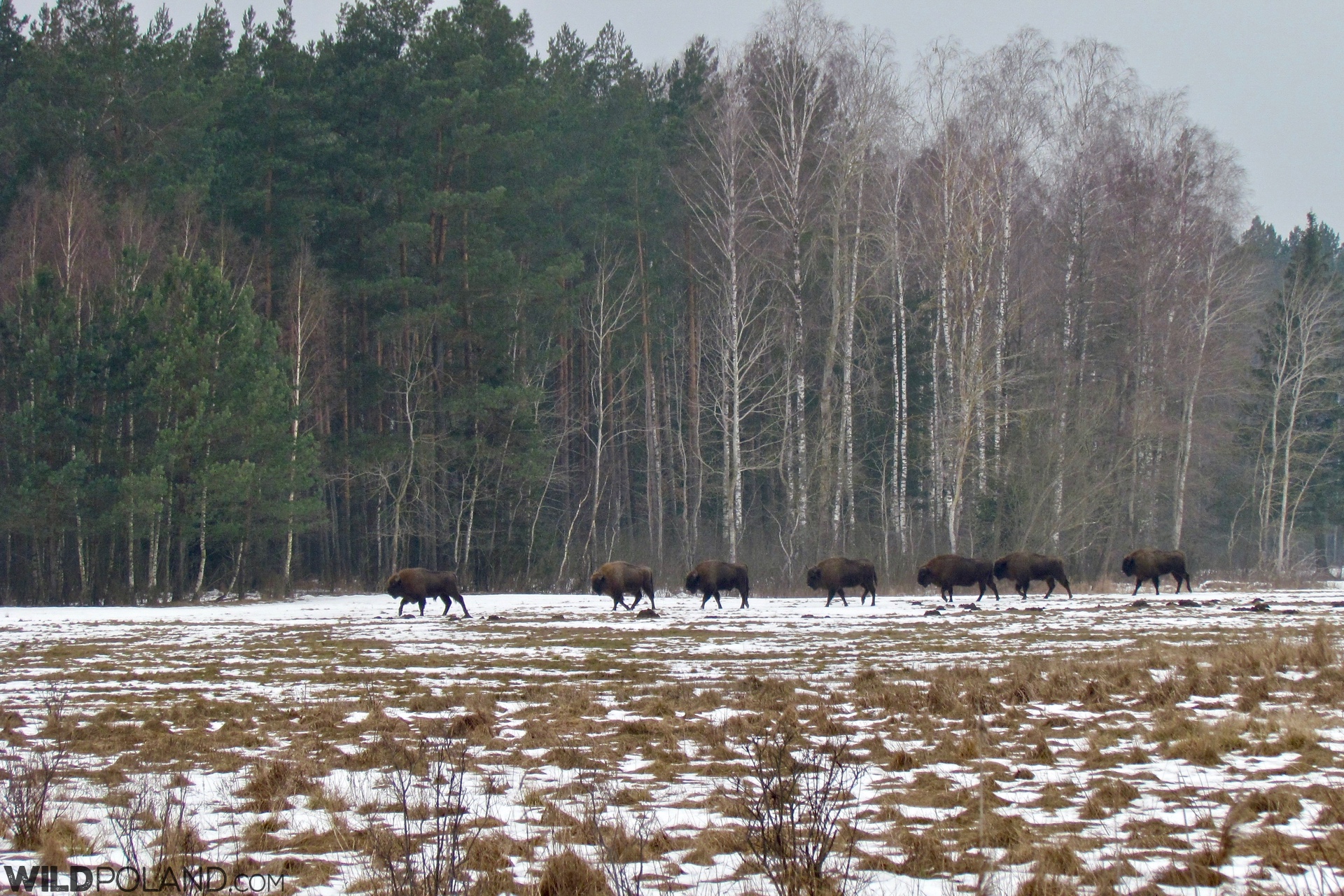 Thursday morning developed into sunny afternoon, which we spent in the Palace Park in the Białowieża village. The 19th century park, former Tsars' estate with beautiful old trees, a river and ponds, usually offers great chances for woodpeckers and other interesting birds. Despite windy conditions we found a flock of Bullfinches and a small gathering of Mallards over Narewka River.
We finished the day with safari-style drive in the north part of the Forest, where we observed another herd of Bison (ca. 20 animals strong) at the feeding site near the Gruszki village. The sun was already very low. We took our time and watched the animals until the last minutes of daylight. 
Early in the morning on Friday we came back to the northern part of the Forest hoping for more interesting shots of Bison at winter meadows. This time we saw three separate herds nearby Narewka village – two of them were females with offspring, while the third one consisted of bulls only. The misty morning allowed us brief but satisfying view over the meadows lined up with dense forest. Apart from Bison we also noticed 2 Red Foxes checking the snowy fields for small prey. 
After breakfast we visited the Strictly Protected Area of the Bialowieza NP, listed the UNESCO World Heritage Site. During ca. 3-hour walk our local NP guide, Irek, told us a lot of interesting facts regarding history and ecology of the Europe's last primeval lowland forest, where plentiful deadwood supports an extraordinary biodiversity. The site is famous for rare species of woodpeckers and we were lucky enough to spot one of them, a single male of White- backed Woodpecker. It was a very relaxing and educating walk in a picturesque scenery of naturally grown trees of varying size and age: Hornbeam, Small-leaved Lime, Norway Maple, Pedunculate Oak, Wych Elm, Norway Spruce, Silver Birch, Aspen, Ash and Black Alder. 
Another sunny afternoon brought us fantastic sighting of four Bison bulls near the Teremiski village. This time we had a chance for taking loads of photos from a close distance, while animals peacefully fed on hay.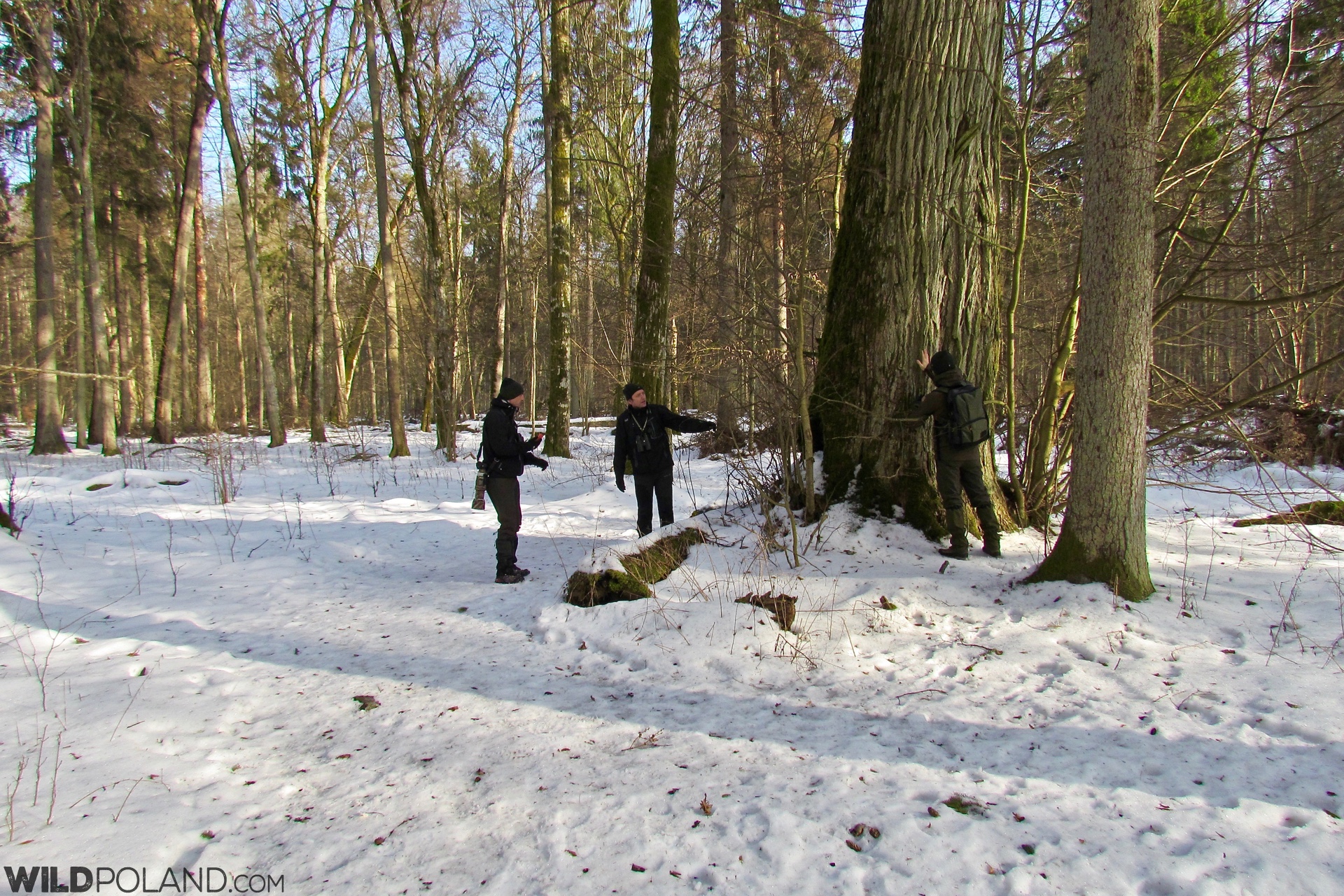 On Saturday we transferred from Białowieża Forest to the Biebrza Marshes. Ca. 150 kms drive through Podlasie region gave us great opportunity for visiting few more sites rich in wildlife. During short stop at Olchówka village we spotted a flock of ca. 20 Bohemian Waxwings resting on a birch. A while later, while passing one of Bison favorite feeding sites near the village of Leśna, we were delighted to notice yet another herd of 11 females with young. The highlight, however, was the Hawk Owl in the northernmost part of the Białowieża Forest. Apparently, the news about surprising presence of the northern species in the area spread quickly, as there were already quite a few onlookers, birdwatchers and photographers at the scene. And the scene consisted of a single birch surrounded by vast marshland, and a Hawk Owl perched at one of the top branches. Amazingly, the stoic bird was totally indifferent to the excited human audience and allowed us a wonderful photo session, before it eventually took off and effortlessly flew passed by us almost touching our camera equipment. The show was over.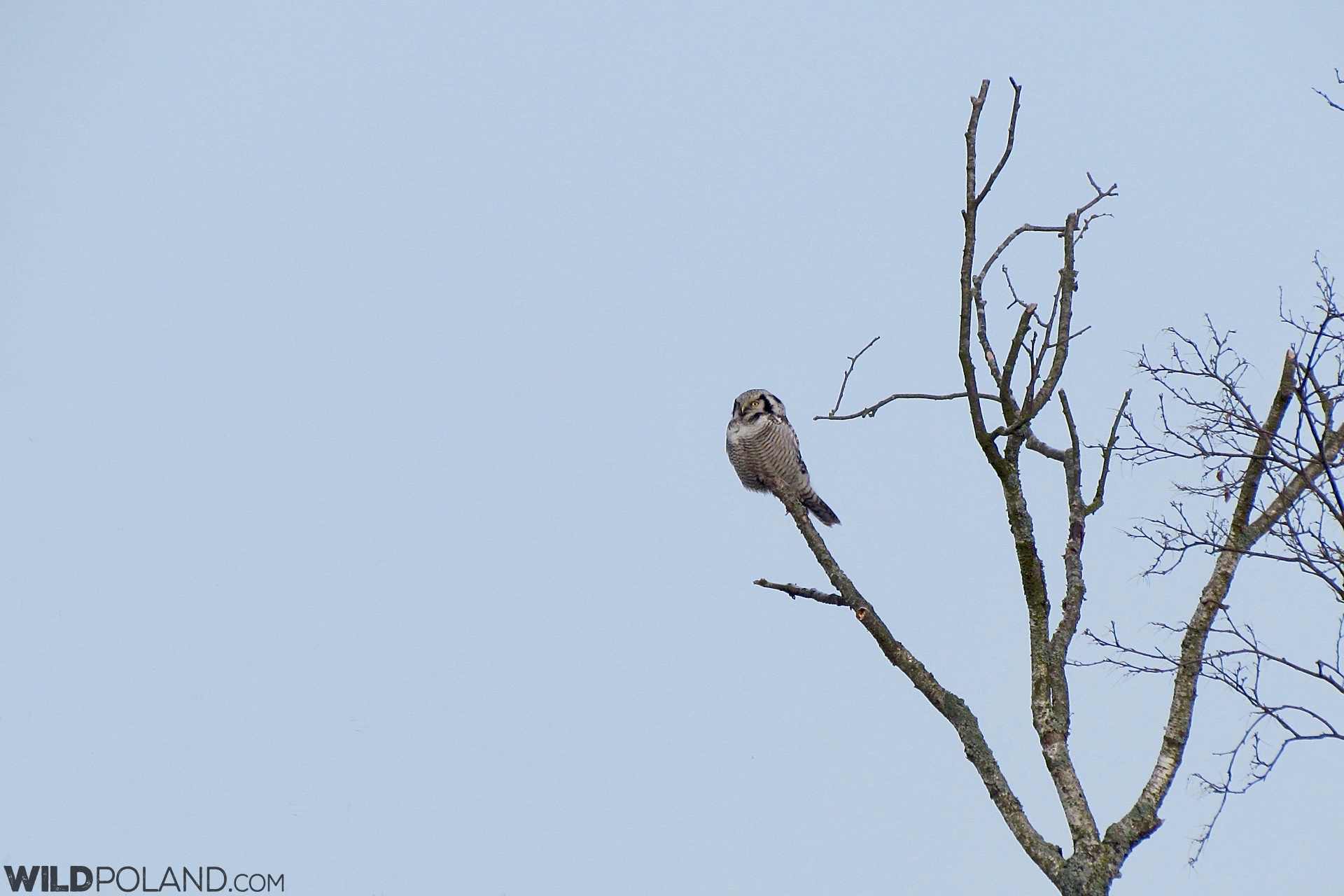 After exciting spotting of the Hawk Owl we continued our transfer to the Biebrza Marshes. Having arrived at our destination, we had a first glimpse at the impressively vast, peaceful landscape and some of its inhabitants – a flock of Whooper Swans flying over the river, Rough-legged Buzzard and immature White-tailed Eagle (both soaring above the marshland), and a group of Roe Deer grazing on grass at the river banks. It was already dinner time when we reached our lodge in Dobarz, a small settlement at the outskirts of the Biebrza Marshes National Park.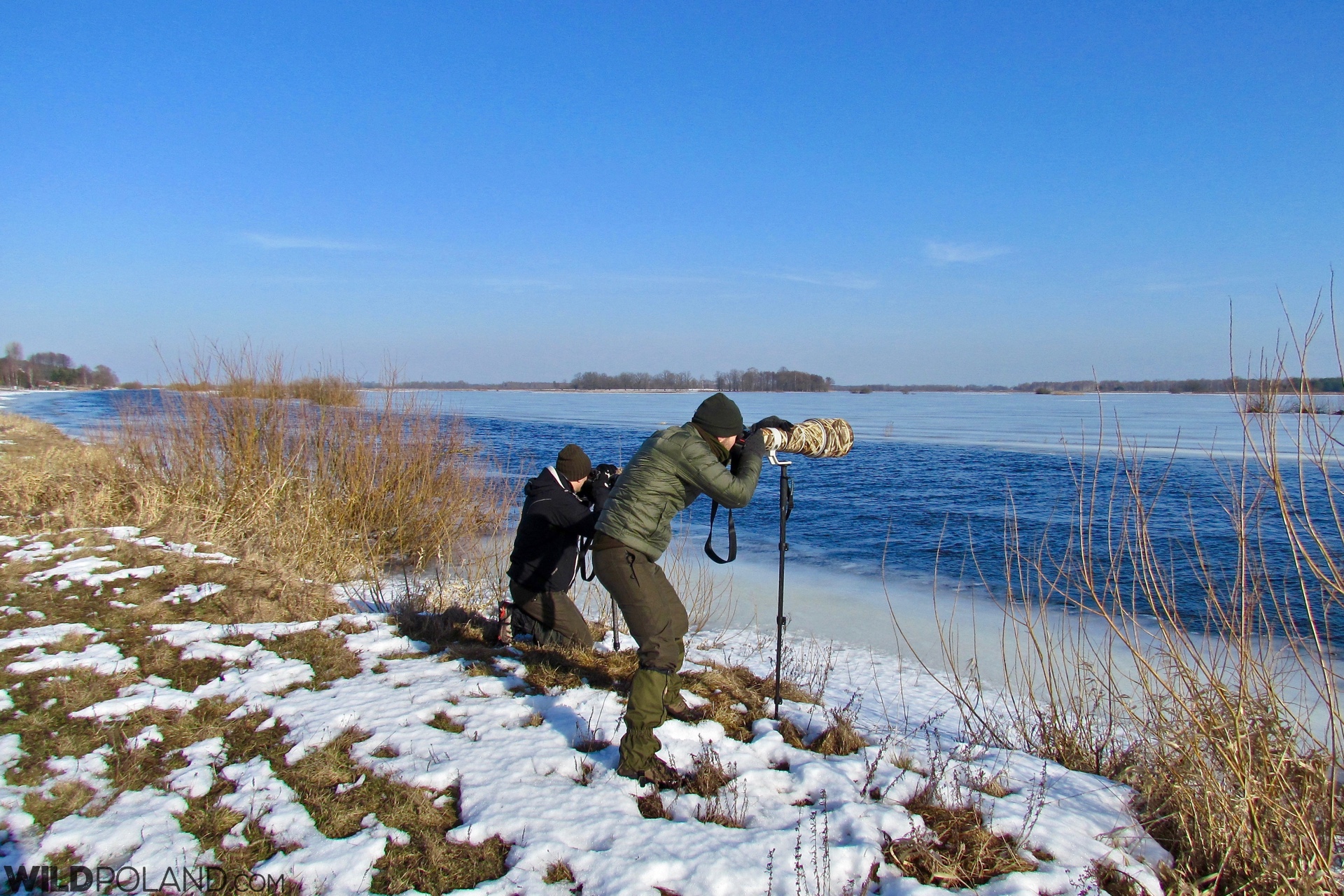 Sunday was our final day out in nature and this morning we aimed for Elk (Moose). Again, the early start rewarded us with a very close encounter of a single bull, then a female with young (both in the forest near the 'Carska Road' that cuts right through the NP), as well as five other individuals (also in the forest but from a further distance). It proved to be not an easy task to capture good image of an Elk partly hidden behind the shrubs, even when the animal stood still 10 metres away from us and patiently observed our photographic efforts 😉
After successful start of the day and delicious breakfast at our lodge, it was time for check-out and a final visit at the Marshes. This time we stopped by the Narew River to check few sites rich with water birds, where apart from impressive flocks of Mute and Whooper Swans and Greylag Geese we were nicely surprised by a sight of an Otter (single individual resting on ice) and a Beaver (swimming, then getting out of water onto the bank of the river) – their wet brownish furs all shiny in a broad daylight.
The afternoon was still bright and sunny, when we left the Marshes and set off on a journey back to Warsaw. Common Buzzards guarding fields and meadows along the way closed our list of remarkable wildlife seen during our 5-day tour.
Thank you lads for a brilliant time!