Primeval Forest & Marshes, Sep 2020 (Wolf seen!)
Tour Leader: Łukasz Mazurek (Luke)
Participants: Marzena (UK), Nancy & Ian (DE)
Text and photos by Łukasz Mazurek
It has been a great sunny summer and a beginning of a proper golden autumn here in NE Poland with high daily temperatures, a lot of sun, and just enough rain for mushrooms to flourish. We picked up Marzena in Warsaw while Nancy and Ian were to meet us in Bialowieza.
We had a quick and easy drive with plenty of birds seen on the way: Buzzards, Marsh Harriers, Great White Egrets, Hen Harrier, Kestrel and one last White Stork (most have left already). We also had an amazing lunch at a small restaurant en route.
We met with Nancy and Ian at our hotel in Bialowieza and went out for our first walk and an introduction to the tour and about the forest. It was a nice, quiet evening and we have seen 6 Grey Herons and a few small bats flying over the forest at dusk plus a Woodcock in car lights on our way back.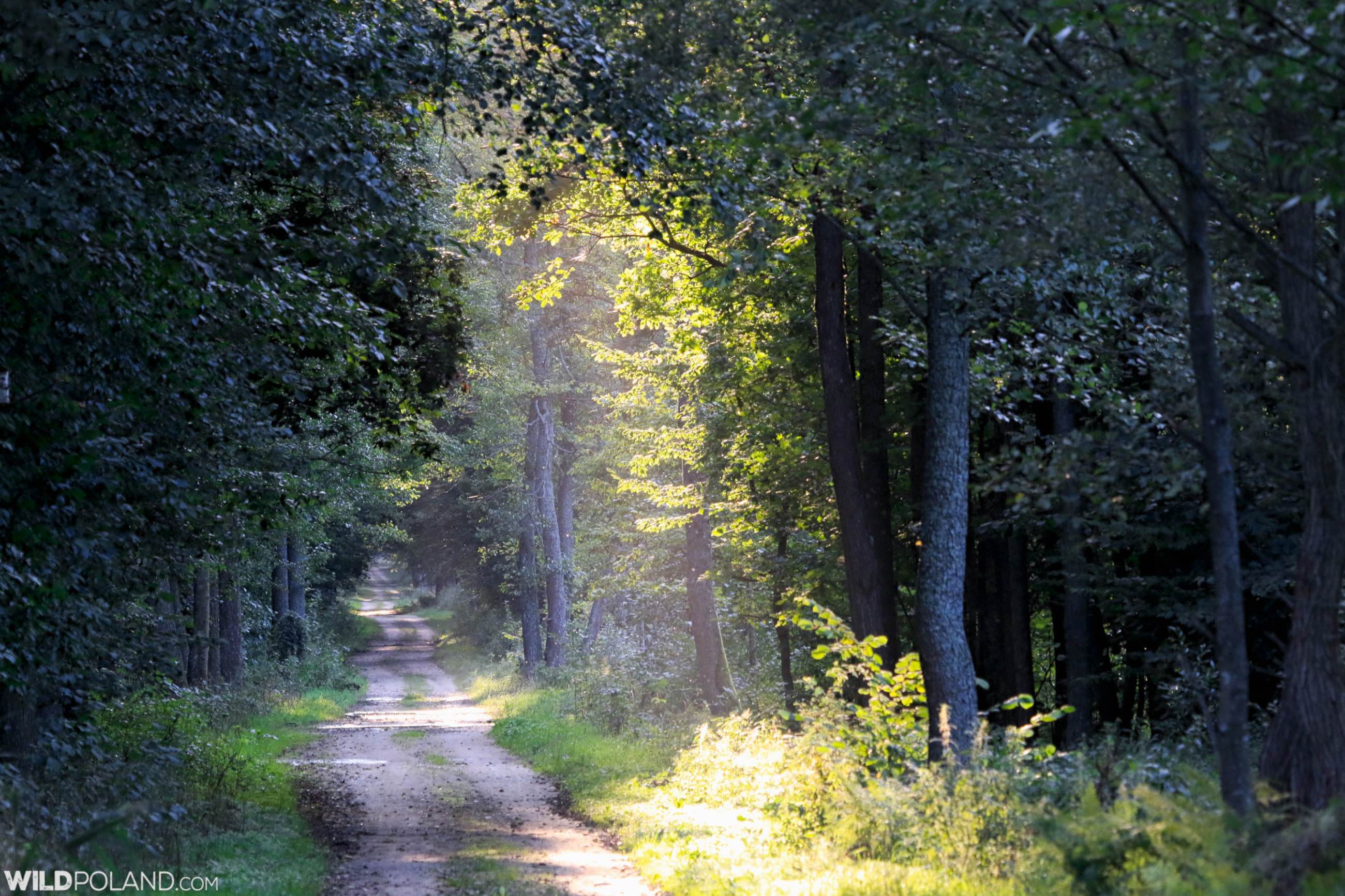 Day 2
We started off with Bison safari at dawn. Saw some Roe deer and Foxes on the way as well as flocks of Cranes migrating but no Bison at the first glade we arrived at. We continued further and found a small herd of 6 Bison incl. a calf at the next stop. We had a great view in the scope as they walked back into the forest still before sunrise.
We continued our safari through the best sites and a few minutes later the next animal we saw was… a Wolf. A lone wolf was slowly walking along the forest track and stopped a few times looking back at us giving some great views. What a start of a tour! Thrilled and grinned we finished our safari with a few Lesser Spotted Eagles perched up very close, a Red-footed Falcon, a few Buzzards, Woodcock, Red Squirrel and more Roe Deer.
After a hearty breakfast and a short break back at our hotel we went out for a long walk at a couple of our favourite trails deep in the Białowieża Forest. We have walked a total of over 15 km through some pristine forest today and saw several Great Spotted Woodpeckers, numerous Tits, Nuthatch, Red and Roe Deer, Bison on two more occasions and heard a few Tawny Owls in the otherwise very silent forest at dusk.
Day 3
The next day started rainy so we decided to visit the "trail of open shutters" – several old traditional Ruthenian wooden villages with colourful houses and Orthodox churches. After lunch of wonderful pierogi (traditional Polish dumplings) at a small restaurant back in Białowieża we visited the Strict Protection Area of the Białowieża National Park for a few hrs walk. The walk was fantastic, as usual, and apart from the pristine forest we have seen some birds, numerous fungi and the highlight – a Fox that allowed for a long observation quite near.
Day 4
This early morning we went out before breakfast again. Saw 9 Roe deer on the way (quite many of them this autumn) and went for a short walk in the Wolves and Woodpeckers territory. Saw no wolves but woodpeckers were active and apart from hearing Black Woodpeckers we saw a Hazel Grouse briefly (as usual) several Great Spotted and one White-backed Woodpecker very well. Seeing all those Woodpeckers, Tits, Nuthatches, Treecreepers and Hawfinches feeding around us and Marsh Harriers and Ravens flying above the flooded forest at sunrise was a wonderful experience.
After breakfast and a short break we visited the Siemianówka reservoir N of the forest. It was good birding with Lesser Spotted Eagles, one possible Greater Spotted Eagle, Great White Egrets, Whooper Swans, Great Grey Shrikes, Cranes, Lapwings, Marsh Harriers, Sparrowhawk, Red-footed Falcons, Kestrels and more. We had lunch of home made sandwiches and freshly brewed coffee (our specialty) on the banks of the marshy Reservoir and continued further. A Belarussian train tooting back to us as well as a huge bulldozer pushing the whole train off the crossing were unexpected and fun.
On our way back to the forest we have stopped at a couple of sites looking for Bison and we have actually seen a herd of 13 Bison at one place while watching 3 Red-foted Falcons, 3 Kestrels and a Great Grey Shrike at once. At the next glade nearby we have seen 5 Bison quite near. It was something to remember. The aura was obviously very good for Bison so we quickly transferred to our favourite spot in the corner of the National Park. Saw a large flock of a white-headed Long-tailed Tits and.. a large herd of 23 Bison feeding quite near and giving us fantastic views for a long time with Nutcrackers, Black Woodpeckers and Red Deer calling in the distance. It has been a great finish of a fantastic day.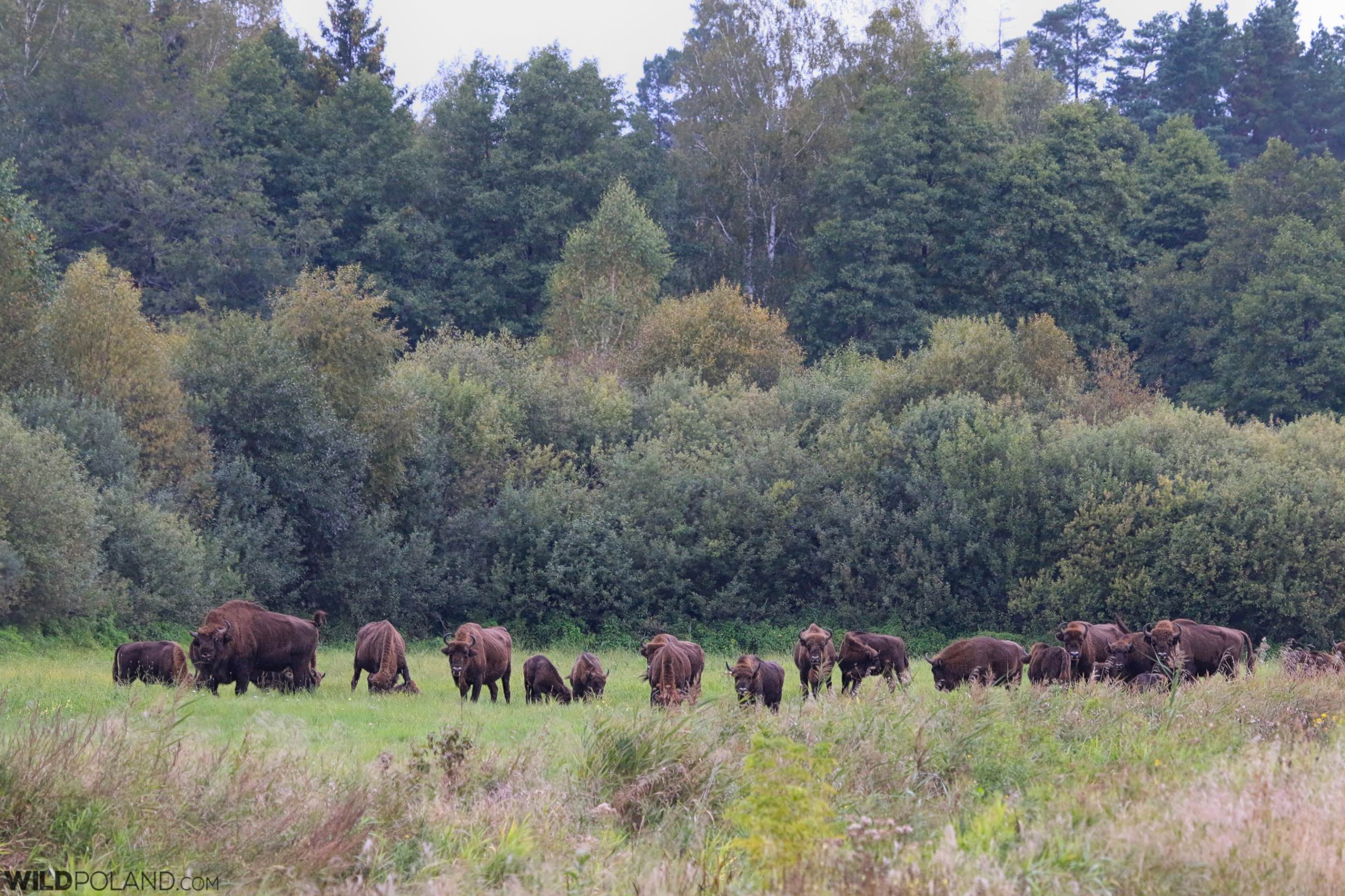 Day 5
Today we have started after breakfast and our first walk were the small fishponds on the outskirts of Białystok where we have had great views of many Great Crested, Red-necked and Little Grebes, Marsh Harriers, Wigeons, Gadwalls, Teals, Shovelers, Tufted Dusks, Mallards, Great White Egrets, Grey Herons and more.
Later we have stopped at a small historical town of Tykocin where we had fantastic lunch at a lovely restaurant on the bank of the Narew River followed by amazing, home made craft ice-cream. We have also seen Tykocin's most prominent historic monuments incl. 17th c. synagogue, baroque town square and a church as well as a newly reconstructed 16th c. Royal Castle – once the 3rd most important armoury and treasury of the Polish Royalty.
Our next stop were the small ponds near Knyszyn where we have had some fantastic and very close views of 2 White-tailed Eagles and 3 Ospreys hunting for fish. Waterfowl and Waders were also numerous there and in the flock of ca. 1200 Lapwings we have spotted several Ruff, Wood Sandpipers and one Spotted Redshank.
We have checked in at our quiet hotel at the edge of the Biebrza National Park and had one more excursion for an introduction to the Biebrza Marshes and an atmospheric sunset at one of the largest fens in the continental Europe.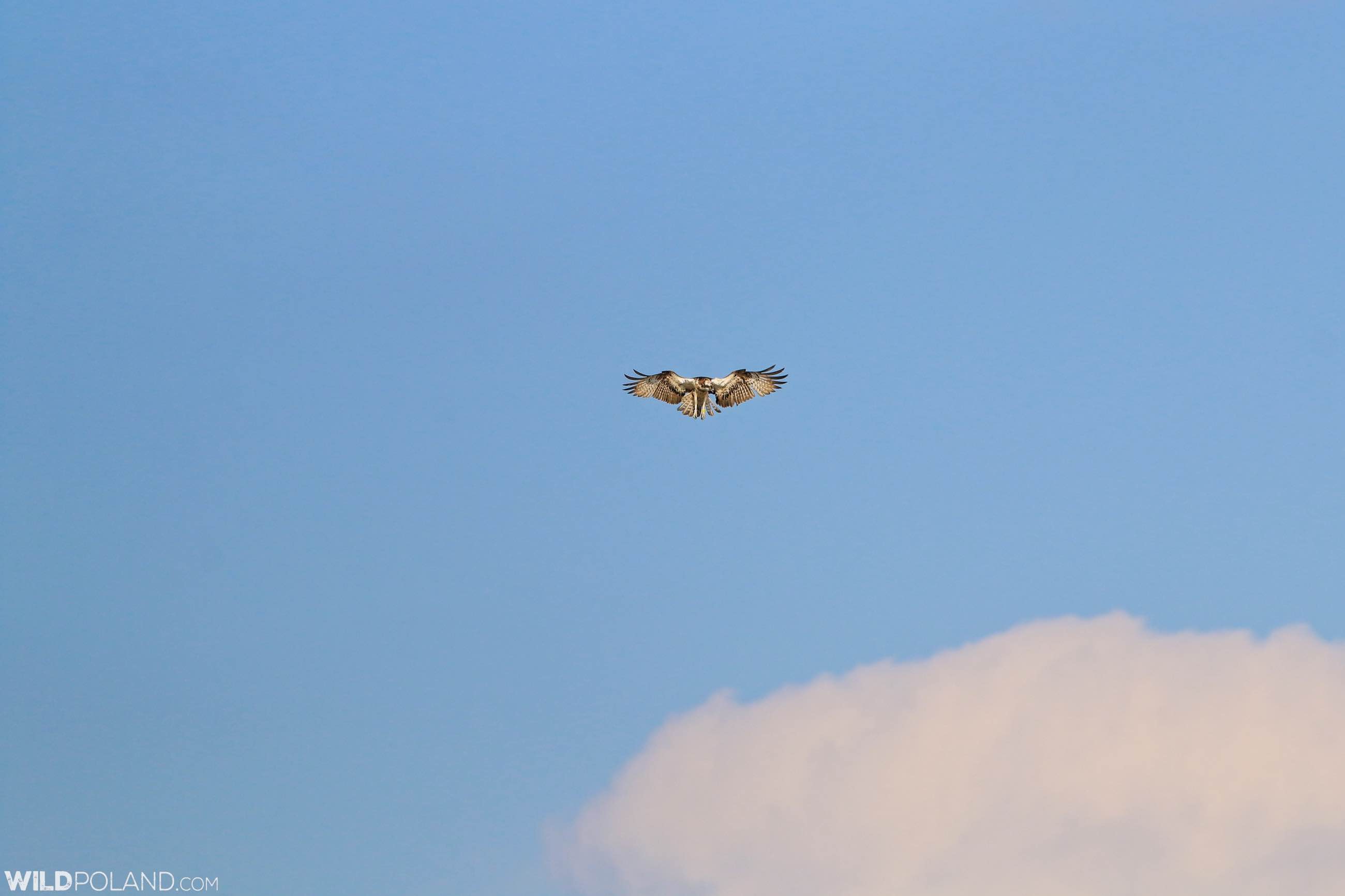 Day 6
We have started at dawn once again to maximise our chances of finding rutting Elk (Moose) in the marshes and after a short drive we have spotted a nice large Elk bull very near that gave us great views in the scope. Later we have also seen one more bull with a cow and a calf in the distance as well as a few Roe Deer and a Greater Spotted Eagle perched up a tree just next to the road.
After the usual hearty breakfast we went for a walk in the bog birch forest and had lunch at the edge of the marsh. Saw a total of 4 Roe Deer, 3 Foxes, Viviparous Lizards, Kestrels, Lesser-Spotted Eagle and numerous footprints of Pine Marten, Elk, Deer and Wolves in the mud. Just before reaching our hotel for a short break, at a yet another short stop at the ruins of the WWI Russian military forts we have seen a Grass Snake and a beautiful Penduline Tit that was a nice surprise.
After an early dinner we departed for a boat cruise in the Narew River to watch Beavers at dusk. It was amazing and very special as we have seen a total of 15 Beavers swimming, feeding, grooming their fur, all very close to our boat. A highlight were also a pair of Long-eared Owls flying quietly over our boat for a while. A totally unforgettable evening that was topped off with a huge piece of home made cake each with hot tea and coffee served back at our hotel.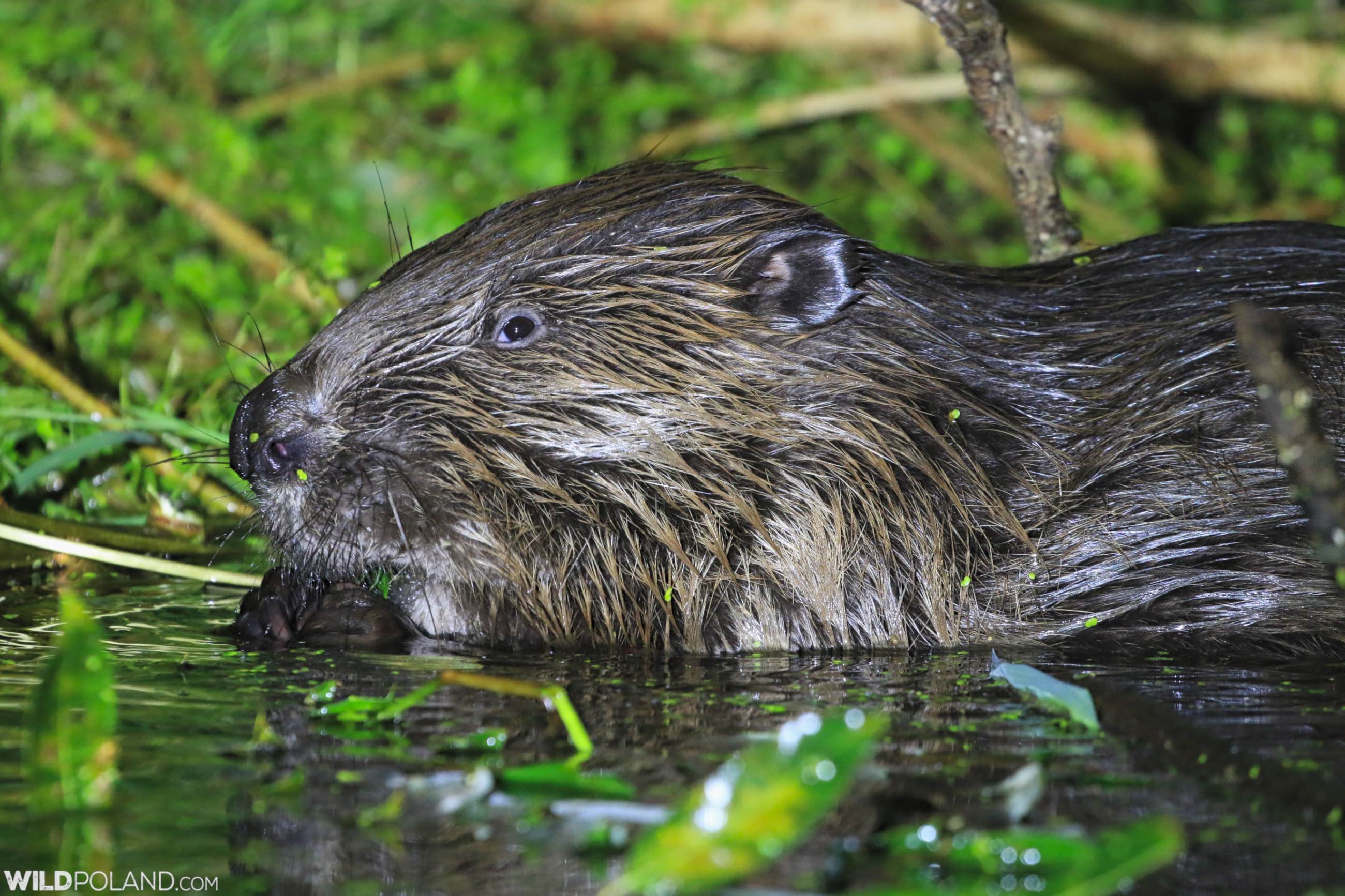 Day 7
Our last full day of the tour. We went out for a drive around the best sites of the Biebrza Marshes. Starting with a long walk along a mid-marsh dike we have seen 4 White-tailed Eagles, 2 Hobbies, many Cranes, Great White Egrets and breathtaking vast landscapes of marshland.
After several stops with breathtaking views, flocks of Cranes, historical sites or a traditional Polish lunch at a roadside cafe we have finished the day with another long walk along a mid-marsh dike. It was very atmospheric with numerous Snipe, Geese and Cranes in the air as well as a few Elks (Moose) at sunset.
Replete with wind, stunning natural landscapes, birdcalls and a lot of silence we have celebrated the end of the tour with a gorgeous dinner of a traditional Polish soup, fried Sander and hot apple cake served with ice-cream for dessert.
Day 8
This tour was almost a private departure and we managed to squeeze a yet another long mid-marsh walk this morning and another traditional Polish lunch at a riverside, still before leaving for Warsaw.
Please enjoy a few more photographs from this tour below: