Primeval Forest & Marshes – May 2022
Tour Leader: Łukasz Mazurek
Participants: Ann-Marie, Davey, David, Peter (UK)
Text and photos by Łukasz Mazurek
Day 1
We have met the group at the Warsaw airport in the morning and were soon on our way to the Białowieża Forest. It was a cloudy day so perfect for a bus journey. We have seen numerous Buzzard and a few Kestrel, Marsh Harrier, Roe Deer and White Stork on the way.
Getting close to our destination we have seen a pair of Whooper Swans at a roadside pond. Next was a short stop at a dam of the Siemianówka reservoir where we have seen Common Terns, Great White Egrets, Caspian Gull, Common Sandpiper and a Penduline Tit. Lots of marsh terns could be seen in the distance and Bittern and Great Reed Warbler could be heard calling.
Driving through the countryside close to our hotel we have stopped a few times at vantage points and have seen Roe Deer, Red Deer, Red Fox, Lesser Spotted Eagle, Red-Backed Shrike And heard a few Thrush Nightingale close.
We reached our hotel in Narewka village in the evening and enjoyed a hearty polish dinner followed by an introductory talk over maps about this part of Poland, the tour itinerary and detailed plans for the following days.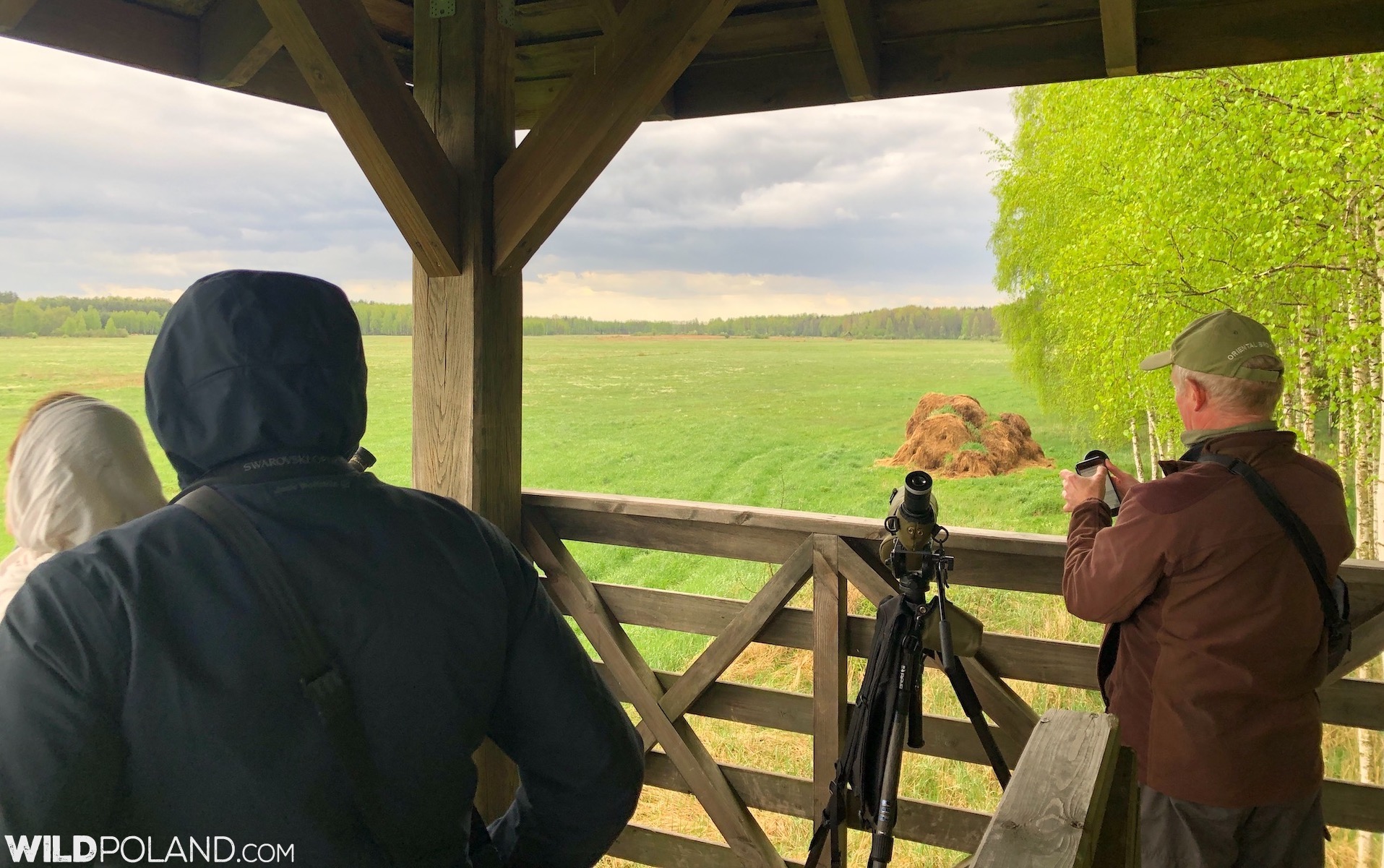 Day 2
We have started our first full day in the Białowieża Forest with a pre-breakfast walk in the hotel area. It was magnificent and we have seen dozens of species within a few hundred metres walk. Highlights included Wryneck, Great-Reed Warbler, Red-Backed Shrike, Barred Warbler, Icterine Warbler, Garden Warbler, but also Cuckoos, Spotted Flycatchers, Common and Black Redstarts.
After a hearty breakfast we drove through the forest and planned a ca. 4 km walk through a variety of habitats in the area of Budy and Teremiski. Lead by experience, we have found a group of 4 Bison Bulls slowly grazing in the meadows at the village edge. They gave long, fantastic views and we left them there undisturbed, and continued into the woods.
Our morning walk started off big with a multitude of forest birds singing and we quickly got amazing views of a male Red-Breasted Flycatcher, Wood Warbler, Collared Flycatchers, Firecrest and Goldcrest. Hawfinches were everywhere. The highlight of this walk were, however, a male Grey-Headed Woodpecker and a fresh footprint of Lynx in the mud.
We had lunch at a nice National Park picnic site in the forest. White-backed woodpeckers have already fledged and were completely quiet so desperate to see them, as well as, the Three-Toed Woodpeckers, we drove to another site and had a 2 km walk in the amazing old-growth forest. Soon, we heard the typical calls and a female White-Backed Woodpecker showed briefly through the dense vegetation but was gone before everyone in the group managed to get good views. We did not surrender and explored the dense forest on foot, quickly to find a male White-Backed Woodpecker that flew a few times in front of us and perched in the bog-alder forest. We have also heard many more and saw a yet another beautifully plumaged old male of a Red-Breasted Flycatcher.
Happy, we drove off back to the hotel for a short break and an early dinner, because a yet another trail was awaiting us this evening – a visit at a Great Snipe lek. We arrived at the site when the sun was still high and after half a mile walk through the marsh we heard the first Great Snipe lekking. It was an atmospheric evening with the usual Woodcocks roding, Thrush Nightingales, Grasshopper and Sedge Warblers singing, Hobby hunting and a few Corncrake calling around us. The vegetation was high and the birds weren't easy to spot but within one hour everyone managed to get good scope views of one or two Great Snipe lekking. It was an exciting evening and an excellent end to a long and a very productive day.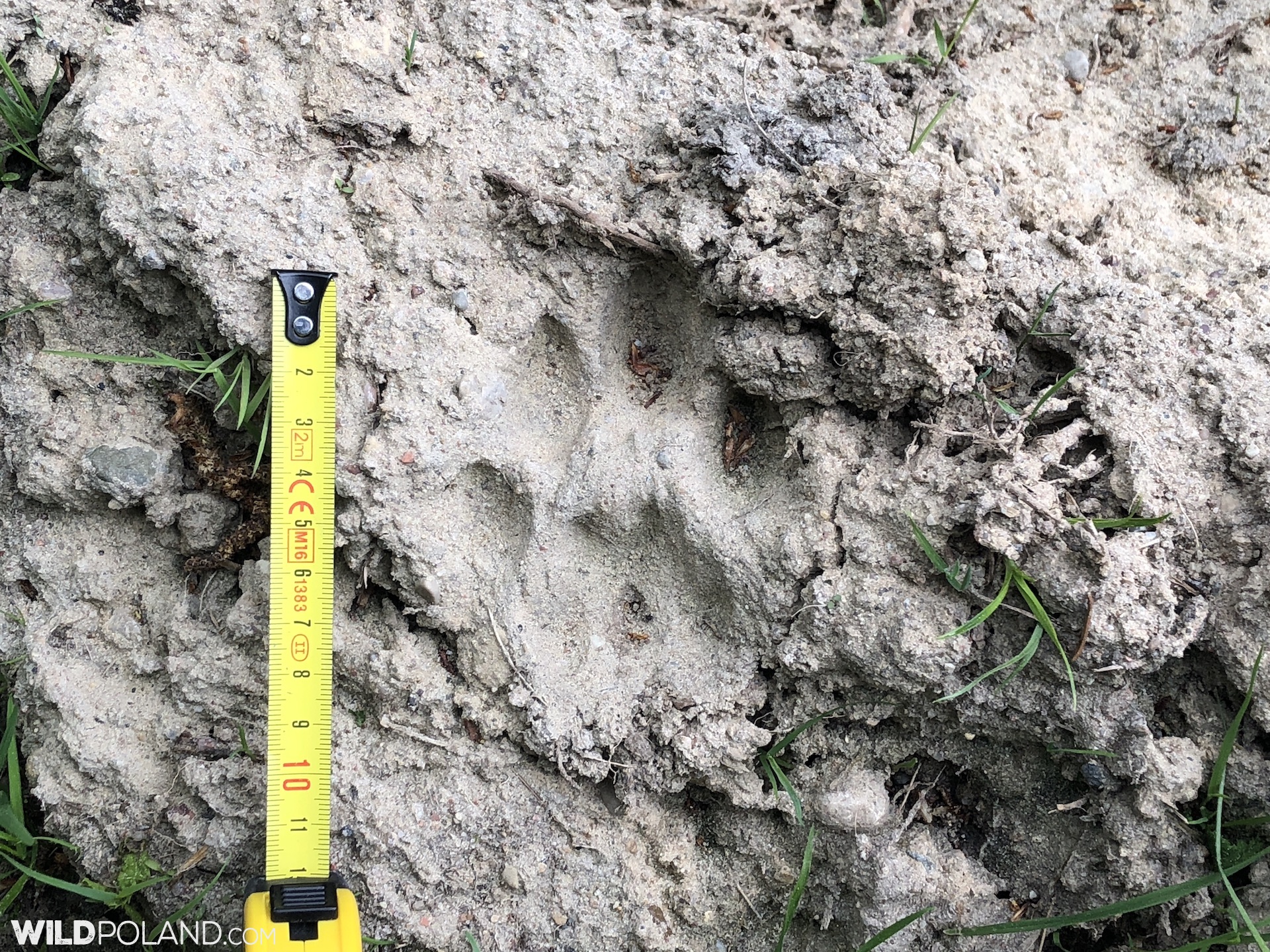 Day 3
We woke up to a warm and sunny day and after another hearty breakfast we visited one of the old-growth forest reserves for a 4 km walk (The strict protection area of the National Park was unfortunately closed this spring). We saw a variety of trees in various ages, plenty of dead wood in various stages of decomposition and a typical old, natural deciduous forest bird species: Collared and Red-Breasted Flycatchers, Icterine and Wood Warblers, Nuthatch, several Great Spotted Woodpeckers and two White-backed Woodpeckers. Wolf tracks and territory marking scratches were obvious in several places. Common and Moor Frogs were also plentiful on the forest floor and jumped away at almost every step.
We had lunch (amazing sandwiches, fruit and juice) and the usual freshly brewed coffee at the edge of the forest (Grey-Headed Woodpecker heard) and continued on foot in search of the Three-Toed Woodpecker.
Soon, we heard quiet shrew calls and saw a family (minimum 6) of Water Shrews running out in the open, in the water-filled ditch just next to the road – amazing spectacle. Later, we stopped and waited at the coniferous patch of the forest, typical Three-Toed Woodpecker habitat and watching numerous tits, thrushes, flycatchers and warblers we soon heard a distant drumming of a Three-Toed Woodpecker. Later, a female Three-Toed Woodpecker flew close and started feeding high in the spruce trees. We have had very good scope views of it, several times, until it flew away. We continued our walk up to the open river valley watching numerous butterflies: Comma, Map, Large White and Greed-Veined White, and the most spectacular of them all – a Tau Emperor Moth. We also had fantastic views of a local Lesser-Spotted Eagle circling over the meadows.
Next, was a short drive and a short walk in the old pine forest where we knew of a nest of a Black Woodpecker. We positioned ourselves at a safe distance and within half an hour waiting we saw two birds changing in the nest, incubating and one of them – a male – gave really long, unforgettable views in the scope.
This evening, after the usual substantial dinner we had a short trip into the territory of a Pygmy Owl. As soon as we arrived on the spot, we heard a White-Backed Woodpecker drumming close but didn't manage to see it through the dense vegetation. Within one hour we have tried two locations but the Pygmy Owl didn't show up. There was, however, plenty of action with thrushes singing their heads off, a Woodcock roding over our heads and last – two Tawny Owls – a male and a female calling near at dusk.
Day 4
This morning we went out before breakfast again to try another site for Pygmy Owl and woodpeckers. It was a cool and sunny morning and the first birds we saw were three Golden Orioles. We walked slowly listening to all the bird calls and at the next stop we saw Crested Tits, Tree Pipit, Great Spotted Woodpeckers and heard a Black Woodpecker drumming. On the last straight stretch of the track we saw a Red Deer hind with two fawns and while watching them we suddenly heard a Pygmy Owl whistling in the distance. The bird would not come any closer and we tried to approach it but after more than half an hour of struggling through the dense labyrinth of fallen spruce trees and tall raspberries, we gave up. We saw a Sparrowhawk and heard a Middle Spotted Woodpecker but did not manage to spot the owl.
After breakfast we went off to the SE corner of the Siemianówka reservoir. It has been two hours of decent birding. We started off with three species of marsh terns, together with Marsh Harriers over the shallow waters and reedbed. Three White-Tailed Eagles emerged quite near from the reeds, obviously feeding on something as they kept coming back and flying around the same place. A Hobby was also feeding on small birds and dragonflies overhead. Later we spotted a Hoopoe feeding further along the track with Whinchats, Blue Headed and White Wagtails flying around with nest material. Suddenly, we heard a sharp wagtail call and saw a Citrine Wagtail very near – a male, soon followed by a female bird that also looked like nest building. Another highlight of this trip was also a Greater Spotted Eagle showing very well a couple of times, including hunting in the marsh in front of us. Later we have also seen a Lesser Spotted Eagle, Red-Backed Shrikes, Stonechat (a rare bird in this part of Poland) and a male White-Backed Woodpecker that flew right in front of us twice. We finished off this morning by a fantastic, close observation of an Icterine Warbler and a Thrush Nightingale singing its head off in a bare tree some 3 metres in front of us.
After lunch on the embankment of the reservoir we took a short break at our hotel to rest and continued in the afternoon – another short trek in the central part of the forest. We started with more views of Collared Flycatcher, a Lesser Spotted Eagle circling over the forest and grey-headed and White-Backed Woodpeckers calling. We walked through the bog alder forest with ground floor fully covered with beautiful patches of Large Bitter-Cress. Wolf tracks in the mud were fresh. When we stopped to watch another Collared Flycatcher, a Middle Spotted Woodpecker appeared feeding right in front of us and was soon followed by a male Lesser Spotted Woodpecker, a fantastic completion to our woodpeckers list. We finished this walk in the territory of a Pygmy Owl but it started to rain a bit and the owls did not respond.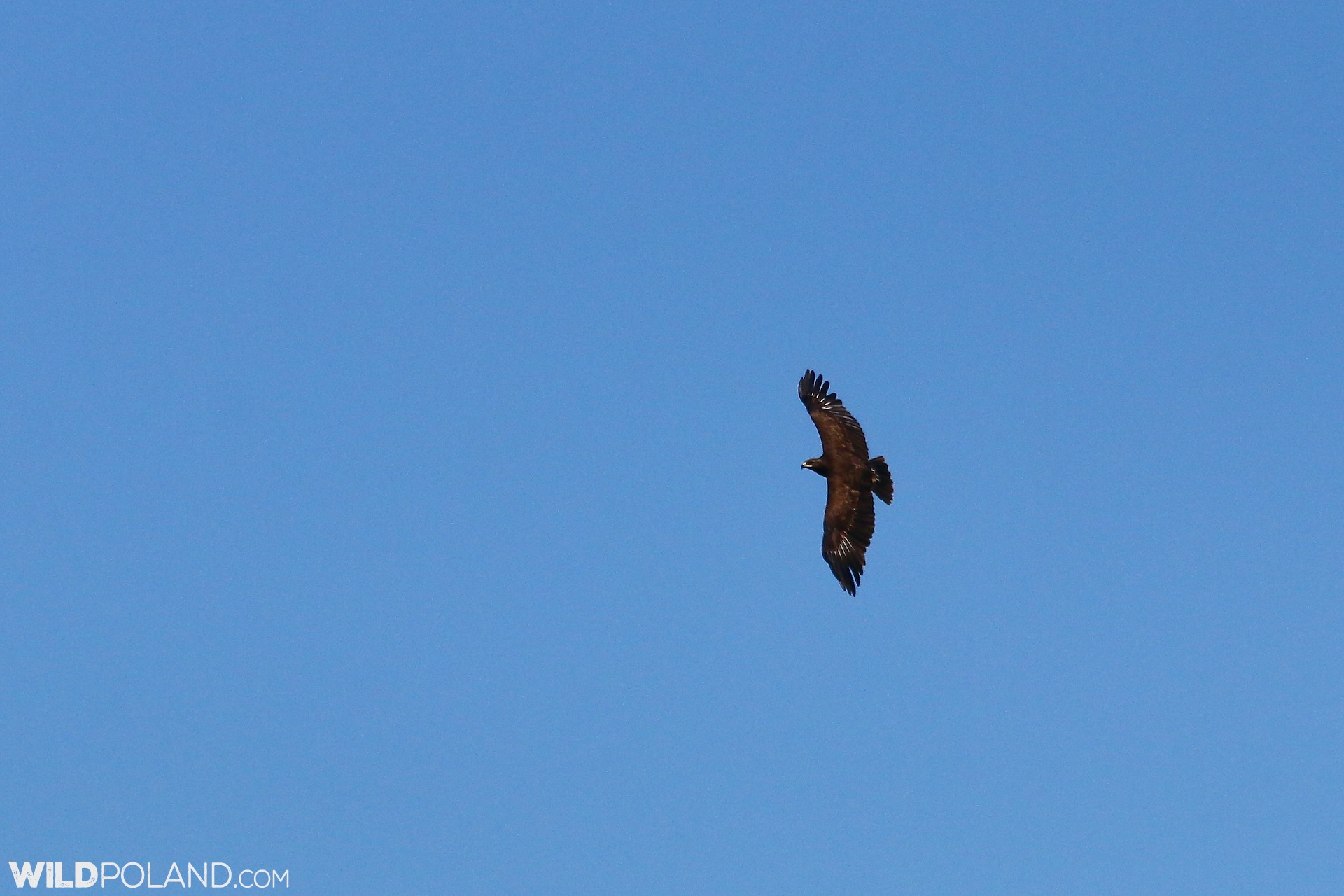 Day 5
Today we left early morning with a hard core group still eager to see a Pygmy Owl so we had our morning coffees and were on our way just after 5 am. The first sighting of the day were three Bison Bulls grazing in the meadows near the road. The plan was to try at least two sites where we heard the Pygmy Owls recently so we stopped at the first one and didn't even manage to prepare the tripods as the Pygmy Owl arrived and started calling. We had fantastic scope views for more than 10 minutes.
With still plenty of time before breakfast we had two more walks in the forest which produced many sightings of warblers and flycatchers, a Three-Toed Woodpecker drumming as well as a brief sighting of a Pine Marten.
After our last hearty breakfast back at the hotel in Narewka we hit the road for the famous Dojlidy fishponds, a refuge for grebes and warblers. Within the first few minutes upon arrival we have had excellent views of Black-Necked and Red-Necked Grebes, Little and Great Crested Grebes, Great Reed Warblers, Rosefinch and a Marsh Warbler that must have just arrived. Savi's Warbler was singing and Little Crake calling but both difficult to spot. We watched the usual Penduline Tit at nest – a patient bird working at a third nest on the same tree, the two previous ones obviously torn in the rain. We have also seen a few Marsh Harriers and two White-Tailed Eagles close but the highlight to many came at the end – a view of a Fire-Bellied Toad in the scope calling gently, joining the overwhelming choir of hundreds of them around. Or a few hundred Pool Frogs spawning in the crystal clear water just next to the track. Or a view of both the Winter and Siberian Winter Damselflies and finally – a pair of Red-Necked Grebes displaying, copulating and nest building in the middle of a small pond very near.
We had an amazing lunch at a local cafeteria and were back on the road towards Dobarz – our guesthouse in the Biebrza Marshes and home for the last three nights. We checked in at the hotel and after a short break we left for a short evening trip in the Aquatic Warbler habitat. We were almost there when Davey shouted – Elk! We stopped and had unbelievable close views of a young male Elk lying on the ground at the forest edge. After a few minutes photo session we were back on the trail to watch Aquatic Warblers. There were many Whinchats, Reed Buntings, Grasshopper and Sedge Warblers around, as well as numerous and very loud Common Snipe but we soon heard the first few Aquatic Warblers singing and had good scope views of two individuals. Montagu's Harriers were also flying around and it has been a very atmospheric evening.
The amphibians were very loud in the ponds behind our hotel so after dinner we went out with Davey looking for Tree Frogs and as they can be difficult to find in the pond, we found one Tree Frog perched on a tree just next to the pond.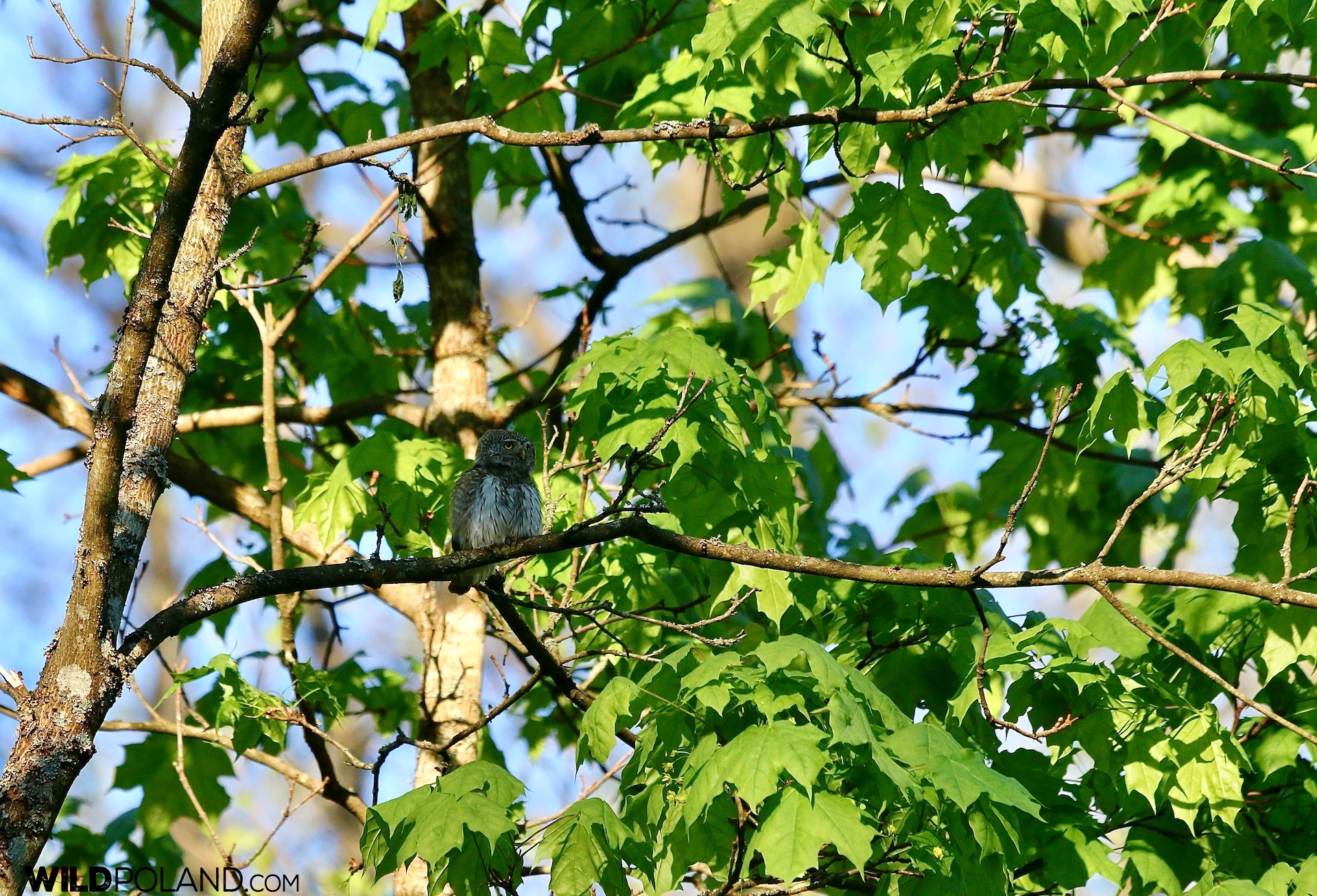 Day 6
This morning we met at breakfast but David had come out birdwatching in the hotel area earlier and had recorded over 50 bird species, including a Great Grey Shrike and a Barred Warbler.
After breakfast, we visited the Osowiec boardwalk where we heard and glimpsed a Savi's Warbler as well as seen a Bluethroat performing a songflight several times right in front of us. Penduline Tits, Whitethroats and Rosefinch could be heard and numerous dragonflies were on the wing including a Common Club-Tail and Large White-Faced Darter.
Next, was a short walk and a visit at a watchtower at Biały Grąd. We saw some Roe Deer, a Lesser Spotted Woodpecker, a distant Greater Spotted Eagle and heard a Bluethroat on the way but best was awaiting us at the end of the walk – dozens of Whiskered Terns feeding very close, several Ruff still displaying and fighting for access to females, a few Black-Tailed Godwits, Redshank, Wood Sandpipers and one Curlew Sandpiper. There were also many ducks, egrets, Marsh Harriers and a pair of Black-Necked Grebes.
We stopped for lunch at the vantage point in Burzyn and saw two Elk and a Roe Deer in the distance. Had some usual, freshly brewed coffee and continued our drive around the best sites of the southern basin of the Biebrza River. On the next stop we saw about a hundred White-Winged Terns and numerous ducks (Garganey, Shoveler, Pintail). The highlight were two Black Storks showing very well and for a long time. We have also checked several sites for River Warbler on the way but they obviously haven't arrived yet. We also had a long stop where up to 500 White-Winged Terns were nesting and feeding in the shallow waters just next to the road. Saw 35 Cranes, a female Marsh Harrier and a pair of Lesser Whitethroat.
Our last stop was another try for the Aquatic Warbler and we had a few better views of this elusive bird than yesterday. Apart from the usual birds in this area (Montagu's Harriers, Common Snipe, Whinchats) we also heard a Spotted Crake.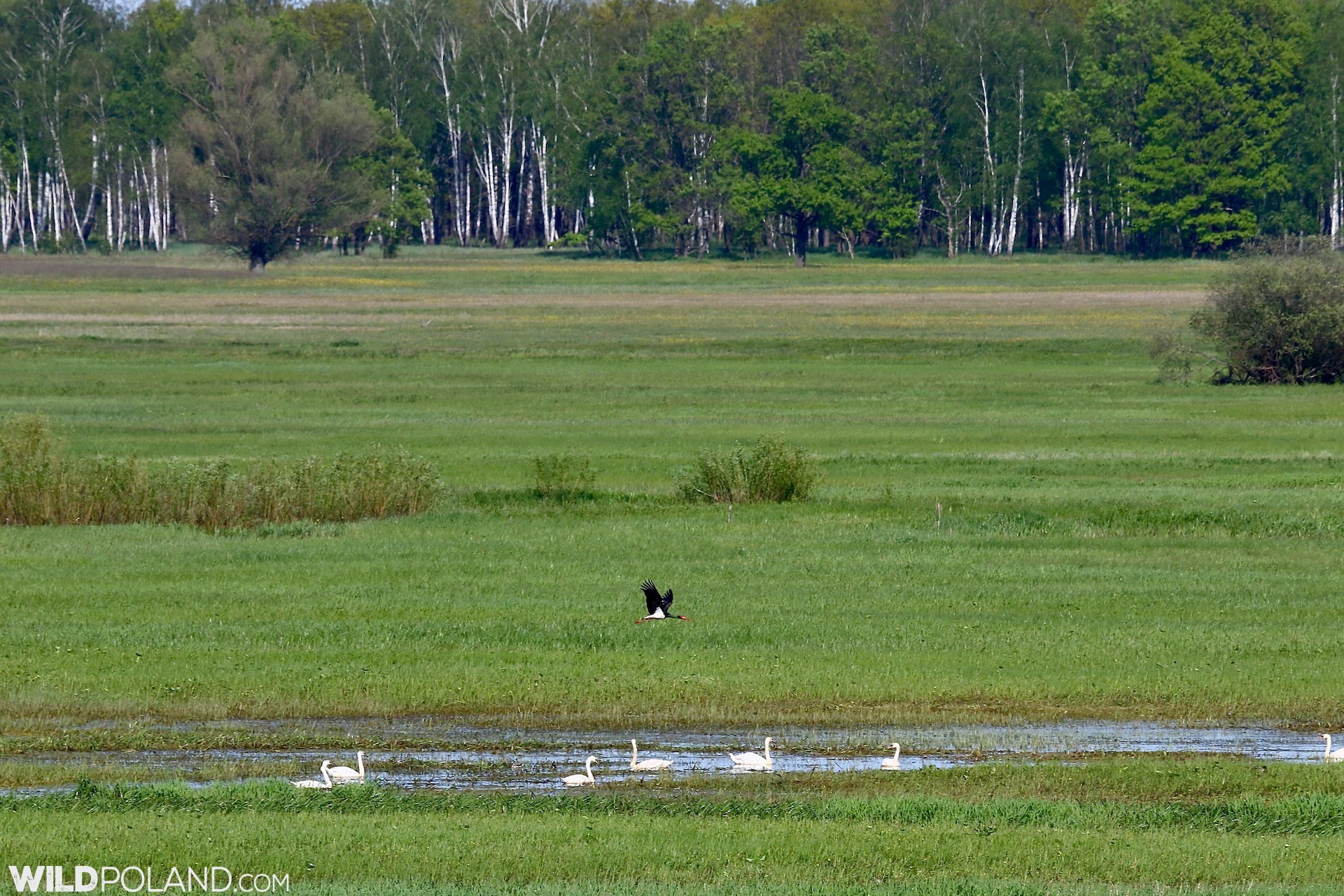 Day 7
This early morning we went out in the hotel area before breakfast, together. The choir of all the birds singing and calling together with the tranquil views of the vast, Biebrza Marshes were amazing. The best birds seen were Woodlark, two females of Goldeneye, Barred Warbler, Wryneck, excellent views of a Bluethroat, Red-Backed Shrike or a Black and Middle Spotted Woodpeckers.
After breakfast we went for another drive around the best sites in the area and started with looking for Ortolan Buntings. We found some at the first stop and had amazing views of two males singing. The countryside was beautiful and while chatting to a local farmer who came up to see what we were looking at we have also spotted a Woodlark, male Common Redstart and a Tawny Pipit on the same wire just next to Ortolan Buntings. There was also a wheatear and a Montagu's Harrier nearby.
Another stop was a walk in the countryside where we saw White-Tailed Eagle, Lesser Spotted Eagle, Hoopoe, Grey-Headed Woodpecker, Great Grey Shrike and a Swallowtail Butterfly. It was getting hot and quiet so after lunch at a vantage point there, we had moved on to another site – a small lake and ponds where we saw 5 White-Tailed Eagles, Black Terns, Savi's Warbler, Black Stork, Little Ringed Plovers among many other more common birds.
Next was a visit at the gravel pits where we saw a total of 16 Bee-Eaters giving us a true spectacle, together with dozens of Sand Martins, a Wheatear, Blue Headed Wagtails and a pair of Tawny Pipits. We had another short walk looking for Kingfishers and found none but saw many other birds including an Icterine Warbler, Red-Backed Shrike, Sparrowhawk and heard a few Marsh Warblers and Thrush Nightingales. An unusual sighting was a real Goldfish spotted in the river by Ann-Marie.
We also decided to stop at the Aquatic Warbler site for the third time and did not regret as it produced a few more, close views of these birds, perched up singing. Back at the hotel for dinner, we could conclude and celebrate our tour. Over 30 sites visited and some of them more than once, 60 km trekked, a total of over 150 bird and 11 mammal species recorded and everyone saw what they mostly expected and wanted to, including many sightings first for life.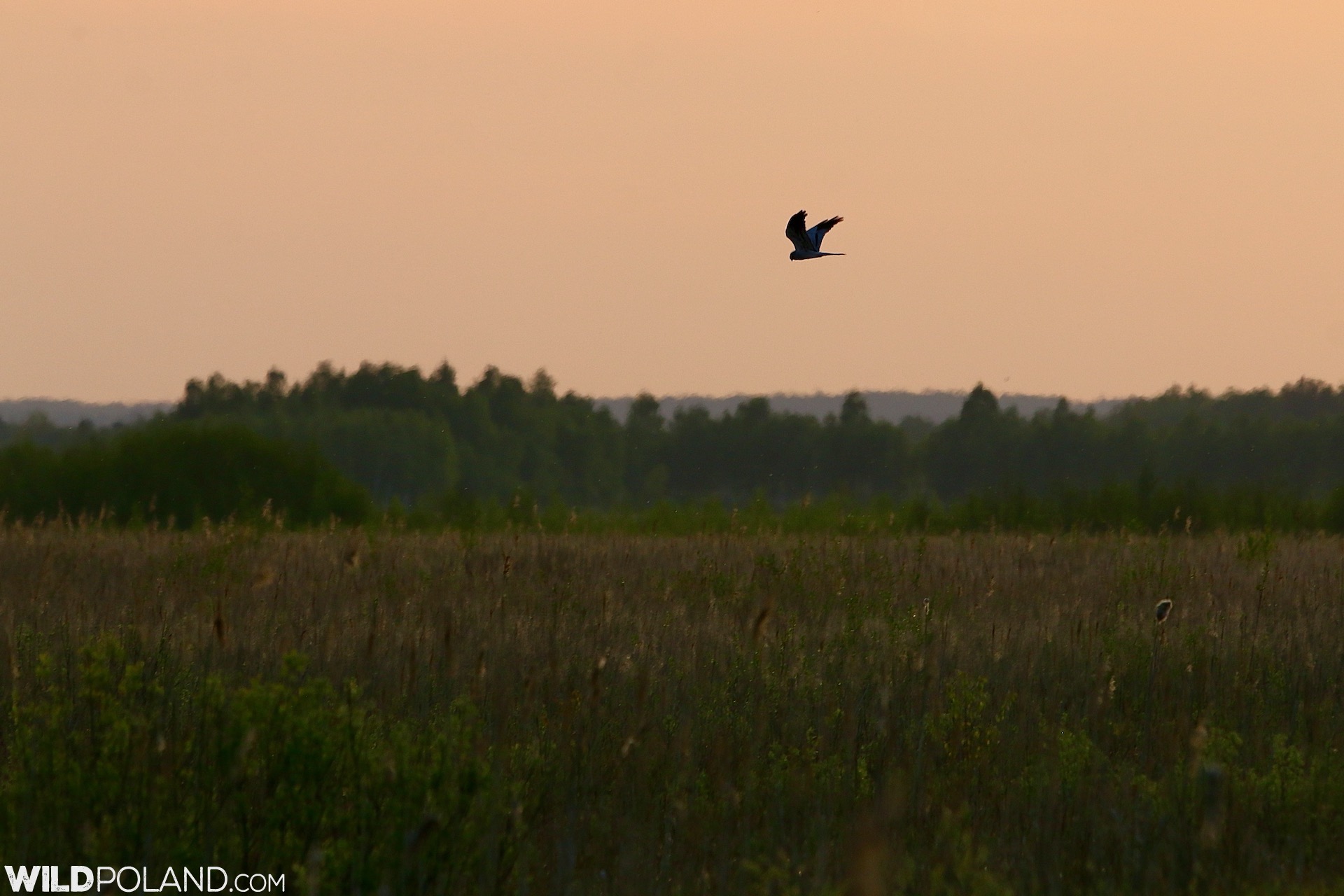 Day 8
Everyone had a late flight home so we had more time today to still do some birding. As it started raining heavily in the Biebrza, we decided to transfer towards Warsaw and take a few hours walk in the small nature reserve near the Warsaw airport as the weather was obviously better there.
Having arrived on the spot, we had lunch at a hotel next to the ponds and then took a walk. Within the next three hours, despite a very strong wind we have recorded 48 species of birds including many new to the trip. The highlights were Little Bittern seen very well in flight and in scope, a Kingfisher, Black-Necked and Little Grebes, Goldeneyes with chicks, Little Terns or a male Green Woodpecker making our woodpeckers seen list grow up to 9 species including Wryneck. We said our goodbyes and transferred to the airport.
A few more photographs from this week: