Primeval Forest & Marshes, June 2019
Tour Leader: Andrzej Petryna (Andy)
Participants: Helen & Colin (AU), Kit & Meg (NZ), Roy & Lee, Bill & Liz, Deborah, Helen, Richard (UK)
Text by Andrzej Petryna & Mariola Przyborowska
Photos by Andrzej Petryna
Day 1, Saturday 8th June: transfer to the Białowieża Forest
After meeting in Warsaw on a warm Saturday noon, we started ca. 4-hour journey to the Białowieża Forest. The highlight of the scenic Polish countryside were numerous nests of White Storks in the villages we passed through. An adult White Storks could be seen here and there foraging in the pastures and meadows, while abundant broods of hungry chics awaited their parents in the nests. Several Common Buzzards were spotted too in this pleasant rural landscape.
We rached our hotel in the afternoon. Located right in the centre of the Białowieża village, the place offered a very convenient starting point for short walks to the nearby Narewka river valley, as well as to the 19th century Palace Park, home of the Białowieża NP headquarters. We had three full days ahead of us to explore the best sites in the area. The weather forecast for coming week was exceptionally hot, with predicted temperatures exceeding 30 degrees Celsius – a rather challenging circumstances for spotting large mammals. But we weren't worried! This very first evening in Białowieża we just relaxed, and disscussed over a map our plans for the next few days.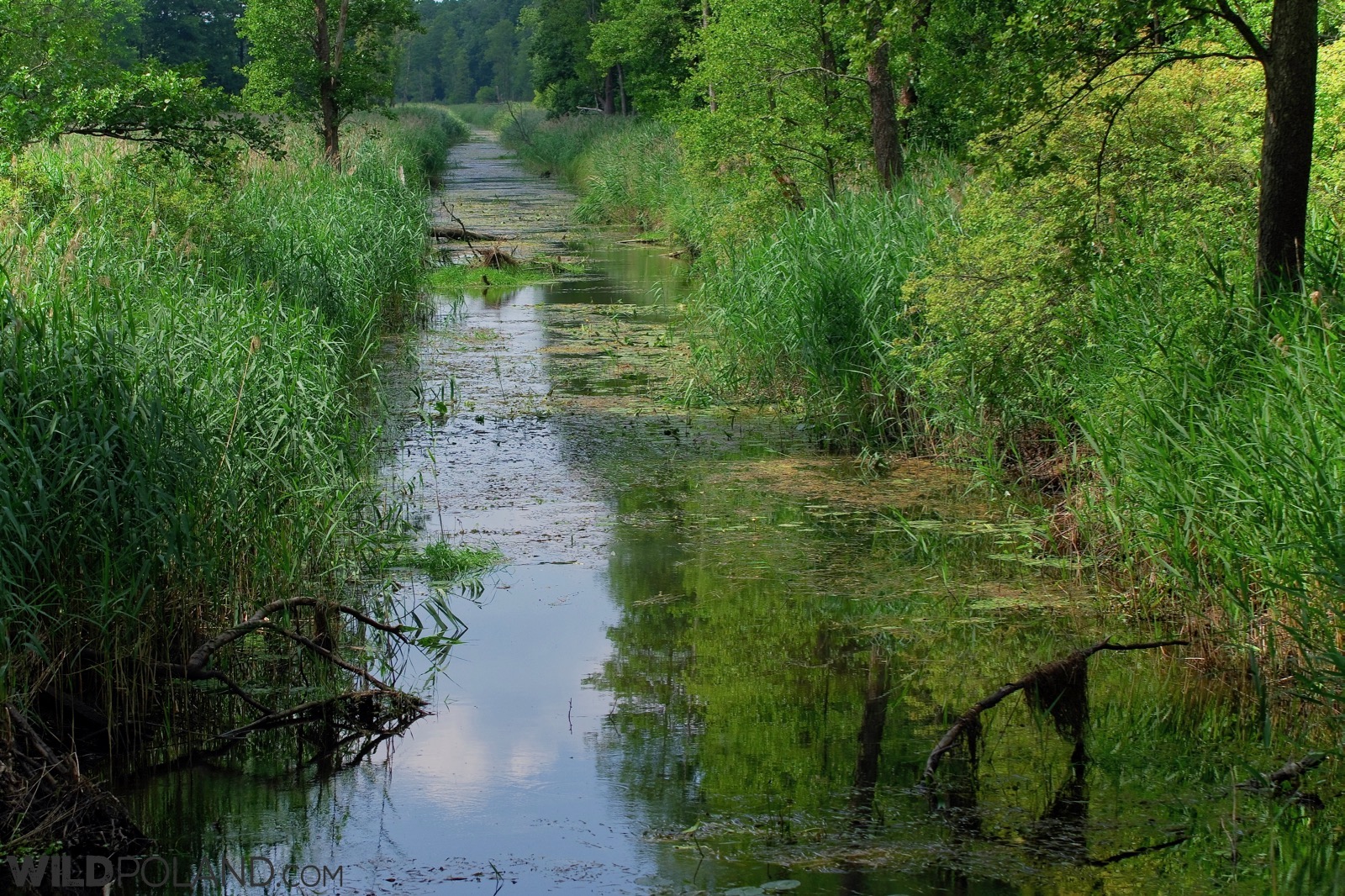 Day 2, Sunday 9th June: the Białowieża Forest 
At dawn we visited the meadows north of the Białowieża village. With great hopes for Bison, we carefully checked the open spaces and the shady edge of the forest. Bison were nowwhere in sight, instead we spotted a herd of ca. 10 Red Deer and some interesting birds, including Red-backed Shrike, Icterine Warbler, Woodlark, Corn Bunting and Hawfinch. On the way back to the hotel we had a quick view of a Lesser Spotted Eagle. 
After breakfast we met our local guide, Ewa, who accompanied us to the Strictly Protected Area of the Białowieża NP, the most natural part of the Białowieża Forest, under protection since 1921. During ca. 6-hour walk through the different forest habitats we saw tremendous variety of plants and learnt a lot interesting facts about ecology of the forest. Ewa's knowledge and passion were outstanding. From tall, centuries old trees to the tiny organisms living on deadwood, she pointed to us the amazing biodiversity of the last remaining European lowland forest. It was truly educative experience.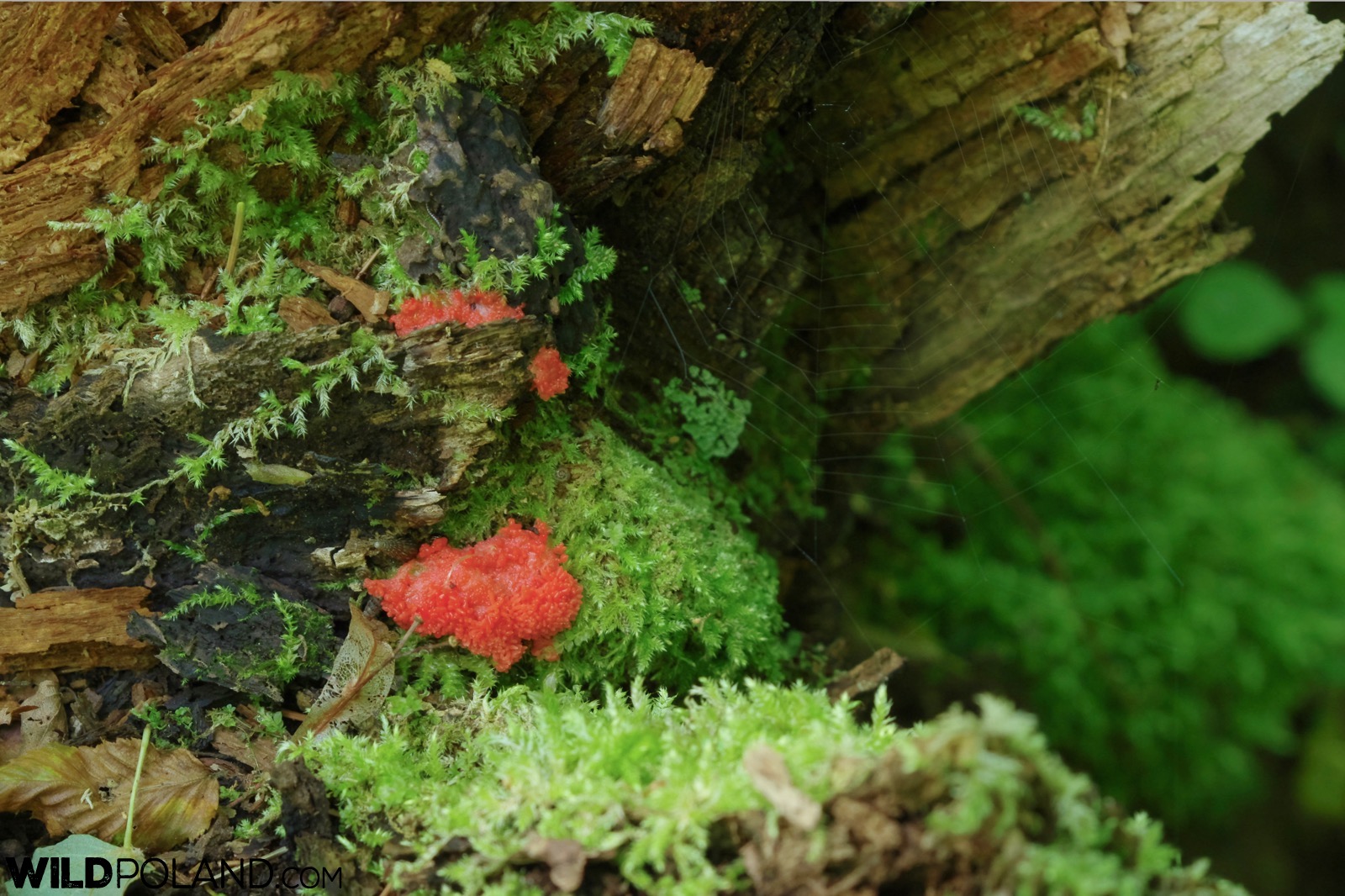 While walking through the shady woods, we noticed Red Squirrel, Collard Flycatcher, Red-breasted Flycatcher and Hawfinch. Just outside of the Strict Reserve we had a quick view of a White-backed Woodpecker, while at the adjoning meadows we observed plenty of Painted Lady Butterflies and found beautiful Dactylorhiza orchids.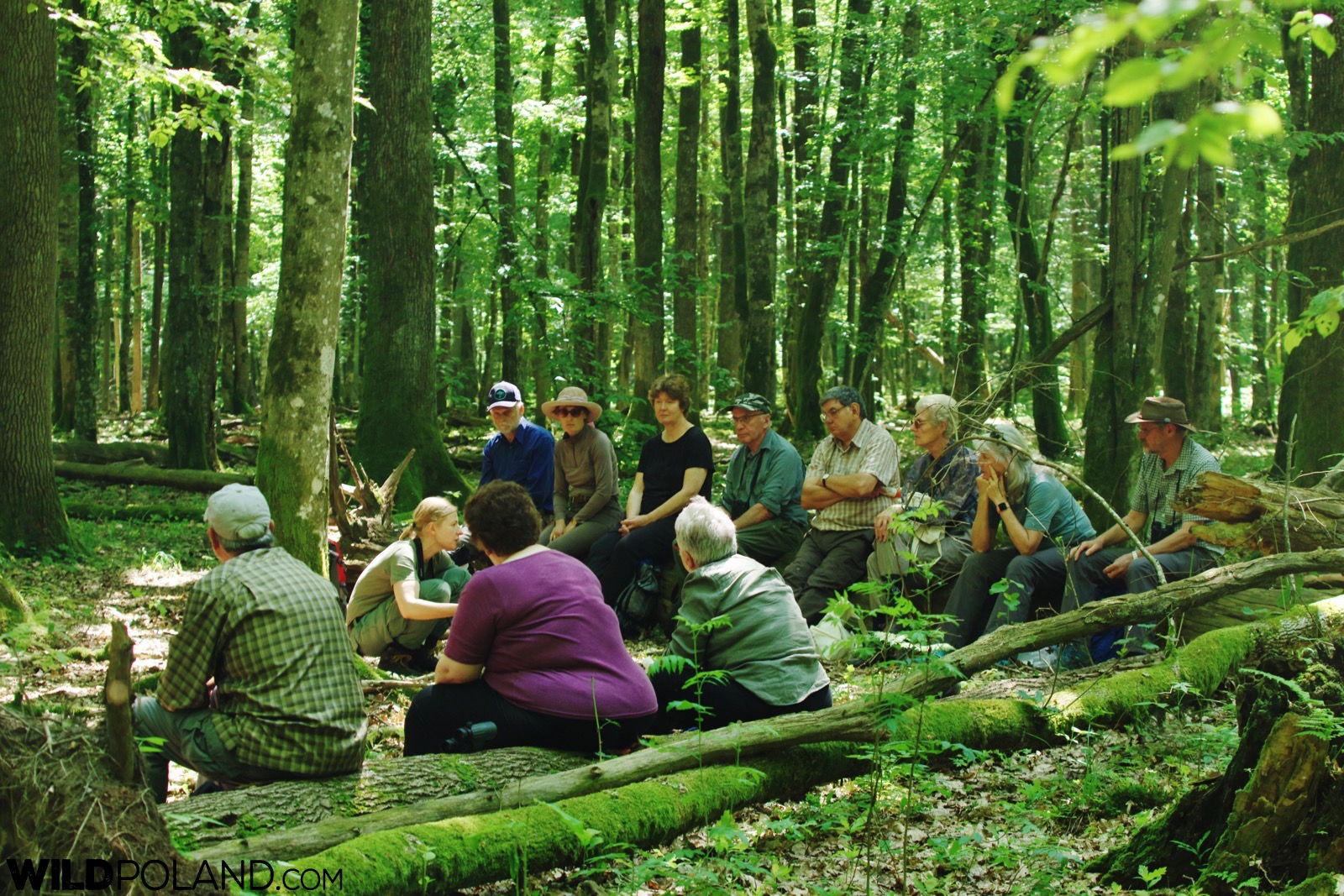 In the afternoon we set off again for a wildlife patrol, this time spotting 2 Bison bulls as they grazed at the fields just outside of the Białowieża village. Here is one of them, a truly impressive male looking right at our group. We enjoyed lenghty observations and a proper photo session. Our first day in the Białowieża Forest was pretty successful!
Day 3, Monday 10th of June: the Białowieża Forest
Today we concentrated mostly on birds. We started with pre-breakfast walk in the Palace Park, the 19th century landscape park established around the former Tzar's palace. Apart from a pleasant scenery with many old, impressive trees, small river and extensive ponds, we enjoyed a good view of a Middle Spotted Woodpecker feeding its chicks, Wood Warbler, Common Rosefinch, Great Reed Warbler, and Marsh Tit.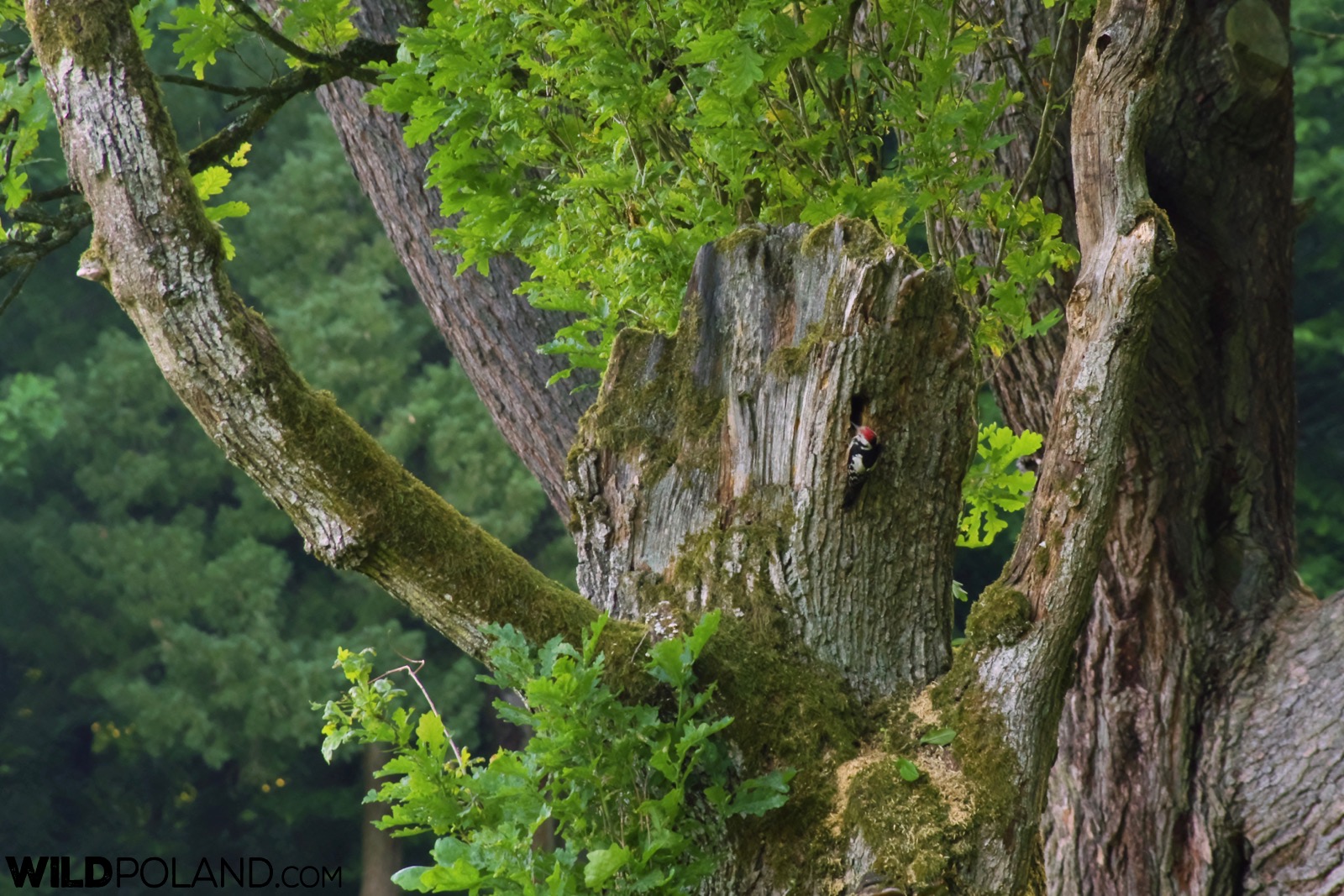 After breakfast we visited the Siemianówka Reservoir, the man-made lake in the northernmost part of the Białowieża Forest, where we observed plenty of water birds along with birds of prey – White-tailed Eagles in different age plumages, Marsh Harriers, Lesser Spotted Eagles, Whooper Swans, Garganeys, Shovelers, Teals, plenty of Great White Egrets, finally Black, White-winged and Whiskered Terns. On the way back we made several stops in the forest to look for more rare species of woodpeckers (we succeeded in finding Grey-headed and Middle Spotted Woodpecker).
After dinner we came back to the forest trying to spot a Pygmy Owl. We located the nesting hole and waited, although there was no movement around. Apparently, the young owlets have already left and moved out of their territory. On the way back to the hotel we visited once again the Palace Park, this time to look for a resident Tawny Owl. The timing was right and we saw it very nicely!
Day 4, Tuesday 11th June: the Białowieża Forest 
Early in the morning we took a walk to the nearby Narewka River valley. Apart from very decent observations of birds (River Warbler, Barred Warbler, Savi's Warbler, Red-backed Shrike, Wryneck, Lesser Spotted Woodpecker and a nice pair of Linnet feeding very close to us), we couldn't fail to notice that the activity of mammals was very low. With temperatures reaching predicted 30 degrees, it shouldn't be too surprising that they seeked shelter deep in the shaded woods. Also for ourselves the midday seemed like a perfect time for a little siesta, which we all eagerly agreed upon. On a brighter side, such hot weather provided fantastic circumstances for butterflies, dragonflies and other plentiful invertebrates. During our treks in the Białowieża Forest we came across i.e. Beautiful and Banded Demoiselles, White Admiral, Black Hairstreak and Map Butterflies – and many many more!
Day 5, Wednesday 12th June: transfer to the Biebrza Marshes
After the usual early morning walk and breakfast, we checked out and moved towards our next destination – the Biebrza Marshes. During ca. 150 km drive in a north-west direction we stopped halfway, at the large complex of fishponds near Białystok. Despite continuous heat we managed to see few pairs of Red-necked Grebe with yuveniles, Penduline Tit on its nest, Marsh Harrier and Common Tern. We also heard calls of Marsh Warbler, Bearded Tit and Bittern. 
Further on the way, after fabulous farmer's lunch, we made a short stop to see Bee-eater colony (ca. 5 pairs and also a Tawny Pipit), before we finally reached the Biebrza Marshes National Park and our wooden, country-style guest house. But it wasn't the end of our activities for the day! After dinner we headed to the small port by the quietly flowing river, where at sunset we boarded traditional flat bottomed boat. We cruised along the river for about an hour and watched several Beavers from a close distance as they swam, looked for food or just groomed their wet fur at the water banks, totally undisturbed by our boat. Fantastic experience!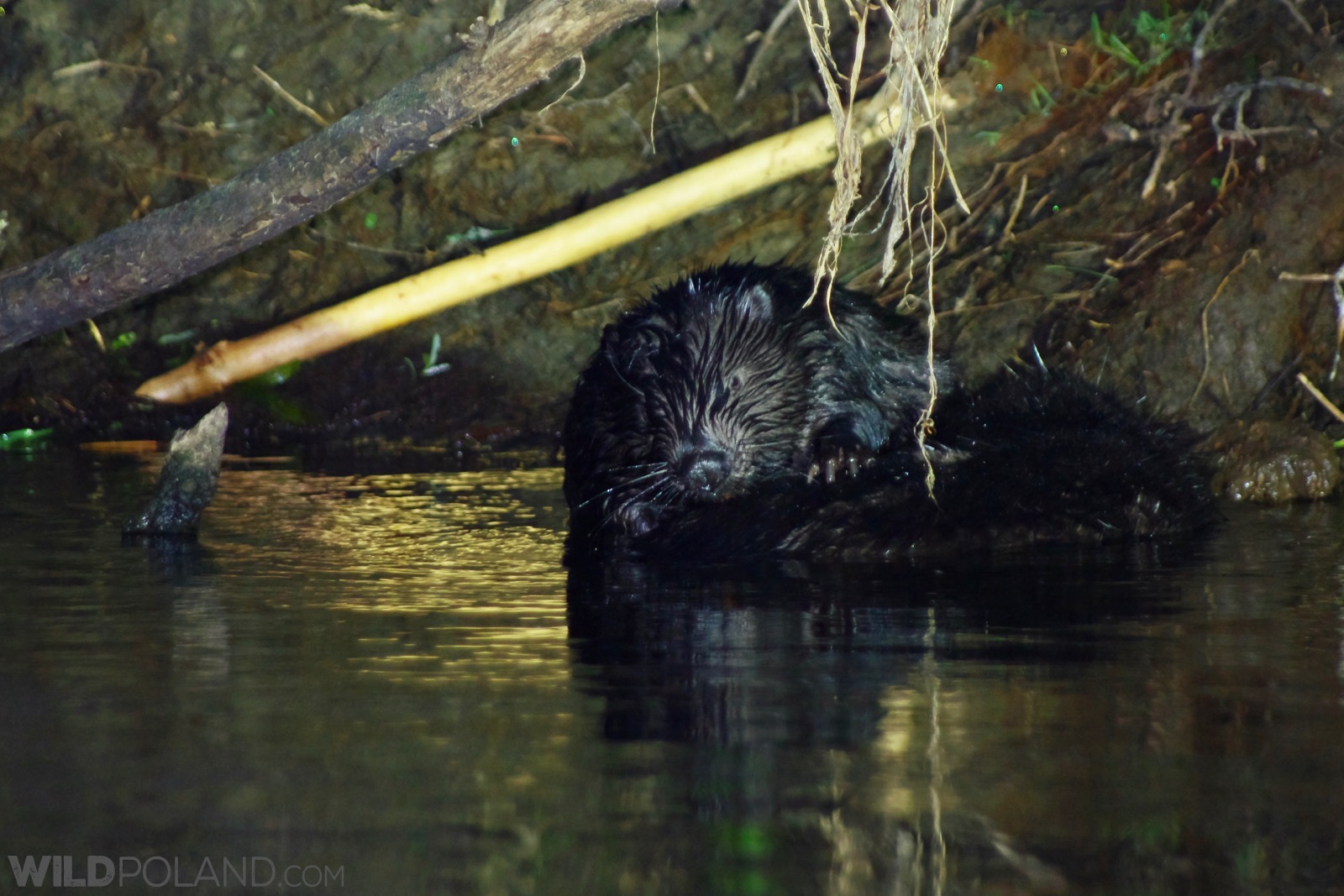 Day 6, Thursday 13th June: the Biebrza Marshes
Early in the morning we explored the vast open area of fen, where we had fanthastic views of Aquatic Warbler posing nicely at the top of a dry reed, Grasshopper Warbler, Crane and Montagu's Harrier, as well as few distant Elk (Moose). After breakfast we moved to the middle part of the Marshes, stopping shortly at raised bog habitat with its unique flora (Labrador Tea, Bog Billberry, Sundew, Club Moss, Sphagnum Moss, Cotton Grass). Further on our way we spotted beautiful Bluethroat and Penduline Tit. When the evening brought some relief from intensive heat, we took a walk in forest in the nearest vicinity of our guest house – a very atmospheric trek with rewarding views of  flying Cranes, amazing Scarlet Tiger Moth and a Tawny Owl spotted by a part of the group.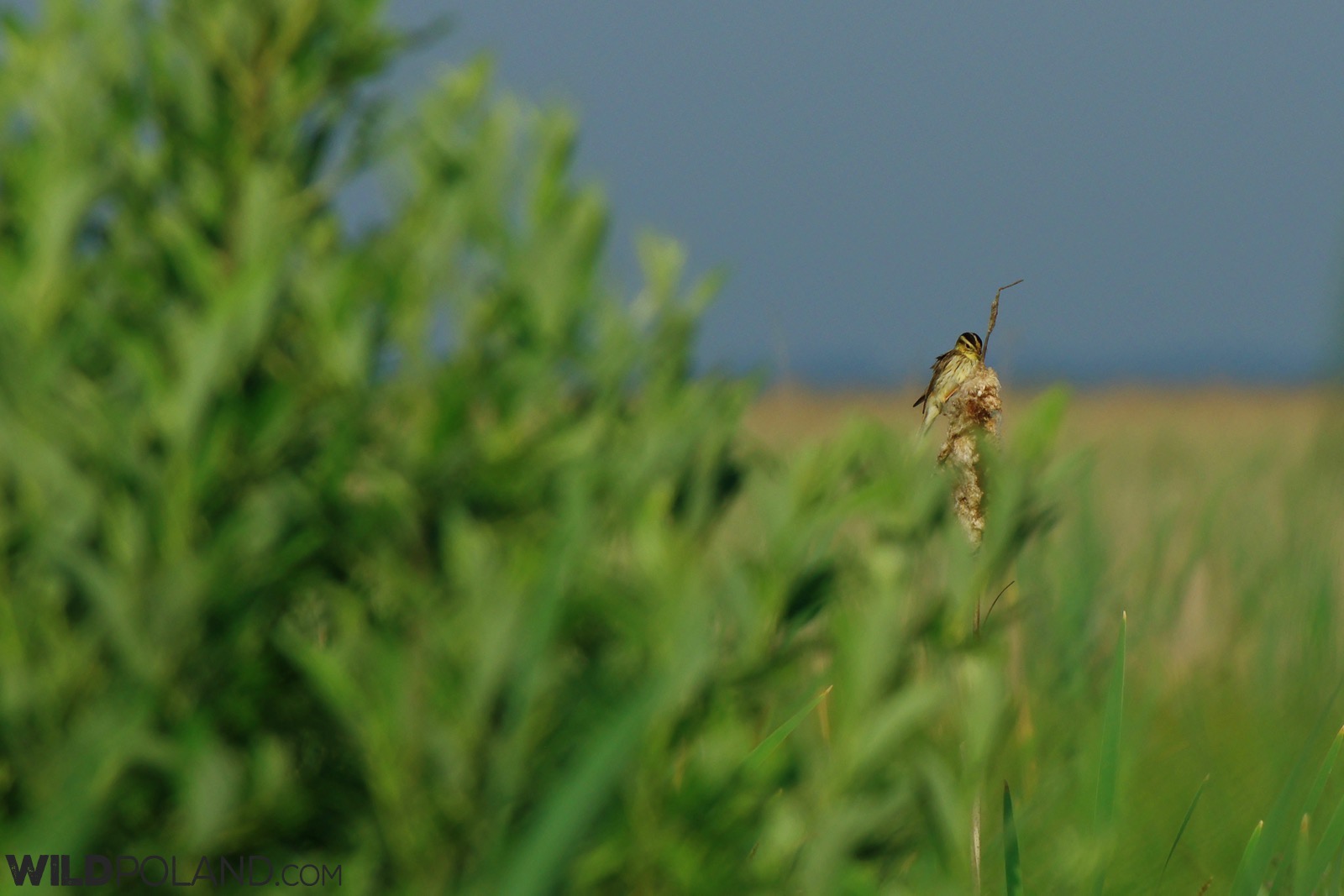 Day 7, Friday 14th June: the Biebrza Marshes
The highlight of today's early morning walk was a Stoat, which we spotted as it moved along one of the broadwalks, apparently in search of prey. Other interesting species we came across included Heath and Small Pearl-bordered Fritillary, and also some orchids – Dactylorhiza and Butterfly Orchid.
The rest of the day was devoted to exploration of  the Red Bog Reserve, an outstanding part of the Biebrza NP, strictly protected from 1922. The Reserve covers sand dunes adjacent to the marshes and a raised bog covered with coniferous forest. During lenghty trek through the reserve we spotted Goshawk, Hoopoe, Crested Tit and Lesser Spotted Eagle, as well as someinteresting butterflies – Pearly Heath, Small Marbled Frittillary, Scarce Copper and Lesser Purple Emperor, caterpillars of Swallowtail and Spotted Fritillary. Driving back to our hotel we took the road along the western side of the Marshes with one interesting stop at the bank of Biebrza river, where we observed waders: Ruff, Black-tailed Godwit, Wood Sandpiper, Greenshank, Redshank, Spotted Redshank, Little Plover along with Black, Whiskered and Little Terns. Crane, Greylag Geese and Black Stork were also spotted there. 
Day 8, Saturday 15th June: transfer to Warsaw
The last day of our 8-day tour. Just after departing from our hotel we had one last fantastic sighting – this beautiful male Elk (Moose) with growing antlers was spotted feeding very close to the road:
Transfer from the Biebrza Marshes to Warsaw took ca. 2,5 hours via a comfortable express road. In Warsaw we visited the famous Old Town with its narrow cobbled streets and small squares lined up with colorful townhouses. At the end we sat down in a small restaurant for a traditional lunch and refreshing drinks, recalling highlights of our tour. It was yet another incredibly hot day! 😉
Please enjoy our small photo gallery with more images from this tour by our guide, Andrzej: