Primeval Forest & Marshes, July 2019
Tour Leader: Bartosz Smyk (Bart)
Participants: Rosemary, Hugh & Jennifer (AU), Judyth & Sean (UK), Chris & Linda (UK), Gary (UK), Robert (AU)
Text by Bartosz Smyk & Mariola Przyborowska
Photos by Bartosz Smyk
Summer in Poland is the time of abundance, the vegetation is intensely green and dense, every space is crammed with leaves, tall grasses, herbs and wildflowers; meadows are full of insects and their continuous buzz can be heard long into the evening. White Storks are pretty noticeable sight across the countryside, with 2-3 yuveniles occupying each nest in virtually each village passed on the way, and adult birds foraging at nearby meadows. This is exactly what we experienced during our visit to the charming Podlasie region in NE Poland. Surprisingly, the weather wasn't as summery as expected. After long lasting heatwave and several extremely dry weeks back in June, at the beginning of July temperatures dropped down to 15 – 18 degrees Celsius during the days and only 10 degrees at nights. One could barely call it a perfect t-shirt weather, it was rainy and mostly overcast, but we also enjoyed beautiful moments of sunshine, some spectacular clouds across the sky, and few colorful sunrises and golden sunsets.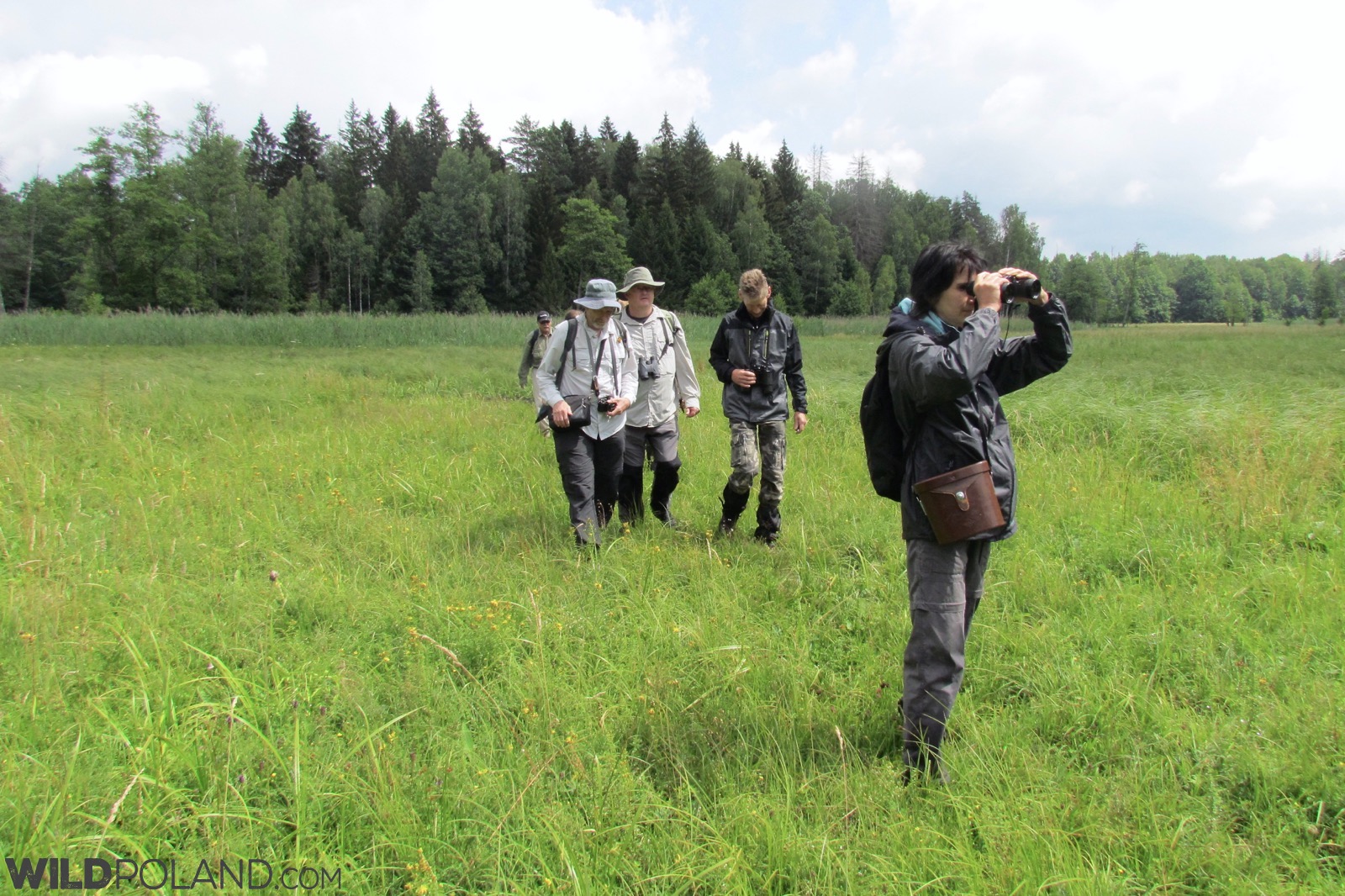 During 4 intensive days in the Białowieża area we visited several sites and valuable natural habitats including the most important part, the core area of the Białowieża Forest, the UNESCO world heritage site. Ca. 6 hours long walk with the local specialist, Joanna, gave us a unique oportunity to see the last remaining European natural forest with huge, centruries-old trees, plentiful deadwood and tremendous variety of plants, fungis and invertebrates related to the decaying wood.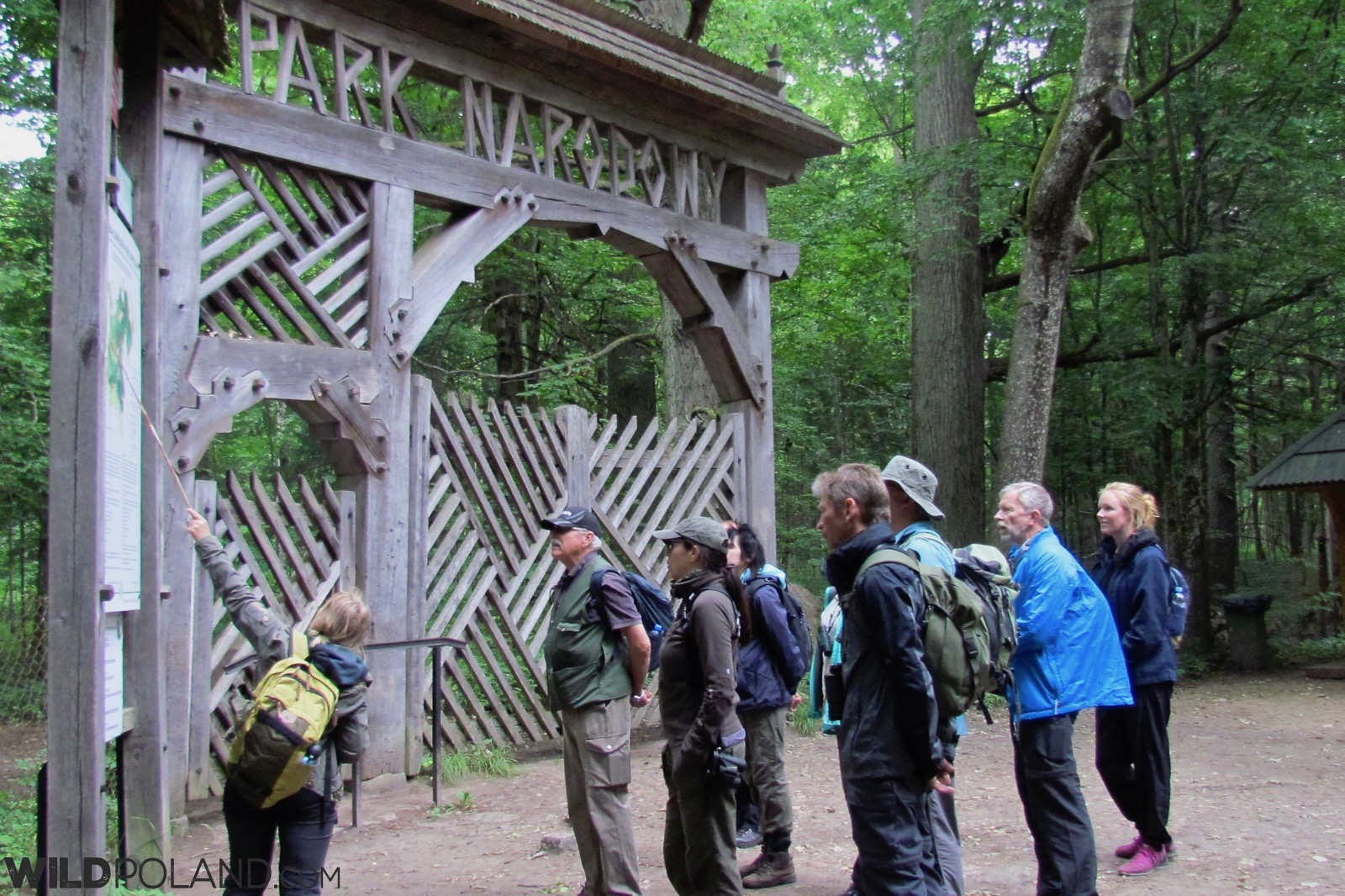 Apart from the largest and most outstanding inhabitants of the Białowieża Forest, wild European Bison, we came across other interesting mammals – Elk (Moose), Red Deer, Roe Deer, Red Fox, Bank Voles, Pygmy Shrews, Water Shrews, and a single Northern White-breasted Hedgehog. The evening walks gave us fantastic opportunity of observing nocturnal species, i.e. Beavers swimming in a river in the Białowieża village or Daubenton's Bats, hunting insects right above the river surface.
One of the lucky mornings offered us sightings of 2 Bison bulls – pictured below as they walked away from the open fields to the forest – and a herd of 14 Bison (cows with offspring) grazing at a vast glade in the northern side of the Białowieża Forest.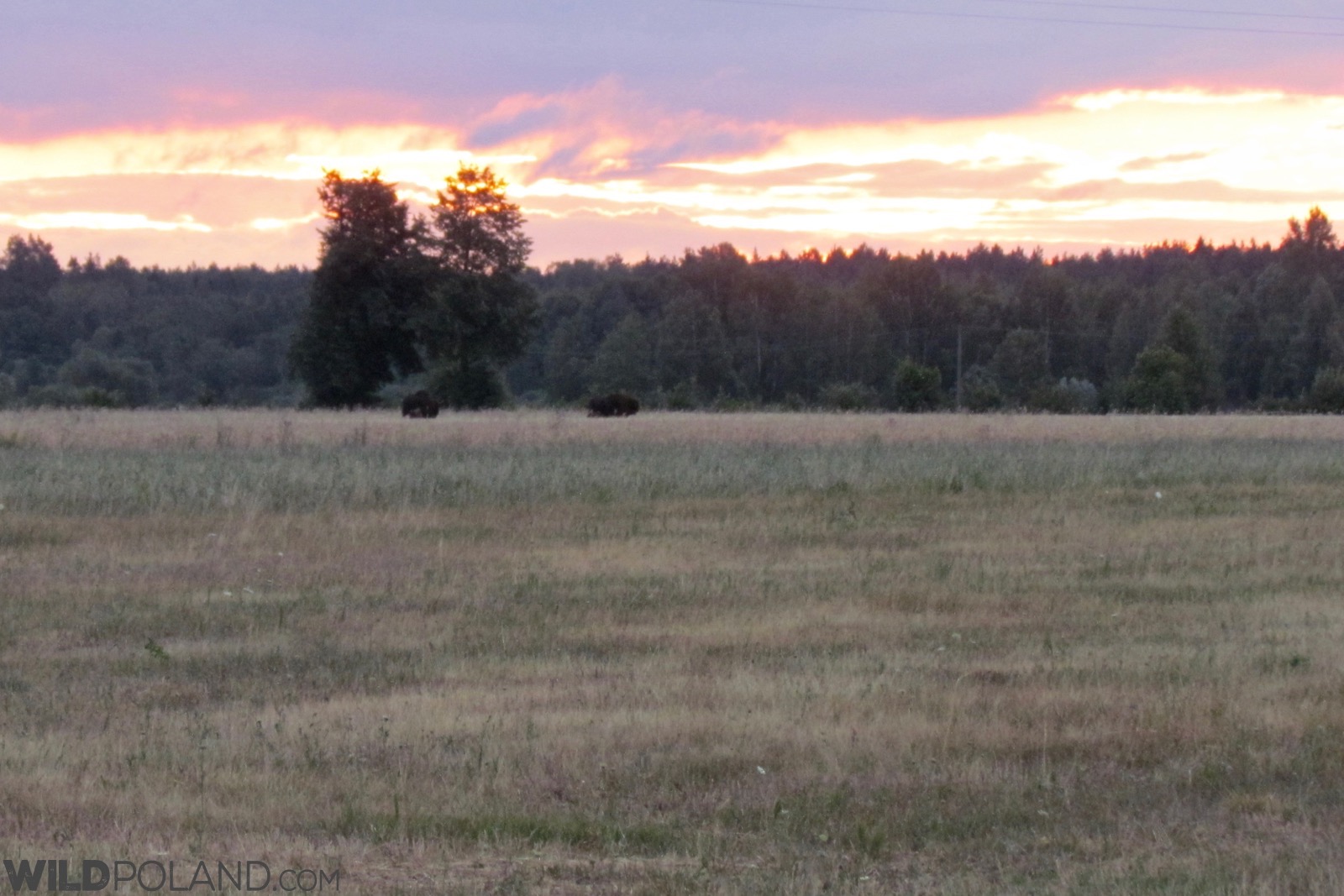 The avifauna was equally intersting. From woodpeckers and songbirds, to the birds of prey and waterfowl, we noticed very good activity of birds as we visited diverse habitats of the Białowieża Forest. Starting with an early morning walks around the 19th century Palace Park in the Białowieża village (Spotted Flycatchers, Collard Flycatchers, Red-backed Shrikes, Great Spotted, Middle Spotted and White-backed Woodpeckers, Nutchatch, Treecreeper, Robin), to the marshy valley of Narewka River, forest lake of Topiło, and a man-made reservoir of Siemianówka, we observed Whooper Swans, Greylag Geese, Great White Egrets, Whiskered Terns, Northern Lapwings, Wood Sandpipers, but also numerous Marsh Harriers, Lesser Spotted Eagle, immature White-tailed Eagle and a Greater Spotted Eagle.
After 4 days in the ancient Białowieża Forest we moved towards the Biebrza Marshes, one of Europe's last natural lowland river valleys. Ca. 150 km drive from Białowieża to our hotel in Kiermusy was a brilliant occasion to see more landscapes, as well as characteristic traditional wooden architecture of Podlasie region. On the way we stopped by at Dojlidy fishponds nearby Białystok, where we had a chance to observe more interesting water birds (Red- crested Grebes, Great Crested Grebes, Coots with nestlings, Tufted Ducks, and a White-tailed Eagle, the latter one being mobbed by Marsh Harriers).
This very first evening at the Marshes was dedicated to Beavers, which we observed from the traditional flat-bottomed boat. Ca. 1 hour cruise along the quiet river offered us fantastic views of at least 8 Beavers in the water and at the river banks. We watched them at close and still in a full daylight! The boat trip became an undoubtful highlight of the entire tour, so much that we all wanted to repeat it.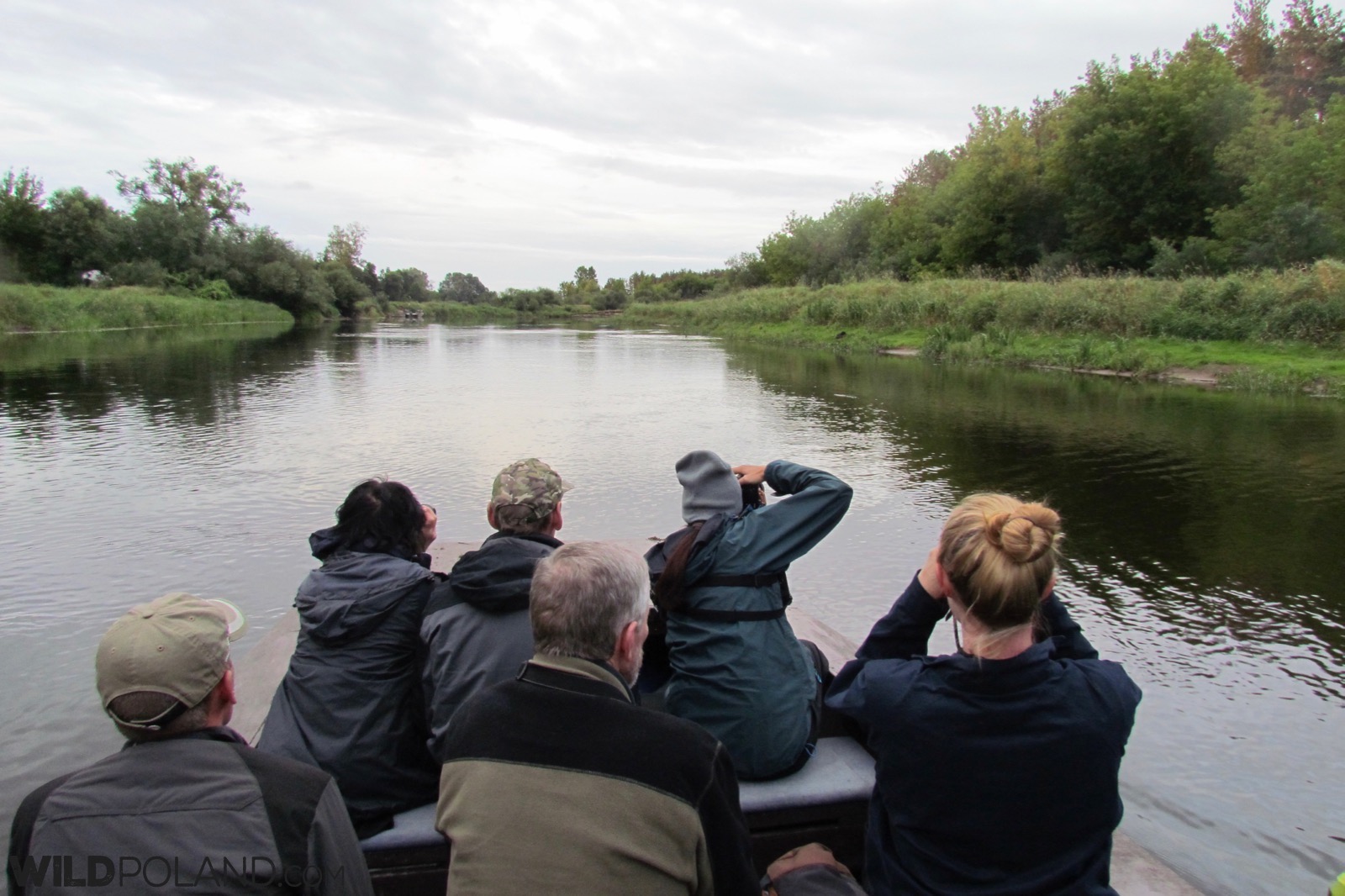 We spent the following days on exploring the large variety of natural sites related with marshland and getting familiar with its larger and smaller inhabitants. And so we added to our impressive list Hoopoes, Golder Orioles, Bee-eaters, Turtle Doves, Bluethroat, Scarlet Rosefinch, Whinchat, Aquatic Warbler, Black Stork, Wood and Common Sandpipers, Montagu's Harriers, Viviparous Lizard, Moor and Marsh Frogs – to name but a few! – all followed by an outstanding representatives of colorful invertebrates: Wasp Spider, Red Admiral, Marbled White, Scarce Copper and Map.  
Through the longer and shorter treks we immersed ourselves in the beauty of the Biebrza nature with such different landscapes to those seen in the Białowieża Forest – impressively vast mires, dense birch forests, riverside fens and raised bogs grading into wet woodlands.
The area holds a strong population of Elk (Moose) and after intensive searches we managed to observe a single immature individual, almost invisible in a dense vegetation of the fen. Luckily we carried a scope and still we were able to take a closer look at the largerst inhabitant of the Biebrza Marshes National Park.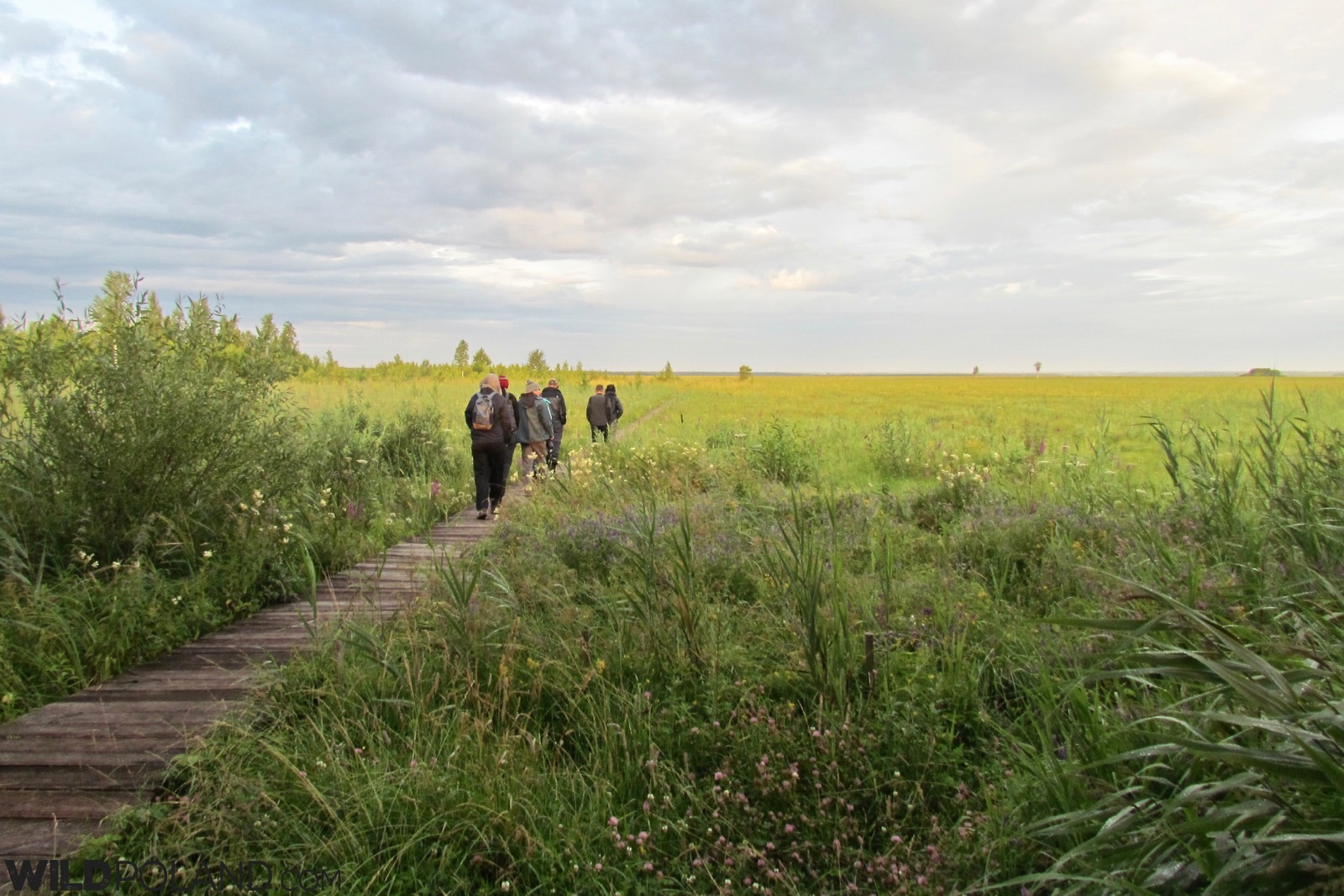 Last but not least, the warm summery day spent in the famous Red Bog Reserve gave us fantastic opportunity to come across Grass Snake, Slow Worm, Moor Frogs and many interesting insects, especially sun loving butterflies with Camberwell Beauty and plentiful Silver-washed Fritillaries as the highlights.
We ended our tour in Warsaw, after short walk around the UNESCO – listed Old Town, and lunch at a small restaurant specialising in Polish and Jewish cuisine, a great cultural touch to our wildlife watching experience.
Below is a small photo gallery from our tour, along with an extensive review from one of the participants, which we are especially proud to share!
Review Bialowieza Forest and Biebrza Marshes 2019
This was a wonderful tour and we were very happy with every aspect.
On the first day, we were picked up from our hotel in Warsaw and transported in a modern air- conditioned minibus to our first destination. Our driver was safe, professional and friendly. As soon as we unpacked, we were off on our first excursion, and this set the tone for the entire week. There was no hanging about, no time wasting, no endless dinners and no nonsense. The focus was on wildlife and we were out at every opportunity. The areas explored were very species rich and there was always much to see. Highlights were the bison, elk and beaver in their natural habitats but we also saw other mammals, ranging from large red deer stags to tiny pygmy shrews. We also noted the spoor of wolf, lynx, boar and several other species. The bird life was particularly abundant and we spotted several unusual and rare species.
The Bialowieza forest was also fascinating as a botanical haven, containing fantastic specimens of trees and fungi, while the wide open vistas of the Biebrza marshes seen from viewing towers took our breath away.
Our hotels were traditional wooden buildings with interiors arranged in an authentic and interesting Polish folk style. The rooms were very comfortable, the staff polite and helpful and the traditional food, plentiful and of a high standard.
Our guide, Bartosz, was great. He spoke excellent English and always took the time to listen patiently to our questions, giving complete answers where possible. His in-depth knowledge of the fauna and environment was remarkable. He was also able to discuss Poland's history and culture, which we found very interesting.
We enjoyed the whole experience thoroughly, particularly the outstanding final day which was a long walk through sun dappled woodland and marshland, rich in butterflies, birds and reptiles.
In sum, we wanted an active and immersive experience of Poland's wildlife and that is exactly what we got.
– Sean Murphy (UK)