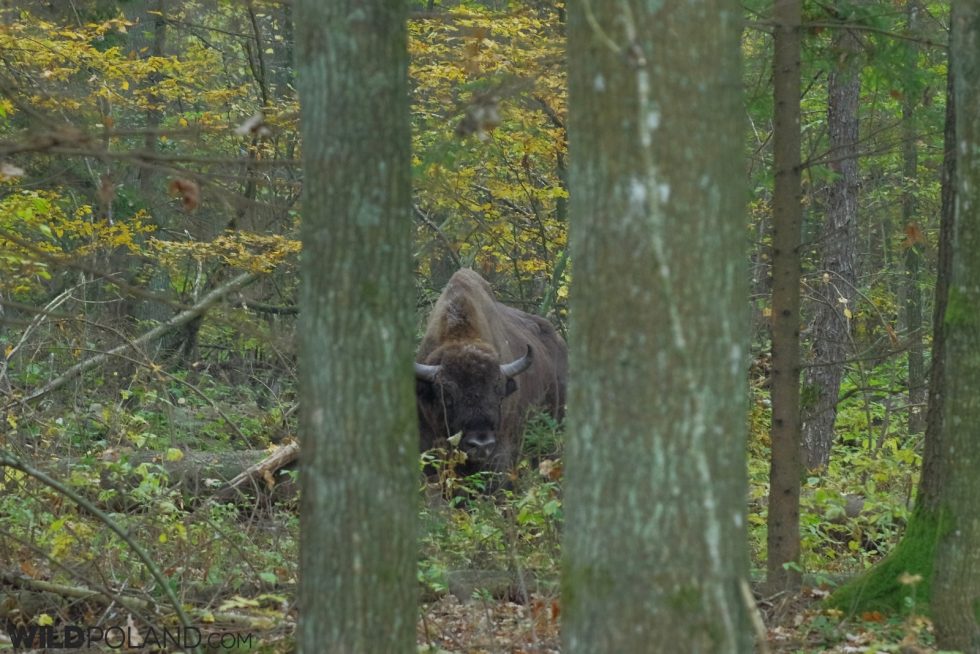 Primeval Forest & Marshes – Photography tour, Oct 2018
Tour Leader: Andrzej Petryna (Andy)
Participants: Jane (UK), André (AU), Joan & Hans-Peter (ES), Sylvia, Erwin (NL)
Text by Andrzej Petryna & Mariola Przyborowska
Photos by Andrzej Petryna
Day 1, Saturday 13 October, transfer to the Białowieża Forest
After collecting everyone from their hotels and WAW airport, we headed East towards Białystok. For another hour or so (with short lunch break on the way) we kept to the comfortable express road that cuts right through the Mazovian lowlands, mostly monotonously flat, but pelasantly colorful at this time of the year. But it wasn't until we took a turn into one of the quieter country roads, before we actually noticed how truly picturesque Polish autumn is. While traveling further East through the serenely blissful countryside dotted with solitary farmhouses, small towns and compact villages, we admired fantastic colours of the fall highligthed by the afternoon sunshine. We reached our guesthouse in Białowieża already after sunset and discussed our plans for coming days over a tasty, home-made dinner.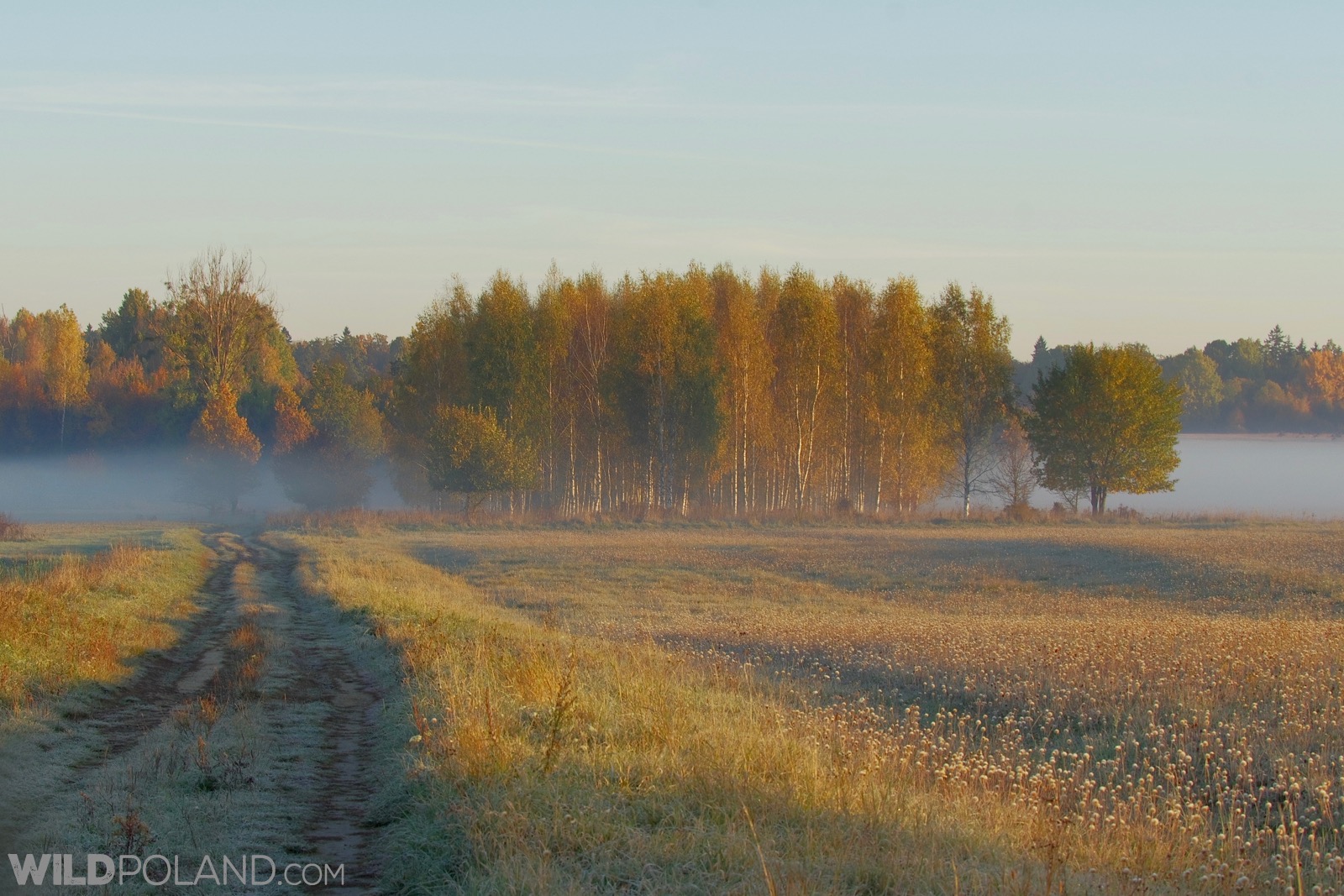 Day 2, Sunday 14 October, Białowieża Forest
Just before dawn we drove to the northern part of the Białowieża Forest, where large herds of bison tend to come up to feed at open meadows. As we readied ourselves and our equipment at the viewing tower overlooking one of such vast grasslands, the rising sun shone through the morning mist creating perfect conditions for some atmospheric shots. In such eerie landscape we spotted three large emerging silhouettes, which turned out to be our first spotted Bisons.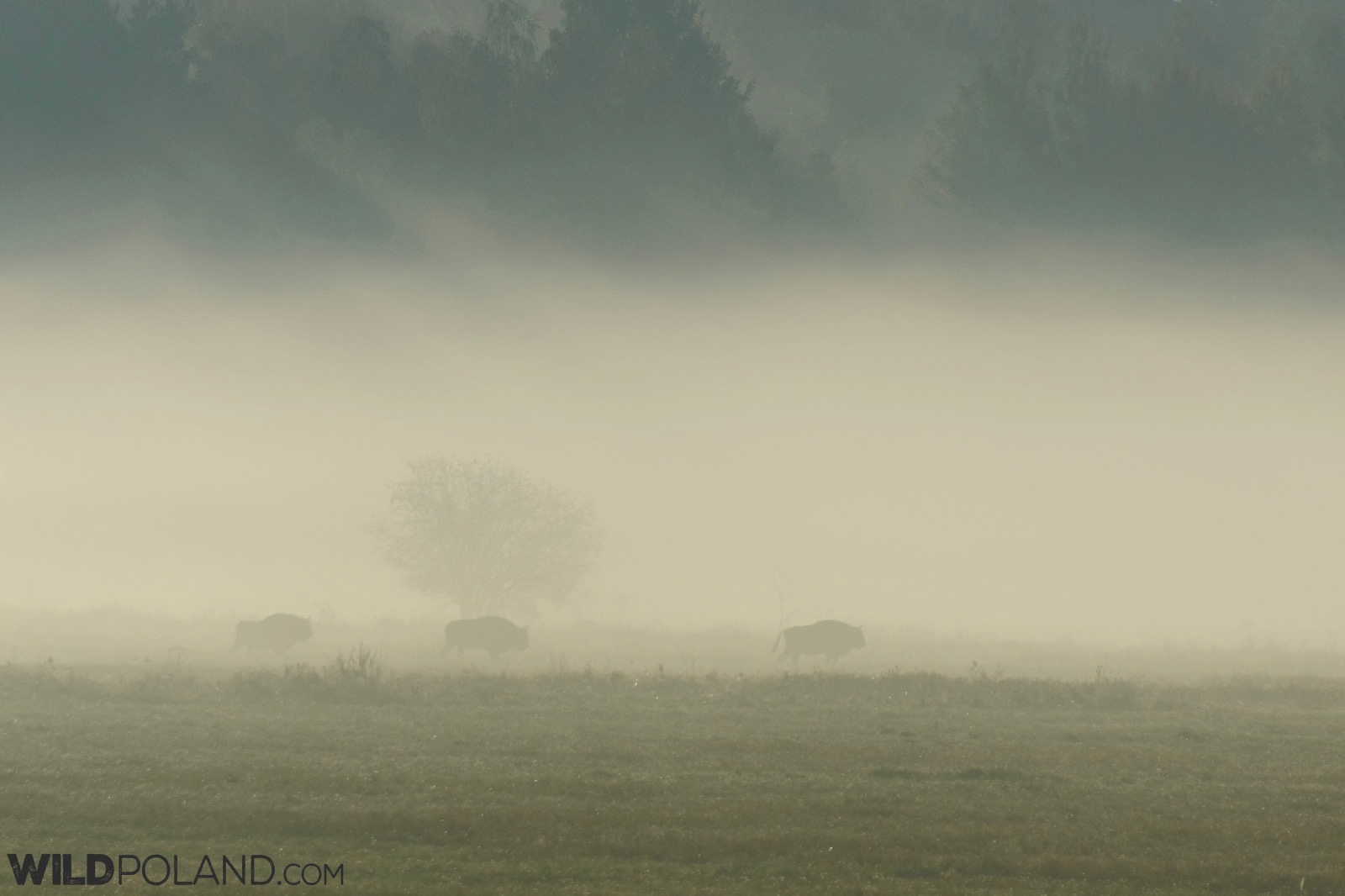 We enjoyed the view from our vantage point for a longer while. Eventually the morning mist gave way to sun. Our bison came back to the woods, but as the morning went on, we also observed 3 Roe Deer, flock of Cranes (ca. 25 birds), Common Buzzard, Great Grey Shrike and Ravens.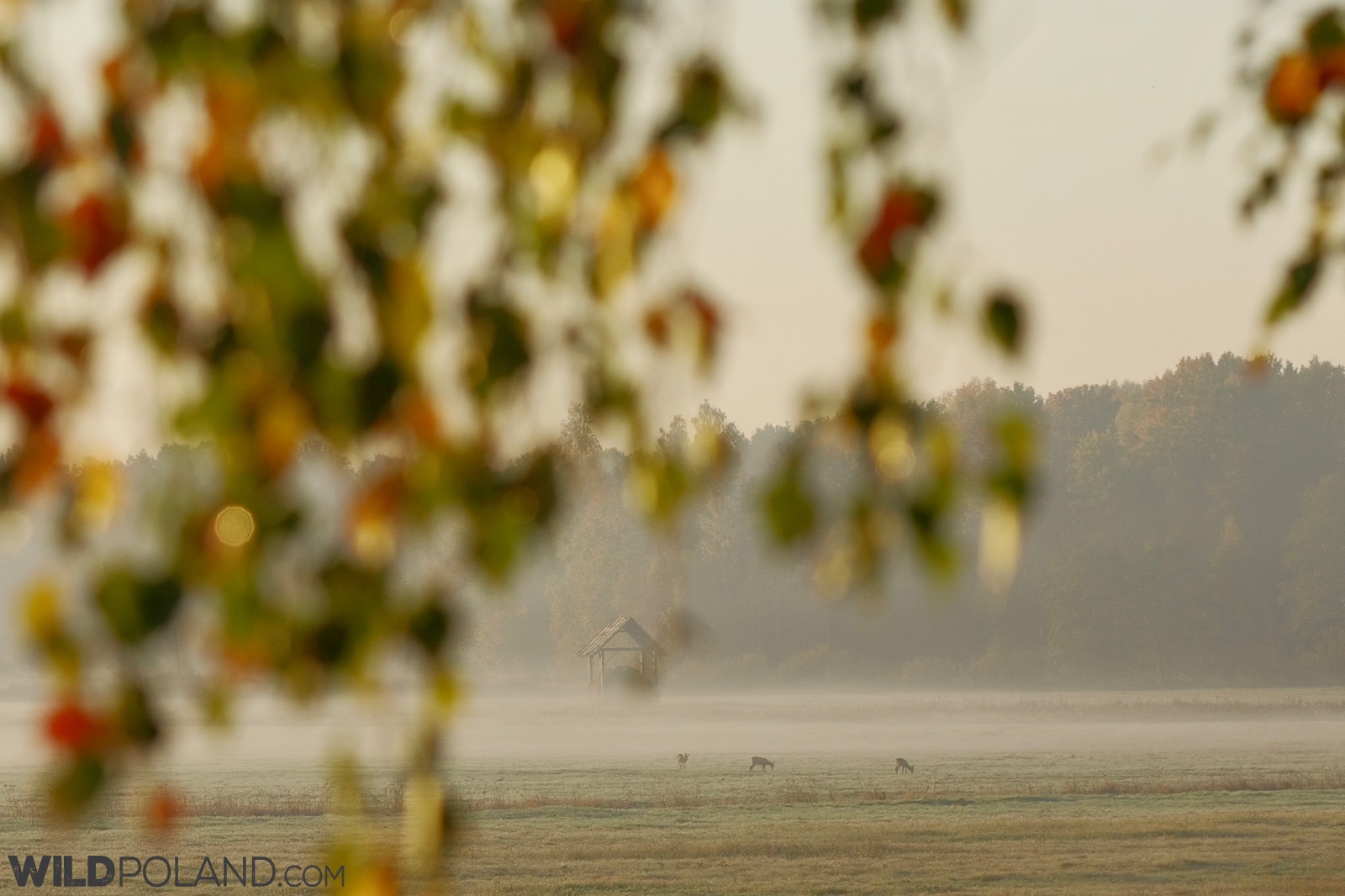 For the rest of the day we enjoyed a pleasant trek in the middle part of the Forest, focused mostly on landscape photography. Having discovered Badger's sett, we hanged around for a longer while, our patience being rewarded with the sight of two young Badgers, when they finally emerged from their shelter. The light was already too low for any good shots in the forest, nevertheless we were excited by the very sight of them!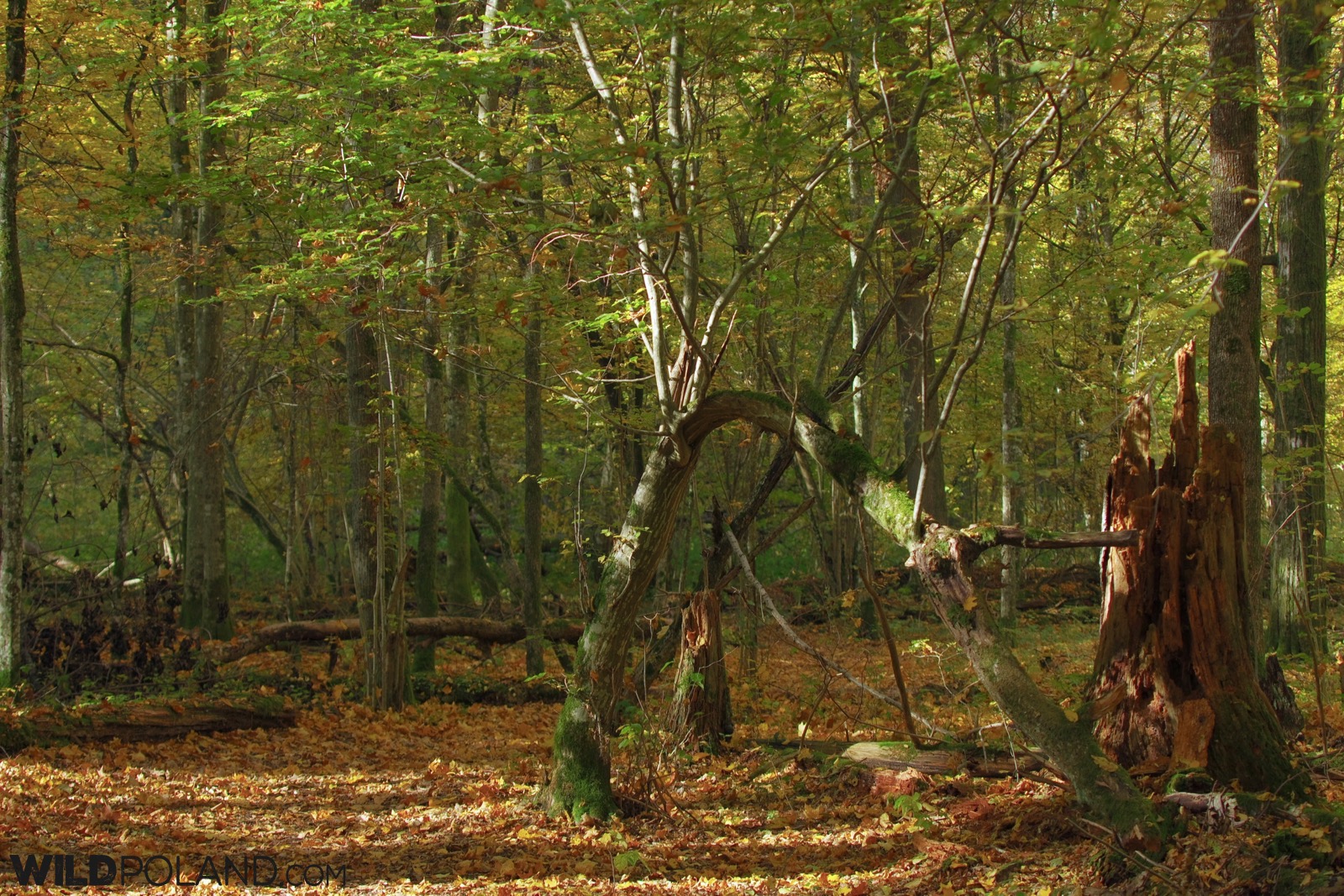 Day 3, Monday 15 October, Białowieża Forest

Before breakfast we checked an extensive meadows around the village hoping for Bison bulls. We found plenty of fresh droppings and other signs of their presence, but the animals were nowhere in sight. Apparently they headed back to the forest before sunrise. Instead, our early morning start was rewarded with a sight of Red Deer. We watched as the pair, the hind and the stag with impressive antlers, swiftly dissapeared in the morning mist.
We spent the rest of the day in the Strict Reserve of the Białowieża National Park, walking ca. 6 km long trail in the core area of the Forest and learning about its outstanding biodiversity value. In autumn the Forest is a true paradise for countless mushrooms and bracket fungi, including some Red List species, such as Orange Sponge Polypore. In few places we came across Wolf faeces, urine markings and ground scratching, a pretty common sight in this part of the national park, as our local guide, Joanna, explained to us. Red Squirrel, Three-toed and Middle Spotted Woodpeckers completed our observations, but it was the Forest itself, that fascinated us the most: the centuries-old trees, the hollowed trunks, partially decomposted deadwood, variety of natural habitats and undisturbed areas, where natural processes are still on-going. It was a very educative and memorable trip.
Late in the afternoon we decided upon a short, safari-style drive around Białowieża and the neighbouring villages, a lucky trip that resulted with fantastic sight of Elk (Moose) walking across the field.
Day 4, Tuesday 16 October, Białowieża Forest
This morning the mist was too dense for long distance observations. We briefly checked the closest area for any interesting wildlife and after breakfast we headed to Siemianówka, the man-made water reservoir in the north part of the Białowieża Forest, where except of a beautiful autumn landscapes we saw (and tried to photograph) a range of interesting birds: White-tailed Eagle, Marsh Harrier, Whooper Swan, Bewick Swan, Dunlin, Redshank, Greenshank, and two flocks of Cranes.
On the way back we intensely observed the edges of fields and meadows, looking for any movement. Result: 5 Red Foxes spotted.
Day 5, Wednesday 17 October, transfer to the Biebrza Marshes
Early in the morning we took our last chance to find a male representative of Bison, and this time we succeeded. A lone adult bull was spotted at the outskirts of the forest. The animal appeared peaceful, and unconcerned as we carrefully approached closer. We had a chance for few nice shots while he was in the open area. Eventually, in all his majesty, he slowly moved back to the forest, to observe from between the trees our photographic efforts.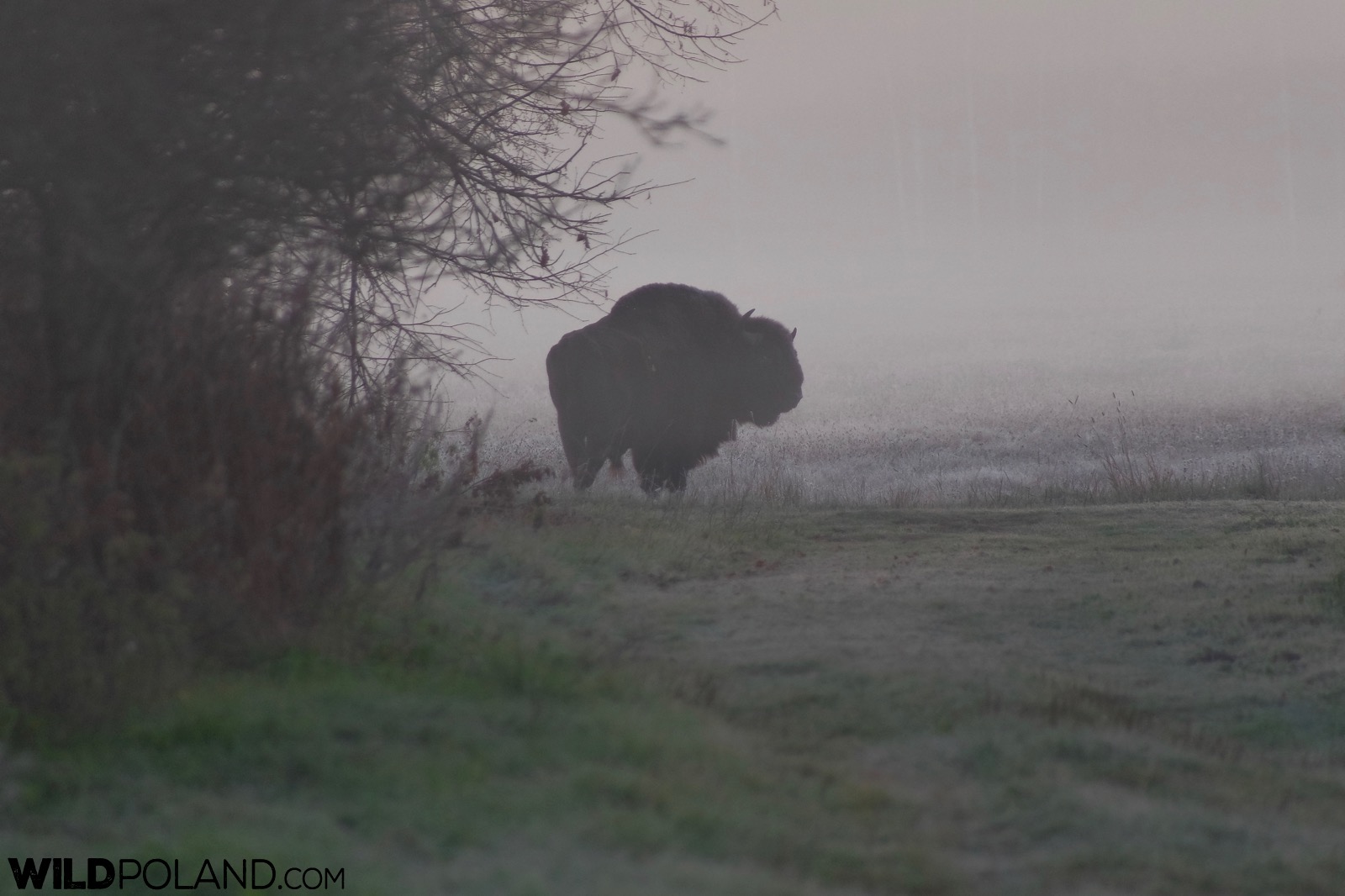 Shortly after leaving Białowieża, we stopped at a small village of Trześcianka to admire the colourful, richly ornamented window shutters. With its traditional wooden houses lined up neatly on either side of the main street, and an Orthodox wooden church painted a vibrant green, the village is an iconic example of cultural heritage of Podlasie region.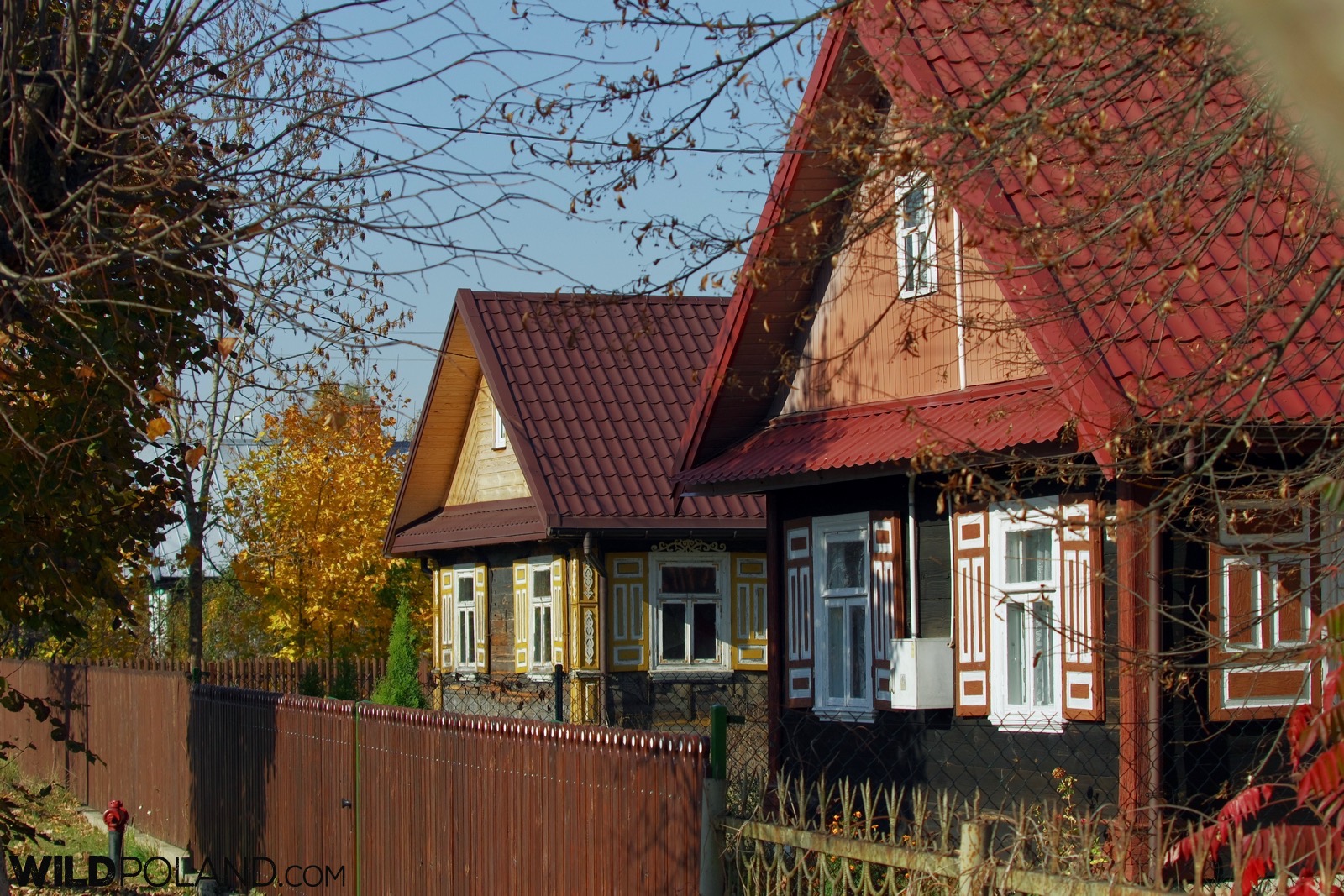 In the afternoon we reached our wooden guesthouse at the outskirts of the Biebrza NP, although it wasn't the end of attractions for the day. In the evening we were off to look for beavers… from the boat. This way proved to be the most successful and gave chances of getting close to animals without disturbing them. The trip lasted ca. 1 hour. 1 hour of happiness as we observed Beavers as they foraged, groomed their fur and swam the river.
Day 6, Thursday 18 October, Biebrza Marshes
After an early morning patrol in the closest vicinity of our guesthouse, we moved to the further parts of the Biebrza Marshes. We visited various marsh habitats searching for Elk (Moose) and finding one in a Birch bog forest. We managed to get close enough to take good photos. 
We spent the rest of the day in beautiful scenery of autumn colours highlighted by sunshine – perfect conditions for landscape photography. The highlight was a short stop at raised bog habitat with its unique vegetation: Labrador Tea, Bog Billberry, Club Moss, Sphagnum and Sun-Dew.

Day 7, Friday 19 October, Biebrza Marshes
The morning started pretty well, when we visited an extensive open fen area in the southern basin and noticed a herd of Red Deer. To our excitement two stags from the herd engaged in a fight! Being conscious that we would disturb them, we let them be and didn't try to get any closer.
A little later, during the walk along picturesque bank of the Biebrza River we noticed increased activity of Corvids, as well as two White-tailed Eagles hovering over one of the meadows. Apparently the birds were attracted by something and we curiously headed in their direction to discover, what that could be. A quick search revealed a carcass of Beaver. Although we much preferred seeing Beavers alive and going about their businesses, our deadly discovery gave us a good occasion to photograph White-tailed Eagles from a close distance. 
Later in the evening one member of our group heard Pygmy Owl calling in the forest nearby our guesthouse, and so we decided to look for her the following morning. 

Day 8, Saturday 20 October, transfer to Warsaw
The following morning we weren't successful with Pygmy Owl. Instead, we heard distinctive call of a Black Woodpecker and saw 5 Roe Deer. It was our last morning at the Biebrza Marshes and shortly after the breakfast we headed back to Warsaw, where after lovely lunch and short walk around the Old Town we said goodbye to our wildlife-loving companions. 
Here are few more images taken during this tour by our guide, Andrzej: