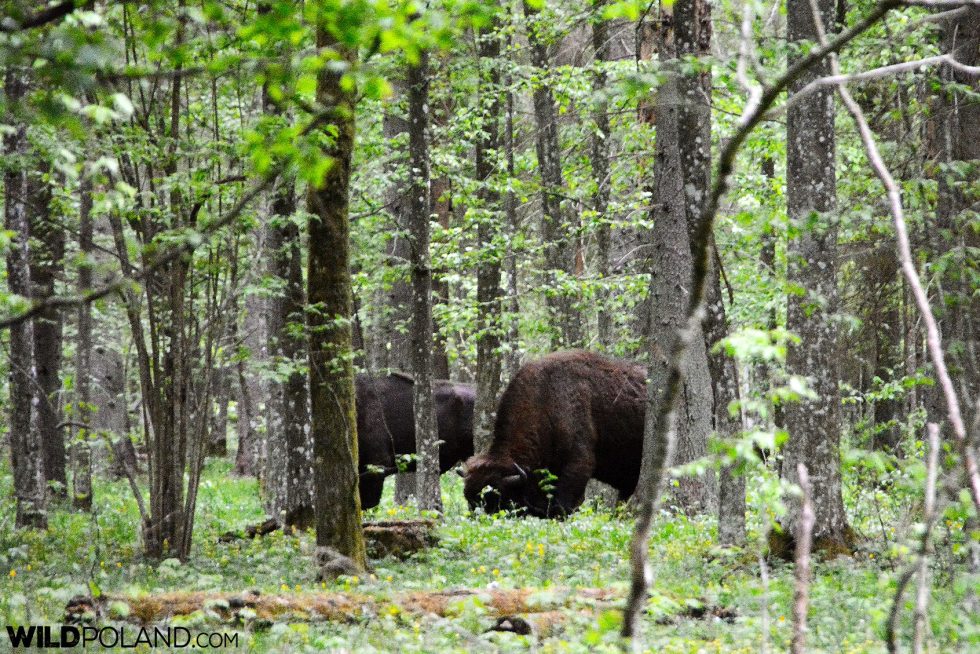 Primeval Forest & Marshes, May 2019
Tour Leader: Michał Skierczyński (Mike)
Participants: Daniel & Kate, Shelley, Jane & Ross, Robert & Heather (UK), Jean-Michel (FR), Anna Denise (NL)
Text by Michał Skierczyński & Łukasz Mazurek
Photos by Michał Skierczyński
DAY 1
While travelling from Warsaw to Białowieża we spotted the first Montagu's Harrier and lots of White Stork nests, all taken! We reached Białowieża late in the afternoon. After check-in and a tasty Polish dinner at our hotel, we decided to visit the Białowieża Palace Park around the hotel. We heard the first Great Reed Warbler singing in the dark, and a loud water splash of the Beaver close to us.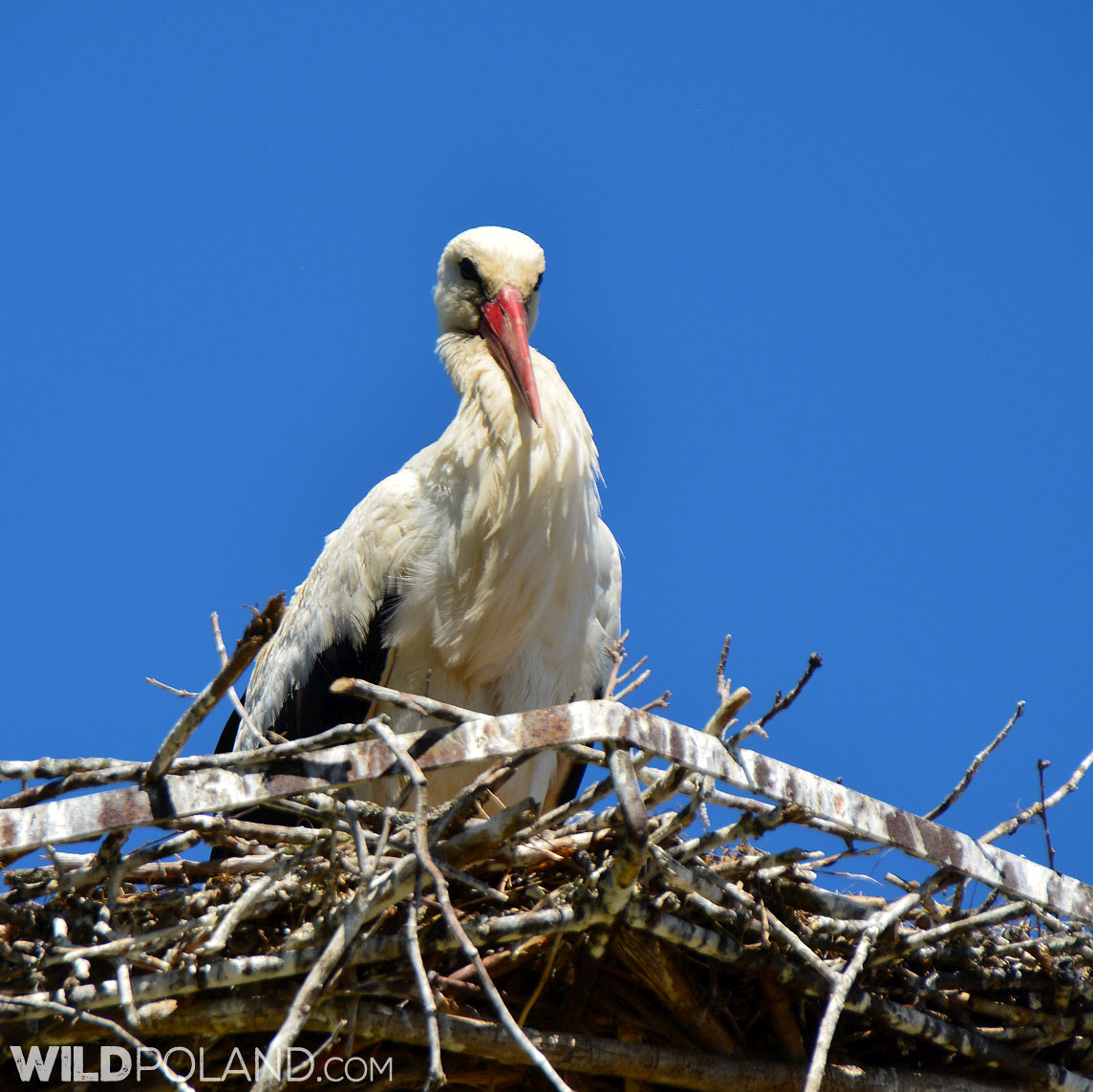 DAY 2
After breakfast we visited the oldest and the most pristine part of the Białowieża Forest, the Strictly Protected Area of the Białowieża NP, the UNESCO World Heritage Site. During ca. 6 hours walk through the various habitats of natural forest we had a chance to observe fantastic activity of woodpeckers, including foraging signs and cavities of a rare Three-toed and White-backed Woodpeckers. We saw three species: Middle-spotted, Great-spotted and the largest one, Black Woodpecker, and also heard a Grey-headed Woodpecker. The most numerous singing birds in the forest were Chaffinch and Wood Warbler. We have also seen three species of flycatchers: Collared Flycatcher, Spotted Flycatcher and we heard a Red-breasted Flycatcher. We also had a chance to listen to the song of Goldcrest and Firecrest. Different forest habitats were filled with blooming flowers, such as Wild Garlic, Solomon's Seal, Lilly of the Valley, May Lilly, Yellow Archangel and Water Avens. The ancient woodland amazed everyone. Our local guide, Joanna has shared a multitude of interesting facts about history and the incredible biodiversity of the Forest. While having our lunch deep in the ancient forest we watched Middle-spotted Woodpeckers foraging close and Marsh Tit bringing food to its nest hole.
Walking back from the Unesco Site to our hotel, we had a fantastic view of a Lesser-spotted Eagle gliding above the meadows. We finished our successful day with a relaxing walk after dusk. This time we saw a few White-backed Woodpeckers feeding on the dead tree close to our trail. But the best was just about to be seen. Two bulls of European Bison were foraging close by in the forest. It was a breathtaking and unforgettable experience. There was a moment when we were staring at them and they were staring back at us. After a few minutes Bison started to feed again and slowly moved deeper into the forest. It was a really fantastic day and it's only been the first full day out in the forest! 
DAY 3
Today we woke up just before dawn. Early morning is the best time for spotting wildlife in the forest. We visited the territory of a Pygmy Owl. We have found the nest hole in a dead Oak tree. It was occupied, under the tree we found some pellets of Pygmy Owl with small rodent remains inside. The Owl didn't show up and we didn't want to disturb it incubating. On our way back we had a great view of a Pine Marten crossing our trail and we have also found fresh Wolf poo at a few places.
After the breakfast we have transferred to the Siemianówka Reservoir, a man-made lake located just north of the Białowieża Forest. Whilst there, we observed plenty of birds of prey: White-tailed Eagles, Lesser-spotted Eagles, Marsh Harriers, Common Buzzards, Goshawk and 8 Hobbies. There were also some ducks (Shoveler, Garganey, Gadwall and Mallard), as well as Greylag Geese, Mute and Whooper Swans, Great White Egret, Grey Heron, Great Crested Grebes and Cranes.During a short walk along the banks of the reservoir we have seen White Storks and Whinchats, one Red Deer in the distance and heard plenty of Fire-bellied Toads. While driving back to the hotel we have seen a Hoopoe and Tree Sparrows in one of the villages as well as a Black Stork at one of the forest glades.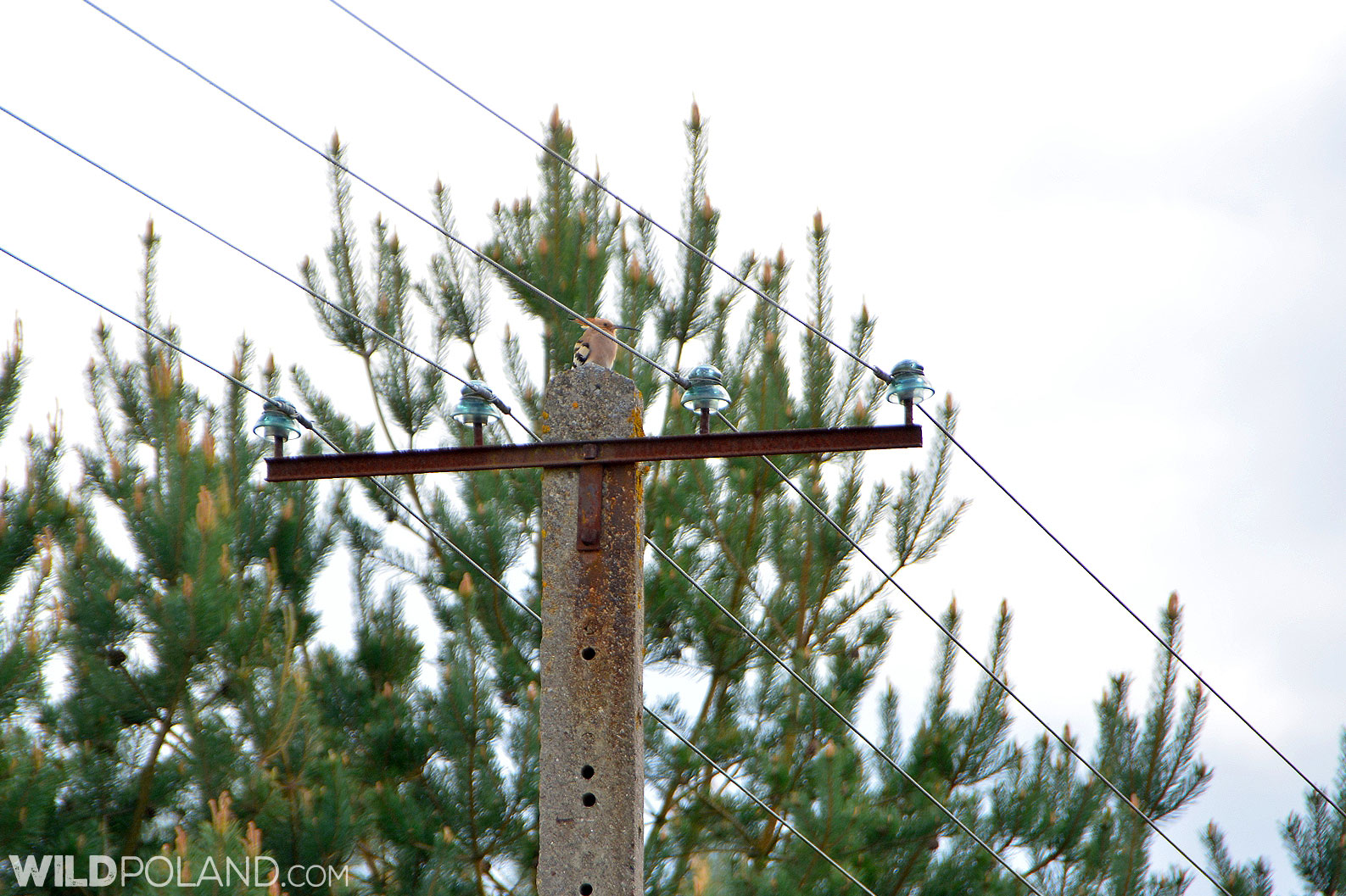 DAY 4
Just after breakfast we took a relaxing stroll along one of our favourite forest tracks, where again we have found fresh droppings of Wolf and saw a Racoon Dog crossing our trail. We took a short stop at a few places along the trail and watched Collared Flycatchers, Cuckoo and heard a Golden Oriole.
After lunch we visited another part of the forest where we saw Middle-spotted Woodpeckers, Whitethroats, Blackcaps and we found a fresh leg of a Red Deer killed by Wolves few days ago.
After dinner we took a short trip through the forrest. We heard Tawny Owl male calling and a response call of the female. We saw one Red Fox and a Roe Deer close to a few Red Deer foraging on the meadows.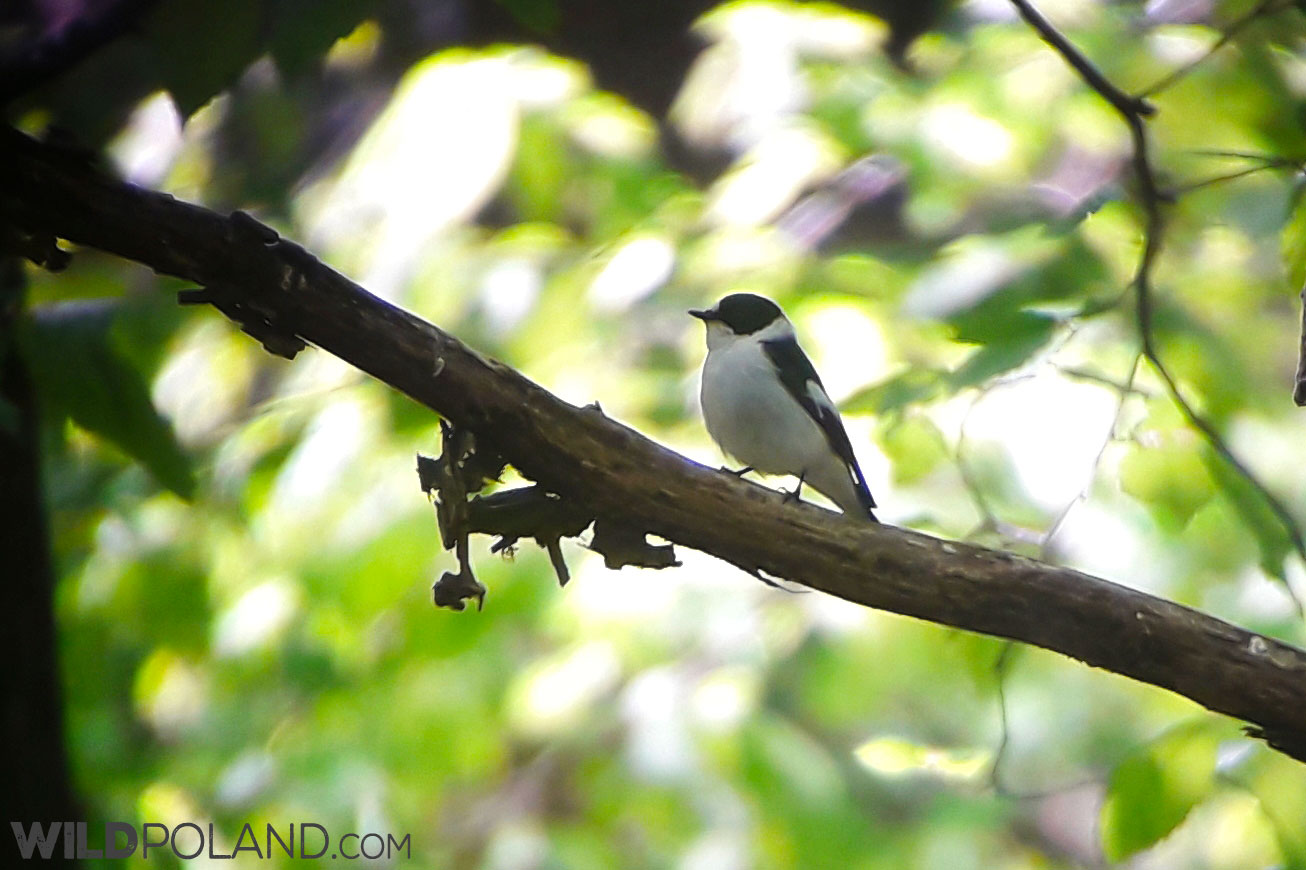 DAY 5
Our transfer day from Białowieża Forest to the Biebrza Marshes was intense right from the start. Our first stopover was at an old forest patch full of dead spruce trees where we watched a Hazel Grouse and Great Spotted Woodpeckers feeding. The next stop was the beautiful Trześcianka village, a small place close to the Narew River valley and a perfect example of traditional wooden architecture of eastern Poland. While taking a walk along the main street we admired brightly painted Orthodox church and wooden houses with decorative window shutters. In the front yards we noticed a Black Redstart and plentiful Tree Sparrows. Our next stop was at the fishponds nearby Białystok, the busy capital of Podlasie region. After fantastic birdwatching at the fishponds (Red-necked Grebe, White-tailed Eagle, Marsh Harrier, Penduline Tit at nest, large numbers of Coots with chicks, colony of Black-headed Gulls and numerous Fire-bellied Toads) we continued our transfer to the Marshes.
Just after dinner at our lovely guesthouse in Dobarz we took an evening trip for beavers hoping for some nocturnal wildlife. On the way we saw the first Elk -a bull in open marshes. And the evening with the Beavers was incredible. We saw eight different individuals – swimming, diving, foraging and performing amazing social behaviour on the river banks. The evening was filled with calls of Pool Frogs, Fire-bellied Toads, Green Toads and Tree Frogs. It was really spectacular and unforgettable!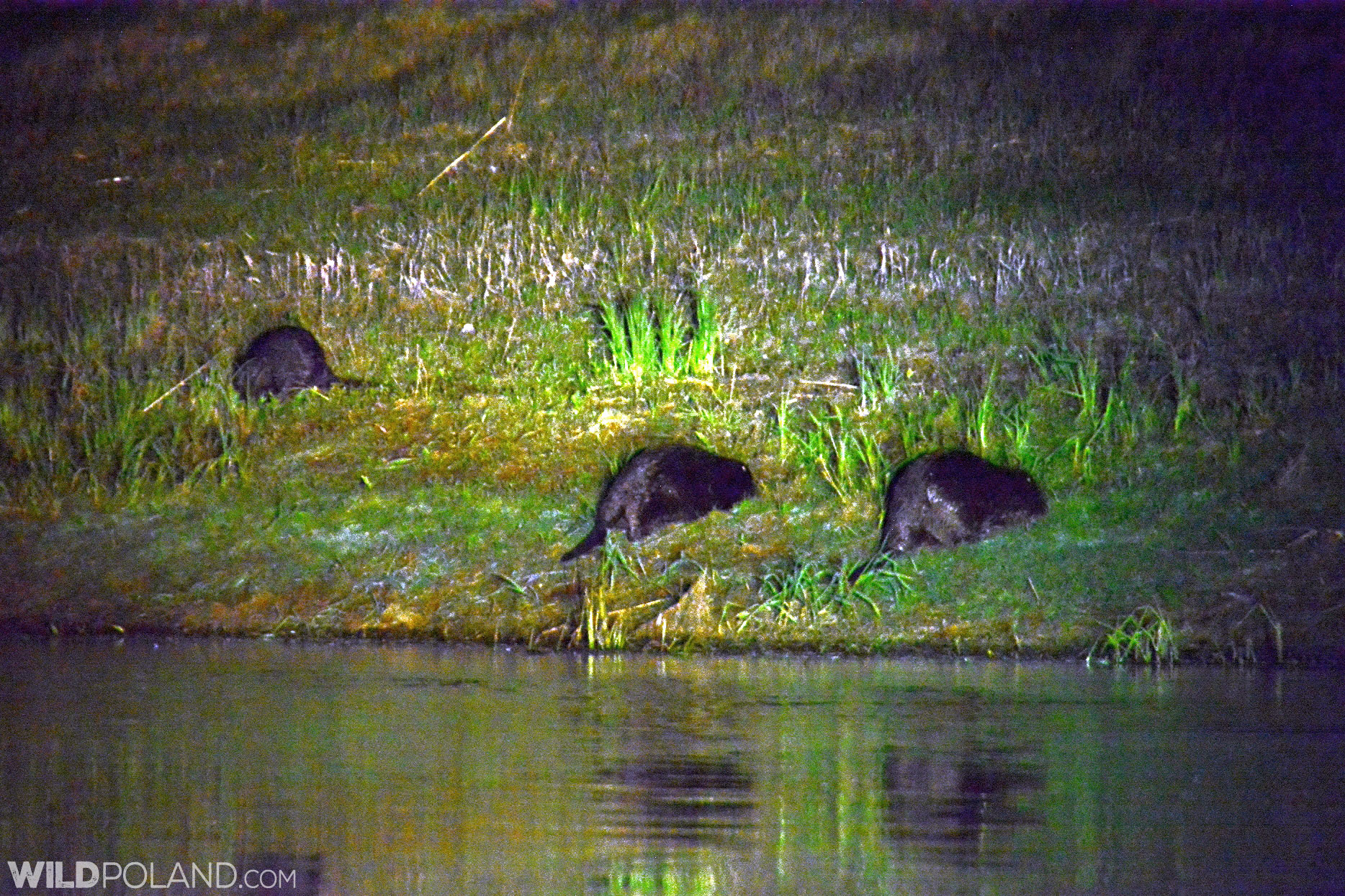 DAY 6
After delicious breakfast we set off for a whole-day trip around the Southern Basin of the Biebrza Marshes in search of Elk (Moose) and birds. We observed the latter ones in large numbers at several visited sites – Shoveler, Garganey, Cranes, Lapwings, Greylag Geese, Mute Swans, Redshanks, Dunlins, Little Ringed Plovers, Common Sandpipers, Wood Sandpipers,Black-tailed Godwits and displaying Ruffs! There were also gatherings of marsh terns with all three species included: White-winged, Black and Whiskered Tern. At the end of the day we enjoyed late afternoon over the Marshes watching Bluethroat, Montagu's Harrier, Goldfinch, Northern Wheatear and quite a few mammals, like the single Elk bull foraging in a distance, Roe Deer, Red Fox and a Hare.
After a plentiful and delicious dinner we took a short evening trip into the foggy marshes. It was very atmospheric and really special to hear birds singing and calling in the dark: Woodcock, Snipe, Thrush Nightingale, Cranes, Savi's Warbler and Cuckoo. Somewhere in the background Great Snipe performed its courtship dance and the Long-eared Owl was calling. This was a spectacular sound show!
DAY 7
We woke up at dawn and started our day with the trail across the foggy forest and marshes. We heard and saw plenty of warblers (Willow, Savi's and Chiffchaff), Yellowhammers, Snipes and distant calls of Cranes echoed in the morning silence. We have also had a first chance of watching a singing Thrush Nightingale performing its very loud song from just a few metres. Once again we saw a Racoon Dog crossing our trail, very fresh and large Wolf poo. At the end of the trail two Cranes have landed in the fog on the path, ca. 40 m from us. It was really an atmospheric and spectacular view.
This morning we have also seen a pair of Citrine Wagtails wit the company of Reed Buntings and Lapwings. We have also seen a female Elk and a beautiful male Montagu's Harrier. On the way back to our guesthouse we stopped for watching the male of the Black Woodpecker close to its nest hole and also saw a Sparrowhawk flying nearby.
After an incredible breakfast we set off again to explore the varied Biebrza Marshes habitats. We spent some time at a willow and sedge habitat where we saw a Grasshopper Warbler, Savi's Warbler and Penduline Tit from a close distance. The Water Rail was calling loudly and many raptors (White-tailed Eagles, Lesser-spotted Eagles, Marsh Harriers and Common Buzzards) were flying just above. After that we took a trail through the Biebrza's magnificent birch-bog forest. Full of water plants, this forest was remarkable to walk through. Many Wrens were singing and Cranes were calling inside the forest. 
On our way back for dinner we watched some Marsh Harriers, Great White Egrets and Kingfisher. We took a short stop just to enter the raised-bog forest and watched Sundews in their natural environment.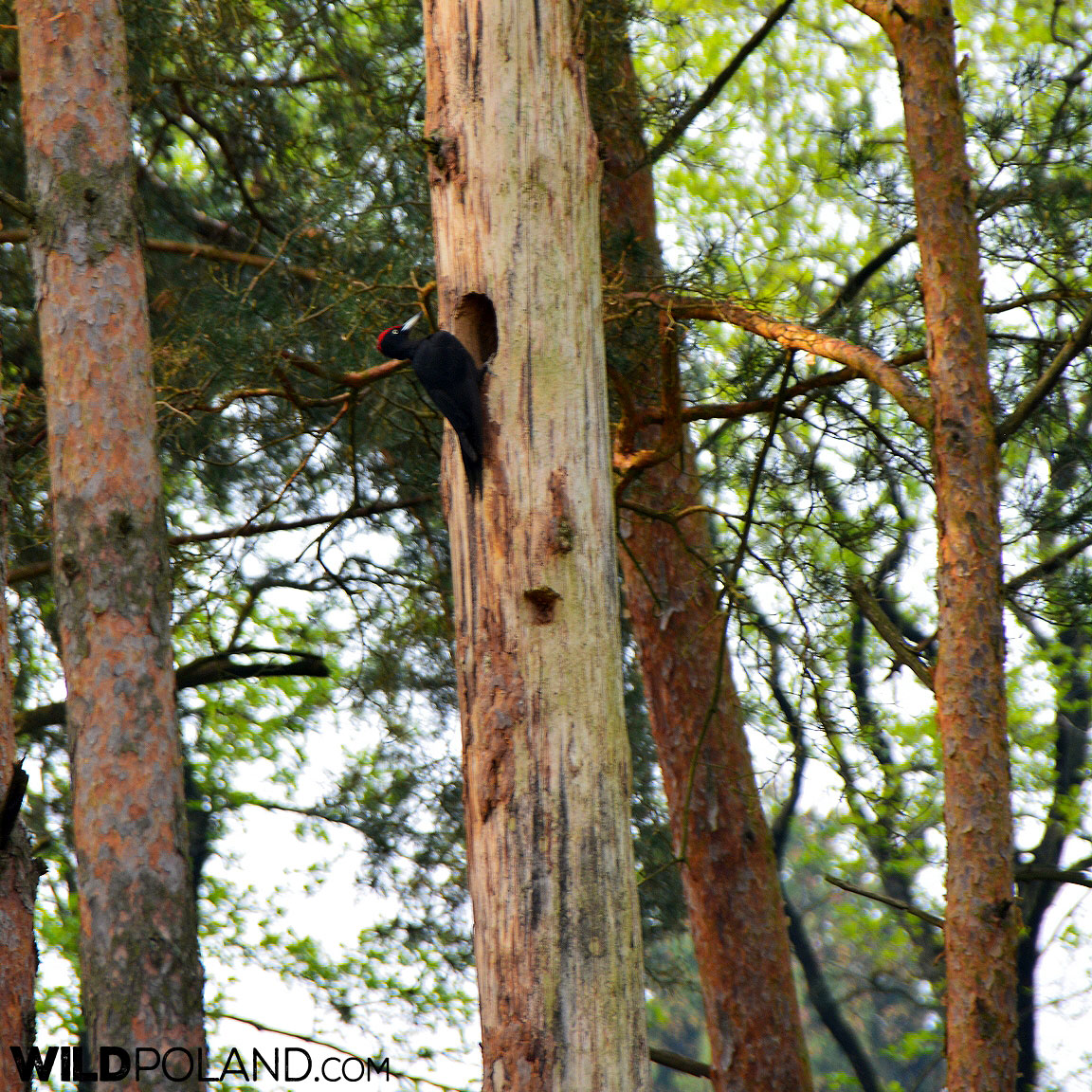 DAY 8
After breakfast we transferred from Biebrza Marshes back to Warsaw. We arrived around noon and took a walk through the streets of the Old Town, recalling dramatic Polish history of the World War II. Traditional lunch at a small restaurant was a great time for a brief summary of our tour. It was indeed a week full of interesting sightings, visits to the remarkably beautiful places and most of all, a quality time in a company of fantastic people with brilliant sense of humour!
Huge thanks to all participants!
Please enjoy a few more photographs from that week below.