Primeval Białowieża Forest & Biebrza Marshes, Aug 2022
Tour Leader: Łukasz Mazurek
Participants: Tara & Jerome (IR), Jan (UK), Antonio (ES), Niels (DK)
Text and photos by Łukasz Mazurek
Day 1
We have picked everyone up at Warsaw Airport and a hotel downtown and were on our way north east in the morning. After lunch at a roadside cafe we continued the transfer and saw some first birds of the tour: White Stork, Lapwings and Whooper Swans. We stoped over at the dam of the Siemianówka Reservoir and some lush meadows and had some great views of a Praying Mantis, juvenile Whiskered Terns, Common Sandpipers, Caspian Gulls and a Great Grey Shrike. Last, but not least was a Racoon Dog crossing the road in front of the bus just on arrival to the Białowieża village. It has been a long day for most of the group so after a hearty dinner we went straight to bed to rest before an intensive week.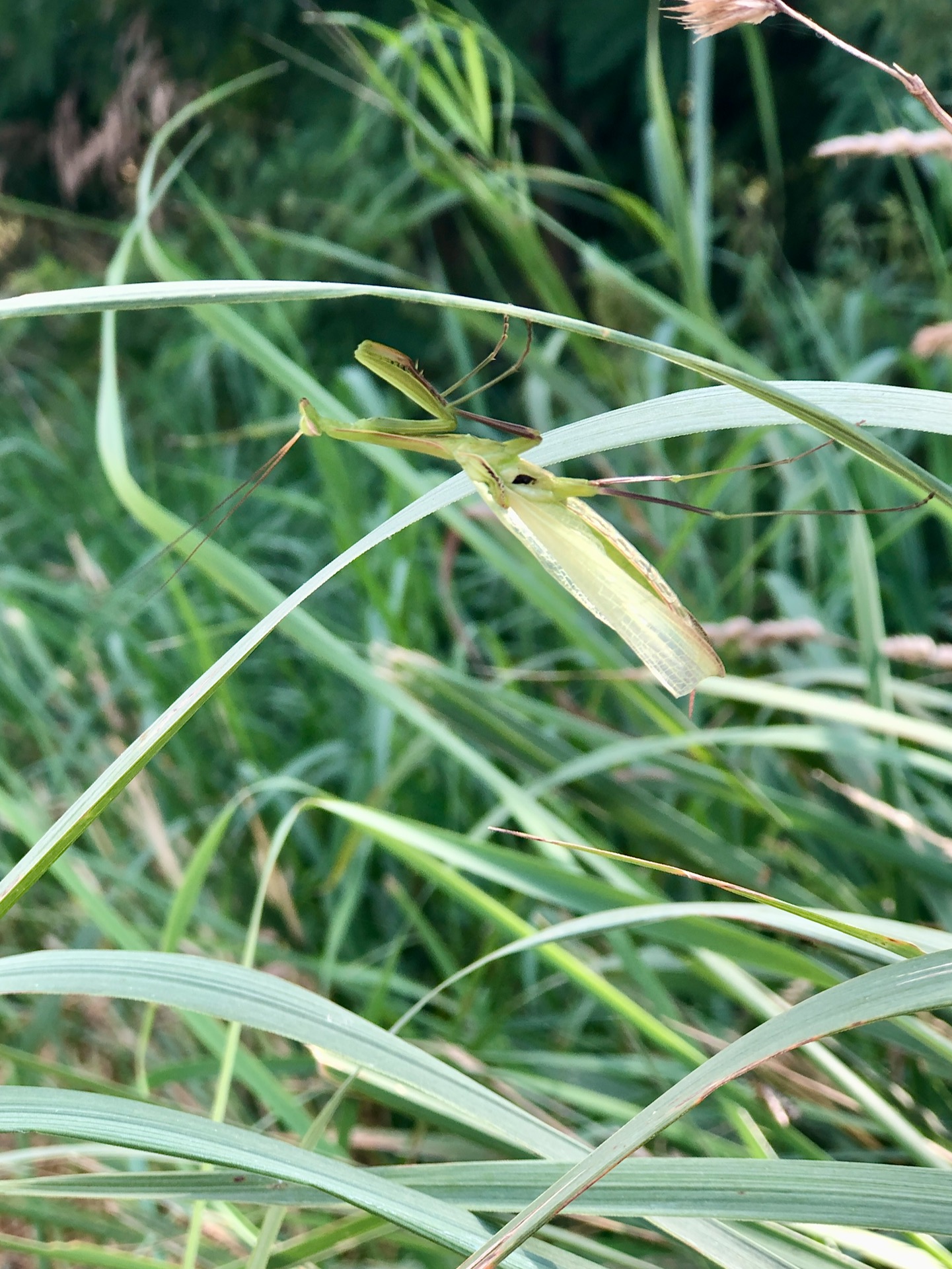 Day 2
After a substantial Polish breakfast we have had two long walks in the forest with a lunch at a local cafe in between. We have seen some best preserved habitats now partly protected as a nature reserve. We have also stopped at a patch of the forest once flooded by Beavers, with many dead trees and even more new growth regenerating as this was a good site for many other woodpeckers. Finally, we have admired some of the oldest and largest oak trees in the Białowieża Forest. It was very hot and quiet but we enjoyed the silence, primeval woodland and numerous Wolf territory markings – scratching and pissing. The best sightings included a fantastic observation of two White-backed woodpeckers very close. We have also seen a male Three-toed Woodpecker perched up at the top of a tree followed by a Black Woodpecker at the very same spot! Great Spotted Woodpeckers, Nuthatches and Tits were, of course, very numerous, too.
Day 3
Today we started early with a Bison safari. After a short drive through the forest we started scanning the meadows at the forest edge and after a few minutes we saw a single bull of Bison very near. We jumped off the bus and watched him crossing the road right in front of us. He was not alone, though. At the forest edge we have spotted a herd of Bison with calves and watched them grazing in the morning mist. After they have disappeared in the forest we continued our drive and have found three more Bison bulls at two different spots. A highlight of this morning were also Lesser Spotted Eagles seen very close, flying and perched up on a hay bale.
After breakfast we had a walk in the Strict Protection Area of the National Park booked with a local guide. We started off with a fantastic observation of a Middle Spotted Woodpecker right in the town's park. This was followed with a bunch of common birds like Hawfinch, Wood Warblers, Marsh Tits and Spotted Flycatchers feeding intensively around the park and two Lesser Spotted Eagles and a female Sparrowhawk overhead. A few White Stork were also still present. The walk was very informative and seeing this pristine forest left us satisfied and enthused.
After lunch at a lovely restaurant downtown Białowieża we took a short siesta and continued our sightseeing, this time at the forest edge and the shores of the Siemianówka Reservoir. We saw some Great White Egrets, Mallards, Gadwalls and Great Crested Grebes on the water, Marsh Harriers patrolling the area and numerous Red-backed Shrikes in the bushes. We took a short walk along the embankment and through the meadows that produced a stunning observation of a Black Stork and a Grey-headed Woodpecker seen very well.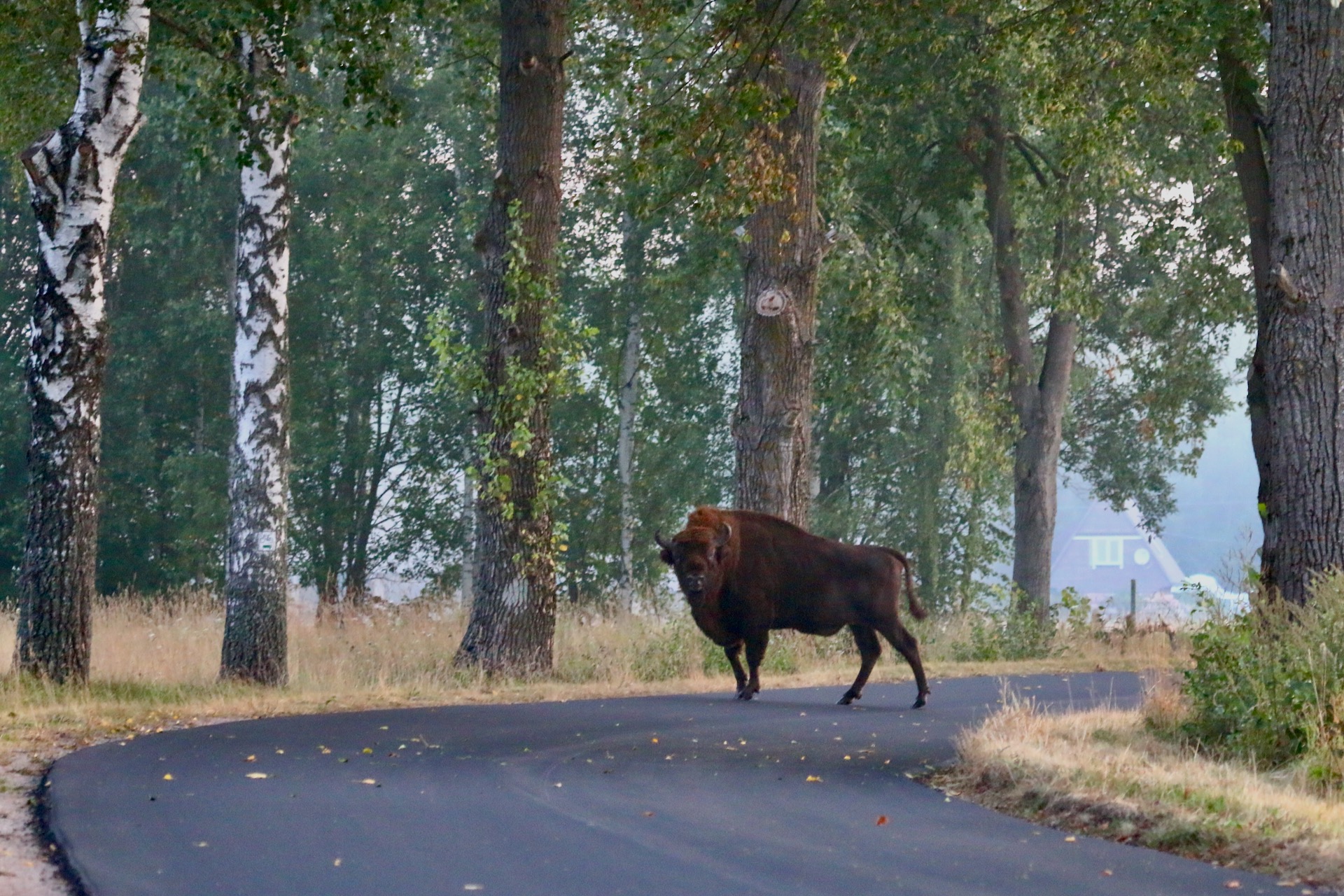 Day 4
We woke up early again for a dawn patrol of the forest edge near the village. It was a very atmospheric morning. The sunrise over the forest and the lush meadows covered in a morning mist were spectacular. Tree Pipits were migrating and we saw a lot of Bison and Deer activity but the mist was too dense and we couldn't see any mammals.
We left the spot and checked three different Pygmy Owl territories. The owls didn't respond but we have heard a male Red-breasted Flycatcher and had good views of a Green Sandpiper, Crested Tits, more Wolf territory markings and… one Bison bull grazing just next to the road!
After the usual, hearty breakfast we visited a small nature reserve near the border with Belarus, a good place for Pygmy Owl and Three-toed Woodpecker. We saw a baby Grass snake and a squashed Adder on the track. There were also a few Great Spotted Woodpeckers, masses of Goldcrests and one, nearly missed Three-toed Woodpecker. It was a male of a northern, tridactylus subspecies, feeding quietly just next to our path. It gave us long and spectacular views.
Next, was a short walk in the village park trying to get one of the Lesser Spotted Woodpeckers that we missed the day before. After a short walk we stood there surrounded by Hawfinches, Chiffchaffs, Wood Warblers, Spotted Flycatchers and Tits and did hear the Lesser Spotted Woodpecker a few times just overhead but could not spot it.
After lunch at our usual cafe downtown and a short break we went for our last long walk in the forest, the NW corner of the National park where we saw fantastic fresh tracks of Wolves, a dozen or so Red-backed Shrikes and walked through some stunning forest at the river's edge.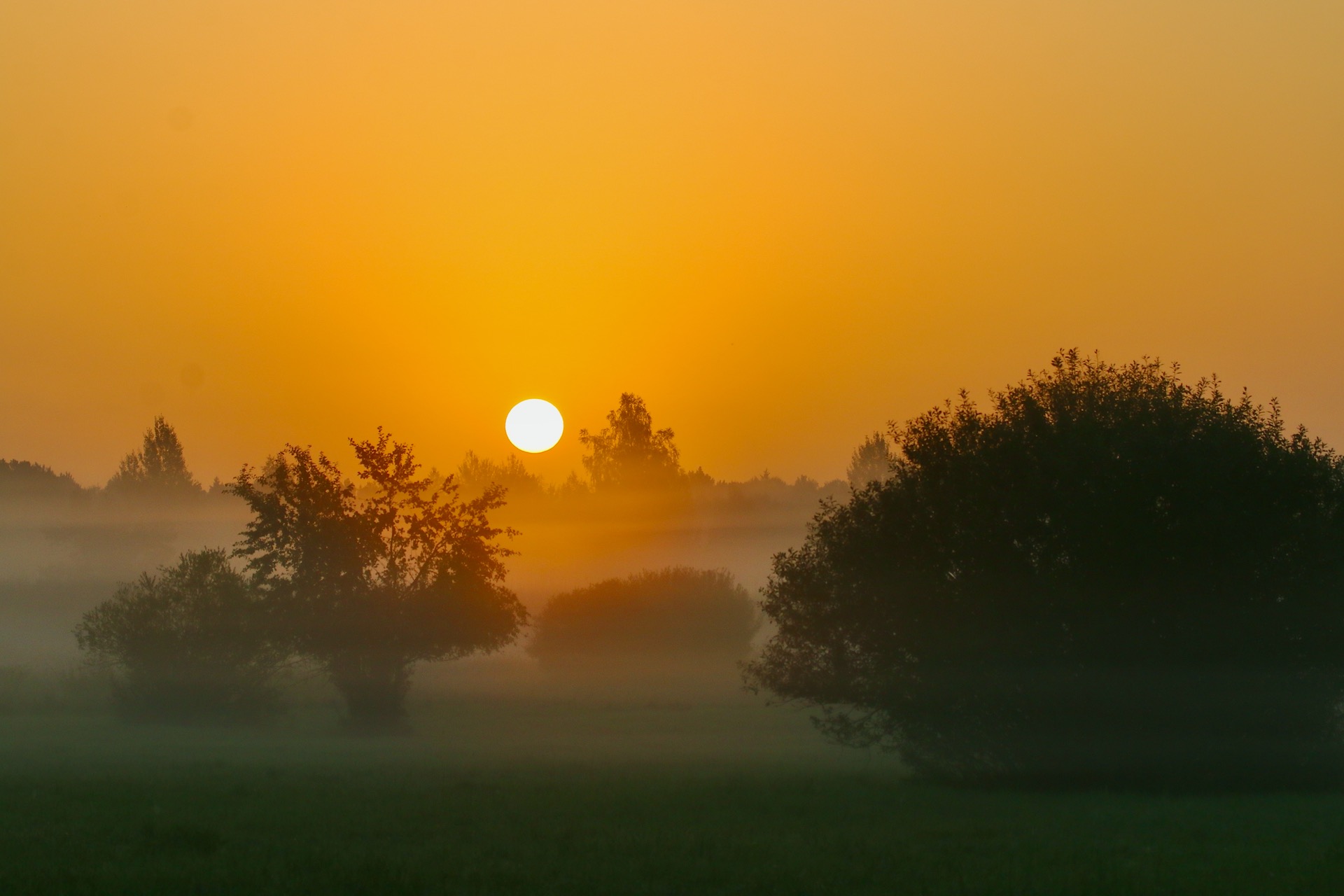 Day 5
This early morning we took a one hour walk before breakfast to catch up with all the passerines and woodpeckers in the village, had great views of White Storks, Hawfinches, Wood Warblers and many more. After breakfast wee started our transfer to the Biebrza Marshes with an over-stop at a few old Ruthenian villages with colourful wooden houses and wooden orthodox churches. We also stopped at the fishponds near Białystok. Saw many Little Grebes, Red-necked and Great Crested Grebes, nest of  Penduline Tits that have fledged by now, hundreds of frogs and common waterfowl.
After lunch at a small restaurant we briefly stopped at a historical town of Tykocin and reached our unique wooden hotel in the marshes. Had one more trip this afternoon before dinner to the edge of the National Park where we could learn about the history and origins of the marshes watching the sunset over a vast fen with a White-tailed Eagle flying over.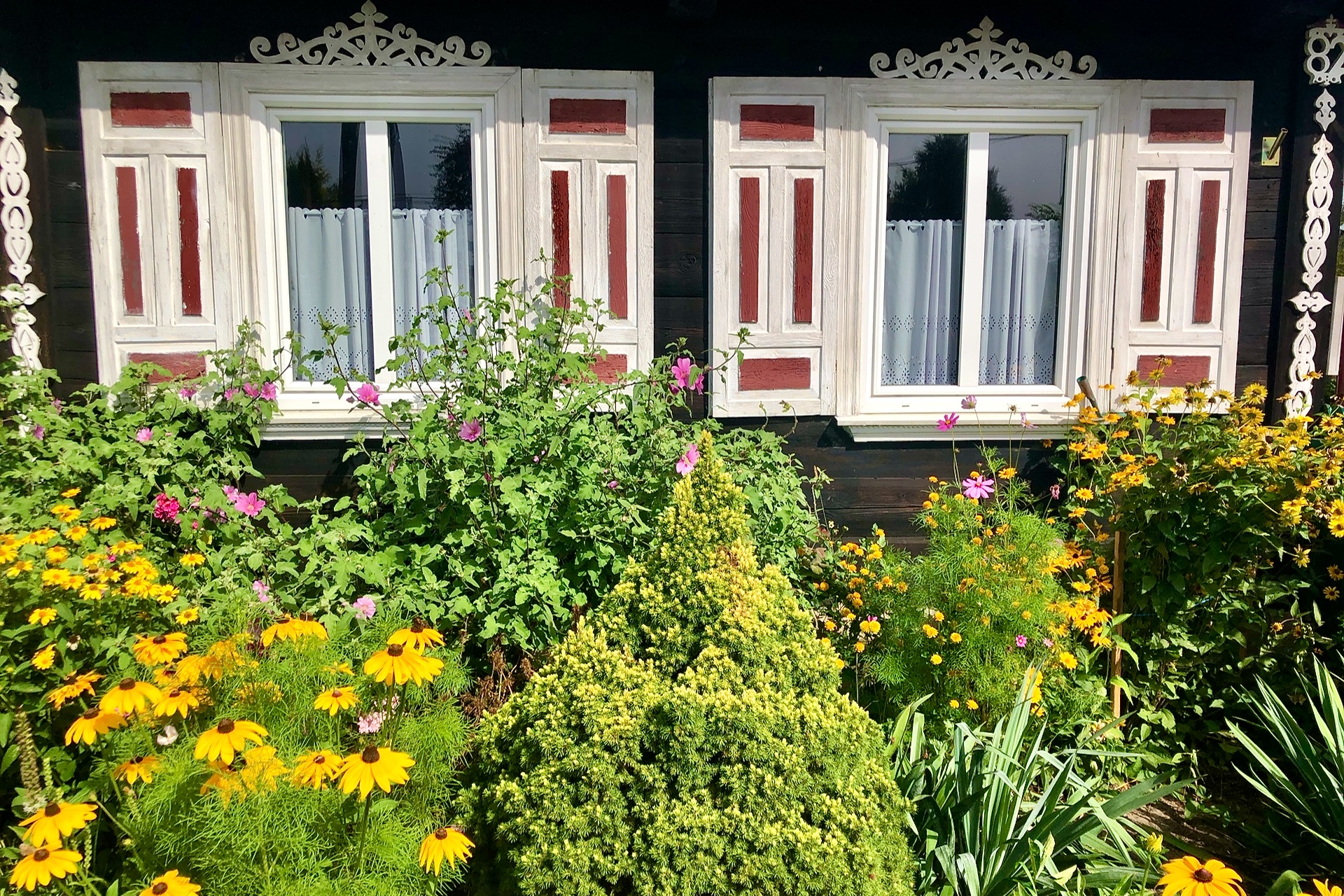 Day 6
We had another early start and drove out for an Elk safari. The dawn and sunrise were beautiful but mists very dense again and we had no luck of spotting Elk at various sites visited, although we saw many fresh tracks of them walking across the dirt tracks. We saw two Roe Deer, a Lesser Spotted Eagle and finished the trip at the boardwalk overlooking the vast fen where one of the first birds we saw was an Aquatic Warbler singing perched up very near. Meadow Pipits, Whinchats and Reed Buntings were also there and we enjoyed the sunrise while a few of the group managed to finally get a glimpse of a very distant Elk in the scope.
After a hearty buffet breakfast we hopped onto our minibus again and went for a drive around the best sites of the Biebrza National Park. The weather wasn't perfect as it was another day of 30+ heat and no wind. We had several stops, a few short walks and observed numerous birds including a Hen Harrier, numerous Marsh Harriers and Common Buzzards, Cranes, Great White Egrets, Tawny Pipits, Sand Martins, waders, waterfowl and best of all – spectacular landscapes of a natural river valley.
Day 7
We had another drive around the best sites with short walks along the river, several ponds and through the marshes. The best sightings included a Sparrowhawk, several White-tailed Eagles, young and adults hunting for fish, a Bittern flying over very near, Wood and Common Sandpipers, Spotted Redshank, Whooper Swans, Common Terns, Little and Great Crested Grebes, Reed and Great Reed Warblers, many ducks, geese, egrets and herons.
After dinner at a local cafe we have finished our tour with a boat cruise at dusk and had, as usual, stunning long views of several Beavers, adults and juveniles swimming right next to our boat and feeding on the bank.
Tired but totally satisfied and filled with amazing landscapes and great sightings we drove back to our hotel.
Day 8
After our last hearty buffet breakfast and good coffee we saw our garden Linnets, Greenfinches, Meadow Pipits the last time and we packed the bags and were back in Warsaw Old Town for lunch at a small Polish-Jewish restaurant and a short historical walk around the old town that concluded the tour.
A few more photographs from this week: