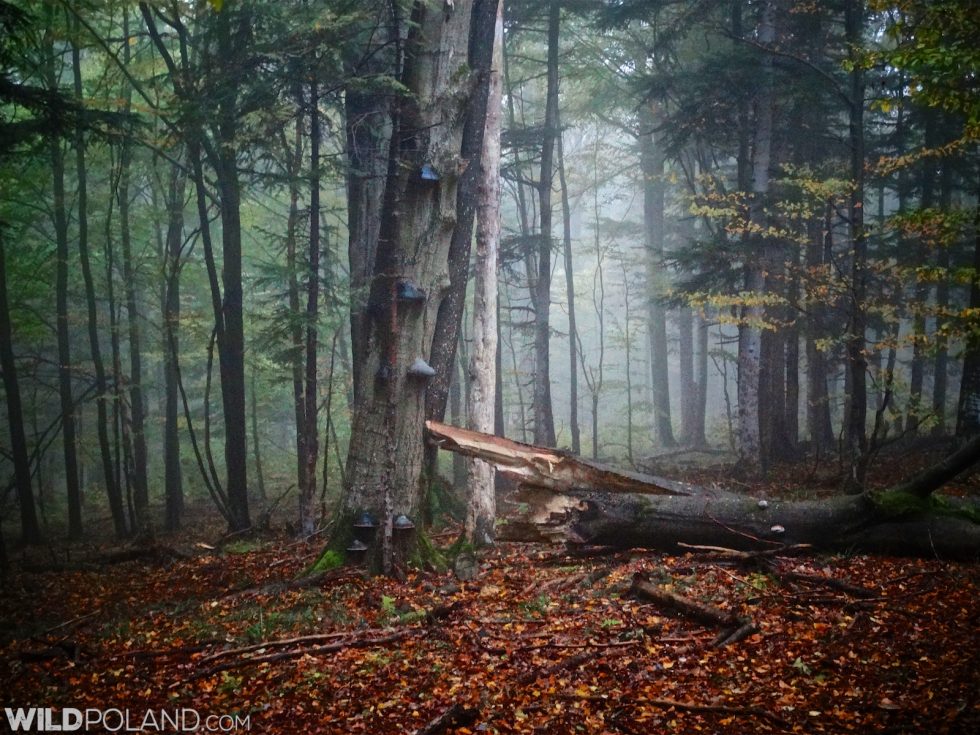 Carpathian Mammals, Oct 2017
Tour Leader: Piotr Dębowski
Participants: Elta & Nick (UK)
Text by Piotr Dębowski & Łukasz Mazurek
Photos by Piotr Dębowski
Day 1
We met Elta and Nick at one of the small cosy hotels near the Krakow Old Town. After a quick drive through the city we were on our way to the far SE corner of Poland squeezed in between Ukraine and Slovakia. The landscapes were stunning, Buzzards and Kestrels dotted over the fields. We had a traditional lunch of pierogi (dumplings stuffed with cheese and potatoes) and continued afterwards. Just before reaching our guesthouse in a tiny village of Muczne we got a fantastic view of a Bison bull standing at a road side. We reached the guesthouse in the evening and after a gorgeous home made dinner and a short introduction over a map we decided to take some rest before the first early morning outing tomorrow.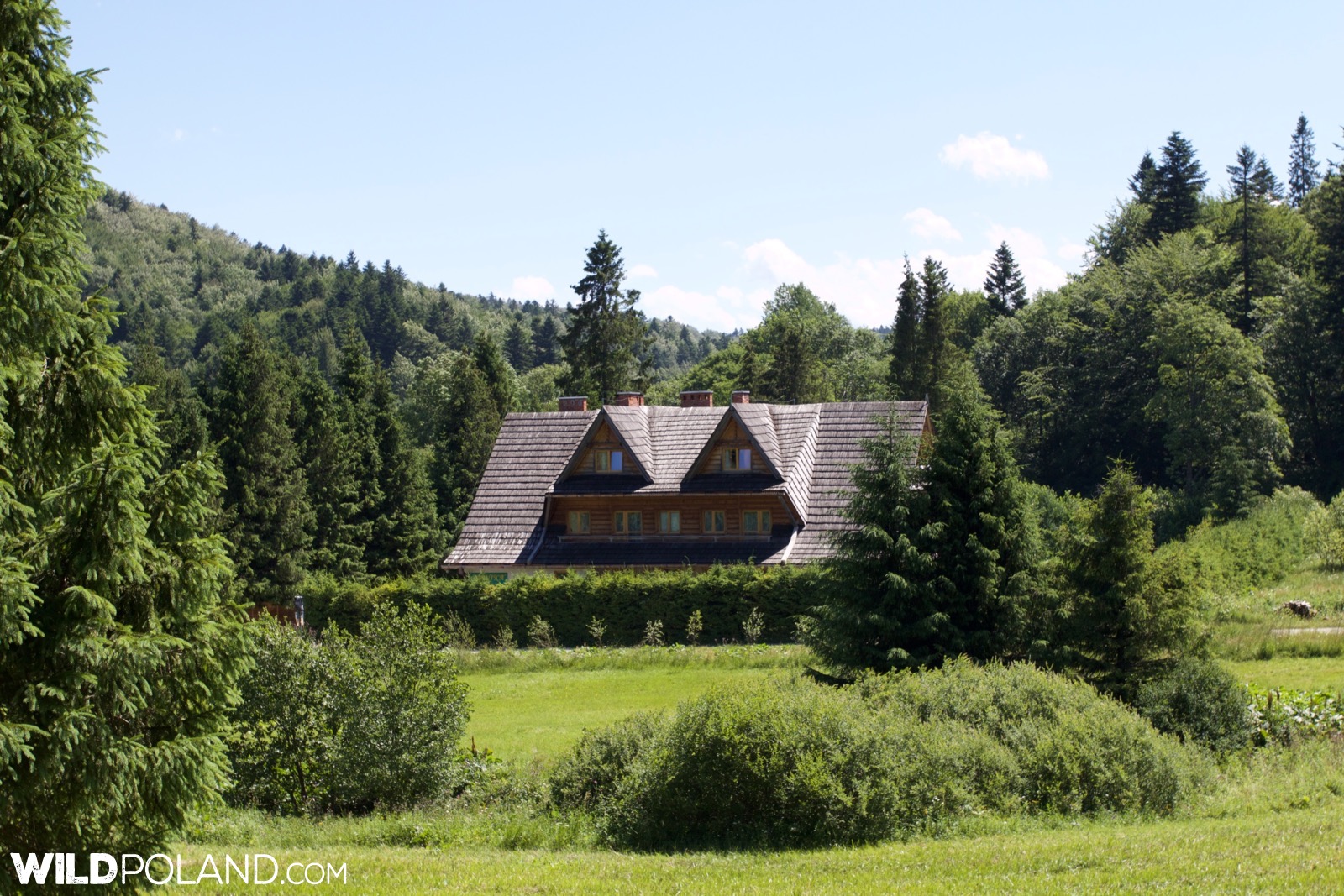 Day 2
We went out before breakfast, paid a quick visit at a Beaver pond with impressive dam and a lodge. We even had a good view of one Beaver working hard! The roar of Red Deer stags was overwhelming (peak of the rutting season), accompanied by Pygmy Owls, Nutcrackers, Woodpeckers and Jays. We have also visited a good vantage point with a view over open valleys on the Ukrainian side. We saw a few herds of Red Deer, several Roe Deer and fresh Wolf footprints.
After a hearty breakfast back at the guesthouse we went out for an afternoon walk through the mountains and streams onto one of the largest and wildest glades deep in the Carpathian Forest, a place known for high chances of spotting large mammals at dusk. The views were breathtaking. We enjoyed our lunch out there waiting for wildlife. A few Red Deer and Red Foxes came out. At some point we saw some movement on the opposite slope far away – it was a Brown Bear! But the observation lasted for just a few seconds and the Bear disappeared in the bushes. To be honest we only saw the rear side of it so this observation left us hungry for more! Just a bit later this evening, we were additionally rewarded with a fantastic view of 2 Pygmy Owls just over our heads. It got dark quickly but we really wanted to make sure we stayed out there as long as possible and made the best use of the time. We walked back to the car already in the dark and were a bit late for dinner. Everyone happy, though 🙂 Not bad as for the first day!
Day 3
Before breakfast we took a short drive and a walk onto one of the vantage points. It was a very atmospheric and misty morning and a site with fantastic views. No predators showed up but the area was buzzing with birdlife as we are accompanied by Black and White-backed Woodpeckers, Nutcrackers, Ravens, Crossbills and other finches flying over.
After breakfast we went for a long walk along the border with Ukraine. We walked through the grounds of former Ruthenian villages, now only recognisable by nettles, a few crosses and overgrown cemeteries. We saw some of the most impressive Beaver dams and lodges and probably the best views of the mountains. After an earlier dinner we went out again to check another vantage point at dusk. We found some fresh male Bear footprints and… had a fantastic observation of a group of 7 Bison bulls crossing the road in front of us. The animals weren't in a hurry and we could enjoy a rare and very close view and even take a few photos. In the evening we met up with Bartek, the National Park mammal specialist, our guide for the next two days.
Day 4
We met Bartek before sunrise and went for a walk through the forest and onto the glades. We sat quietly awaiting the wildlife at a few times and places this morning and saw Foxes, Red and Roe Deer. Above our heads were Buzzards, Ravens, Great Grey Shrike and a young Golden Eagle. After a short break and a fantastic lunch of home made pancakes back at our guesthouse, Bartek took us out for a walk along the forest line, overlooking the river valley, border with Ukraine. The views were stunning and we had a great view of a hunting Fox but weather got worse, it started raining, the wind picked up and we retreated back to the car and headed back for dinner. In the evening Bartek explained us more about his research and mammal monitoring in the Carpathians showing numerous recordings of large predators he had done with camera traps.
Day 5
Early morning we have visited a Bear territory with Bartek. It was a misty morning that will stay long in our memory, huge tall and old trees, dense and dark Carpathian Forest accompanied by the roar of Red Deer rutting. On our way there we saw a few Red Deer and Wild Boar crossing the road in front of our car. Bartek showed us an old Bear den used last winter and many other signs of their activity. No bears themselves but a great insight into their behaviour and biology. Back at our village, we took a break until lunch and headed for our last evening out in the wild, afterwards. Hoping for Wolves or Bears, this time we explored more meadows and forests on the border with Ukraine. It was peaceful and quiet and we had a rare observation of an Ermine. Buzzards and Nutcrackers were crowding over our heads. We stayed out until dark listening to Red Deer rutting and headed back for dinner. This evening we visited a local pub to try some of the local specialties.
The next day we transferred back to Krakow fairly quickly as it is a wish of the participants to spend as much time in the city as possible.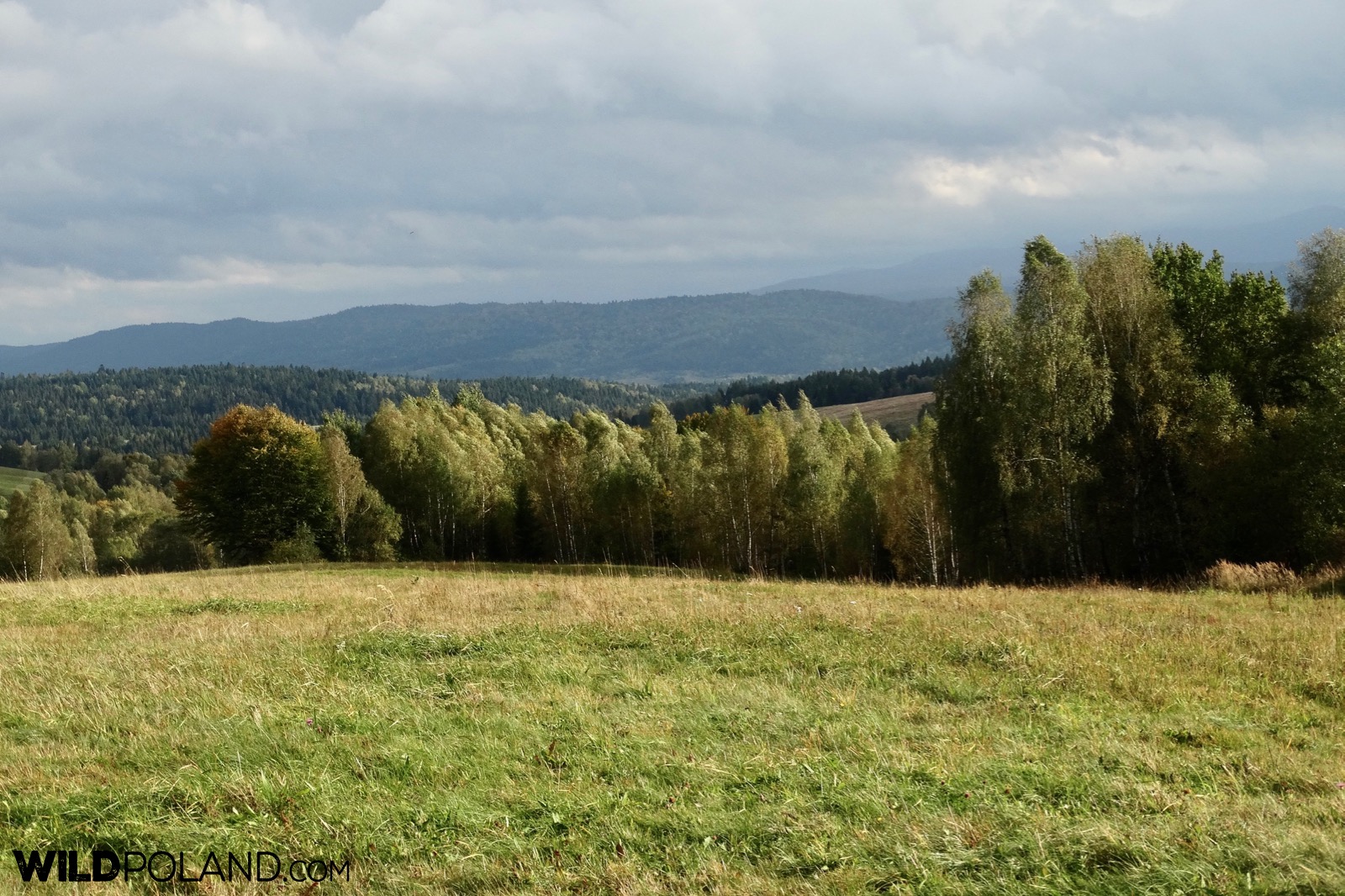 One could expect even more wildlife but we have no regrets. The days were intensive and we were following the animals footsteps all the time, seeing numerous tracks and signs.
Many thanks, Elta and Nick for your great passion and tireless trekking!
Important note:
Feeding wild predators conditions them quickly and changes the year-round behaviour and territory usage patterns. At Wild Poland and on this tour we don't use any of the wild predators feeding sites with hides so common these days among lazy photographers. Instead, we offer a genuine wildlife experience with chances of seeing large mammals with minimum disturbance.. and plenty of chances to experience the outdoors and really immerse in the wild nature. We hire the best local guides and visit the best sites. There exists no other better tour of this kind in this part of Carpathians to track and find large predators in the wild this way.
Please enjoy a few more photographs from this tour below.