Bison Safari in the Białowieża Forest, Jan 2020
Tour Leader: Bartosz Smyk (Bart)
Participants: Ido, Niva & Aviv (IL), Joanna & Jonathan (UK)
Text by Bartosz Smyk & Mariola Przyborowska
Photos by Bartosz Smyk
Friday, 3rd January – transfer to the Białowieża Forest
The has group gathered slightly before noon. After we picked up Ido at his hotel at Krakowskie Przedmieście, we next drove to the WAW Chopin airport to meet the rest of participants: Niva, Aviv, Joanna and Jonathan. Quick introduction, and we were on the way to the Białowieża Forest. The drive took little over 4 hours, during which we watched changing landscapes and chatted about the Białowieża Forest and history of Podlasie region. It was already dark when we arrived at our hotel. After dinner and short talk over the map, we decided upon short walk along small local river Narewka, a great area for spotting Beavers. And so the evening ended with nice observation of 1 large individual transferring branches across dark water.
Saturday, 4th January – Bison Safari
Early in the morning we boarded our minibus and transferred some 20 kms towards northern part of the Białowieża Forest, where vast fields and meadows around villages of Gruszki, Leśna and Olchówka offer attractive feeding areas for Bison and other large ungulates, Red Deer and Roe Deer. Activity of Bison was very high. We saw a group of 10 individuals at one of the feeding spots, then a single bull crossed the road right in front of our vehicle. Another group of ca. 10 animals stood at the edge of the forest and 2 more bulls were spotted walking across one of the meadows. Finally we caught a brief glimpse of another single bull that came out of the forest in yet another spot. All of these in very short distances from one another.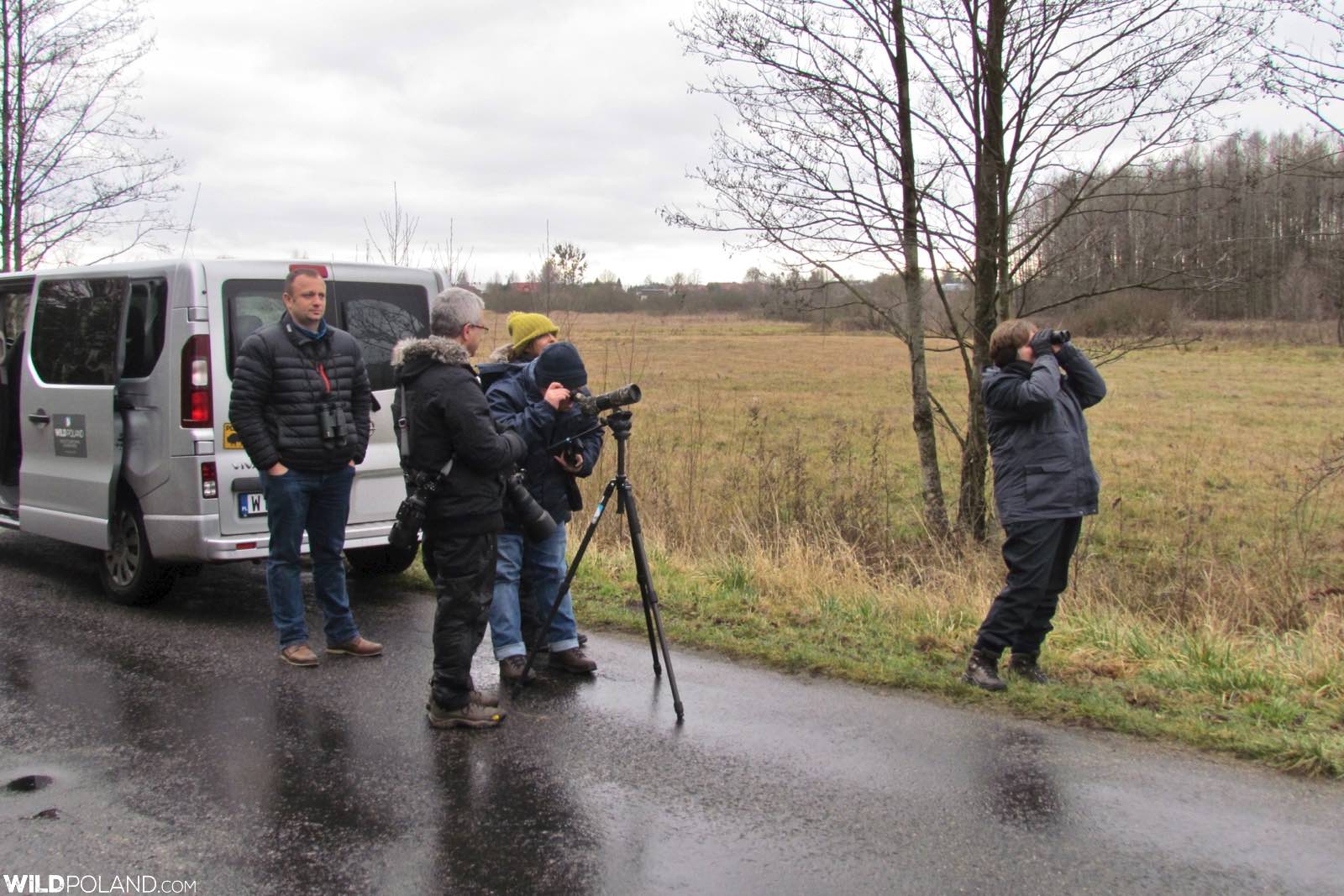 As we drove back to Białowieża, we turned for a quick search towards another place, Teremiski, where we found 4 Bison very close to the village. The animals grazed lazily and allowed us long and proper observation through the scope.
In the afternoon we visited two interesting parts of the forest with a hope for Bison and other mammals in their wild natural habitats. We found no Bison, instead we came across very fresh faeces of Wolf at one of the forest tracks. We continued our walk through few different types of forest ecosystems admiring on the way best preserved patches full of fallen trees at different stage of decay.
We finished the day with quick Bison patrol at the outskirts of the village, a good idea as we spotted 5 impressive bulls resting at the meadow adjoining the national park.
Sunday, 5th January – the UNESCO site walk
An overnight snowfall was the nicest surprise this morning, as we set off for few hours walk in the Strictly Protected Area of the Białowieża NP, the core area of the forest, listed the UNESCO World Heritage site. Our local guide, Joanna, told us plenty of interesting facts about so called "strict reserve", its history of protection, geopolitical factors as well as Forest's ecology.
Fresh snow and sun created beautiful light and we enjoyed white landscapes with snow-dusted trees, as we followed Joanna through the paths of the Strict Reserve. The amazing winter silence was breached only by sounds of feeding birds, Nuthatches, Treecreepers, Great and Marsh Tits, Mistle Thrush and quiet pecking of Middle Spotted Woodpecker.
Later in the afternoon we came back to the northern part of the forest and once again searched open meadows for herds of Bison, this time finding one single bull, small group of Roe Deer and a Red Fox. The remaining snow provided good conditions for tracking and we found plentiful tracks of Bison, Red Deer, Roe Deer, Red Fox and distinctive footprints of Wolf. After sunset (colourful and amazing), we came back to our hotel for well deserved rest.
Monday, 6th January – transfer to Warsaw & Old Town walk
Early in the morning part of the group took a short local walk along the river Narewka, a last chance for Beavers in daylight. Beavers weren't there but the sun rising over quiet village and walk through the 19th century Palace Park were very rewarding.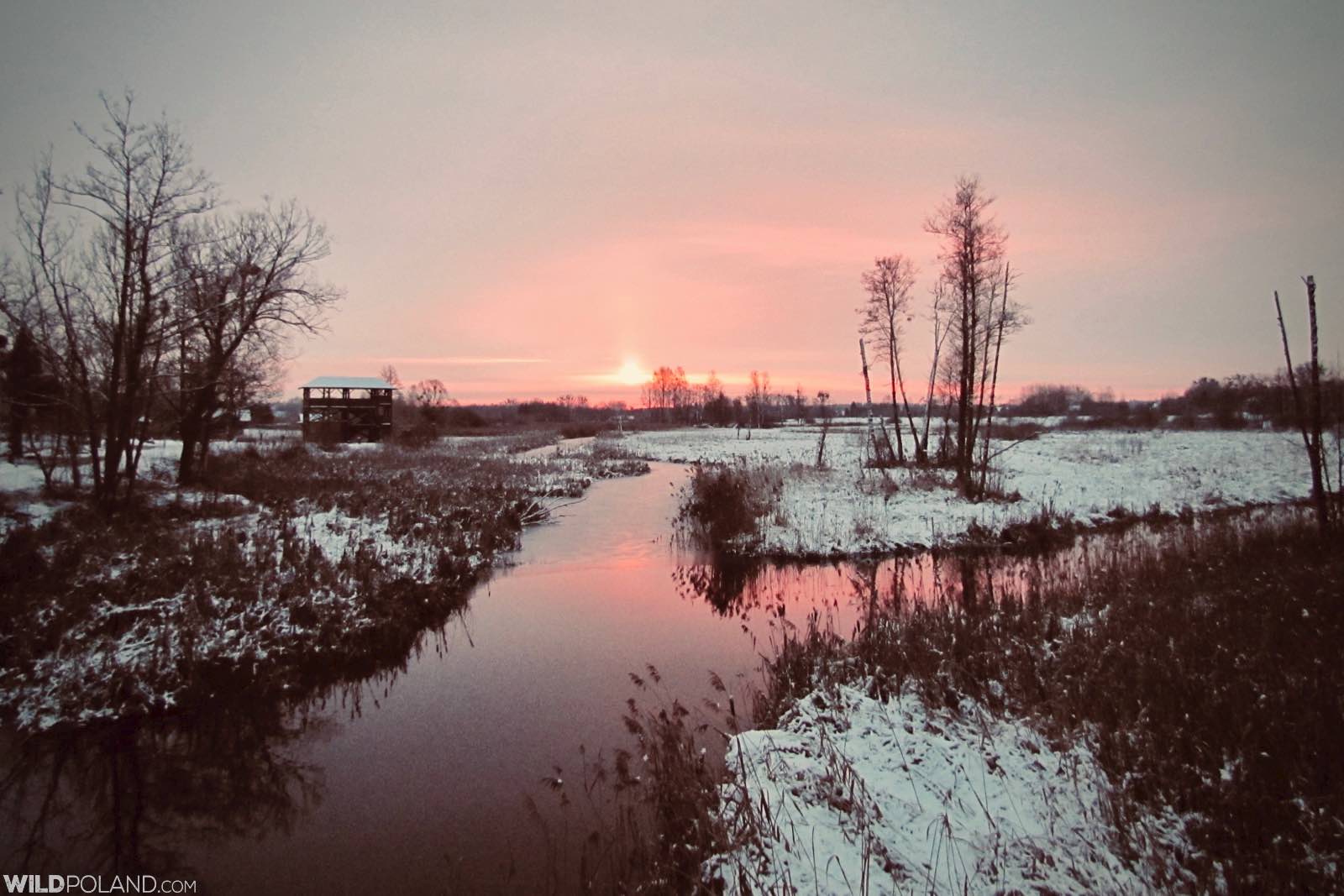 After breakfast we checked out and drove back to Warsaw, where we arrived at lunchtime. Visit at the Old Town and nice meal at a small restaurant ended our 4-day adventure.
Thank you Niva, Aviv, Ido, Jo & Jonathan!
A mini photo gallery from this trip is available below: