Bison Safari in the Białowieża Forest, Feb 2019
Tour Leader: Bartosz Smyk (Bart)
Participants: Raymond, Claire, Doug (UK), Oriol & Maria (ES), Edoardo & Francesca (IT)
Text by Bartosz Smyk & Mariola Przyborowska
Photos by Bartosz Smyk
The second half of February was relatively mild and snowless across NE Poland, although due to a brief chilly stretch on the 22 February our group was greeted by exceptionally cold and windy weather. Evidently, winter wasn't giving up yet.
When everyone arrived, we boarded our bus and started ca. 4 hour journey to the Białowieża Forest, driving leisurely through the quiet countryside and spotting in a distance first representatives of Polish wildlife – Common Buzzards and a Red Fox, both species being a common sight in Polish landscape.
After arriving at our hotel we decided to spend the rest of Friday evening in a laid back manner, chatting over dinner and discussing our plans for the coming days.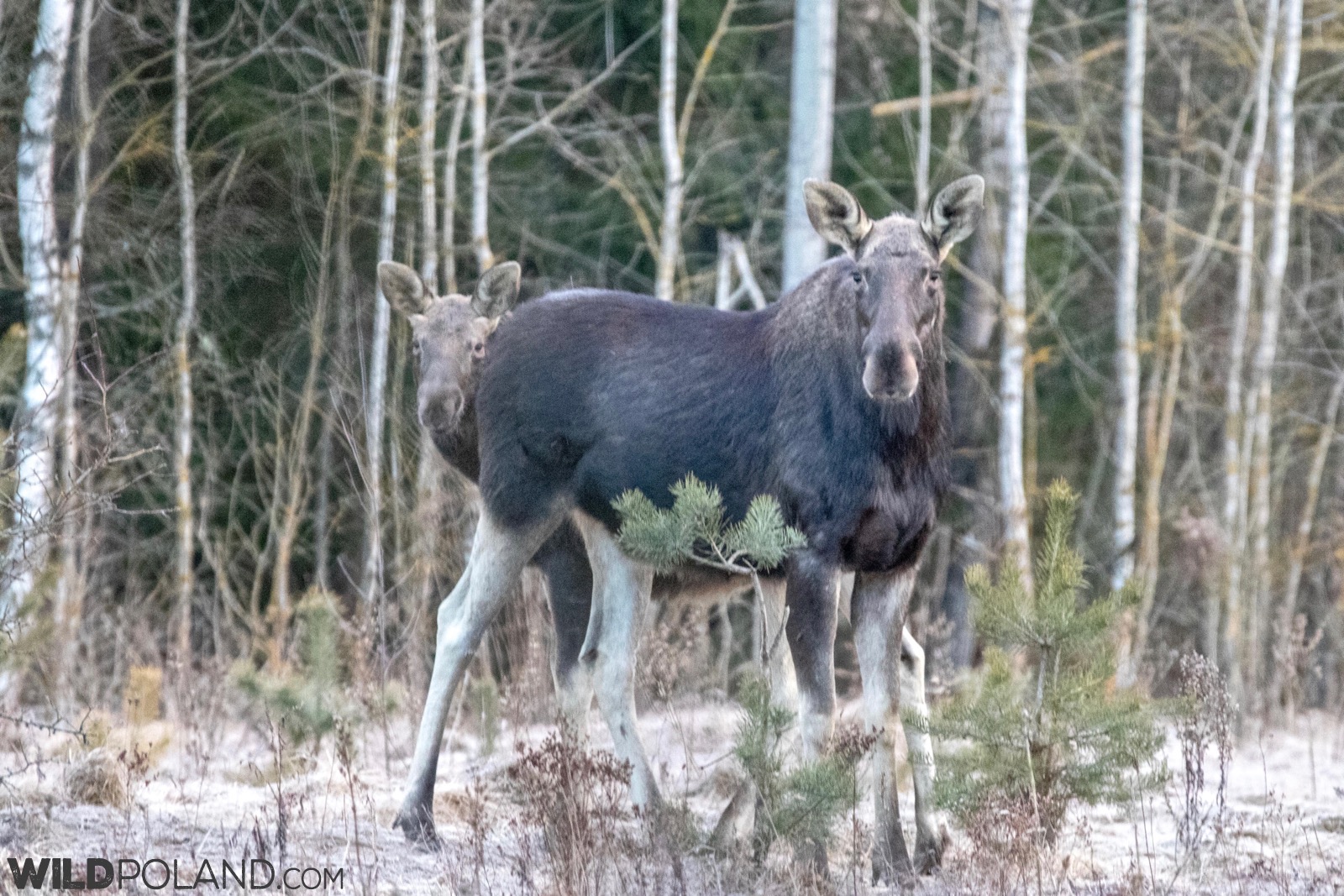 An early morning start on Saturday (5.30 am) presented us with interesting observations of two small groups of Roe Deer and, surprisingly – a female Elk (Moose) with young. An unexpected meeting was the highlight of the morning. We weren't as lucky with Bison, even though we visited several places where chances of seeing them are usually high. But this time the meadows, fields and favourite feeding sites were empty and Bison were nowwhere in sight. We had to give it another try later, meanwhile we enjoyed our trip in the pleasant landscapes, spotting on the way a group of about dozen Yellowhammers, large flock of Hawfinches, a pair of Common Cranes, and a single Red Fox.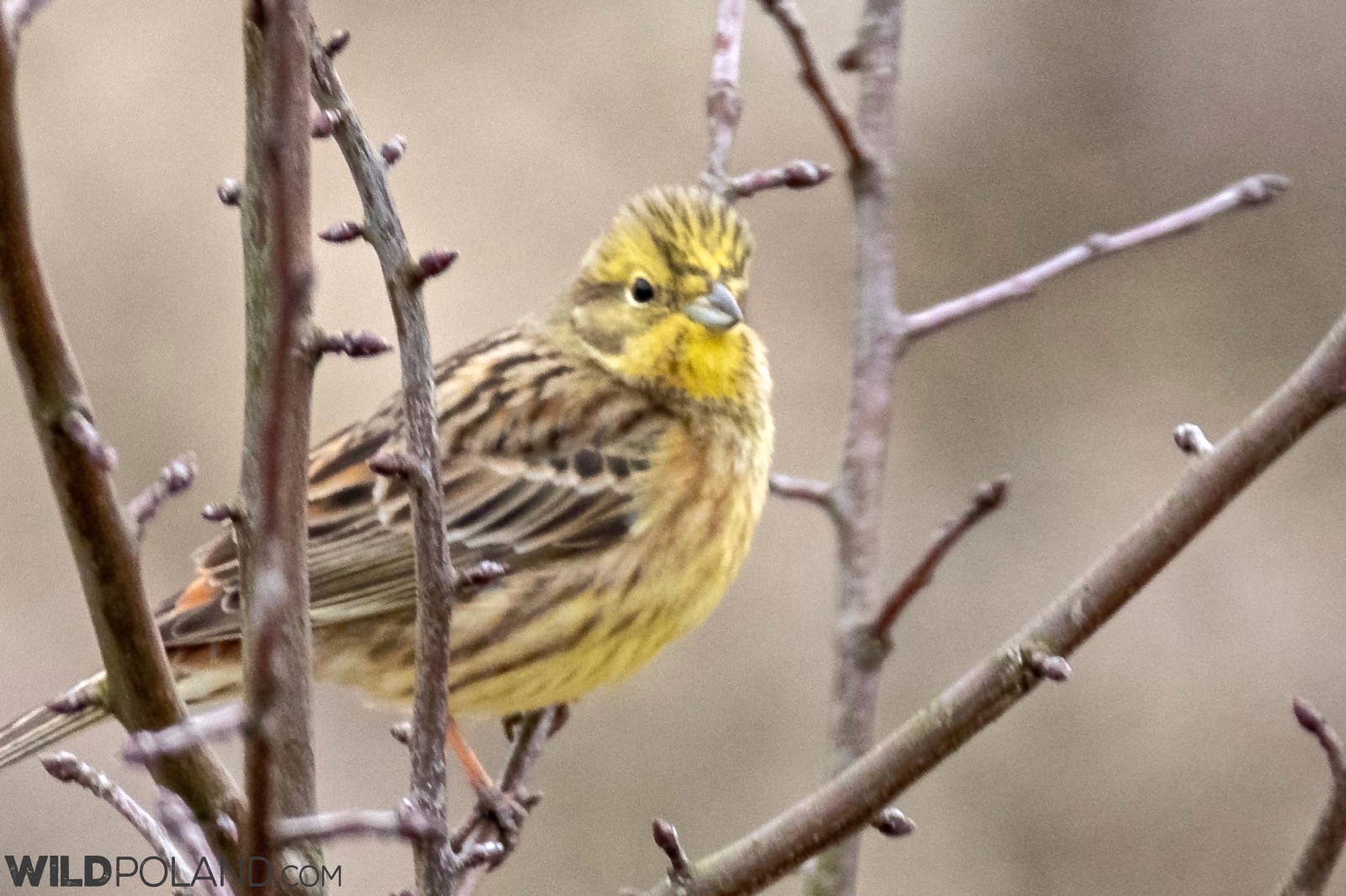 Later in the afternoon we explored two interesting sites in the central part of the Białowieża Forest. First of them, Dębowy Grąd Reserve near Budy village, is a very well preserved natural part of oak-linden-hornbeam forest with admixture of maple, ash and spruce. While there, we observed a pair of Black Woodpeckers and found several trodden paths frequently used by Bison and Red Deer. Afterwards we moved towards villages of Teremiski and Pogorzelce, where once again we entered the forest to follow one of the local tracks. Here we noticed another pair of Black Woodpeckers, and, as the sun was setting down, appreciated fantastic vocal activity of owls – a single male of Pygmy Owl (which we briefly saw in flight) followed by nuptial call of Tawny Owl. One member of the group came across a Pine Marten (an unexpected encounter with agile mustelid was missed by the rest of us). Luckily, on the way back to our lodge, we all had a chance to see a Beaver, well spotted at the bank of Narewka River by our brilliant driver, Jarek. After an intensive day it was time for some well deserved rest and Polish beer.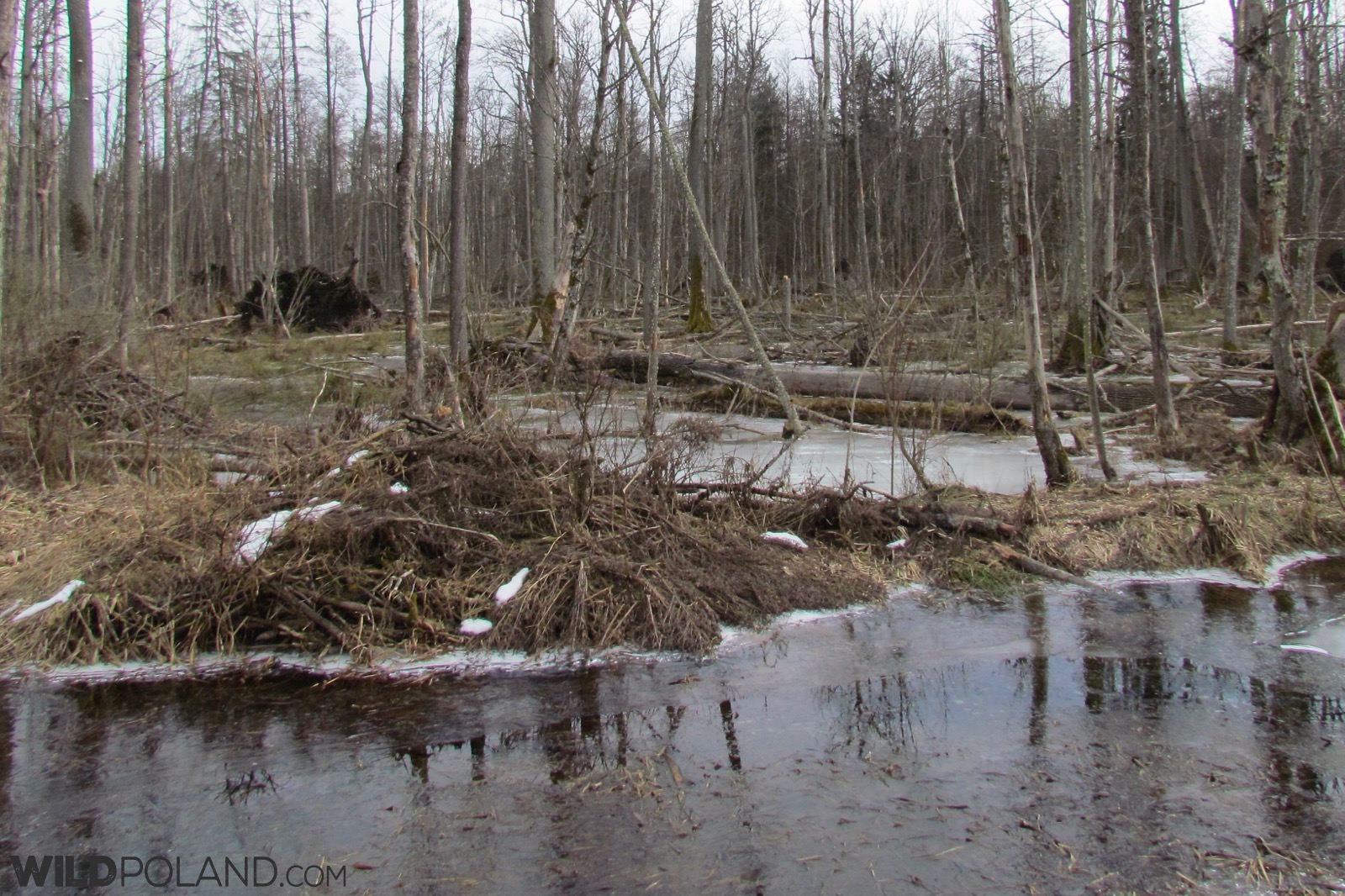 Another early start paid off with nice sighting of ca. 10 Red Deer on a forest track near Budy village. Few minutes later, walking the same track we spotted massive dark silhouettes in the forest – 4 Bison. Partly hidden between the trees, they still looked powerful and majestic. Seeing them as they roam free in their natural habitat, felt both exciting and uplifting. But here comes the hard part – the low morning light made taking photos rather challenging and we ended up with no proper shot of the impressive beasts  
  Nevertheless, the morning was successful!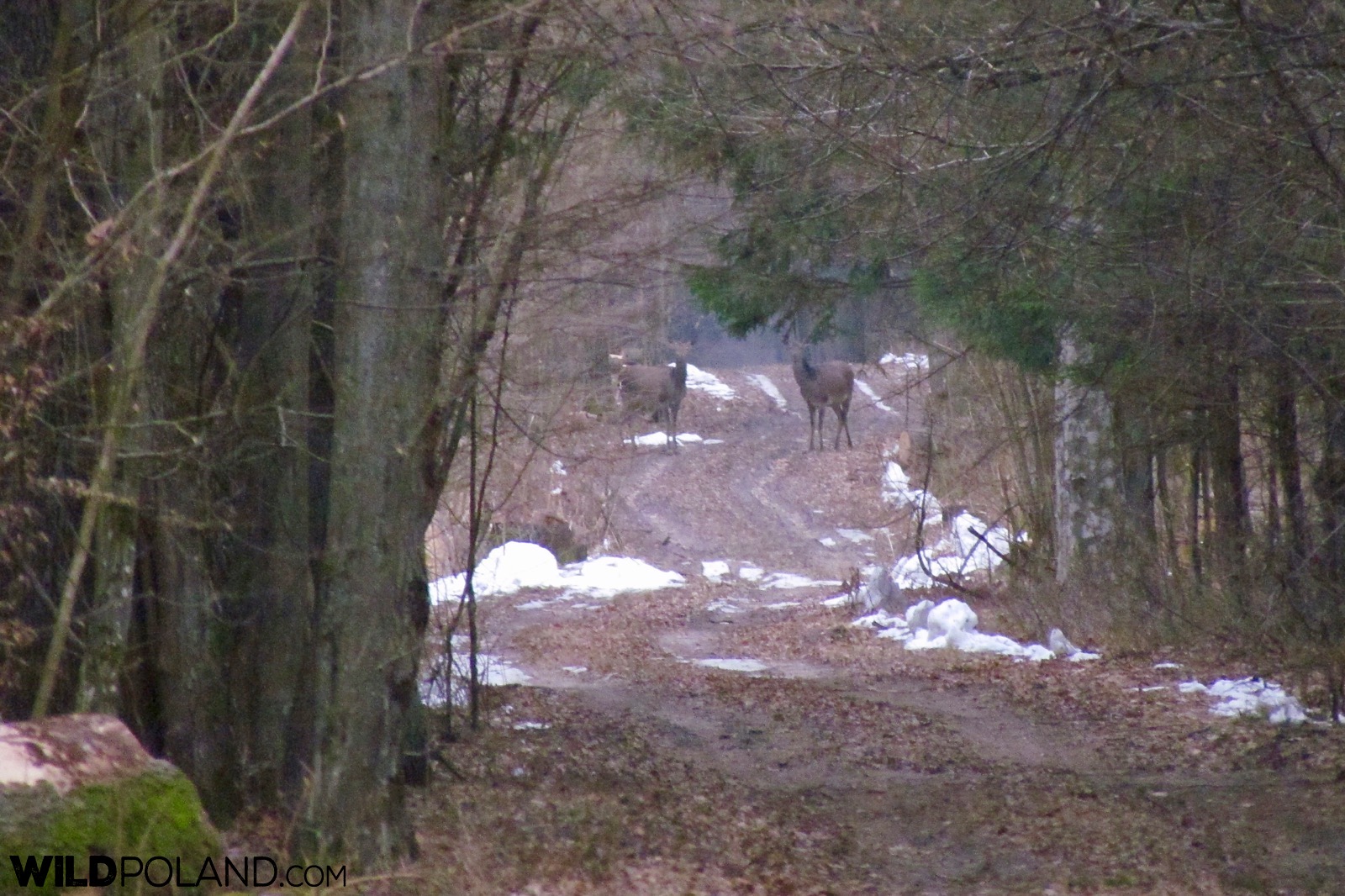 An important part of our Sunday programme was a visit to the Strictly Protected Area of the Białowieża National Park, the Man and Biosphere Reserve, listed the UNESCO World Heritage Site. Few hour walk with our local NP guide, Joanna, took us to the core area of the Primeval Forest, where we learnt about ecological and historical value of this unique site. Apart from impressive trees and tremendous variety of fungi growing on deadwood, we also observed a Lesser Spotted Woodpecker, while at the meadows just outside the reserve we noticed a Goshawk, a Common Buzzard, and a Red Fox.
After short break at our lodge we have met again to explore yet another interesting place, the Wysokie Bagno Reserve. The site protects natural spruce bog forest with rare plant species in the herb layer. It encompasses a vast bog and a part of Narewka River's swampy valley, where we spotted a pair of Goldeneyes. Walking along the Polish- Belarusian border we enjoyed amazing silence, time to time disturbed by noisy flocks of Tits, and a Three- toed Woodpecker foraging on dead Spruce. The final highlight of the day was a picturesque sunset and a thrilling call of male Tawny Owl echoing in a distance.
On Monday morning, just before leaving Białowieża, we decided upon short walk around the Palace Park, a pleasant area with ponds and beautiful old trees surrounding our lodge. Activity of birds was fantastic this morning with plentiful Siskins and Hawfinches, small group of Bullfinches and few Middle Spotted Woodpeckers noisily proclaiming their territorial boundaries. The shining sun, singing Starlings and migrating Skylarks indicated than spring is on its way, despite low temperatures and overall chill.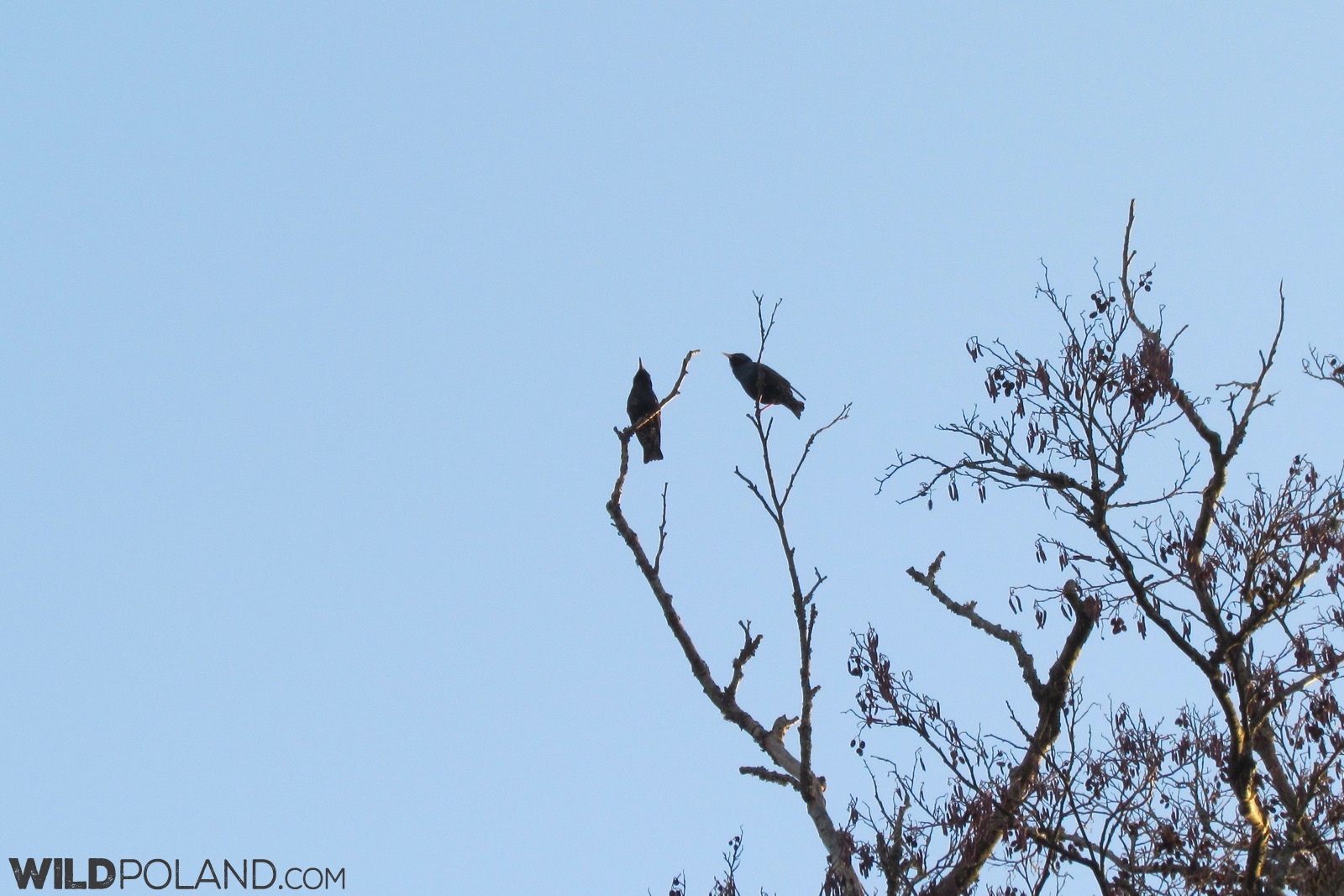 We traditionally ended our tour back at Warsaw, with a short walk in the Old Town and tasty lunch at befriended Polish-Jewish restaurant.
Thank you everyone for the most enjoyable time!
Here are few comments from tour participants, and also a small photo gallery:
– Totally enjoyable experience, would definitely go again.
Raymond, UK, February 2019
– Well organised, full itinerary. Extremely knowledgeable and informative guide.
Doug, UK, February 2019