Bison Safari in the Białowieża Forest, Feb 2020
Tour Leader: Bartosz Smyk (Bart)
Participants: Bernadette & Andrew, Ian & Nicola, Hugh, Stephen (UK), Juha (SE), James & Christiana (DE)
Text by Bartosz Smyk & Mariola Przyborowska
Photos by Bartosz Smyk
The trip started at Warsaw. After collecting the group we left the capital city and transferred north-east towards Polish-Belarusian border (ca. 4 hour drive with short stop for lunch at a roadside cafe). We reached small village of Białowieża already after sunset. Welcomed by our friendly hosts at the guesthouse we got comfortable in our rooms and met again in a dining room for a home-made dinner. The winter evening was long, so afterwards we set off for a short local walk along the Narewka River in search of its inhabitants, Beavers. This evening we didn't spot any movements at the banks or in the water, but we noticed many fresh toothmarks on standing and fallen trees, a clear evidence of their activities. 
The following morning we were up before dawn. Half an hour drive through the wooded area took us to the northern part of the Białowieża Forest, where open meadows serve as attractive feeding sites for large herds of European Bison and other ungulates, Red Deer and Roe Deer. It only started getting bright when we arrived at our destination to the view of small herd of Bison, cows with young bulls and calves, 11 animals in total.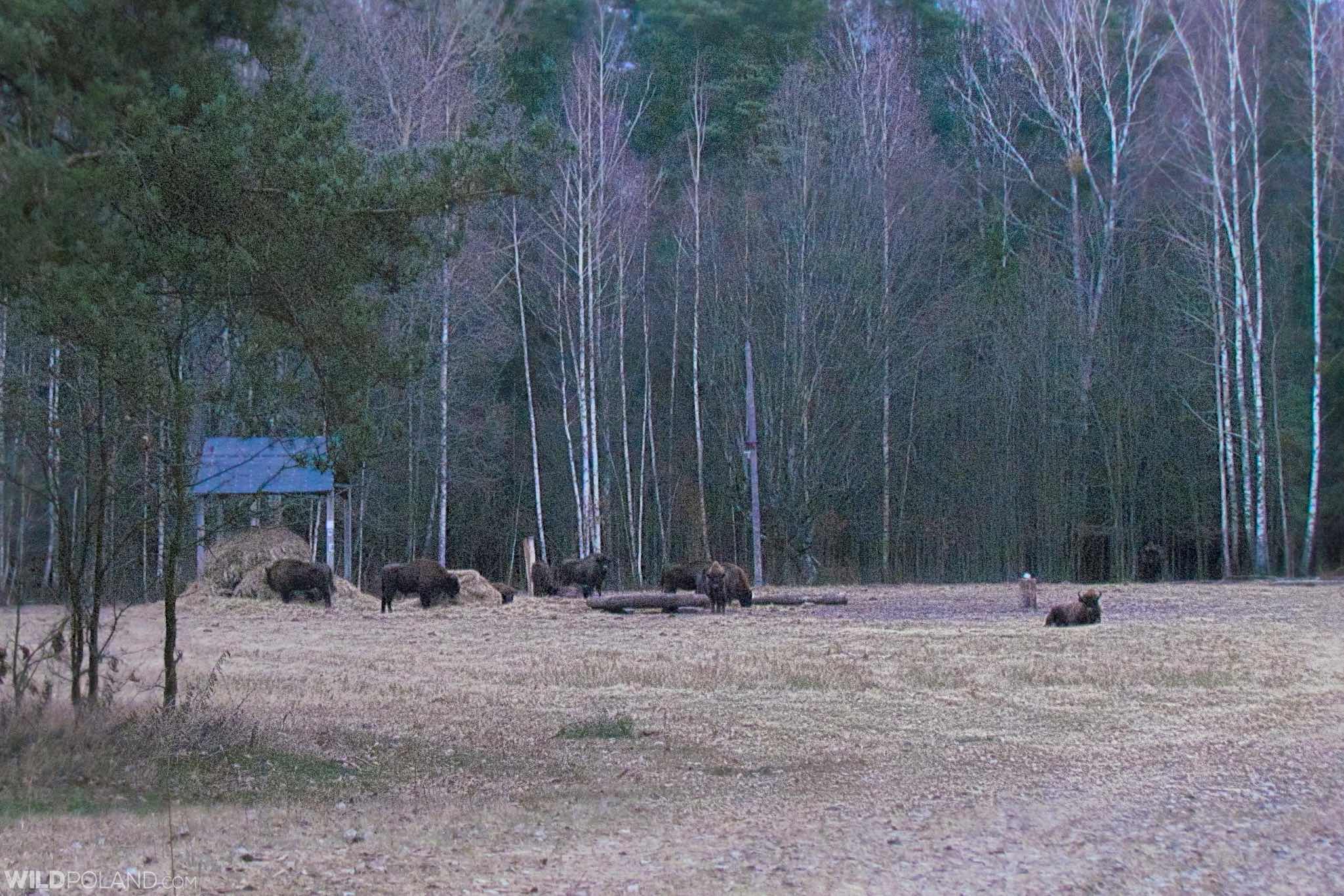 After promising start we moved to another sites with a hope of seeing more Bison in a bright daylight. Pretty soon we did. A group of 8 Bison trotted in a hurry through the meadow, a great spectacle of power when animals rushed forward and jumped over a ditch! When the herd disappeared from our view, we drove around for another while searching the area for any possible movement at the meadows and at the edges of the forest. This time we observed territorial pair of Ravens intensively displaying and defending their territory against a single intruder, a Common Buzzard. After checking the northern area we drove back to our guesthouse for a well deserved breakfast. 
A short rest and we gathered again. The plan for the day was to explore the woodland ecosystems from the inside. Short drive took us to the neighbouring villages of Teremiski, Pogorzelce and Budy Leśne, small settlements surrounded by the meadows and the forest. On the way we spotted these 2 Bison at the small clearing, a rather unexpected sight in a broad daylight: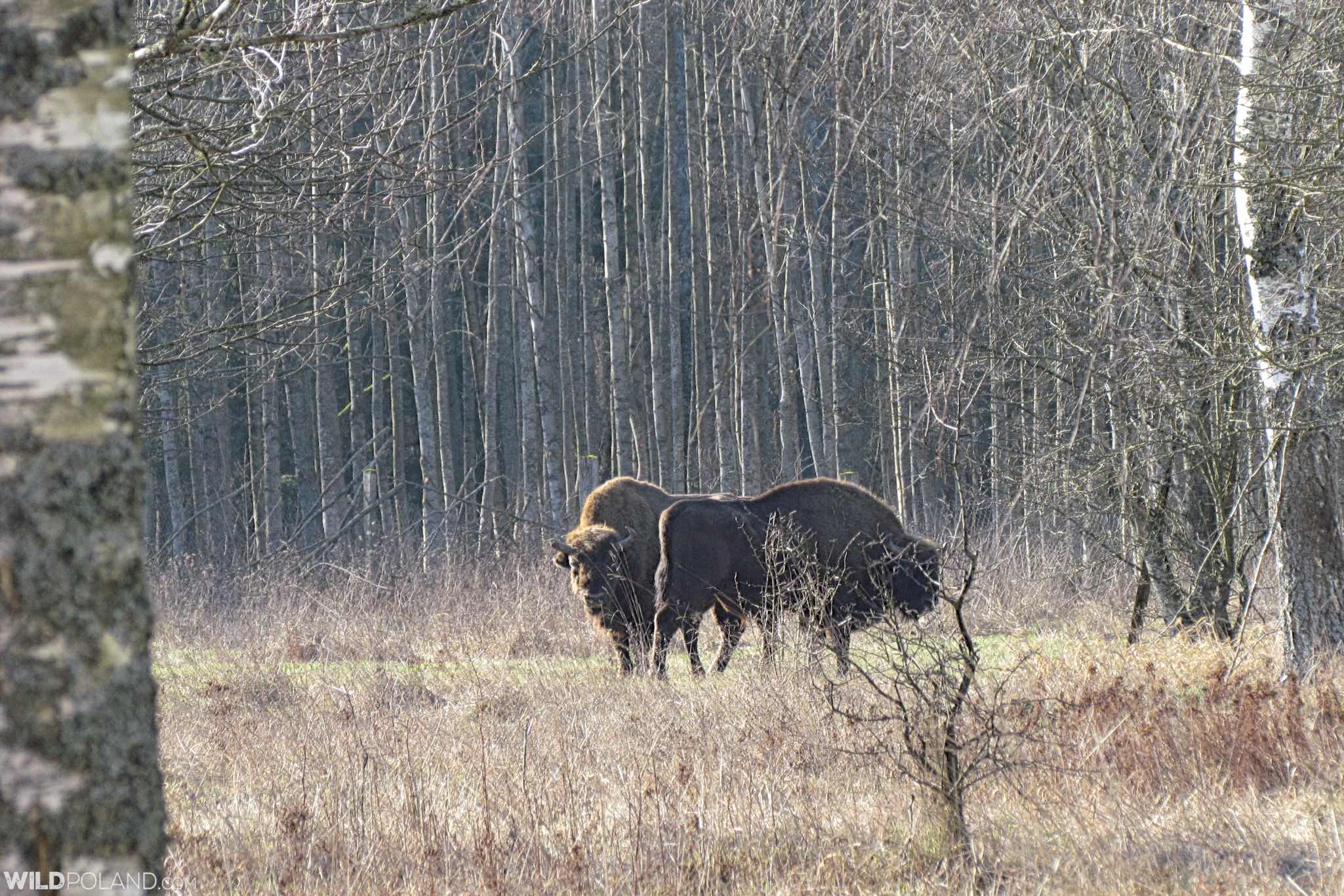 After long and satisfying contemplation we continued with our plan and entered the forest near the nature reserve called "Dębowy Grąd". We walked through the beautiful natural  forest ecosystems with plentiful tracks of Bison, Red Deer, Roe Deer and even tracks of Wolfves. We stopped for longer while at the wet alder carr, where we observed a pair of Black Woodpeckers.
We next moved to another sites with another surprise on the way when a single Bison crossed the road right in front of our bus. Equipped with a packed lunch we took a break and ate our sandwiches in the middle of the forest. The afternoon was very calm, with very few calls of birds and almost without any movement. It was a very nice and calming forest experience. 
An early start on Sunday gave us fantastic opportunities for more Bison around the Białowieża village. In total we saw 6 bulls, including 3 individuals that wandered into the village and found their feeding spot right in the centre, in the Palace Park. The animals weren't at all bothered by ours or others passers-by presence!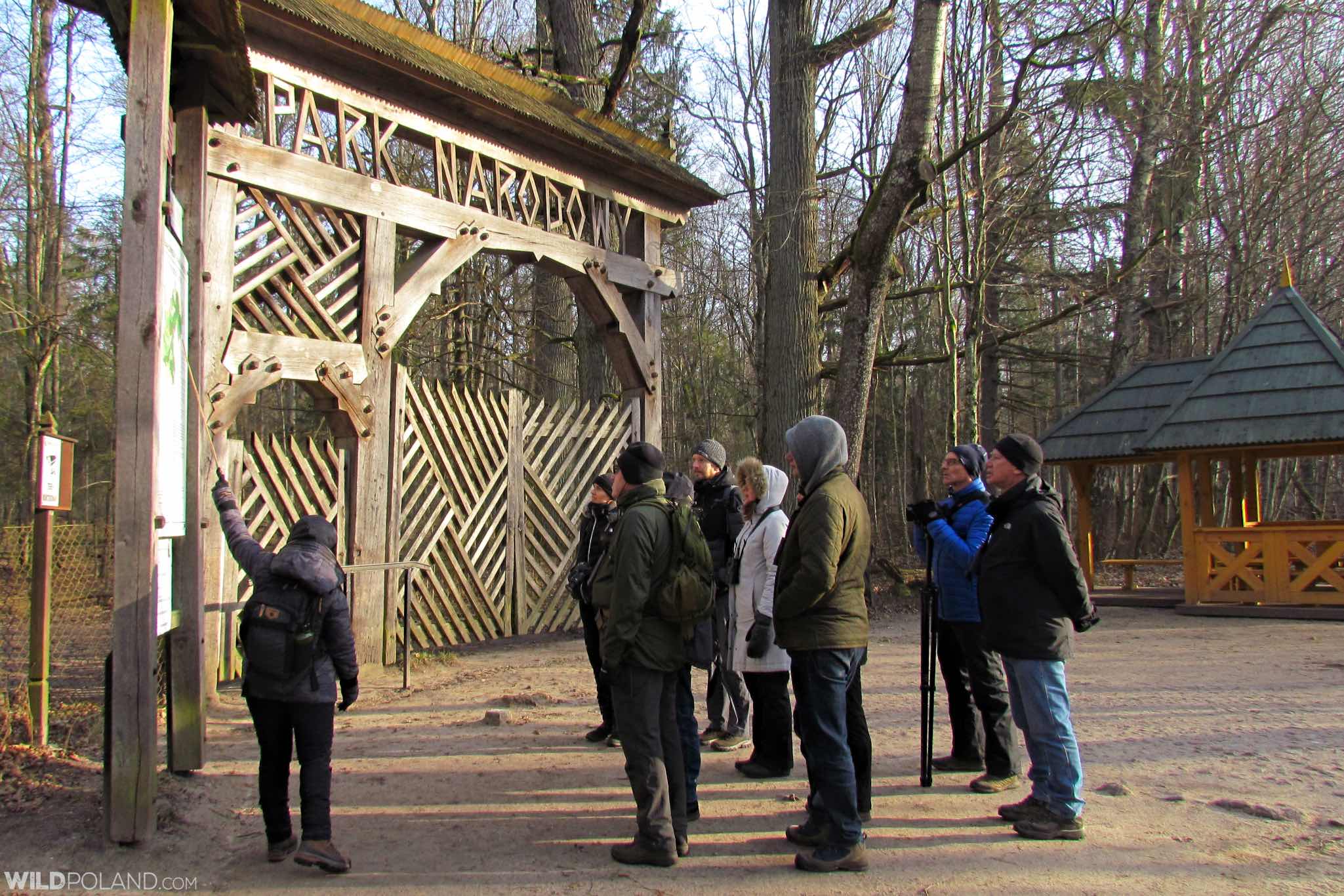 Pre-breakfast observations were followed by a visit in the Strictly Protected Area of the Białowieża National Park, the UNESCO World Heritage site. During 3 hours long walk to the core area of the Białowieża Forest our local guide, Joanna, told us a lot about the history and ecology of the site untouched by man. Walking through this unique ecosystem we admired mighty Oaks, Hornbeams, Spruces and Lindens – living, dying or dead for a long time. We were also able to spot few species of birds, such as Nutchatch, Long-taild Tit, Treecreeper, Mistle Thrush, as well as Great-Spotted, Middle Spotted and Black Woodpeckers.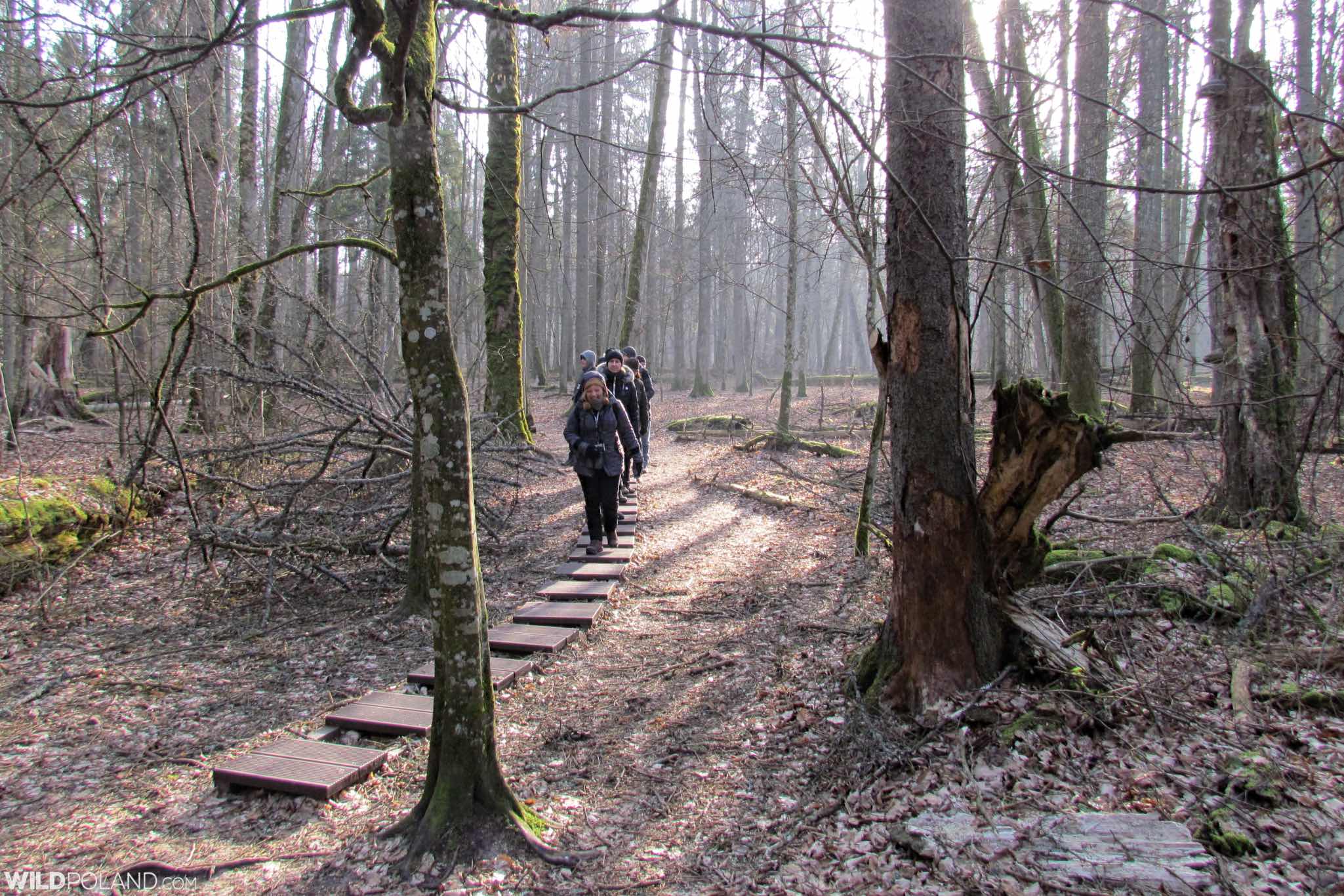 In the afternoon we came back to the northern part of the Forest, although this time we have chosen completely different trails and viewing towers. The afternoon was quiet and the silence of the forest and meadows was just amazing. We didn't see much wildlife apart from a flock of colourful Bohemian Waxwings, winter visitors from far north. On the way back to Białowieża we spotted a single Bison, Red Fox and a group of Roe Deer. Beautiful sunset over the countryside was a nice finishing touch to our busy day.
On Monday we transferred back to Warsaw, where we visited historical Old Town district, another UNESCO site on our list. After walk through the narrow streets we sat down for lunch in a traditional Polish restaurant, recalling our fresh impressions from the Białowieża Forest.
Below there are few more photos from our stay in the Białowieża Forest: